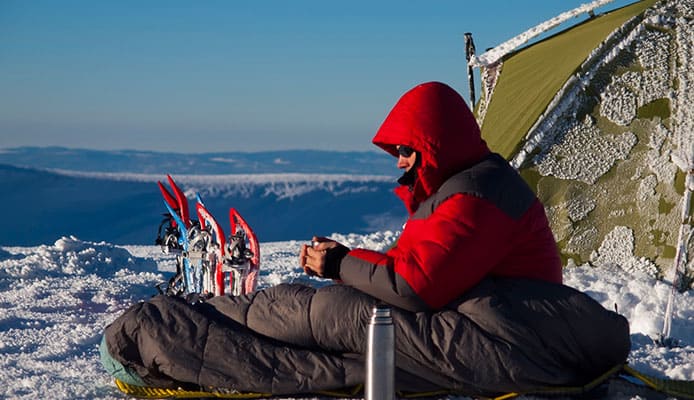 See Customer Owner Feedback >>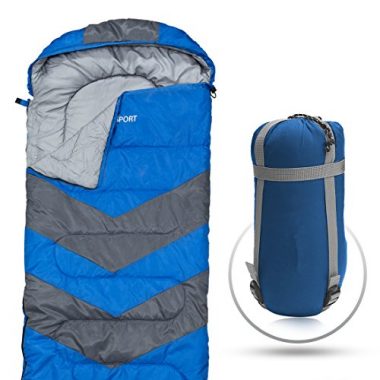 See Customer Owner Feedback >>
The Best Winter Sleeping Bag
Winter is a beautiful season that offers a lot to enjoy outdoors: stunning snow-covered landscapes, tranquility, and all kinds of fun activities on the snow. But it also presents some harsh conditions to endure, especially at night. Winter nights are long and the extreme cold can be miserable and even dangerous. Knowing the conditions you're likely to encounter and packing the right gear is the key to enjoyable and successful winter adventures. For overnight and multi-day trips, it's very important to pack the best winter sleeping bag made for the below zero temperatures and snowy conditions.
Equipped with the right sleeping bag that will keep you warm, dry, and comfortable, you will be able to sleep soundly through the night knowing you're safe from hypothermia and awaken with all of your toes intact. After a good night's sleep, you will be well-rested, alert and ready to enjoy more backpacking, hiking, skiing, climbing, fishing, or snowshoeing. Below, we've reviewed 10 best winter sleeping bags that are equipped to protect you from the biting cold and harsh conditions and ensure you sleep comfortably. Our buying guide offers advice on selecting the right sleeping bag for you.
Ready to get started? Let's go.
How To Choose A Winter Sleeping Bag – Buying Guide

A cold weather sleeping bag is a matter of life and death. When it is night time and temperatures plummet, the kind of sleeping bag you packed will determine whether you will be comfortable and safe or miserable and at risk of freezing. Also, sleeping bags last for years, so it's a long-term investment you're making. It is therefore important to choose an extreme cold weather sleeping bag carefully. 
Getting the right sleeping bag for winter requires careful consideration of various features and technical specifications so you can select one that will suit where and how you camp on the snow and the conditions you're likely to encounter and satisfy your needs and preferences. Here are the factors to evaluate when choosing a sleeping bag.
Temperature Rating
When buying a winter camping sleeping bag, the first thing to look at is the temperature rating. Sleeping bags are rated according to the lowest temperatures they are equipped to protect and keep campers warm in. The stated ratings are usually the lower limit temperatures at which the bag will keep a person alive but not necessarily comfortable. 
As important as the temperature ratings are, they are only meant to give a rough idea as to the appropriateness of the bag for certain conditions. These ratings aren't always accurate. Regular sleeping bags are rated based on the EN 13537 standard. However, this is unreliable as a cold weather and extreme cold weather sleeping bag winter rating.
Manufacturers test and rate their winter bags by having people sleep in cold rooms and monitoring the temperatures at which they stay warm. This means that the ratings are subjective. How cold or warm a person sleeps depends on their gender, age, weight, and hydration level, how the sleeping bag fits, what sleepwear they have on, and whether they are using a sleeping pad.
We recommend researching night temperatures and conditions in your destination and picking a sleeping bag with a rating that is 10 to 15 degrees lower than the lowest temperatures you're likely to encounter. This way, you're covered if temperatures take an unexpected dip. If you get too warm, you can always unzip your bag for ventilation.
Shape
As you shop for sleeping bags, you will come across a number of shapes. The shape you choose will affect how warm and comfortable you're going to be inside the sleeping bag. In most cases, the shape also affects the weight and packed size of the bag and how easy it is to transport.
Here is how you stay warm inside a sleeping bag when it is freezing cold on the outside: Your body generates heat which warms up the air surrounding your body. Your sleeping bag maintains this warmed layer of air by ensuring that warm air doesn't escape to the outside and cold air doesn't get into the bag.
As for the shapes sleeping bags come in: The most common shape is rectangular. Then there is the interesting mummy shape that is contoured like the human body. The third shape is tapered and semi-rectangular and is referred to as an envelope shape. It combines aspects of rectangular and mummy shapes.
The best winter camping sleeping bag shape for keeping warm is the mummy shape. It hugs your body so there is less space to heat. It heats up fast and stays warm well. It also has a mummy hood and adjustable collar that insulates the head and neck. A rectangular design has too much space for your body too heat and is not efficient at maintaining warmth.
The most comfortable shape to sleep in is rectangular because it is spacious. There is a lot of room to sleep relaxed and turn when you need to. The form-fitting mummy shape can feel restrictive especially if you have a relaxed style of sleeping or turn and toss a lot. an envelope shape. An envelop design offers the benefits of both while minimizing their weaknesses.
When it comes to portability, the best cold weather sleeping bags for backpacking, hiking, mountaineering, or any other application where packability and portability are essential are mummy shapes. This shape has less material so it tends to be lightweight and packs into a small package. 
Insulation
Below zero sleeping bags utilize insulating materials to form a barrier between your body and the cold on the outside. There are two types of insulation to choose between: down and synthetic.
Down insulation is unbeatable when it comes to warmth and comfort. It is superior to synthetic insulation in many ways. It has an excellent warmth to weight ratio, compresses and packs well, and is long lasting. Its downside is that it is expensive, requires careful maintenance, loses its insulating properties when wet, and dries slowly. To improve its water resistance and drying speed, manufacturers are now treating down with a polymer to make it hydrophobic.
Synthetic insulation offers three advantages over down. It is more affordable, insulates well even in wet conditions, and requires minimal maintenance. However, it is heavy and doesn't compress or pack well.
Down insulation is the best for winter activities such as backpacking, hiking, mountaineering where it is important to have the lightest and smallest sleeping bag without sacrificing warmth and comfort. If you're an avid winter adventurer and want to invest in a high quality sleeping bag, down with the highest down fill power is your best option. It will cost you more but will serve you for a long time as long as you take proper care of it. If you're on a tight budget, synthetic insulation will suffice.
The best lightweight winter sleeping bags also have features like draft collars, draft tubes, zipper guards, baffles, and adjustable hoods. These provide extra insulation and prevent cold spots.
Shell And Lining
You will also want to pay attention to the kind of shell and lining the sleeping you're getting has. The shell is the outer fabric. It will be exposed to harsh conditions and it should be able to withstand them well. Ensure the shell is tough, breathable and has a water repellent treatment to prevent moisture from seeping into the insulating layer.
The lining is the material on the inside of the sleeping bag. It should feel soft, warm, and comfortable on the skin. It should also have moisture wicking properties so it can assist in wicking away perspiration to ensure you don't get too toasty and sweaty in the bag.
Hood
No matter how well your body is insulated, you won't feel warm and comfortable if your head isn't well insulated as well. A good hood is a must-have feature in a sleeping bag. You want a well insulated and adjustable hood so you can personalize the fit around your head to seal all gaps but still remain comfortable enough to fall asleep. It should be able to handle water vapor from your breathing well or be designed in such a way that you're not exhaling into it.
Stash Pockets
Stash pockets on the inside of a cold weather sleeping bag will come in handy. You can use them to keep valuables such as electronics within reach. If you find a sleeping bag that has all the qualities you need to be warm and comfortable in below zero temperatures and also has a pocket or pockets on the inside, you've got a winner. 
Sleeping Pad Sleeve
When winter camping, a sleeping bag alone may not be enough to keep you warm and comfortable. You need the best winter sleeping pad too as an extra insulating barrier between your bag and the frozen ground.
The problem is that you can roll off the pad in your sleep. Then the cold ground will steal your body heat and you will find yourself waking up freezing cold. If you have a sleeping bag with a sleeping pad sleeve, this won't be an issue. The sleeve is a pocket underneath the bag that you insert the sleeping pad into. Check that the sleeping bag you're getting has this convenient feature.
Pillow Pocket
For most people, a pillow is essential for comfortable sleep. When sleeping outdoors in the winter, it is another barrier between your head and the frozen ground. A sleeping bag with a pillow pocket allows you to insert your own pillow of choice to ensure it doesn't slip out. You can also stash your next day clothing to make a pillow. The bonus is that you will wake up warm and have warm clothing to slip into.
Stuff Sack
Winter backpacking is gear intensive and pack space is limited. Sleeping bags are bulky and always a challenge to pack with limited space. This is why an effective stuff sack with compression straps is an important sleeping bag accessory. It makes it easy to compress the sleeping bag into a compact and portable packed size that you can attach to your pack.
Most sleeping bags come with a stuff sack. With most bags, it is tricky to stuff them into the sack and it takes some practice. Read user reviews to find out how easy it is to use and find tips on how to compress the fluffy sleeping bag and get it to fit in the compact stuff sack. You can also purchase your own, more spacious compression sack separately.
Storage Sack
To ensure your sleeping bag lasts longer and continues to provide to keep you warm as well as it does when new, you must store it properly. Keeping it in the stuff suck in a compressed form for a long time is a no no. The insulating filling will break down and lose its efficiency. You need a spacious storage sack when you can store it in a loose form. This will preserve the quality of insulation and ensure the bag continues to keep you warm and comfortable for a long time. If your sleeping bag comes with its own custom-made storage sack, it is a nice bonus. 
Liners
A liner will add to the warmth and comfort you experience inside the bag. It will also prolong the life of your sleeping bag by protecting it from body oils, sweat, and cosmetics. The best winter sleeping bag that comes with its own liner is a cost-effective purchase as you won't have to purchase one separately.
Weight
Most winter activities and adventures on the snow involve backpacking. A lightweight sleeping bag that doesn't compromise on warmth and comfort is the best winter backpacking sleeping bag for activities like hiking and mountaineering. Finding a sleeping bag that achieves this balance is important but tricky as the warmest below zero sleeping bags tend to be the heaviest while the lightest and warmest are the most expensive.
Down sleeping bags insulated using high quality down with a high down fill power are the best winter backpacking sleeping bags because of their fantastic warmth to weight ratio. They provide warmth even in the coldest conditions while still managing to stay lightweight. They have higher price tags but are also long lasting, which makes them a worthy investment in the long run especially if you're an avid mountaineer or winter adventurer.
Durability
Finally, durability is an important consideration when choosing below zero sleeping bags. You definitely want to invest in a sleeping bag that will last a long time without losing its ability to keep you warm in frigid temperatures. The kind of materials used in a bag's construction and how well it is made determine its durability. A tough, ripstop outer shell material that can stand up to harsh weather elements and abrasion is essential for durability. The zippers should be strong and snag-free so they slide smoothly. As for insulation, down is more durable than synthetic fill. Proper maintenance and storage will also prolong the life of your bag.
FAQs

Q: What Do I Need To Know About Water Resistance Before Buying A Sleeping Bag?
A:
The first thing you need to know about water resistance before buying a sleeping bag is that a sleeping bag loses its insulating properties if it becomes wet.
Different types of sleeping bag insulations have different water resistance properties. Synthetic materials have some water resistance properties naturally, dry fast and perform best in wet conditions. Down soaks in moisture readily, takes long to dry and loses its insulating properties when wet.
It is important to choose a sleeping bag with water resistant properties. First, check that the outer material has a Durable Water Repellant (DWR) finish so it causes water to bead up and roll off rather than soak through. Hydrophobic down is down treated with polymers to improve its water resistance and drying properties.
You also need to know that water resistant does not mean fully waterproof. There is no completely waterproof down sleeping bag or synthetic bag. Water resistance is the ability to resist light splashes, condensation, and low moisture levels. A lot of moisture or prolonged exposure to damp conditions will get a water resistant bag wet.
The most effective way to ensure your sleeping bag stays dry is to ensure that your sleeping bag doesn't come into contact with moisture in the first place. The first line of defense against moisture is to use a ground tarp so your sleeping bag is not in contact with the ground.
Q: How Should I Store My Sleeping Bag?
A:
First, ensure it is completely dry by hanging it to air dry. Store it in a cool, dry place in a loose form. You can hang it in a closet, fold it loosely like a blanket and store it in a shelf without anything on top compressing it or keep it in a spacious sack, where it isn't compressed. Storing it this way will ensure it lasts long, remains in good condition and retains its ability to keep you warm. Storing it in a compressed form will cause the filling to break down and the bag will lose its insulating properties.
Q: How Should I Wash My Synthetic Sleeping Bag?
A:
One of the advantages of synthetic sleeping bags over down bags is that they are easier to wash. Most synthetic bags are machine washable. Hanging them to dry is best but they can also be thrown in the dryer.
However, the washing, detergent and drying temperature requirements vary from manufacturer to manufacturer. We recommend checking the manufacturer's tag and following the instructions and recommendations. This will ensure you don't ruin the bag's insulation performance or void the warranty by washing your bag incorrectly.
Q: How Does The Foot Box On A Sleeping Bag Work?
A:
Sleeping with your feet pressed tightly together and immobile would be really uncomfortable or impossible. Feet need space and freedom to move. The foot box on a sleeping bag provides space so your feet have freedom of movement when you're sleeping inside the bag.
Q: What Should I Know About Zippers Before Buying A Sleeping Bag?
A:
You should know that zippers are a very important component of sleeping bags and they can also be weak areas that let in cold air or break easily because of how frequently they are used. Ensure the bag you get has strong, heavy-duty zippers equipped with zipper guards and an anti-snag design so they open and close smoothly without catching the bag's materials. A two-way zipper that allows you to open from the top or bottom is great as you can open the bottom area for ventilation if it gets too warm and stuffy inside the bag. To seal the tiny zipper gaps, the best below zero sleeping bags have insulating baffles above and below the zipper.
Globo Surf Overview
From skiing, fishing, mountain climbing, hiking to camping, there are plenty of fun activities to enjoy in the winter or where conditions are snowy. Being properly prepared and equipped is essential for fun and safety. The kind of sleeping bag you have can make or break the whole experience. A warm and comfortable sleeping bag is crucial for a good night's sleep so wake up healthy, refreshed and ready to adventure more. If you're cold, you will be miserable and there's no way you will get the much-needed rest. 
Ensure your winter camping adventures are a success by packing a sleeping bag designed to keep you warm so you can sleep soundly and safely in below zero temperatures and snowy conditions. You'll want to research the temperature and other conditions in your destination and get a sleeping bag that can handle the conditions. We hope our cold weather sleeping bag reviews and buying guide have given you a better idea on which bag will best suit your needs. The bags in our list are some of the best winter camping sleeping bags available. They are great for hikers, campers, backpackers and anyone looking for a cold weather or extreme cold weather sleeping bag.
More Camping Reviews:
Which of the below zero sleeping bags on our list is your top choice? We would love to read your thoughts or experience with the cold weather sleeping bags we've reviewed! Feel free to share in the comment box below!
Globo Surf Winter Sleeping Bags Reviews
; ; ;
★★★★★
"
Your article helped me choose a new winter sleeping bag. Very helpful info. Thank you!
"