Falling in love with the underwater world typically happens after your first dive into it. One thing you do not want to worry about with these fins is sore feet caused by some cheap rented flippers. Those who have ever snorkeled or scuba dived with fins on can attest to the fact the importance of having a high quality flipper.
Not only will having the best scuba fins propel you through the water faster but it will also be a lot more comfortable on your feet. The less energy you exert to propel yourself through the water, the less oxygen you will use. This in turn makes your dive time even longer, something any scuba diver will be happy about.
Diving can turn into an expensive sport but the best diving fins don't have to be. Typically ranging from about $60 to $250, finding your perfect pair should be easy. To help with your search we have come up with the top ten best brands with the highest consumer satisfaction on the market. These top scuba fins are tried and tested by fellow divers to ensure no more blisters or leg cramps.
QUICK ANSWER: THE BEST SCUBA FINS
Best Scuba Fins
Scuba Fins Reviews
1. ScubaPro Scuba Diving Twin Jet Fin


Check Price Now
What Makes This Scuba Fin Stand Out:
Split, vented design
Comfortable strap
Quick release buckles
Model & Accessory Specs:
Weight: 4.6 lbs
Materials: Monoprene
The split fin design allows you to cruise through the water faster than you thought possible. Instead of normal paddle fins these vented fins reduce water resistance and allow water to flow through the body. Your foot is held in place with a comfortable strap that has added padding. Quick release buckles ensure an easy escape if necessary. These stylish fins will be the talk of the boat.
2. Mares Avanti Quattro Plus Open Heel Bungee Strap Fin
What Makes This Scuba Fin Stand Out:
High tech strap system
Four channels
Sleek design
Model & Accessory Specs:
Weight: 4.75 lbs
Materials: Thermoplastic rubber, Tecralene
These stylish fins secure your foot comfortably in the foot bed with a high tech strapping system. Large channels help direct the water giving you more control and power through your kicks. The 6 unique colors mean you will always know which fins are yours while you stand out of the crowd. These Mares Avanti Quattro fins showcase that you don't need fancy vents or the newest technology to be the fastest in the water
3. Cressi Reaction Pro Fins – Scuba Snorkel Dive Fins
What Makes This Scuba Fin Stand Out:
Elastomer foot pocket
20% more surface area
Model & Accessory Specs:
Weight: 4 lbs
Materials: Foot Pocket: Thermo-Rubber Elastomer, Blade: Techno-Polymer Polypropylene, Channels: Silicone Based Material
These scuba diving fins are great for all things water. Whether you are choosing to scuba dive, free dive or snorkel these fins will be a great addition helping propel you through the water with ease. The variable thickness on this blades design increases responsiveness allowing less effort to take you greater distances. An elastomer foot pocket makes this fin incredibly comfortable to wear and allows your foot to sit securely. With a dual material design this blade is more precise delivering more control than ever before.  The blade of this fin is longer extending from the top of the foot to cover an additional 20% of surface area.
4. Atomic Aquatics High Performance Full Foot Split Fin for Scuba & Snorkeling
What Makes This Scuba Fin Stand Out:
Two blade system
Ultra lightweight design
Model & Accessory Specs:
Weight: 2.75 lbs
Materials: Composite Plastic Polymer
You are sure to be amazed with this fins high performance rate delivering maximum power and top speeds. The full foot open toe pocket of these fins is sure to leave your foot so comfortable you will hardly notice they are on.  You will experience much less drag with this fin which means you are required to put in less effort. Traveling with these fins is made easy with their incredibly lightweight design which allows you to fit them into your bag with ease. This fin delivers top speeds by developing a two blade system that separate and twist to mimic a propelling type motion. This increases your propulsion and lift pushing you through the water with less manual effort. The less effort you use to propel through the water, the less air you will need to use which increases your dive time.
5. Scubapro Seawing Nova Fins
What Makes This Scuba Fin Stand Out:
Highly durable material
Comfortable strap
Model & Accessory Specs:
Weight: 5 lbs
Materials:  Monoprene
These futuristic looking fins will propel you through the water with ease. A high tech pivot system creates momentum and loads of thrust while a comfortable strap ensure your foot stays where it needs to be. The angles of these fins have been designed for the perfect amount of thrust and flow through the water while reducing drag and fatigue. A patented material ensures a nearly indestructible design that will stand the test of time.
6. DIVE RITE XT SCUBA FINS

What Makes This Scuba Fin Stand Out:
Adjustable marine grade stainless steel heel strap
Stiff design
Model & Accessory Specs:
Weight: 5.8 lbs
Materials: Monoprene blend
These dive fins is built to last. With a top of the line tried and tested Monoprene blend formula you receive an excellent power to kick ratio. These fins have a uniquely designed blade that makes them a great option for any style kick. Stainless steel spring straps secure the fin to your feet giving a comfortable fit. This also allows one fin to work for a wide range of foot sizes. This stainless steel buckle is made with marine grade technology which ensures that it will not rust when submerged in saltwater. These fins are stiff enough to handle stiff currents while offering plenty of snap. Their design is also lighter in weight than most traditional rubber fins which allows you to use them for even longer.
7. Aqua Lung Stratos 3 Full Foot Fins
What Makes This Scuba Fin Stand Out:
Four channel blade
Anti-slip rubber pads
Model & Accessory Specs:
Weight: 2.7 lbs
Materials: Composite Techno-Polymer Plastic/Rubber
This scuba fin combined all the powerful components used to make a scuba diving fin and combined it with the sleek lines of a snorkeling fin to produce the ultimate scuba diving essential. This fin is constructed using a four channel structure for more efficient water canalizing along the blade. Built in side wings increase performance and stability of the fin. The reinforced ergonomic foot pocket makes this fin excel in comfort even during extended use. Anti-slip rubber pads improve stability when walking on smooth flooring. Great for warm waters, this fin can be worn both barefoot or with a neoprene sock.
8. Mares Wave FF Full Foot Dive Fins
What Makes This Scuba Fin Stand Out:
Lightweight design
Seamless foot pocket
Model & Accessory Specs:
Weight: 3.4 lbs
Materials: Thermoplastic rubber
These are a traditional style fin that uses waved material to move you through the water. A closed system creates a sleek design that doesn't create drag through the water. Three stylish colors and ample sizes mean you'll be stylish and comfortable no matter where you decide to dive. A three material design ensures a lightweight and responsive system that will keep you in the water longer than you thought possible.
9. Sherwood Triton Fins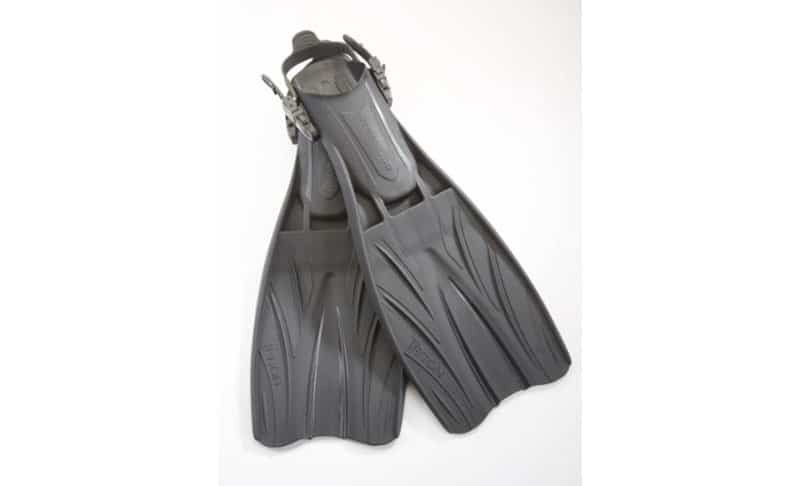 What Makes This Scuba Fin Stand Out:
Triple vent system
Adjustable heel strap
Model & Accessory Specs:
Weight: 3.9 lbs
Materials: Thermoplastic Polyurethane
The appearance of these fins may look like your classic old school flipper but the functionality behind them are far from ordinary. These fins for scuba diving are built for the water and will float in the water making it so you never lose a fin. An open heel design has adjustable straps to allow the perfect fit for your foot. A quick release buckle allows you to get in and out of these flippers with ease. A three vent system provides more thrust when down kicking and decreasing drag on the upkick. The blades carry a ribbed design which carries water down the length of the blade which in turn delivers a powerful kick that leaves you soaring through the water.
10. Atomic Aquatics Smoke on the Water Split fins High Energy Compound Split Fins
What Makes This Scuba Fin Stand Out:
Stainless steel springed heel strap
Split fin construction
Model & Accessory Specs:
Weight: Composite Plastic Polymer
Materials: 5.25
Atomic brand has made it on our list twice and that is no coincidence. They delivered yet another top of the line scuba fin with their Smoke on the Water Split Fin. This fin delivers more power and less drag with every kick. Minimizing the need for manual effort this fin is centered around propelling you through the water with ease. The split fin design has been shown to significantly reduce air consumption due to ease of use, something that any scuba diver will enjoy hearing. Power rails perform as a backbone of this fin releasing energy with each flick of your foot. The slightest kick of your foot is needed to effortlessly float you through the water. Contoured to fit your foot without stress points this semi open toe design allows your foot to sit comfortably.
Anatomy of a Scuba Fin
Every set of fins will have a foot pocket. This is where your foot is secured to the fin. Some do this by a strap that goes around your heel while others have a boot that your foot slips into.
Side rails are the vertical pieces of material which run adjacent to the flat part of the fins. This is the part that gives you control when you kick. Without this part you wouldn't move in a straight line and would use more energy to propel through the water.
Vents are slits which have been cut into the blade of the fin. They help with the kicking motion, precisely the upkick. This feature reduces the amount of resistance your foot experiences when moving to the kicking motion which can create more power through that motion.
Buckles are used in some types of fins. This secures the strap to the foot pocket which in turn secures your foot. Most fins that use buckles will have one on each side allowing a precise fit. A quick release feature is included on most sets which allow you escape with a touch if needed.
Straps are made out of a comfortable, flexible material. Since they rest on a tender spot on the foot they need to feel right to you. A poorly fitted strap could cause friction and in turn cause blisters.
Open vs closed heel
There are two main styles of heels in regards to scuba fins.
An open heel system uses a strap to secure your foot to your fin. The strap system will more than likely have a strap on either side of the food allowing for the most comfortable fit possible. These are easy to put on and remove but give up speed compared to the closed heel. They are able to be worn with booties that allow you to launch from rocky landings. The foot bed is also more bulky than that of the closed system.
A closed heel system offer a more streamlined fin. This type of fin is almost always worn barefoot but can also be used with thin socks for colder water dives. The foot pocket is less bulky and the boot doesn't require straps which cause more water resistance. Since these are less bulky they will use less energy to move giving you more air to spend under the water.
Blade type
There are many different types of blades. This can affect your dive by making them more efficient which will give you more power with less effort.
Standard fins are ones that you instantly think of when you hear scuba fins. They have a flat piece of material that usually have ribs running down the length of the flippers.
Split blades have a large slit down the middle of the fin. This allows water to flow between each blade which reduces water resistance giving you more power. This is a newer type of fin that has quickly become a favorite in the diving community.
Globo Surf Overview
Diving can quickly become an addictive sport. Perhaps it is the escape from our real world that is appealing or perhaps it is the look into the wildly unknowns of the ocean. For whatever reason you dive you will need the best scuba gear. One of the cheapest and most useful items to buy are scuba fins.
The quality of flippers is forever increasing giving you more options than ever before. With the help of modern day technology less and less effort is required to propel you further.  Scuba fin reviews agree that fins are a vital part of diving be at the of top of your list when looking at new gear.
Sources
Fins, Scubapro
Scuba, AquaLung
Do you scuba dive? Have a set of diving fins from our list? Let us know how you like it in the comment section below.
Globo Surf Scuba Fins Review
★★★★★
"
Was looking for some new scuba fins as mine are very outdated. Wanted to find out the best ones and found your article. Grabbed the Mares. Thanks
"