A
 scuba marker buoy is a
key piece gear
that will ensure your safety when under water. If you dive in a busy water body it is imperative that the people on the surface know you are underwater. The best surface marker buoy will not weigh you down or inhibit your dive at all but it will allow you to communicate where you are in the water. These dive markers give your party an idea of where to pick you up and how far you have drifted.
It is important to find the best diving smb so that you can properly enjoy your dive. We have compiled a list of our favorites that are compact, yet reliable.
QUICK ANSWER: THE BEST SMB FOR SCUBA DIVING
Best SMB for Scuba Diving
XS Scuba Surface Marker Buoy (SMB)


Our rating

Weight: 1 lb

Dimensions: 7' x 22"
ZEAGLE ALL ORANGE DELUXE SIGNAL TUBE 60


Our rating

Weight: 1 lb

Dimensions: 5' x 7"
Blue Reef Diver-Below Deluxe 4′ (1.22m)


Our rating

Weight: 0.85 lbs

Dimensions: 4 feet
SMB for Scuba Diving Reviews
1. XS Scuba Surface Marker Buoy (SMB)

Check Price Now
The XS Scuba Surface Marker will keep you safe when you're underwater. A long 7 foot body will warn people of your location on the surface and give you a point of reference when diving. Features like large reflective tape, an extra loop for a light and a large stainless steel D-ring do their best to keep you safe and visible.
Dimensions: 7' x 22"
Weight: 1 lb
Color: Red
Material: Urethane, nylon, reflective tape
What makes this SMB stand out:
Long 7 foot body
Loop for chemical light
Stainless steel D-ring
2. ZEAGLE ALL ORANGE DELUXE SIGNAL TUBE 60″ SAFETY SAUSAGE SIGNAL DIVE MARKER
This Zeagle diving buoy is a piece of gear that should be with you at all times. Unlike most markers, this one can be inflated at depth. Simply hold open the valve and fill it with purged air and send it to the surface when inflated. Don't worry about the pressure as it has a built in over pressure relief valve that ensures it gets to the surface. This is a great option for travel dives where you will be traveling a long distance allowing you to set it up where you find a place you want to explore further.
Dimensions: 5' x 7"
Weight: 1 lb
Color: Orange
Material: Nylon
What makes this SMB stand out:
Pressure relief valve
Can be inflated at depth
(Hey! You May Also Like: Best Wetsuits)
3. Blue Reef Diver-Below Deluxe 4′ (1.22m) Surface Marker Buoy
This safety buoy is a must have for every diver, no matter their experience level. The compact design makes it easy to bring on every dive. The highly visible yellow color is easy for boats to see if you surface a distance away from your boat. Rolling up small enough to fit into a large pocket or easily strapped to your BCD, you won't notice this SMB on you until you need it. Inflating to a large size, it is durable enough to face extreme weather conditions. With an easy to use oral inflation valve and a lock you will ensure your buoy is working well. A D-ring on top allows you to attach a light or strobe to the top for added visibility and security. For additional safety, there is even a second inflation option in case of emergency. This signal tube even comes with a two-year warranty.
Dimensions: 4 feet
Weight: 0.85 lbs
Color: Yellow
Material:
What makes this SMB stand out:
Two year warranty
Two inflation options
4. XS Scuba Safety Sausage (SMB)

This dive marker is an excellent choice for someone looking for a clean, neat package. The 75-inch dive marker rolls up and fits into the included mesh bag with ease. The included mouthpiece makes this easy to inflate and the snap clip gives you the option of attaching it to a line. If you are diving in fast moving water this is a top pick and becomes a necessity for your safety.
Dimensions: 75" x 9"
Weight: 0.25 lbs
Color: Orange
Material: Rubber composite
What makes this SMB stand out:
12 month warranty
Snap clip
5. Carter Personal Float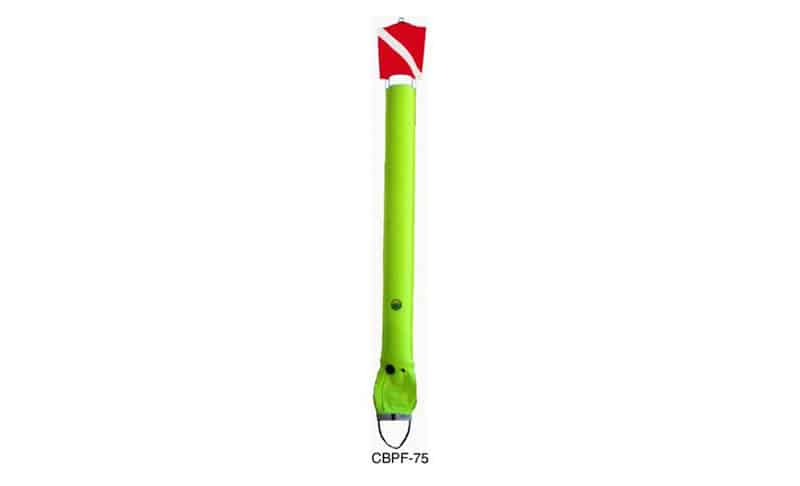 Stay safe with the help of this lightweight scuba smb. Coming equipped with detachable dive flags on both sides this personal float may just save your life. Its bright color is highly visible and can be easily seen even from a far distance. A large reflective strip allows you to be visible during the night as well. Easily inflated using an oral inflation valve and equipped with a dump valve allows this compact device to work easily. Made using an incredibly durable material and equipped with a one-year limited warranty, you can feel sure that you made a great purchase.
Dimensions: 12″ x 12″
Weight: 1.4 lbs
Color: Green
Material: 400-Denier Polyurethane-Coated Nylon Material
What makes this SMB stand out:
One year limited warranty
Durable material
Compact design
What to look for in a SMB
Dive marker buoy reviews will tell you that this is not just a product for beginners. It is an important accessory for every diver. There are many things to consider when looking to purchase a dive marker.
Visibility
If people are going to be able to see you the dive marker will need to stand out. Most are a bright red or orange color with options for yellow or green. This will notify ships of your location and let them know you are underneath. Fluorescent strips also go a long way to signal your location, especially at night.
Size
Scuba diving requires enough gear as it is. This is why dive markers have been designed to roll into a compact bag. Being able to strap this to your bag will not only make you remember to bring it with you but also not take up crucial space in your pack.
When they are inflated your marker should not be small and compact. Full sized markers will range in size from 4 to 8 feet in length and 4 to 12 inches in diameter. We find that 7 feet is the sweet spot. Anything smaller will be hard to see and anything bigger will add visibility but also bulk to carry.
Globo Surf Overview
When exploring underwater it is important that you have the proper safety features to keep your dive enjoyable while keeping you safe. Carrying a scuba marker buoy with you on every dive will keep you safe and visible while you are in the water. Even experienced divers use this to ensure that they enjoy their dive to the fullest.
Do you own or use one of these dive markers? Let us know what you think in the comment section below.
You May Also Like
10 Best Dive Compass in 2018
10 Best Dive Watches in 2018
10 Best Dive Boots in 2018

Globo Surf SMB for Scuba Diving Review
★★★★★
"
Started diving by myself and needed and smb that can go up to 100 feet. Found the one I was looking for.
"