Scuba diving can require a lot of gear from masks to fins to dive computers, it can start to get expensive. A dive knife is a piece of gear that is worth the money. This should be considered an essential safety device as it will provide peace of mind. If something goes wrong and you get caught on something you will be able to cut your way out of it.
When you are exploring the world underwater and need a knife, we understand how important it is to have a reliable one. In a place where you can't walk to the kitchen to grab another it is important to have the best diving knife on hand. We have done the research to find the top 10 best dive knives of this year.
QUICK ANSWER: THE BEST DIVE KNIFE REVIEWS
Best Dive Knife
Dive Knife Reviews
1. Spyderco Atlantic Salt Rust Free Serrated Edge Knife


Check Price Now
What Makes This Knife Stand Out:
Will not rust
High end steel blade
One hand capabilities
Lightweight
Model & Accessory Specs:
Blade Length: 3.5"
Handle Length: 4.5"
Materials: H-1 steel, nylon, fiberglass, titanium
The Spyderco Atlantic dive knife is an excellent blend of high end materials and well thought out design. A serrated blade will cut through any material and will stand the test of time. Made out of high end steel that is guaranteed to not rust. On top of that a 14 millimeter hole is bored out and allows you to easily strap it to your suit. When you're not using it to cut the blade folds into the handle with a built in locking mechanism. The blade is easy to open with one hand, even with gloves on. The handle is made of a fiberglass reinforced nylon material that has enough texture to ensure a sturdy grip. If you don't want to use the loop there is a titanium pocket clip which allows you to secure it to your body as well as the security hole.
2. Aqua Lung Squeeze Lock SS- Blunt Tip
What Makes This Knife Stand Out:
Quick release mechanism
Compact design
Serrated and flat edges
Blunt tip
Model & Accessory Specs:
Blade Length: 3"
Handle Length: 3.5"
Materials: Stainless Steel
This knife has a rugged design and quality features. The blade is made out of 304 stainless steel and is rust resistant. One side is flat while the other is serrated which provides full functionality. A quick release system involves minimal movement and only requires a squeeze of the handle. Attach this to the inside of your thigh or even on your buoyancy compensator for quick access when you need it the most. The Aqua Lung Squeeze knife has a blunt tip which is perfect for new divers. Throw the included sheath on the blade for added protection and a second way of carrying the knife.
3. Promate Scuba Dive Snorkel Titanium Knife with straps and sheath
What Makes This Knife Stand Out:
Easy grip handle
Corrosion resistant
High end material
Model & Accessory Specs:
Blade Length: 4 ⅜"
Handle Length: 5 "
Materials: Titanium blade with rubber molded handle
This knife is designed by scuba divers, for scuba divers. With a titanium blade this knife has a sleek design that is sure to stay sharp and strong no matter how you use it. Utilizing titanium rather than the typical stainless steel gives you a much lighter product than competing knives. The easy grip handle combined with the lightweight design makes this knife easy to use and requires little to no maintenance. The knife is corrosion protected. Simply rinse and dry to give this knife and extended life. This is available in both a sharp and blunt tip giving you more variety to get the best use.
4. Tusa FK-940ti X-Pert II Knife
What Makes This Knife Stand Out:
Serrated and flat edge
Sheath and leg strap included
Titanium blade
Able to be disassembled
Model & Accessory Specs:
Blade Length: 4.5"
Handle Length: 5"
Materials: Titanium
The Tusa FK-940ti knife is a heavy duty option. You will look and feel the part with this knife set. Coming with a strap and full sheath you are able to strap this to your leg, arm, or ankle. This ensures quick access while keeping it out of the way. The titanium blade will not rust, pit, or get dull even in the harshest environments. A full point blade offers a sharp point while the serrated blade will cut through any material. The handle has been specifically designed for balance and maximum grip with or without gloves. Cleaning this set is easy as the handle complete comes apart from the blade allowing you to clean every crevice of this set up.
5. Promate Barracuda Sharp Tip Titanium Diving Knife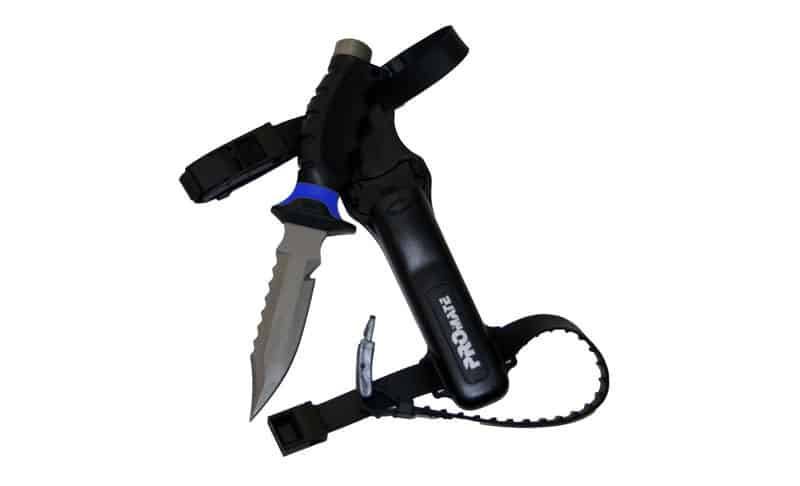 What Makes This Knife Stand Out:
Hammer on handle
Serrated and flat edges
Sheath and strap included
Model & Accessory Specs:
Blade Length: 5"
Handle Length: 4.5"
Materials: Titanium
The Promate Barracuda diving knife is a high quality knife that provides a serrated and flat edge for all your cutting needs. A high quality sheath and strap will secure it to any part of your body with ease. This is a professional knife that can be fully disassembled making it a breeze to clean and maintain. This knife features a piece of metal material that acts as a hammer in case of a real emergency which makes it one of the top rated dive knives. This is a high end knife that is fit for any level of diver.
6. Cressi Skorpion Dive Knife

What Makes This Knife Stand Out:
Corrosion resistant
Blunt and sharp tip option
Easy release sheath
Model & Accessory Specs:
Blade Length: 4.33"
Handle Length: 5.08"
Materials: Stainless steel blade
This knife is built with versatility in mind. With one side being a straight edge, the other is serrated which allows it to be able to cut almost anything with ease. It even comes with a line cutter notch which is most useful in the marine world. It is available in both sharp or blunt tips which provides you the versatility to choose which one works best for you. The options come with two different types of materials including a 420 Stainless steel sharp tip blade that focuses on being incredibly sharp. Alternatively, there is a 304 stainless steel blunt tip blade that has better corrosion resistance.
For easier underwater use this blade has an easy-release mechanism which allows you to release it with only one hand. An incredibly lightweight and compact design makes storing this knife easy.
Included in this package are two knife straps which allow you to attach it to your body with ease. A comfortable design allows you to strap this knife to your leg and forget it is there, that is until you need it.
7. U.S. Divers Titanium Diving Knife
What Makes This Knife Stand Out:
2 year warranty
Stainless steel butt cap
Leg straps included
Model & Accessory Specs:
Blade Length: 5"
Handle Length: 4.5"
Materials: Titanium blade
This knife features a multi functional blade. With both a serrated top edge as well as a line cutter you are guaranteed to get the most out of this knife. It has a quick release mechanism which makes it easy to use, even with only one hand. Coming with a stainless steel butt cap you can ensure that your knife will stow safely and is there to protect you, rather than potentially cause injury.
The handle of this knife comes with a lanyard hole which works well to ensure your knife stays with you and is safe. This package comes with a leg straps which allow you to strap the knife to your body to be stowed away with ease.
This knife is easy to clean as it completely disassembles for a deep and easy clean. This greatly extends the lifespan of your knife. U.S. Divers is so confident in this knife, they've even attached a two year warranty to it. That gives added peace of mind knowing your knife will last.
8. Cressi Borg, Long Blade Diving and Spearfishing Knife
What Makes This Knife Stand Out:
High quality blade
Technopolymer grip
Sheath and strap included
Model & Accessory Specs:
Blade Length: 5.5"
Handle Length: 5"
Materials: 304 Stainless steel, technopolymer
Coming in blunt and pointed tip the Cressi Borg long blade diving knife is highly versatile. The two colors accent the knife nicely while giving them more visibility. Cressi has been making dive knives since 1946 and has a reputation of excellence. This blade uses Japanese 304 stainless steel which is rust resistant and will stay sharp longer than regular steel blades. The perfect mixture of serrated and flat edges will allow you to cut any material with ease. An included sheath features a quick release button for one handed operation. The angled tip ensures safety without sacrificing the sharp point. A technopolymer thumb tab gives you the control and grip you need no matter the circumstances you find yourself in.
9. Scubapro Mako Titanium Dive Knife for Scuba Diving, Snorkeling or Water Sports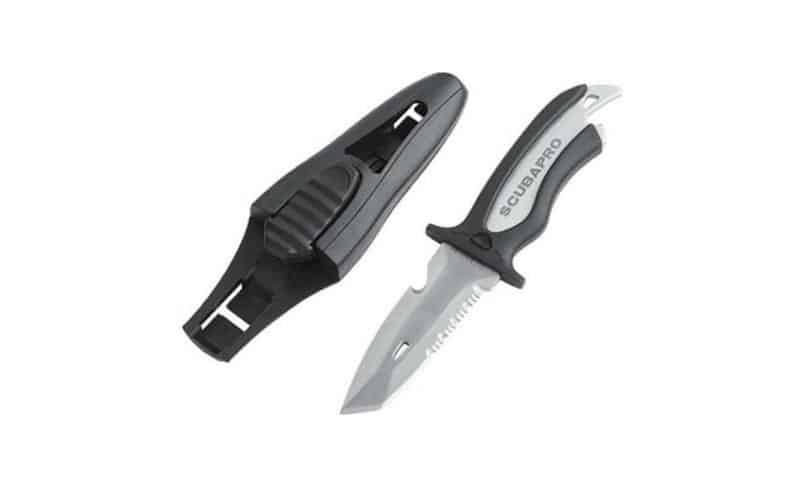 What Makes This Knife Stand Out:
Corrosion resistant
Cutting notch
Lightweight design
Model & Accessory Specs:
Blade Length: 3.35"
Handle Length: 4.14"
Materials: Titanium blade
This knife features a titanium blade which means that while being incredibly durable and strong, it is also of the most lightweight materials for making knives. This type of blade is also extremely corrosion resistant which makes it highly desirable as a marine knife. This knife is built to last and features a conventional edge for easy slicing through numerous materials. It also has a cutting notch that can but used for small ropes and fishing lines. This beginner scuba diving knife makes for an excellent introductory knife for underwater excursions.
10. Cressi Lima Tactical Dive Knife for Scuba Diving, Snorkeling and Water Sports
What Makes This Knife Stand Out:
Non slip grip
Compact design
Model & Accessory Specs:
Blade Length: 2.95"
Handle Length:  3.35"
Materials: Japanese 420 Stainless steel blade
This scuba knife doubles as a desirable spearfishing knife as it carries a compact design. A sheath wrapping the blade adds security that this knife will be safe in use underwater. A locking mechanism allows this sheath to be released using only one hand.
This design allows it to be easily attached to a BCD or a gauge hose which means you can keep it close by for easy access. The compact size allows it to fit onto your arm or even clip onto your weight belt. Keeping it close by is easier than ever before.
The blade of this knife features a line cutting notch that is great for cutting small ropes or fishing lines. The non-slip handle provides a soft and comfortable grip with finger moldings.
What To Look For In A Dive Knife?
As a dive knife is a crucial safety device to have underwater, it is important to get the best. Dive knife reviews agree that looking for the following characteristics are of the utmost importance when picking one that is right for you.
Size
Bigger isn't always better when it comes to dive knives. Even though they can range from 3 to 6 inches we find that the 3.5 to 5 inch is the perfect sized blade. This gives you enough travel to easily cut rope or other material and still be compact enough to carry around without too much added bulk.
Edge
There are two main types of blade edges. A good knife should have both. One side, or part, of the knife should be straight while the other is serrated. If you have to choose between these features look first for a serrated blade. It will be able to cut through tougher material and stays sharp longer.
Material
Normal knifes do not need to stand up to the harsh environment of the ocean. Different material will react with the salt and could cause rusting. We suggest looking for a knife that uses a stainless steel or titanium construction.
The stainless steel option will require regular maintenance and sharpening. A lower number, around 300, will indicate a higher quality knife, but will be harder to keep sharp due to high carbon count. You will have to rinse this knife after each use and even apply oil or wax to keep it from corroding.
A titanium blade is a much higher quality and cost knife that requires minimal maintenance. The only drawback to these knives is that they are hard to sharpen but your dive knife shouldn't require that often. This option will not rust or deteriorate over time and will be what you need at all times.
Tip
Dive knives can have a pointed or dull tip. Some will appreciate a blunt knife so they don't puncture things they don't intend to while others may need that option. New divers may opt for the blunt option as it can be safer underwater.
Attachments
Most knives will come with a way to attach so you will not lose it. This could be as simple as a loop to allow you to strap it to your suit. Others come with a strap which allows you to attach it to your leg or thigh. This will give you quick access to the knife while having it out of the way. The only drawback is that it could get caught on things.
Globo Surf Overview
When scuba diving it is highly recommended that you take every precaution possible. While it is a very beloved sport, it is important to dive prepared and that includes having a dive knife. As typical dives are in salt water, having a corrosive resistant knife is important to ensure the full functionality. When you are underwater you are in a much more limited position than in the dry world, it is important that the one knife you have with you can do the job properly. Having the best diving knife will ensure that you you are able to cut your way free of fishing wire or rope when underwater should that situation arrive. As a bonus, these knives are sharp enough to be doubled as as a fisherman's knife.
Sources
Titanium, RSC.org
Diving Emergency, Journal of Emergency Medical Services
Do you dive with a scuba diving knife? Do you prefer titanium or stainless steel blades? Let us know how you like your dive knife in the comment section below.
Globo Surf Dive Knife Review
★★★★★
"
Needed a new dive knife has I am going to Mexico next weekend. Awesome they have so many options available.
"