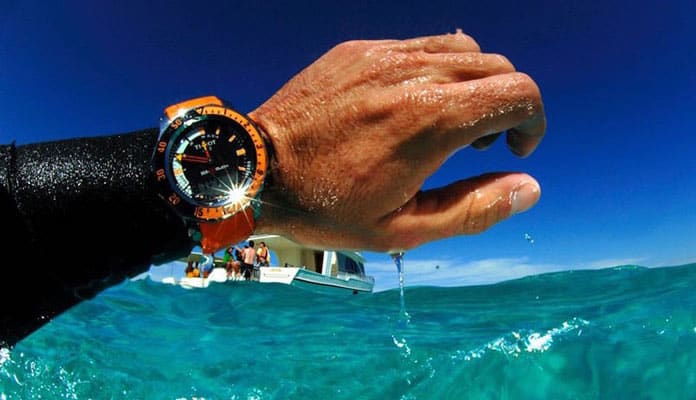 EDITORS CHOICE

---
Smartphones have to lead many people to stop wearing a watch. However, what happens when you go underwater? Keeping time on a dive is very important, and nothing beats a diving watch at this task. On top of this, many of the best scuba diving watches are very stylish and look fantastic for casual wearing.
Broadly speaking, a good dive watch should be tough, easy to read, and capable of withstanding great water depths. In our watch reviews, you'll discover the best dive watches currently available and learn how they can make your diving sessions better. Also, we'll explain everything there is to know about watch design and features so you can easily compare the models.
Pro tip 1 - Luminescence:
Yellow luminescence allows you to see your dive watch, even in deep waters. Yellow is the last color to be affected by light absorption -  red and orange are absorbed first in the water column. 
Pro tip 2 - Strap Design and Closure Type: 
Titanium dive watches are more resistant and comfortable on your wrist than other budget options.
Pro tip 3 - Reasons For Using A Dive Computer Watch 
Sharing a dive computer with your buddy is a bad idea for several reasons. If one of you is deeper than the other at any point, various problems may occur. These problems include no-decompression limits, oxygen toxicity while diving nitrox, and safety stop times, just to name a few.

Scuba Diving Expert
How To Choose A Dive Watch – Buying Guide
Water-Resistant vs Waterproof Watches
Water-resistant and waterproof are not the same thing – the first means protection against splashing, while the other means that the watch is safe for submersion. For example, most surf watches are only water-resistant. However, if you plan to use the watch for scuba diving, you'll need a truly waterproof model.
To add more confusion, manufacturers have abandoned the term waterproof and are using water-resistant with a pressure limit. For example "water-resistant to 20 ATM." For diving, you want a watch that is water-resistant to 20ATM (660 feet). A watch that is water-resistant to 10ATM with a locking crown is also acceptable. 
You will also see watches described as "Diver's watch or ISO 6425". This will be followed by a depth such as 100 meters, 200 meters, or more. The ISO 6425 standard has several different tests that a watch must pass in addition to the water resistance. While other ratings just require a sampling, the ISO required each watch to be tested.
Related Review: Surf Watches
Bezel
The bezel is one of the most important features of a diving watch. By turning it in, you can easily track the elapsed time and know when it's time to go out. It should be easy to turn and designed with visible markings. Many of the best diving watches come with a bezel that rotates in one direction only so you don't accidentally turn it and lose track.
Luminescence
The deeper in the water you go, the darker it will be. Because of this, it's very useful if the diver's watch comes with luminescent hands and markers. Depending on the model, the glow is either charged by sunlight or completely on its own like with the Luminox model.
Strap Design and Closure Type
Since fabric straps are not particularly comfortable underwater, you have two options to choose from – rubber and steel. A rubber strap comes with standard buckles and provides a higher level of adjustability. On the other hand, stainless steel bracelets are a lot more durable and comfortable to wear.
Reasons For Using A Dive Computer Watch
Some dive computers are in a watch design. They are technically not watches but are the same size and can be worn as a watch. Dive computers can track everything about your dives and keep a tidy log. Having a record of your dives will allow you to look back and see your depth across the entirety of your dive.
You might also be interested in:
Freediving Watches & Waterproof Watches
Choosing the Right Men's Diver Watch
The first thing you should consider is its depth rating, and whether it can survive the dive. All of the best watches for diving we've featured have a depth rating of well over 300 feet so even professionals can use them.
Another important consideration is comfort. As a diving enthusiast, you want a watch that fits well on your wrist and doesn't get in your way. Finally, you should always look for high-quality construction materials that will give you the best value for money.
Related Review: Dive Watches Under $100

Choosing The Right Women's Diver Watch
As more and more women take to the ocean to explore life under the sea, dive gear manufacturers are beginning to produce female-specific dive watches. While some women like the looks of a unisex watch, others prefer sleeker models with a more low profile design.
Generally speaking, women's dive watches usually come with a smaller case diameter so they can fit on a female wrist better. Besides, they often feature a more colorful dial and bezel.
Related Review: Women's Dive Watches
FAQs
Q: How Do Dive Watches Work?
A:
They work similarly to casual watches but come with a few additional features. Their casings are usually perfectly sealed and able to withstand being submerged without leaks. Furthermore, many of the best watches for divers come with screw-down crowns and tough dial windows that can withstand the increased pressure.
Q: How Water Resistant Should A Dive Watch Be?
A:
Not only should it be water-resistant, but a true dive watch also needs to be completely waterproof. Every model comes with its specific depth rating that shows you how deep it can safely go before it starts to leak. For high-quality diver's watches, this rating is at least 330 feet.
Q: How Deep Can A Watch For Diving Go?
A:
While it can vary from one model to the next, most dive watches can go up to 660 feet deep (200 meters). This is more than enough for both recreational and pro scuba divers.
Globo Surf Overview
Tracking the time you spend underwater is very important because it allows you to stay safe and avoid staying too long. Dive watches are the most reliable option for keeping time because due to their specific design and excellent depth rating. We hope that our article and list have helped you choose the best watch for diving that will both look great and be a reliable companion on your dives.
More Scuba Reviews:
More Watch Reviews: