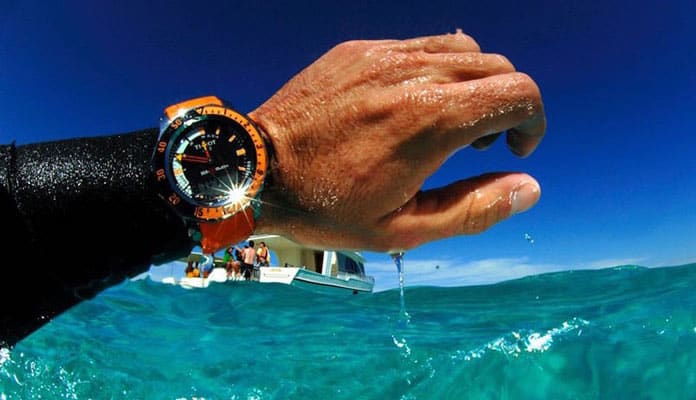 W
ith smartphones at our fingertips the need for a watch has greatly diminished. However, what happens when you go underwater? In a place where your smartphone can't come with you it is more important than ever to use a watch. Being able to tell time when under water can be very important. When adding other modern conveniences to the watch, it can quickly become your favorite accessory.
Dive watch reviews are raving over the best dive watches that will seamlessly transfer between an underwater accessory to a style accessory for the office. These everyday watches are able to handle impressive depths in the ocean to allow you to dive freely.
To find the best watch for your dive, we did our research. After scouring the web in search of the best divers watch we were pleasantly surprised with what we found. Below we have listed our top ten favorites.
QUICK ANSWER: THE BEST DIVE WATCHES
The Best 10 Dive Watches Are…. Let's Review!
[table id=1 /]
Citizen Eco-Drive Men's BN0151-09L Promaster Diver Watch

Check Price Now
Citizen makes quality watches and the Eco-Drive Promaster watch is no exception. This sleek watch is amongst the best dive watches for men. The round face of the watch has a classy design that is fashionable even above water. This watch is great for snorkeling, surfing, and paddle sports. You won't have to struggle with changing the battery as this watch is eco friendly and gains a charge from the sun. Solar power technology is not all that will impress you, this watch comes with a five year manufacturer's warranty. A comfortable and highly adjustable strap will ensure it stays secure to your wrist with or without a wetsuit. Luminous markings will be able to indicate the time even in dark and murky dive conditions. The quartz movement gives you peace of mind that this piece of gear will be accurate for years to come.
Battery: Solar powered
Depth Resistance: 200 meters (600 feet)
Materials: 43mm stainless steel case with molded polyurethane band
What makes this watch stand out:
Five year manufacturer's warranty
Comfortable strap
Solar powered
Seiko Men's SKA371 Kinetic Dive Analog Japanese Quartz Stainless Steel Silver Watch
This might just be the best men's dive watch on the market. Dive up to 200 meters (660 feet) with this Japanese quartz watch. No need to ever replace a battery as this gains a charge with every move of your wrist. A kinetic auto reset ensures you have the right time, all the time. This is desirable as it eliminates the need to open the watch to replace the battery which means you will not risk breaking the factory seal thus making your watch lose it's ability to go in water. This type of battery alternative greatly increases the life expectancy of your watch. All of this is combined with a stylish look and comfortable band. It is made of a stainless steel material that will not be affected by the sea or deep dives. This is a highly recommended watch for any level diver.
Battery: Kinetic movement
Depth Resistance: 200 meters (660 feet)
Materials: 42mm stainless steel with stainless steel bracelet
What makes this watch stand out:
Kinetic chronograph
Stylish design
Deep dive rated
Citizen Men's BJ8050-08E Eco-Drive Professional Diver Black Sport Watch
This watch is full of features which makes it one of the best dive watches under $500. We love solar powered scuba diving watches and this Citizen option is no exception. This watch is so good at what it does we are naming it one of top rated diving watches on the market. The numbers and dial are easy to read even underwater and the large hands clearly show the time while maintaining a high class look. Being able to go an impressive 300 meters underwater this watch is ready to go anywhere you are. A rubber strap keeps this secure on your wrist even if you are wearing a thick wetsuit. The lens is made of an anti-reflective curved crystal that will ensure you can see the time under any circumstance.
Battery: Solar powered
Depth Resistance: 300 meters (1000 feet)
Materials: 48mm stainless steel with rubber band
What makes this watch stand out:
Comfortable strap
Easy to read dial
Casio Women's LRW200H-7BVCF Watch
This watch is so impressive that it is the best dive watch for women. This feminine looking watch effortlessly goes from underwater to everyday wear. A colorful pick, this white watch has pastel numbers adding just the right amount of color. Featuring a date window and a bi-directional bezel this watch is full featured. This watch is a great choice for swimming, snorkeling, and surfing as it is able to dive to depths of 330 feet. You won't even notice the compact size of this watch on your wrist leaving you with more time to focus on your activity. An easy to use knob will adjust the time without struggle while the strap is comfortable and easy to adjust. This is a well rounded, stylish watch that will never fail to impress you – all for a steal of a deal.
Battery: Solar powered
Depth Resistance: 100 meters (330 feet)
Materials: 33mm resin case with molded resin band
What makes this watch stand out:
Bi-directional bezel
Compact size
Great value
Seiko Men's SRP309 Classic Automatic Dive Watch
This fun watch shows your personality with a bold orange face that allows for maximum visibility. Displaying the date as well as the time this watch is attractive for both work and pleasure. Powered by kinetic movement the Seiko SRP309 dive watch charges with every step you take and with every move of your wrist. A brushed finish look allows this bracelet to have a high end look that will easily transfer to everyday use. The stainless steel design will hold up strong without risk of corrosion in saltwater. The fold over clasp closure is a desirable and high end feature in this watch.  Being able to go 200 meters deep means you can take this watch with you anywhere you go, even on scuba diving trips. The strap encases your wrist comfortably while the easy to use clasp ensures you won't lose it.
Battery: Kinetic power
Depth Resistance: 200 meters (660 feet)
Materials: 42.5mm stainless steel case with brushed finish link bracelet
What makes this watch stand out:
Brushed finish
Orange faceplate
Comfortable strap
Citizen Men's BN0150-28E Promaster Diver Analog Japanese Quartz Black Watch

Citizen made another beautiful watch with this Promaster Diver. You will not want to take this solar powered watch off and with its sleek design you won't have to. It effortlessly transfers between the depths of the ocean to the office boardroom. The sleek black design features glowing hands to better be able to read the time when in the depths of the water where it may be dark. This allows you to easily read your watch with a quick glance. Being able to go 200 meters deep means that this dive watch can take you on just about all of your dives. This easy to read, and anti-reflective, face comes with a five year manufacture warranty which shows how high quality the build is. Being solar powered means that you can charge this watch in any light, thus eliminating the need to replace your battery. This will extend the lifespan of your watch because you will not have to break the factory seal. As an added feature it also includes an elapsed time bezel. This acts like a stopwatch so you can time your decompression stops, or even your kids 100 yard dash.
Battery: Solar powered
Depth Resistance: 200 meters (660 feet)
Materials: 42mm stainless steel and black aluminum case with polyurethane strap
What makes this watch stand out:
Five year manufacturer's warranty
Elapsed time bezel
Stylish look
Stuhrling Original Men's Swiss "Limited Edition" Professional Dive Watch
When looking at this stunning Stuhrling men's watch you would never guess that it is able to go to depths of 200 meters below the surface of the water. A royal blue color against the stainless steel casing stands out beautifully. The stainless steel strap protects against rust ensuring your watch will last with prolonged exposure to salt water. A triple row link bracelet makes this watch stand out as much more than just a dive watch and will translate well to a watch for the office. You won't want to take this watch into the water with its sleek design. A matte finish and a unidirectional bezel with brushed outer links gives this watch all the bells and whistles you are looking for. This watch features a 120 click unidirectional bezel which adds to its appeal. Being scratch resistant means this watch will last with everyday wear. Durability, style and water resistance, it is no wonder this has been voted one of the best watches in 2017.
Battery: Replaceable battery
Depth Resistance: 200 meters (660 feet)
Materials: 42mm stainless steel case with Solid Stainless Steel Bracelet
What makes this watch stand out:
Stunning design
Scratch resistant
Seiko Divers Automatic Deep Blue Dial Mens Watch SKX009K1
The 3 o'clock number is replaced with a clearly visible date marker making this a great watch for everyday use. A darker watch with splashes of color this watch stands out in all the right ways. This watch will last you longer because you will never have to remove the water tight factory seal. Charged using kinetic movement means this watch will automatically recharge with every move of your wrist and every step. This self charging mechanism greatly adds to the lifespan of your watch.  A scratch resistant faceplate makes it so this lasts many years to come. A rubber wrist band sits comfortably against your skin and flexes with you. Coming with a two year warranty, Seiko is sure you will be happy with this purchase.
Battery: Kinetic power, automatic self winding
Depth Resistance:  200 meters (656 feet)
Materials: Stainless steel case with rubber band
What makes this watch stand out:
Two year warranty
Scratch resistant
Comfortable rubber band
This Navy Seal Dive Watch by Luminox has a sleek black design. Equipped with a double security gasket means that this watch is strong enough to last up to 200 meters in depth. A flexible rubber silicone strap sits comfortably against your skin. This moves with your wrist and makes it so you will hardly notice the watch is on you. The battery on this watch is said to last an impressive four years before needing to be replaced. A double secure gasket seals this watch so even when you do change the battery the watches integrity will still be strong. A scratch resistant sapphire face plate has an anti-reflective coating which gives this watch the durability to last many years to come. The watch has an easy to read glow on the hands that doesn't require a push of a button making it easier to see underwater where it may be dark. The illumination on this watch is said to last 25 years making this watch an even better buy. Luminox is so sure you will love this watch, they attached a one year warranty to it.
Battery: Replaceable battery
Depth Resistance: 200 meters (660 feet)
Materials: 43mm polyurethane case with rubber/silicone strap
What makes this watch stand out:
Four year battery life
One year warranty
Illumination for 25 years
Casio Men's Sport Analog Dive Watch
This watch is incredibly accurate, within 20 seconds of the correct time per month. With a 100 meter depth resistance this watch is a great option for snorkeling, swimming and surfing. An incredibly affordable price point allows this watch to be the perfect option for those who are just getting into a water sport looking for a basic water watch. A large face plate makes it easy to get information at a glance. The three o'clock marker is replaced with a clearly legible date and day display. This makes the watch incredibly functional. Having an hour, minute and second arm allows you to get the most concise reading of time. You are able to display this watch in either 12 or 24 hour timekeeping.
Battery: Replaceable battery
Depth Resistance: 100 meters (330 feet)
Materials: 43mm resin case with mineral dial window, molded resin band with buckle closure
What makes this watch stand out:
Three hands
Large face plate
Accurate reading
Choosing your dive watch
Your watch is a personal piece of jewelry. Dive computers typically have a clock on them however you will not get the style and personalization that you will get with a separate dive watch. There are many the things you should look for in a dive watch.
Price
Dive watches have become cheaper over the years. You can now get most quality dive watches under $1000, some a mere $20. The price for dive watches is a direct reflection of the style and technology used to make the watch. There has never been a better time to buy a stylish watch that is water resistant enough to explore the depths of the ocean.
Water resistance
Depending on your type and level of diving experience you will be diving at different depths. It is important to get a watch that can dive as far as you do. At minimum your dive watch should be rated for at least 100 meters. This is to ensure that the watch has been thoroughly tested and can withstand increased depth pressure. Watches with lower depth ratings work better for surface sports such as surfing, swimming or snorkeling. Opting for a dive watch that is certified to depths of 200-300 meters will provide peace of mind that you can dive as you please without fear of ruining your watch.
Bezel
The bezel is a part of the watch that encases the moving parts of the face. It seals the watch from the elements and helps to create the depth rating the entire watch is capable of.
This is also very important area of the watch that is used to calculate your elapsed time. Most watches come with an elapsed time feature. It works like a stopwatch and can be used underwater to time your decompression stops. It should be unidirectional, meaning only turning anti-clockwise, and should be easily readable at a glance.
Type of Movement
This is the heart of the watch and keeps the watch telling the right time. There are two types of movements: Quartz and Mechanical. This will determine the charge of your watch and it's overall lifespan. Choosing one over the other should depend on your lifestyle.
Quartz movements
This is a battery operated system that requires hardly any maintenance other than the occasional changing of the battery. This type of watch is typically very affordable and actually use quartz to keep time. These watches have second hands that make individual ticks.
Mechanical
This is seen in luxury watches as an alternative to the traditional battery operated. These types of watches use alternative energy to power the watches. This includes being powered with solar energy you get from light, specifically the UV in the sun. Other alternative energies are kinetic energy where the battery is simply charged with motion so everytime you walk or even simply move your wrist.
This type of watch requires a lifestyle in which you wear the watch often. As the watch only charges from solar or kinetic movement it is required that you wear the watch in order to keep it charged. This can be inconvenient for people who want to wear this watch only for diving.
It is important to note that while this type of watch is more expensive you will not have to ever open the watch. Typically with a battery operated watch you have to break the factory seal in order to open the watch up and work on the battery. Breaking this seal can diminish the integrity of the watch and if not re-sealed properly can even make it so the watch loses its water resistance. Mechanical watches avoid this by never needing to be taken apart in the first place thereby continuing to hold the seal strong.
Luminescence
As soon as you go below the ocean surface you begin losing light. The deeper you go, the more light you lose. Not to mention evening dives or going under the shaded areas. It truly shows a dive watches quality by how much it will glow in the dark. After all, it is important to be able to see your watch no matter where you are in the water. Most use Luminescence paint in order to glow. This is a type of paint needs to be in the light first to charge in order for it to glow in the dark. Alternatively, there is Tritium. This glows in the dark without a charge. This glows brighter than its paint counterpart however it does fade over time.
Style
Even though you are more than likely going to be wearing a wetsuit you are able to define your look. Some look like specially designed dive watches while others look similar to those that you'd wear in a business setting. Bands can vary from gold to a flexible plastic.
Strap
There are many different styles of straps you can choose from. Just because a watch comes with a certain strap does not mean it can't be replaced with something more "you". They can vary in price from a mere $10 to upwards of a hundred.
Rubber is a material that stands up to the harsh salt conditions of the sea and can be one of the most comfortable available. It is flexible enough to bend around your wrist with or without a wetsuit and can take on many different looks. Designs range from a stitched look, to a flat material, to a textured finish.
Material straps are also a good option for scuba diving. They are lightweight and waterproof and can be more comfortable than a rubber option. These will need to be washed thoroughly after each dive to maintain their integrity and feel.
Metal is another widely used material. It can withstand the harsh salt found in the sea while providing a comfortable fit. These will be one of the most stylish looks making them able to be worn outside the scuba environment.
Latch
There are a few ways of securing your watch to your wrist. The most common way is a classic strap system that utilizes a lug and a latch system. There are also foldover clasps that ensure the watch stays on your wrist. Metal bands will more than likely utilize this latching system.
Lugs
This is the part of the strap that allows you to adjust the fit. Little holes give the latch somewhere to secure while around your wrist. There can be many different patterns for this. Some utilize a single row while others can have up to three or four. The more lugs the more adjustable the strap will be. This is excellent for use with or without a wetsuit. A more versatile strap will include a long length of adjustment holes to accommodate this.
Globo Surf Overview
When exploring the depths of the ocean many divers enjoy wearing a watch to track their time underwater. In a place where time doesn't exist, being aware of the time while under water can be important. The key feature to look for in a dive watch is that the integrity of the watch will stay strong in order to keep its water resistance. With high end features such as running off solar or kinetic energy, watches do just that.
While some watches are geared towards surface water having smaller water resistant depths, these watches can handle exploring beneath the surface. Getting a watch that can easily transfer between the water at depths of 50 feet underwater while also being stylish enough for everyday use is incredibly desirable. Any of the watches on our list will do just that.
Are you looking for a new dive watch? Do you use a dive watch on our list? Let us know how you like it in the comment section below.
You May Also Like
5 Best Dive Gloves
10 Best Wetsuits
10 Best Underwater Dive Lights
5 Best Scuba BCDs
Last Update on the 11th of March 2017
New to scuba diving or have a scuba destination on our list? Let us know how you like it in the comment section below.