THE OCEANIC GEO 2.0 REVIEW
THE OCEANIC GEO 2.0 REVIEW
Oceanic Geo 2.0 Dive Computer
See Customer Owner Feedback >>
What Makes This Dive Watch Stand Out

Dual algorithm

Easy navigation with four buttons

Good set of features

Clear display with good backlight making reading easy

Very durable

The device comes with a firmware that can be updated to improve the device's functionality. This also means users don't have to buy newer models.

The price makes it a good choice for both beginners and recreational divers.
Features
When it comes to diving, this computer gives beginner and recreational divers all they need. The device comes in different color combinations and the backlight is powerful and adjustable which makes reading the computer screen very easy. Also, the device displays the most important information like depth and temperature on the screen so that users don't have to navigate much.
The oceanic dive computer has four different modes
Watch: The device acts as a watch in this mode.
Norm (Air and Nitrox): This mode allows you to adjust and monitor the air mix.
Gauge: This mode works with a timer and it keeps track of the time you've been underwater.
Free Diving: This mode monitors your dive time and is not found in most entry-level dive computers.
This dive computer also has a memory for 24 unit dive logs and that's enough for most divers. While the logbook is sufficient for most divers, some users exhaust it. More log book space can be created by offloading the current data to a PC. The data sampling can be set at 2, 15, 30, or 60-second intervals. The device also comes with an optional USB transfer kit that can be connected and used to transfer data to a PC.
The computer's design is intuitive. The user manual is a little bit convoluted and not great at explaining how the device works but you will get used to the interface and navigation in no time.
The product is also very durable and is capable of going as far as 14,000 feet down. The display, although easy to read and understand, is a little bit cramped and the bar graphs can be a little small.  The computer also has two nitrox mixes up to 100% oxygen. The pO2 can be set between 1.2 and 1.6 bar.
The maximum operational depth for Air/Nitrox diving is 100 m (328 ft) and for Gauge, it is 120 m (393 ft). It also has altitude adjustments that it selects automatically based on your altitude before a dive. The maximum altitude that can be handled is 4,270 m (14,000 ft).
This device has two algorithms namely the Buhlmann ZHL-16c based PZ+ or a DSAT based model. DSAT has a less conservative no-decompression time while the Buhlmann is more conservative. More so, the Oceanic Geo 2.0 dive computer can be used as a wristwatch with features such as a stopped clock.
However, the Oceanic dive 2.0 does not have advanced functions such as compass and air integration found in high-end level computers. But such functions are not expected because of the price and market target (beginners to recreational divers).
Specifications
Algorithm: Buhlmann ZHL-16c Based PZ+, or DSAT Based
Case Material: Stainless steel
Easy navigation with four buttons
Four operational modes for Watch, Air/Nitrox, Gauge, and Free Diving
Audible and visual alarms with user acknowledgment.
Memory: 24 dives log capacity
Depth Display: To 330 Feet (100 Meters)
Altitude Adjustable: Yes, 3,001 feet to 14,000 feet (916 to 4,200 meters)
User changeable battery
Four different color combinations namely Titanium/Slate Blue, Titanium/White, White/Slate Blue, White/Sea Blue
Backlight for low light diving.
Dimensions: 7 x 4 x 4 inches
Weight: 5.6 ounces
User Experience

Design: Oceanic put thought into designing this dive computer. They used high-quality material which makes this extraordinary computer watch stand out and be recognized. The stainless steel not only makes the watch durable but also contributes to the nice exterior. When not in the water you can use this watch as an accessory and it will compliment your outfit perfectly.
Easy of use/User-friendly: The user interface put into this dive computer is very easy to use and straightforward. Important information such as depth and temperature are already displayed on the screen and users don't really need to navigate much. The set up is maxed 10min and a user manual is included. The external buttons are also well made and very easy to use but also they are well protected from accidental clicking.
Dual Algorithm: The dual algorithm is another feature divers love. The switch between more conservative or less conservative no-decompression time is easy and fast.
Durability: Users have testified that this is a strong and durable device. A user said she had been using the Oceanic dive computer for two years and it's still in good shape. But we'd still advise you to take care of the product and if some damage happens we advise you to take it to a certified repair shop.
The downsides of this watch are related to the audible alarms which are not loud enough. However, the visual alarm makes up for this as users agree it's impossible to miss the blinking red LED alarm underwater.
Users also said it'd be more helpful if the menus are written in full and not abbreviated. For example, the title of the Nitrox menu is F. A user, although satisfied with the product wondered why the menus couldn't be written in full as there was still enough space on the screen.
Pros:
Easy to operate and navigate with four buttons
Dual algorithms
Four operation modes
Two gas mixes
Automatic altitude adjustments
Fulfills all the requirements of beginner to mid-range divers
Cons:
The small screen size makes the graph appears a little small
Logbook though sufficient is a bit small
Advanced functions such as air integration and compass not available
You might also like: Seiko Diver SKX009K1 Dive Watch Review
Overall Rating
Design: 100℅- This is one of the reasons why this computer is so popular. The fact that the Oceanic Geo 2.0 can be worn as a watch justifies the price. Oceanic didn't spare time or resources when creating this dive computer therefore they made it stand out both in looks and functionality.
Price: 96% – There are cheaper dive computers in the market but none of them comes close to the Oceanic Geo 2.0 in terms of quality. Buying this watch is a long-term investment and buyers agree that this is money well spent.
Material: 96% – The stainless steel used for this computer is extremely durable. Users have reported the computer to be in excellent condition even after using the Oceanic dive computer consistently for two years.
Overall: 98% – Yes, we rate this Oceanic dive computer highly. Honestly, you can't get it wrong with this computer. It is versatile, the design is great, the material is durable and the functionality is superb. A great dive computer for beginners and recreational divers alike.
Globo Surf Overview
The Oceanic Dive 2.0 is a diver's best friend' and its features justify this claim. Users are definitely blown away with the fancy design but the functionality is just as great. The dual algorithm even makes this device more superior to entry-level dive computers. And everything is automated. Made from very strong stainless steel, the device is durable and you will not be buying a new diving computer anytime soon. Give this dive computer a trial and you'll be recommending it to your friends and family. We can guarantee you that!
Oceanic Geo 2.0 Dive Computer
See Customer Owner Feedback >>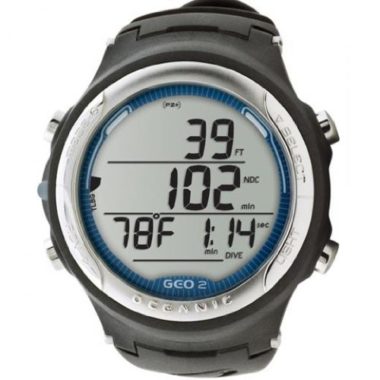 Last Updated: June 3, 2019
Last Updated: June 3, 2019
Single Scuba Products Reviews: