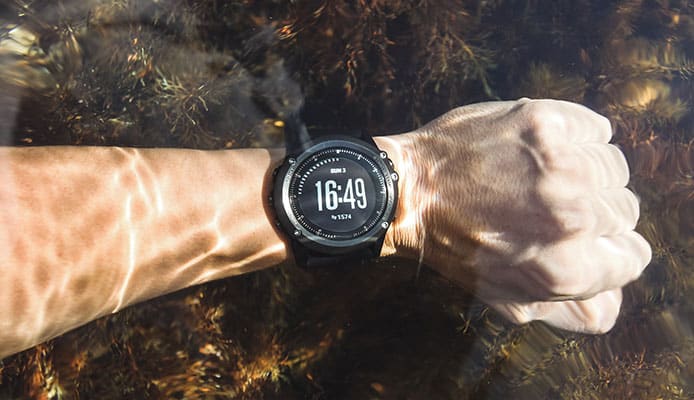 EDITORS CHOICE

---
The biggest enemy of a watch is water. When buying a wristwatch to wear when working, exercising, or engaging in your favorite water sports or outdoor adventures where the watch will come into contact with water or even be submerged, you will want a waterproof watch that can resist water penetration and damage. The waterproof depth rating of a watch is what will tell you the level of water pressure it can withstand and whether it is suitable for your work environment or favorite activities.
The best waterproof watches for swimming and water sports such as snorkeling, surfing, and sailing have a waterproof rating of at least 100m. If you're looking for a watch you can go free diving or scuba diving with, you will need one rated waterproof up to at least 200m. For running, gym training, kayaking, fishing, and water-related work, you want a watch with a minimum rating of 50m.
Whether you're looking for a watch for swimming, diving, running, working out, hiking, work or want a fashionable timepiece that won't be ruined by water, we have made it easy to find the perfect watch for your needs. We have compiled a list of the best waterproof watches out there.
Here are our top 10 waterproof watches in 2023.
How To Choose A Waterproof Watch – Buying Guide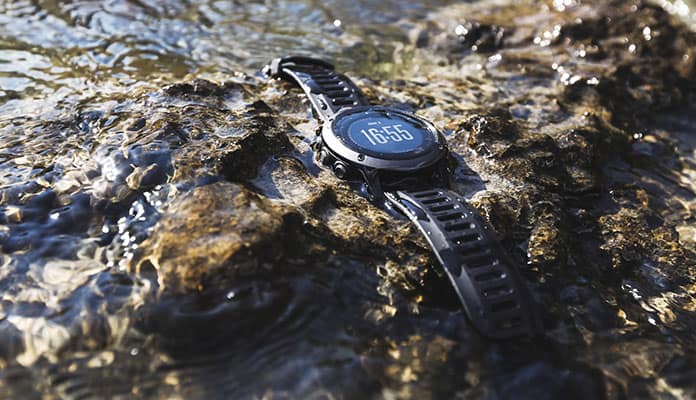 Water Resistant Rating
No watch is truly waterproof. In 1960, the US Federal Trade Commission ruled that no watch can be described as waterproof. It was decreed that describing a watch as waterproof as all watches will take on water under certain conditions. Watches can be resistant to water, but they are never truly waterproof.
The resistance of watches to water is based on testing in laboratories. The tests replicate the conditions a watch will face when it is under the water. The water pressure that a person would experience at certain depths is replicated, and a watch is subjected to that pressure. The watch is then checked to see if it took on water or not and if that water damaged the watch. The deeper you go in the water, the more pressure is put on a watch and the more difficult it is for the watch to resist the water.
Most watches have a water-resistance rating which details how deep the watch can go and still work. The higher the number, the better the resistance. For example, a watch rated for 200m would be able to resist the water better than a watch rated for 100m. A watch which is water-resistant will stand up to any day to day, water-related activities. You will be able to wash your hands with your watch on, and it will not be affected. The watch will also be resistant to your sweat.
Water-resistance will wear down over time as the watch is exposed to pressure. You should be aware that as you dive down to the depths with your watch on, over time the watch will A dive computer watchstart to become less resistant than it when you first get it. This will take a long time, but it will happen. If you only use the watch when you need to, you will prolong the life of your watch. If you are diving with your watch, you should not go below the rating of the watch, or your watch can break.
Related Review: Dive Watches
Band
You want a watch which will fit your wrist well, and a good band can be the most important feature of your watch. You can have the best watch in the world, but if it does not fit properly, then you may as well not have one. The band should fit on your wrist without being too loose or too tight. You should choose a type of band which will fit your wrist. The bands with buckle holes give you options, but bands which can be set at any setting will be the best for finding a great fit.
You also want a band which is durable and long-lasting. The band is going to be exposed to the water, so you need to make sure that the band is made from a high-quality material which will stand up to constant water exposure. If you are buying a waterproof watch, then the included band will almost certainly be waterproof. If you are buying a band to replace the one on your watch, then you need to make sure that the band will hold up in the water.
You want to avoid a material which will soak up the water, like cloth, and materials which will change shape when they take on water, like leather. Any material which will break down when exposed to a lot of water will be useless. The material should also be comfortable on your wrist. If you have any allergies or are irritated by certain materials, then steer clear. If the watch is not comfortable on your wrist, then you will not want to wear it. You should also look into a strap which is breathable or has some sort of ventilation. You do not want your watch band to trap water against your skin.
There are many materials which are durable and comfortable. Silicone is a great material which will last, will sit comfortably on your wrist, and is completely waterproof. There are many other great materials out there, and a little research will help you to decide which material is best for you.
Type of Watch
There are many watches to choose from, both digital and analog. When it comes to choosing between digital and analog, the choice is a personal preference. What you will need to focus on are the included features. The choice will depend on your needs. Some watches will come with activity trackers and GPS. If you need either of those, then you had better find a watch with them.
Analog watches are traditionally rated with a higher water-resistance than digital, due to having fewer parts inside which need to be protected from water. If you find an analog watch which you can wind, then you do not have to worry about batteries and protecting the batteries. This makes analog watches extremely reliable under the water.
A digital watch will generally have more features than an analog one. They do need a power source to operate, but they do not draw much power and will last for a long time on a battery. These watches can have timers, stopwatches, calendars, and more. Watches are now being produced with more and more features, and you will probably find that you can get a reasonably priced watch with a lot more features than you need.
Related Reviews: GPS Watches For Kayaking & Fishing Watches
Metrics
Watches used to be able to measure time only; now they can measure any number of things. Watches can track almost anything you can imagine. You can have your footsteps tracked, temperature, distance, your heartbeat, and more. If you are using your watch as part of your training, then it can be very handy. You can track your progress using your watch. Even if you are not training, it can be fun to have a watch which tracks your metrics. The features you need is entirely up to you.
Quality
When you are buying a watch, you want to find one which is high-quality. The better quality the watch, the longer it will last and the better the timekeeping and features. Generally, a better quality watch will cost you more, but that is not always the case. If you choose a watch from our list, you will be getting a high-quality watch at a reasonable price. A high-quality watch will also not need to be replaced for a long time. If you buy a cheap watch, then you will probably have to replace it before long. A small investment can save you a lot of money in the long run.
If you take the time to really look at a watch, you can usually determine if the quality is good or not. Check the materials and the construction. Check the fit when you have it on your wrist. If you are buying your watch online, then check out the reviews before buying. A watch which is high-quality is worth spending a little more on that a cheap watch which will fall apart or break after few uses.
FAQs
Q: What Does Waterproof Mean?
A:
Watches are not waterproof, and if a manufacturer claims they are, then they are advertising under false pretenses. If you go down deep enough in the water, all watches will fail. Over time, watches will begin to fail too. Constant exposure to water pressure will cause the watch to take on water over time. Watches can only be water-resistant. The resistance will usually come with a number which states how deep you can dive with the watch. If you want a watch which is as close to waterproof as possible, then you should choose one with the highest water-resistance. A dive computer watch which is rated at 300m will stand up to the water in most conditions. A watch which is rated to 50m will stand up to the water less than the 300m one.

Related Reviews: Dive Watches Under $500 & Dive Watches Under $1000
Q: How Do I Replace My Watch Battery?
A:
There are some watches which come with access to replace the battery and some which cannot have the battery replaced. A lot of modern watches do not allow for the battery to be replaced.
If you do have a watch with which you can replace the battery, then it is most likely that you will be able to open the back of the watch and replace the battery. Your watch will come with instructions on how to do this. Your watch instructions will also tell you which battery you need to replace the one in your watch. You can also take the old battery out first to see what it looks like before buying a new one. If you are in doubt as to how to replace the battery, then you can always take it to a professional, who will do it for you.
Q: How Do I Clean My Watch?
A:
You should never need to clean the inside of the watch, as the water should not be getting in, but if you do suspect that the watch needs to be cleaned inside, then you should take it to a professional. The outside of the watch is easy to clean and can be done with products you have around the house. You will need some mild soap mixed with some warm water. Apply the soapy water to the watch with a cloth and dry it off with another cloth (you should use lint-free cloths to avoid scratching the watch). It should only take you a few minutes to clean your watch.
Globo Surf Overview
You need to have some information before you go out shopping for a waterproof watch. There are many things to think about before you purchase your watch. You need to think about the fit, the functions, and the water-resistance. Our buying guide will help you to discover what you need, and our top ten list will give an option for everyone.
Take the time to know what you want from a watch and what you need from a watch. As long as you know what you are using your watch for, you will be able to find the perfect watch. Read over the information and find the perfect watch from our list, and once you do, go, get out there, and dive into the water.
More Water Gear Reviews:
Umbrella
Patio Heaters
Rain Boots
More Watch Reviews: