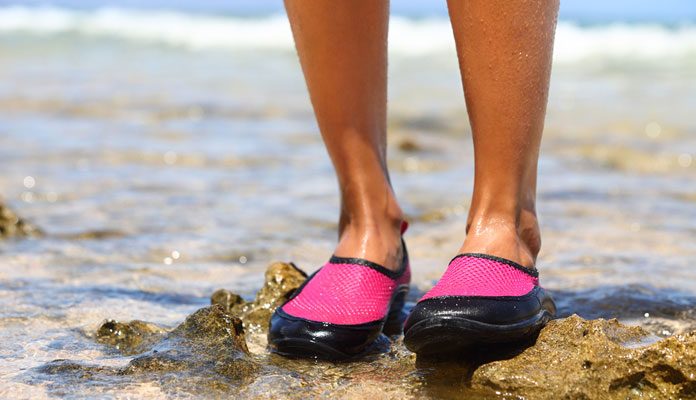 If you are anything like us the summer months are your favourite time of the whole year. There seems to be so much more to do to fill your long summer days. From boating, kayaking and surfing to relaxing on the beach and building a sandcastle, summer tugs at all of our heart strings. The hot summer pavement combined with the chilly alpine waters can pose shocks to our systems, especially our feet. This is why it is so important to protect them in the form of water shoes. Getting the best women's water shoes will ensure that your feet are shielded from the extreme temperatures and of any sharp rocks.
Investing in the best water shoes for women doesn't cost a lot of money but may just be the wisest investment you make all summer. Check out below where we list our top picks for this summer.
If you haven't already, click here to see our list of top mens water shoes.
QUICK ANSWER: THE BEST WATER SHOES FOR WOMEN
Best Water Shoes for Women
Water Shoes for Women Reviews
1. Aleader Women's Mesh Slip On Water Shoes
  Check Price Now
What Makes This Shoes Stand Out:
Fast drying
Excellent traction
Lightweight design
Model & Accessory Specs:
Weight: 9.7 oz
Materials: Fabric with Rubber Sole
This comes in as one of the top rated female water shoes on the market and it is no surprise why. The Water Grain outsole makes this a superior shoe for water use. Providing a solid traction that grips to rocks even when wet. Available in an abundance of different colors this shoe is sure to show your style while being incredibly comfortable. The mesh top provides excellent breathability while also making the shoe fast-drying when wet. The Solyte midsole keeps this shoe incredibly light making it a great option for travel or backpacking adventures. It also ensures that you stay light on your feet even when the shoe is wet.
2. Aleader Women's Quick Drying Aqua Water Shoes
What Makes This Shoes Stand Out:
Patterned rubber sole
Quick dry
Shoe Floats
Model & Accessory Specs:
Weight: 6.2 oz
Materials: Mesh fabric with rubber sole
A mesh top fabric gives these shoes their quick drying name. Thick mesh holes allow for maximum breathability allowing your shoes to air dry quickly and keep your feet well protected. A ComforDry sockliner is featured in the shoe which increases the shoe's cushioning and optimizes the shoes environment. As this is removable, it helps to aerate the shoe providing your foot with a cooler and drier environment. Their comfortable design means you do not have to wear socks to weigh you down. The Solyte midsole of the shoe features advanced technology that allows the shoe to perform well without weighing the shoe down. This design makes your shoes have an airy bounce as well as maximizes the shoes durability. The patterned rubber sole offers you a strong yet lightweight grip that will leave you feeling incredibly light on your feet while expertly gripping to the rocks below. If you happen to lose a shoe in the water, rest assured that it will not be lost for long as your shoe will float to the surface. These shoes are great for everyone as their humane design is vegan friendly.
3. Zhuanglin Women's Quick Drying Aqua Water Shoes
What Makes This Shoes Stand Out:
Slip resistant
Colorful designs
ComforDry sock liner
Model & Accessory Specs:
Weight: 6 oz
Materials: Fabric with rubber sole
It is easy to see the high quality materials and the thoughtfulness that went into designing these water shoes. The design features a smooth mesh top that has an almost seamless build that has only one toe seam that lies flat against the skin. This reduces the chance of your shoe chafing against your skin which will cause irritation and blisters when wet. The mesh fabric is incredibly lightweight in design and is sure to not weigh your foot down in the water. The large mesh pockets allow water to move freely in and out of the shoe allowing your shoes to drain quickly and air dry at a much faster rate. This also allows your foot lots of breathability when wearing these shoes on longer treks on summer days. The Solyte midsole construction of this shoe can be easily seen when looking at the sole. With large holes this shoe is able to provide plenty of cushioning and bounce to your step without the added weight. The ComforDry sockliner found inside the shoe adds additional comfort and cushioning to your foot that creates a much healthier shoe environment. The rubber sole is durable enough to handle longer hikes while keeping your foot comfortable. A secure grip is important in water shoes and these shoes excel in that department. A slip resistant design allows your shoes to grip the surface below you and allows you to easily navigate across slimy rocks and other slippery surfaces.
4. Dreamcity Women's Water Shoes Athletic Sport Lightweight Walking Shoes

What Makes This Shoes Stand Out:
Excellent water grip
Low maintenance, easy to clean
Comfortable sole
Model & Accessory Specs:
Weight: 7.3 oz
Materials: Mesh fabric with rubber sole
Just read some of these womens water shoes reviews and you will be see how people are raving about this high quality shoe. So much more than just a water shoe, you can use these comfortably on walks, hikes or any beach activity. With an elastic laced top these shoes give you a form fitting feel that perfectly accents your foot shape. They have a snug fit which allows you to swim and snorkel easily with the shoes on adding extra protection while underwater. The outer sole of this shoe has superior watertight grip allowing your feet to stay firmly planted even in slippery conditions. The Solyte midsole design allows these shoes to be incredibly lightweight and also provides the necessary drainage to make these excellent water shoes. A mesh fabric combined with a large spacing design on the bottom of the shoe protects your foot from sand and gravel while allowing the water to drain from your shoe quickly and easily. The mesh design continues to the top of the shoe where you will find superior breathability. This allows the shoes to dry incredibly fast, even when being air dried. The shoe comes with a removable ComforDry sock liner that adds cushioning to the sole of the foot. This also greatly contributes to the hygiene of the shoe as you can remove and wash this liner. The design of these shoes repels dirt and makes them incredibly easy to clean. Simply rinse these shoes off and air dry for a perfect fit every time.
5. Pooluly Women's Lightweight Athletic Quick Drying Mesh Aqua Slip-on Water Shoes
What Makes This Shoes Stand Out:
Elastic top conforms to foot
Even foot coverage
Stable sole
Model & Accessory Specs:
Weight: 6 oz
Materials: Mesh fabric with elastic phylon sole
If you are looking to combine style with practicality for your next pair of water shoes, look no further. Coming in an array of different colors, these shoes are increasingly popular for women looking to make statements on their next vacation. These shoes are experts at transitioning between the beach and the restaurant. These shoes coat your feet in 360 degrees of mesh material but you wouldn't know it from a quick glance. Appearing as regular shoes rather than shoes meant for wet sandy waters, these shoes have small mesh that still provides the feet lots of drainage and breathability.  These cool swim shoes for ladies offer a solid toe protection which will allow your foot to sit comfortably even in colder waters. The tight weave of the mesh top allows the shoes to protect you better and greatly increases the life expectancy of your shoe. With a shoe like this, you are far less likely to experience a tear in your shoe. This full coverage shoe offers loads of protection and will stay on your feet with ease. This makes it a great option for faster paced water activities such as water aerobics. The thick elastic phylon sole offers a fully supportive base that will provide stability and protection while walking. They also offer an anti slip base that will cling to the surface and ensure your feet are steady even in wet, slippery conditions. These shoes are made for more than just water and can handle their own on a hike or walk as well.
What to look for in a Water Shoes for Women
When choosing your perfect pair of swim shoes for women we recommend looking for the following features. These are the things that will make or break your day at the beach. Having incapable shoes could actually become a danger.
Breathability
Water shoes are most often made of a mesh material that provides a lot of breathability. This makes them a great option for summertime and allows your shoes to drain adequately. The mesh cover allows water to freely flow in and out of your shoe which makes them not retain water while kicking giving you the freedom to swim and stay in the water even longer even longer. This level of breathability will allow your shoes to be fast drying which means that they will air dry quickly.
Grip
As these shoes are meant to be used in the water, it is important to ensure that the grip will hold up in wet conditions. The best water shoe will be one that hugs the surface you walk on even when in wet conditions. With that being said, these shoes also need to be able to give you traction out of the water. Walking on the hot sand or rocky terrain should be effortless without slipping or sliding around.
Weight
Having water in your shoes will add a lot of weight to your stride and can make walking through water incredibly difficult. Having a lightweight shoe will help to combat this ensuring that you do not feel dragged down while in the water. Most of the water shoes will feel like your feet are naked in the water. Your kicking power won't be reduced and you won't feel like you're being dragged down by anchors on your feet.
ComforSock
This is a removable liner that is featured in almost all water shoes. This liner adds comfort to your shoe by adding cushioning to your foot. This is removable to accommodate orthotics or to provide more room in your shoe. It also adds hygiene to your shoe by being breathable. Being able to walk on any terrain as if you were wearing regular shoes will give you the confidence to trek up steep, uneven terrain.
Cushioning
Water shoes, like other walking shoes, comes with a thick sole that provides a cushioned layer between your foot and the surface below you. This helps to absorb shock from your step and provide your foot with the comfort that you need. Due to the lightweight design most water shoes come with a removable ComforSock liner. This helps to add additional cushioning to your shoe that is removable to give you a perfect fit.
Globo Surf Overview
When looking for a summertime shoe, we recommend opting for a shoe that can be used both on land and in the water. A good pair of water shoes can prove invaluable during the summertime whether you are paddleboarding, snorkeling or simply enjoying a day at the beach. A perfect shoe combines a blend of cushion, weight and breathability. The material should be tough enough to withstand rough coral and rocks while giving your feet enough air to breath without sweating.
Sources
Healthy Feet, Everyday Health
Terrain, Arcana Wiki
Did your water shoes make our cut? If so, tell us how they work for you in the comment section below.
Globo Surf Womens Water Shoes Review
★★★★★
"
Just found your review on the water shoes. Surprised by all the different options available now a days. Purchase a pair of the Aleader's based on your review. Love them
"