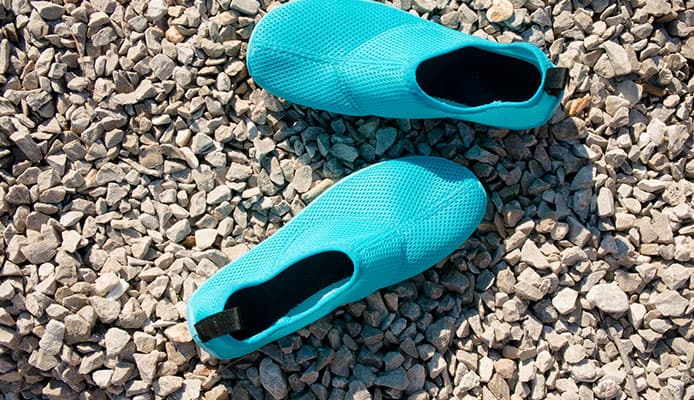 If you love fishing or kayaking or any type of activity that will bring you close to the water, one of the most essential pieces of gear to have is a good pair of water shoes. One of the main differences between water shoes and regular hiking or camping shoes is that they are designed to handle the wet ground.
Waters shoes have a good grip to prevent you from losing your footing on an often-slippery surface. They are not designed to be waterproof and will not keep your feet dry. However, water shoes have ventilation that allows the moisture to evaporate rapidly leaving your feet dry in a matter of minutes.
What's more, water shoes will help prevent bacteria that can accumulate in damp feet. You are also able to keep your friends happy as your feet will be well aired and will not be smelly. This water shoe buying guide will help you pick the best water shoes for your water adventures.
Breathability
When on a camping trip or hiking through the backcountry, you may come across marshy areas or the need to cross streams and rivers. The best water shoes should be made from a breathable material that allows water to seep out while offering great air circulation.
Choosing the right breathable material will ensure that water doesn't get absorbed in the shoes for too long which will not only cause smelly feet but can create an environment for bacteria, yeast, and fungus to thrive.
When buying your pair of water shoes, check the material construction, and make sure it is not only breathable but fast drying as well. Also, you want a material that doesn't soak up water which causes your shoes to become heavy.  A light pair of water shoes is always the best.
Comfort
Some water shoe manufacturers fail to factor in the comfort of the wearer. Some shoes may lack padding. However, lightweight and breathable materials should not come at the expense of your comfort. When hiking, you will probably be on the trail for a long time and you need a shoe that keeps your feet comfortable.
From the soles that provide the cushioning to the upper shoe, everything should fit it snug. Rubber soles provide the best cushioning.
There shouldn't be any room left neither should the shoes be too tight. A very tight shoe will end up feeling uncomfortable after wearing it for some time.
Easy to wear and remove
Many people can attest to how difficult it could get to untie a shoelace after the shoes have been dipped in water. Luckily most water shoe manufacturers factor this in the design to include a stretchable upper mesh.
This upper makes it simple to remove the shoe even after it has been soaked in water but it also has a second function. It makes walking in the shoe much easier while also allowing water to easily drain off.
Durability
Water shoes for men or women are not only designed to provide your feet with comfort and protection, but a good pair of water shoes should also last you a long time and be able to withstand the rigors of the backcountry.
Traction
While traction is important in almost all other types of shoes, it is particularly important when it comes to your water shoes. Good quality water shoes have special treads in their rubber outsoles.
Support
When choosing your water shoes, keep in mind the type of water activity that you plan to take part in. If you are going to be on your feet for extended hours then you will need water shoes that provide good ankle support. On the other hand, if you are on a fishing kayak or boating, you will do just fine with simple to wear and remove slip-on.
The different types of waterproof shoes
The different types of footwear for your water adventures can be divided into four main types. Some are more ideal when fishing on a boat, some are better for using canoes or kayaking while others will perform well in most types of water activities.
There are also water shoes for kids.
Related Review: Water Shoes For Kids
Water sandals
These feature an open toe design and are by far the most common type of water shoes. Water sandals offer a good grip on your feet through straps and the shoes also have good traction thanks to the rubber soles.
One of the main reasons why water sandals are so popular is due to their excellent grip. Many people find that they can comfortably walk along a beach, river, or lake without fear of stepping onto a slippery stone and falling in.
As much as water sandals are great when at the river, they are some activities that they are simply not suited for.
When camping, for example, the open shoe design of the water sandals leaves your feet exposed to branches, rocks, and other items. It is easy to hurt your toes when walking in water sandals.
These shoes are also not ideal for long-distance hiking. They lack ankle support which can leave your feet in a painful mess after wearing them for a long time on a hard road.
Water shoes
These may not be as popular as the water sandals but are a favorite of many who love to engage in water activities. They cover the whole foot and provide ample toe protection. Water shoes for women and men also feature rubber soles for excellent traction.
What's makes water shoes the ideal choice is the fact they provide ample foot support and protection while also being breathable. They can be used for camping, hiking, or trekking and in combination with other water sports activities such as fishing or kayaking.
The downside with water shoes is that if you are getting them exclusively for hiking, they are still not able to perform as true hiking shoes. Also compared to water sandals, water shoes are not as easy to wear or remove. However, it's important to note that their wearability is similar to sneakers.
Related Review: Water Shoes For Women
Wet shoes
Wet shoes essentially feel like a thick pair of water socks. They are extremely lightweight and feature a thin rubber sole for traction. The main function of wet shoes is to keep feet dry and warm especially when operating in colder waters.
However, these types of shoes are not ideal for walking along the river where there are sharp rocks that will poke your feet and cause extreme pain.
Wet shoes trap a thin later of water in their outer layer. Your body warms up this layer of water which helps to keep them at optimum temperature even in cold water. They work in much the same way as a wet suit.
Another ideal situation where you may need wet shoes is when you are swimming. They will protect your feet in case you step on something prickly or poisonous.
Boat shoes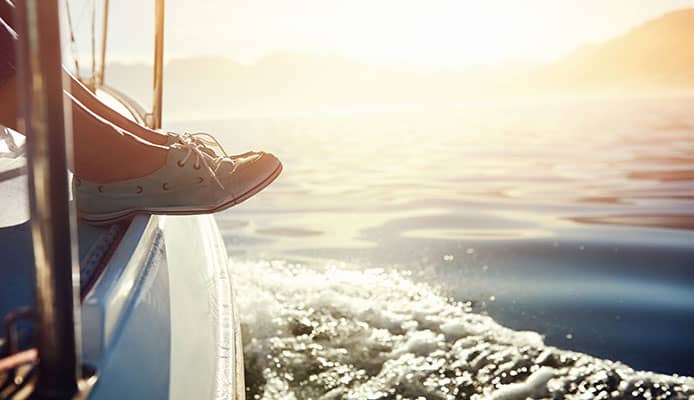 If you plan to spend a lot of your time on the boat, then boat shoes or sailing shoes are a great choice. They have a leather upper and a snug inner which makes them comfortable to wear. The sole is made of rubber for good grip and heel support.
The comfortable nature and good-looking design of the boat shoe mean that they can even be worn to the office. The downside is that the upper leather construction is not ideal for constant and regular submersion. While boat shoes will drain water, they take a long time to dry out.
Also, boat shoes are not ideal for hiking. The fact that they offer little to no ankle protection means that your feet can get sore and painful after wearing them for a long distance. Another great choice while spending time on the boat is a good pair of flip-flops. There are specifically designed flipflops for women as well as flipflops for men. Jandals are also a good choice as they are simple and comfortable to wear.
You might also like: What Are Water Shoes And How To Get The Most Out Of It
Choosing water shoes based on your weather activity
A simple rule of thumb in our water shoes buying guide is to feel the construction and make a value judgment. High-quality water shoes will have a sturdy build even while factoring in lightweight.
Put your hands inside the shoe and notice how it feels. If it's comfortable for your hands it will also be comfortable for your feet. But getting a high-quality shoe is only the first part, you should also ensure that you get the right type of shoe.
Kayaking
Are you doing white water kayaking or flatwater kayaking? Kayaking shoes that not only fit snuggly but are tight and have excellent traction is best. It will provide a good grip on those slippery rocks.
As for flatwater kayaking, check for not just for good grip but excellent breathability.
Fishing
Fishing will require you to stand on your feet sometimes in a boat. In this case, you should prioritize a pair of fishing shoes with a good rubber sole with excellent tread and grip.
Globo Surf Overview
Being out in the water requires some preparation one of which is to get the right water shoes. However, regardless of the type of shoe, one thing remains true—the shoes need to be breathable and fast drying.
Water shoes will keep you safe from falling and incurring injuries as well as keeping your feet dry and free from bacteria. With a good pair of water shoes, you will not have to worry about damp smelly feet and will be comfortable both in and out of the water.
More Watergear Water Shoes Reviews: