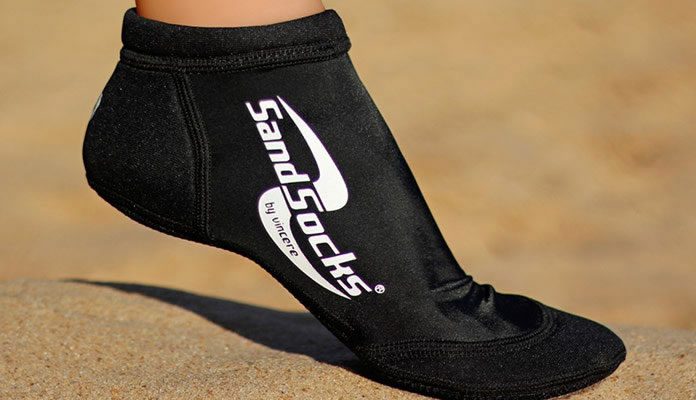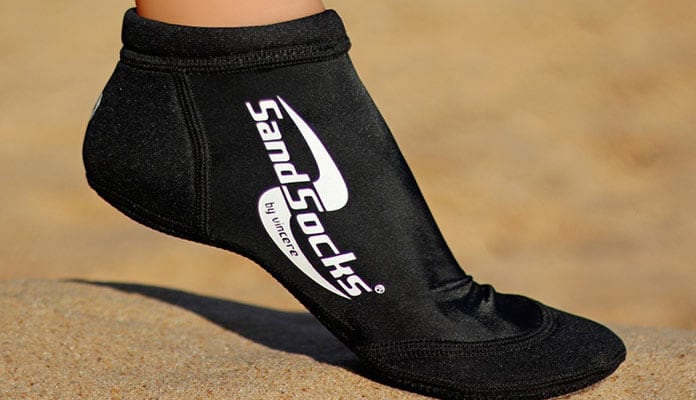 No matter which water sport you are partaking in, having high quality foot protection will prove immensely valuable. Having the best water socks will ensure that your feet stay warm and help protect your feet on the walk to the water including the rough rocks in shallow waters. In colder climates this becomes even more valuable.
The best neoprene socks are important, that is why we have compiled our top five favourites on the market.
QUICK ANSWER: THE BEST WATER SOCKS
Best Water Socks
Water Socks Reviews
1. Tilos Neoprene Fin Socks
  Check Price Now
What Makes This Aqua Socks Stand Out:
Honeycomb Silkscreen Traction Sole
Blindstitched Seams
Model & Accessory Specs:
Thickness: 3mm
Material: Neoprene
From size 6-16, there are a pair of these comfortable neoprene socks for everyone. These socks are perfect for surfers or paddleboarders as they have honeycomb silkscreen bottom that gives you more traction. This does not compromise comfort but does provide you even more security to keep you from slipping when walking on rocks. The seams on this sock are blindstitched to lay flat against your skin and avoid chafing and are glued for a tight close that prevents water from seeping through. A comfortable 3mm of thickness protects you from the cold water while not restricting your movement. These are so comfortable they can even be used as a liner for hunting or hiking shoes. Made using a high quality durable material, these socks are making them easy to get into and perfect for wearing with scuba fins.
2. Seavenger Wetsuits Premium Neoprene Water Fin Sock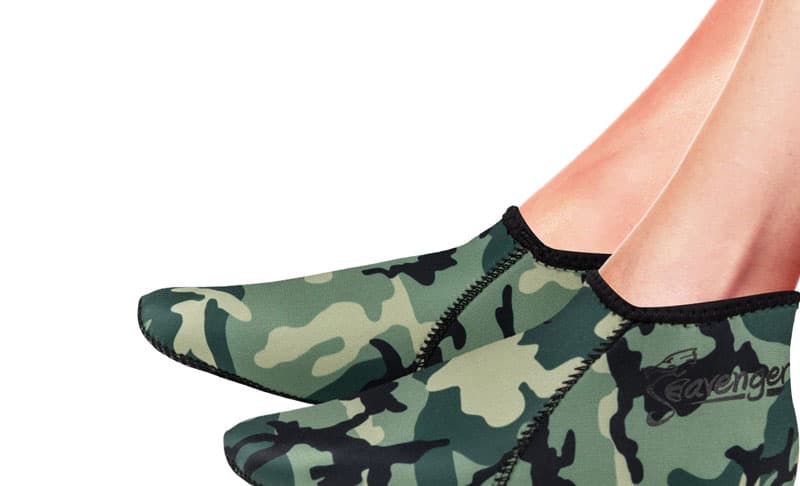 What Makes This Aqua Socks Stand Out:
Dotted Silkscreen Traction Material
Four-Way Stretch Material
Model & Accessory Specs:
Thickness: 3mm
Material: Neoprene
These ankle high socks come in seven different fun colors with designs to show your personality, even under the sea. With the high quality finishing this sock has you would never guess that it holds such an affordable price. The construction is top of the line with blindstitched seams that provide superior comfort against your skin. With glued seams this sock is not only durable but it is strong enough to keep the water out making you even warmer in the water. The ideal 3mm thickness keeps you comfortable in cooler waters without giving you a bulky feel. The sole of this sock is comprised of a dotted silkscreen material that gives you added traction when walking. That makes this sock great for virtually any water sport. Four-way stretchable material makes slipping this sock on and off easier than ever.
3. Seavenger High Top SeaSnug Sand Socks
What Makes This Aqua Socks Stand Out:
Built to withstand hot sand
High top
Can be used in water and on sand
Model & Accessory Specs:
Thickness: N/A
Material: Lycra with neoprene sole
What makes this aqua socks stand out:
It is no wonder this made our list of top rated aqua socks, this sock offers something for everyone. Coming in over 10 different styles and ranging in sizes from 4-15 this is the perfect sock to fit the whole family.  An adjustable ankle cuff allows you to get the perfect fit and keeps the sock firmly in place allowing you to focus on playing at the beach. This sock is built as a beach sock and is the perfect accessory for playing soccer, volleyball or any other sport on the hot sand. Built to withstand the hot sand these socks are great for swimming, snorkeling as well as on land playing. A stretchy and comfortable design allows them to be easily worn for the whole day. A great way to protect your feet from hot or rocky sand, blisters and sunburn. These high top sand socks are a must have for your next family vacation.
4. H20 Water Neoprene Snorkeling Fin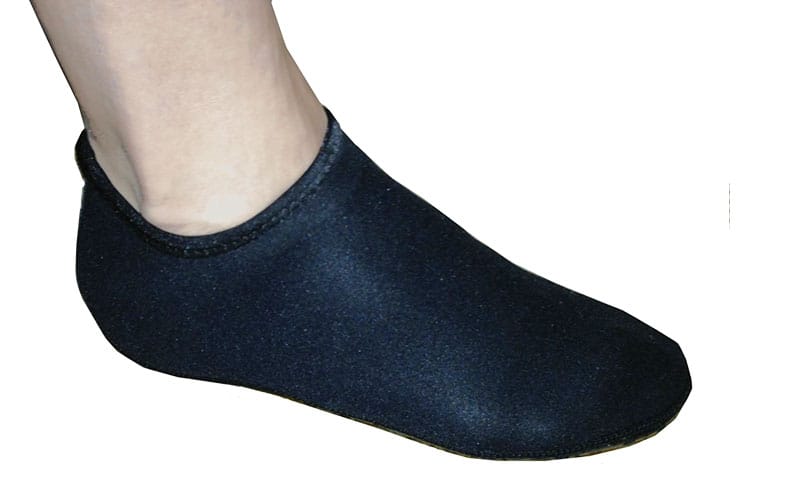 What Makes This Aqua Socks Stand Out:
Anti-Slip Soles
Low Profile Ankle Design
Model & Accessory Specs:
Thickness: 2mm
Material: Neoprene
These low riding thin socks come in at an unbeatable price making them a great option for water sports. Their lightweight design makes traveling easy while their non-slip sole allows you added security and versatility. The low profile design allows them to easily fit into full foot fins making these a great pair of water socks for snorkeling or scuba diving. Not only used in the water, these thinner neoprene socks can be used in hunting or hiking shoes to give your foot added insulation. The thinnest pair on our list, these socks are ideal for warmer waters giving you the perfect combination of warmth and protection.
5. Tilos 2.5mm Sport Skin Sock
What Makes This Aqua Socks Stand Out:
Ultra Lightweight Design
Tough Neoprene Sole
Model & Accessory Specs:
Thickness: 2.5 mm
Material: Lycra with Neoprene sole
A wide range of sizes and five different colors to choose from makes this one of the top water socks for swimming. This sock sits so comfortably it begins to feel like a second skin. An adjustable ankle cuff makes these mid rise socks an even more perfect for the whole family.  Made using a lightweight and stretchy lycra material makes getting into this sock very easy. A tough and durable neoprene sole provides added protection for your foot making this sock great for both in water and on sand playing. Your feet will no longer face sunburns or blisters from hot sand on a sunny day.
FAQs
Q: What Is The Difference Between Water Socks And Water Shoes?
A: Water socks are essential socks that have been specially designed to be worn in water. This means they won't rub and cause blisters as normal socks that get wet would. These socks don't offer as much protection as water shoes but are great when worn in combination with scuba fins and water shoes.
Water shoes, on the other hand, have been designed protect the feet. They will have a comfortable insole that doesn't retain water while being able to be worn for long hikes. Their tread will usually have drain holes that let water easily flow through without pooling in your shoes.
Q: How Should Water Socks Fit?
A: Your water socks should fit quite snug. You should be able to get them on without too much of a struggle while having them tight enough to stay up. You will want to ensure the heel of the sock fits in place on your foot. If your sock is too loose and does not fit your foot tightly then it will absorb a lot of water and end up weighing you down. On the other hand, if they are too tight they will stretch out and not offer as much protection. This will greatly decrease the lifespan of your socks.
Q: How To Clean Water Socks?
A: Many people mistakenly think that if they are using their water shoes in fresh water they do not need to clean them afterward. The reality is that freshwater sources such as lakes still have a ton of microbes in them. These can wreak havoc on your gear by causing mildew to grow. Luckily cleaning your socks is quick and easy. You can simply rinse with fresh water from a hose and air dry out of direct sunlight.
In some cases, these can start to stink and a simple rinse will not do. When a deeper clean is needed you can rinse with some mild soapy water such as wetsuit shampoo. You can also use some vinegar to help remove the smell. Dump all the water out and stuff some hand towels into the boot to soak up any added moisture. You may want to speed the drying process up by using a blow dryer for inside the shoe.
Q: What Are Water Socks?
A: Water socks are lightweight foot protection that is made out of the same neoprene material as wetsuits. There are many different kinds, some featuring minor tread while others have thick rubber soles that provide lots of traction. These are used by many water enthusiasts including surfers, scuba divers and beach loungers. The flexibility offered in these shoes is incredibly ideal but they do not provide enough support for long term activities such as hiking.
Q: How Do I Choose The Best Waterproof Socks?
A: There are many factors that make great water socks. This is a combination of materials, design and feel. Water socks should have a material that drys quickly while feeling light. They should also have flatlock seams which nearly eliminates bunching and friction which cause blisters and discomfort. The thickness can also help keep your feet warm if you're swimming in colder climates.
Q: Where Should I Buy Water Absorbent Socks?
A: More and more places are selling absorbent socks. Buying your aqua socks online is a great way to ensure that you get the best price point. Most outdoor department stores now carry this preferred form of footwear. You will also be able to find them at your local dive shop as they are commonly used with snorkeling fins.
Globo Surf Overview
Having a trusted pair of water socks is something that any water enthusiast needs. Water socks reviews agree that having high quality foot protection is important in ensuring you get the most out of your day at the beach. Protecting you from the hot sand into the depths of the ocean, water socks are an affordable way to keep you protected.
Sources
Sunburn, Medicine Net
Family Vacation, Trip Advisor
Did your favorite pair of water socks make our list? Let us know what you look for in your perfect pair of water socks below.
Globo Surf Water Socks Review
★★★★★
"
Found these water socks through your website. Absolutely love them. Great review!
"