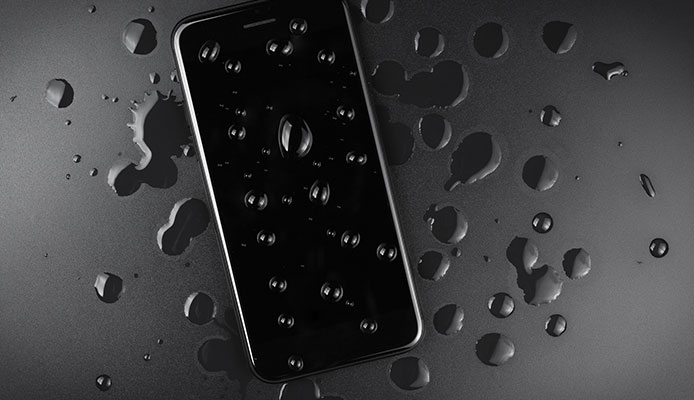 OUR TOP PICK

---

EDITORS CHOICE

---

BEST VALUE

---
We live in a time when mobile phones have become an indispensable part of our daily lives. We rely on them for communication, information and entertainment. It has become perfectly normal to take our phones everywhere with us, even when we on an adventure. However, there is a larger chance your phone will get damaged in these situations – either by falling to the ground or even worse, by getting wet.
Sure, some devices are waterproof on their own, and you probably own and use some type of phone case or carry a waterproof duffel bag with you. However, this isn't going to be enough in some situations, especially if you want to take your phone when going swimming or taking part in a watersport. For this reason, we are discussing the best waterproof phone cases so you can get the best possible protection, and have a peace of mind knowing nothing is going to happen. Also, we've compiled a buying guide to give you some insight into different types and features of waterproof mobile phone cases, so don't miss out.
How To Choose A Waterproof Phone Case – Buying Guide

Choosing a good waterproof cell phone case shouldn't be that difficult. The first and most important thing is that it's reliable – there shouldn't be a drop of water inside as long as you use it as the manufacturer intended. Bad products can cause serious damage to your phone, and repairs are usually very costly, so think ahead and get a reliable case. In addition, it's nice if the case allows full functionality of your phone so you can use the touchscreen, cameras and side buttons. Furthermore, some products come with nice additions which improve user experience. Take a look.
Phone Brand, Size And Weight
No matter which phone you have, you'll be able to find a waterproof case that suits it. Of course, it makes sense that there is the largest choice for most popular brands, such as iPhone or Samsung devices. There are two basic types of waterproof cases on the market – fitted cases specially designed for one model, and universal pouches with a locking mechanism.
Fitted cases are precisely sized to fit one phone model, and you won't be able to put any other phone in. The fit is snug which ensures excellent protection, even shock absorption if you happen to drop your phone. You will often have access to all the buttons, as they are very user friendly. However, this type of waterproof case is more expensive on average.
On the other hand, waterproof phone pouches are universally sized. They have a size limit (for example, a diagonal of 6.5 inches), but other than that you can keep any phone inside. Access to controls is a bit different, since side buttons are sometimes harder to reach. However, the touchscreen is usually fully functional so you can easily navigate through menus and take photos and videos.
There is one additional upside to pouches – if you have some space left, you can use it to keep other things inside too, like credit cards, money or documents. You should know that pouches come in several sizes too, so you will probably be able to find the right one even if you have a large phone. Keep in mind that you will sometimes need to take the protective case off your phone, so your device can fit inside the pouch.
When it comes to weight, waterproof cases usually don't add a significant amount of it, so this shouldn't be a problem. However, depending on materials used, some can be a bit heavier. On the other hand, these cases add bulk to the phone (especially if you're using a fitted case), and it will take some time getting used to.
Use
Functionality of your new waterproof case is very important. It's not just about protecting your phone, but allowing you to use it too. This is why the most efficient waterproof phone cases have clear, transparent panels on both sides. This allows you to see and use the touchscreen without trouble. Furthermore, cameras are not obstructed, so you can take clear photos without them being blurry from the case.
Like we mentioned earlier, it's very useful if you have full access to the buttons on your phone, and at some point this may become necessary too. At a certain depth your touchscreen will stop working because of increased pressure, so it's good if you can use volume control to take photos.
In addition to this, there are a few more things that can improve the ease of use. For example, some cases are buoyant. This means that if you accidentally drop your phone in the water, it will float instead of sinking to the bottom, which is obviously very useful. If this is not the case, then it's a big plus if your case comes with a lanyard so you can wrap it around your wrist when using it, and prevent accidents.
You might also like: Perfect Waterproofing Sprays
Durability
Waterproof cases are made to be used over and over again, so you should expect a certain level of durability. However, this all depends on a particular product. Price can be a good indicator of quality, but this is not always the case. We featured some excellent products in our waterproof phone case reviews which also come at a more than reasonable price.
Cases are usually made of TPU or PVC, but the quality varies from one product to the next. Some only have a weak thin layer, while other products have reinforcements and double-layered screens. A common problem with cases is that they often get scratched too quickly, which will annoy you since it obstructs the view and even makes your photos worse. A good idea is to go through user experiences and see what they had to say about a particular product, so you have some idea before buying. Bottom line, a high quality case should really last for a long time.
If you're interested in monitoring your Android and iOS smartphones, Cocospy keeps tabs on what's dear to you, be it your kids or business. Track locations, messages, calls, and apps.
FAQs

Q: Are Waterproof Phone Cases Submersible?
A:
This depends on a particular product, but yes, most of them are submersible. Be sure to check the IP (Ingress Protection) rating on each and every case. This rating shows how deep you are allowed take your phone, and for how long it can safely remain there. Different products have different ratings, so pay attention when buying. However, these ratings won't help you if you don't close the case properly, so be careful.
Q: Is There Some Guarantee That My Phone Won't Get Wet?
A:
Like we said, the manufacturer will specify the IP rating of their product, and this should be a good guarantee as long as the manufacturer is reliable. However, phones are expensive devices and it's smart to test the case yourself before putting the phone in. There are several ways to do this, but it's probably the easiest with some paper tissues or cotton wool. You take a few pieces, place them inside, and close the case. Then you submerge it and leave it like that for a few hours. When you take it out, the content of the case should be dry. If that is the case, then you can have peace of mind that your phone will stay dry too.
Q: Can I Use Waterproof Phone Cases For Underwater Photography?
A:
Absolutely! This is one of the main benefits of having a waterproof case in the first place. Be sure to pick a case with a transparent screen over the camera lens to get the best photos possible, otherwise they may come out blurry and you won't be satisfied with the result.
Q: How Deep Can I Bring My Phone With A Waterproof Phone Case?
A:
This depends on the waterproof (IP) rating your new case has. Like we discussed earlier, products come with different ratings and you can expect heavy-duty cases to cost more. Luckily, most of these cases will protect your phone when you go swimming for example. They allow you to take the phone 3-6 feet deep, which is enough for most users. Of course, there are products which remain sealed in much greater depths, so it all comes down to what you need.
Globo Surf Overview
Waterproof cases for phones are a smart investment, because they allow you to take your phone with you literally anywhere. You can stay in touch and capture beautiful moments no matter where you are. Considering all the benefits they provide, they aren't that expensive, so we think they are definitely worth the money. Give them a try, we're sure you'll be more than satisfied!
More Watergear Water Protection Reviews:
Have you tried a waterproof phone case that made it onto our list? Which type did you get? How are you satisfied with protection? Is it easy to use? Please share your experience with us in the comment section below.