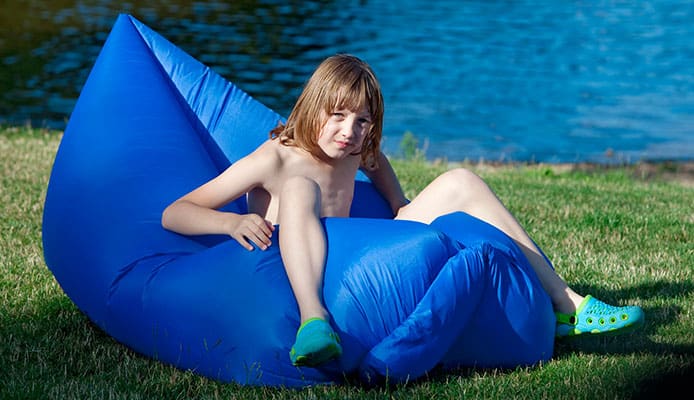 EDITORS CHOICE

---

BEST VALUE

---
Beachgoers often take with them an item to lounge at the beach to enhance their comfort and the best inflatable lounger can be perfect for such occasion. The most common items to take with them are a beach blanket, hammock, or chair. While the feeling of the sand in your toes is enjoyable to most, a beach blanket covered in sand is not. You may not always have the option to hang a hammock and a heavy chair may drag you down on your day at the beach.
With an outdoor lounger, you can keep yourself sand-free without worrying about needing two trees to string a hammock or lugging around a heavy beach chair. The best air lounger is easy to use, carry, store, and clean. Even better, most inflatable loungers do not need a pump and inflate within seconds.
This list of the 10 Best Inflatable Loungers in 2023 can help you choose which inflatable air lounger is best for you. With these top-rated air loungers, you will be relaxing at the beach with ease and breaking waves with style and comfort!
How To Choose An Inflatable Lounger – Buying Guide
When you are debating which is the best inflatable lounger design you want to use, there are multiple factors that can influence your decision. From the size of the lounger to the style, to the material, and storage; these factors can help you decide what best suits your lounging needs. These key features can bring you and your friends or family maximum comfort during a day at the beach, as mentioned in most of the inflatable lounger reviews.
Material
The material of an outdoor inflatable lounger needs to be strong and hold air. The two most common materials used in the top-rated air lounger design is ripstop nylon or polyester. The best inflatable air loungers will have a two-layer material design, which ensures your couch, chair, or hammock will hold its air. The inner layer will usually be a plastic material, but ideally, the outside should be either ripstop nylon or polyester. This will ensure that you are getting all the durability you need for your inflatable loungers to take them anywhere you go.
Weight Capacity
The weight capacity of an outdoor inflatable lounger is important because it dictates how many people may safely relax on one lounger. The most common weight limits are between 400 and 500 pounds, which depending on the individual, meaning it can hold 2-3 people. If you plan to relax solo or just with a buddy, a smaller inflatable lounger may better suit your needs. If you want to party with a crowd, remember to keep an eye on the number of people using the inflatable lounger so the weight limit is not exceeded. The weight limit is important to keep in mind because you wouldn't want to ruin a fun day with a popped or ripped lounger.
Size
While the size of the actual inflatable lounger when fully inflated is usually influenced by its weight limit capacity, the size of it when stored is a different factor that can be important to you. Most outdoor inflatable loungers can be compacted into small spaces or their provided carry bags. As well, most will not exceed a carrying weight of 3 pounds, ensuring that you can grab them with ease on your way to the beach.
If the inflated size of the lounger is important to you, look at the product description or dimensions. Most inflatable air loungers come in at 6-7 feet, though you can find some larger ones that reach up to 9 feet in length. How many people you want to relax with will dictate how large of a lounger you need. The more people, the larger size is better for you.
Inflation Time
For an outdoor inflatable lounger to work, it needs to be able to hold its air. It can be a nuisance to have to stop and re-inflate your lounger every hour, at which point you may have wished you just brought along a blanket.
The best inflatable lounger designs will address this issue and ensure that they can hold air and their shape for about 2-3 hours. Some designs boast longer times, but each design should function if they were inflated and sealed properly.
You might also like: Top Floating Island Raft
Water Resistance
If you are looking to use your inflatable lounger by water, it is important that it has a waterproof or, at the minimum, water-resistant design. There are greater benefits to a fully waterproof design as some outdoor inflatable loungers will feature a floating design. This means that you can toss your lounger in the pool or ocean, without worrying it will sink.
If floating in the water isn't quite up to your alley, most designs are still water-resistant. You can hang by the ocean or pool without worrying that a few splashes will damage your lounger. Water resistance can ensure that you can take a dip in the water to cool off and immediately go back to lounging on your top-rated air lounger.
Extra Features
A lot of the best inflatable loungers include extra features that cater to the user's convenience. From side pockets, incorporated pillow design, bottle openers, and carrying bags; these features are provided to maximize your comfort. With these features, you won't have to worry about a sandy phone or an inability to open your bottle. From your relaxed position, these extra features allow you to have it all.
FAQs
Q: Do I need an air pump to inflate the lounger?
A:
Most outdoor inflatable lounger designs do not require that you use any type of air pump to inflate the device. Many incorporate into their design, a quick and pump-free inflation technique, that ensures all you need is your inflatable air lounger.
Many will feature a design where you open a panel, which will inflate the tube as you drag it through the air. To seal, you simply close and then wrap the fabric down before securing it with a buckle. This design is the most common and convenient that you will see used in outdoor inflatable loungers.
Though it is important to note that while the vast majority have a pump-free design, there are some that you will need to purchase an air pump to inflate. It is best to look at the product description to ensure you are getting the design you want.
Q: How should I clean it when it gets dirty?
A:
You will most likely be using your inflatable lounger in the outdoors, which means that it can get dirty. For a quick clean before storage, you should shake off any excess debris. If a shaking motion won't do it, a quick brush with your hand should get rid of loose particles like sand. If your outdoor inflatable lounger is still dirty, you can easily create a mixture of water and a mild detergent and use a cloth to spot clean the material. You should ensure that your lounger is completely dry before you fold it up and store it. You don't want to pull out a moldy lounger on your next intended use.
Q: What happens if it becomes damaged?
A:
If your outdoor inflatable lounger becomes damaged you should check to see if you have a warranty. If you do have a warranty and it is still valid, it's best to contact the company. Depending on their conditions, they may have a way to fix or replace your lounger. If you don't have a warranty, you can find repair kits on sellers like Amazon. These kits will be a do-it-yourself way to repair your inflatable air lounger.
Q: Are inflatable loungers comfortable?
A:
It all comes down to personal opinion. If laying on a soft bubble of air isn't catering to your level of comfort, but you would rather lay on the hard ground, an inflatable air lounger may not be for you. We here, at Globo Surf, find them quite comfortable. As well, most outdoor inflatable lounger designs allow you to choose how much or how little inflation you would like. This customization can ensure a softer or firmer feel depending on how much air you put into them.
Q: How long will the lounger stay inflated?
A:
This is all up which inflatable air lounger you buy and its specific design. Most loungers will stay inflated for 2-3 hours, but there are some that are advertised as lasting for up to 8 hours. It is important to note that if you are having to re-inflate your lounger every hour, it may have been damaged or the seal is broken. It is best to check to ensure there are no leaks and you properly sealed your lounger.
Globo Surf Overview
Having the best outdoor inflatable lounger can drastically upgrade your day at the beach. Instead of the basic beach blanket or towel, you can rest yourself above the sand in maximum comfort with an inflatable air lounger. Whether you want to sit in the water, add a few friends, or take it everywhere you go, you can be sure to upgrade your style and comfort with an inflatable hammock, couch, or chair. If you are looking to break out from the basic and boring, upgrade your beach life with an outdoor inflatable lounger.
More Watergear Toys Reviews: