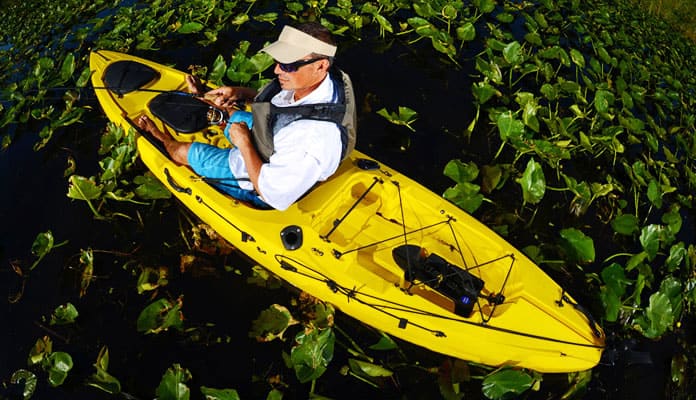 Know of a stocked lake that is hard to get to? The best fishing kayak will get you to those spots that a regular boat can't get you. Spending a day on the lake is going to be a great time and combining that with some fresh trout for dinner makes it even better. Kayaking provides killer upper body workout without even realizing you're exercising. Their sleek narrow design helps them to be able to fit even in the most narrow of rivers. They are also lightweight and easy to transport giving you access to just about anywhere.

Combining your love for kayaking with your love for fishing actively creates the ultimate super sport. We know you deserve the best kayak for fishing so we scoured the web to find just that. These boats are the top in their class.
QUICK ANSWER: THE BEST FISHING KAYAKS
Best Fishing Kayaks
Fishing Kayaks Reviews
1. Lifetime 10 Foot Sport Fisher Tandem Kayak

Check Price Now
What Makes This Kayak Stand Out:
3 fishing pole holders
5 year manufacturer warranty
Interior storage compartment
Model & Accessory Specs:
Length: 10'
Weight: 65 lbs
Material: Polyethylene plastic
Maximum Capacity: 500 lbs
Accessories: 2 double-sided paddles, paddle clips, 6' storage hatch
This lightweight fishing kayak sports a completely open sit on top style deck. The 10-foot length allows you to spread out while keeping your gear within arms reach. The two seats and 500-pound weight capacity ensures that you can bring a friend with you to enjoy the weekend. A paddle clip secures your paddle to the boat allowing you to throw casts without worrying about losing your paddle. When you need to move around you can use the three included fishing rod holders to stow your rods. If you need more storage you can open the storage hatch and fill the interior of this kayak with your important belongings or strap items to the front with a bungee system. Lifetime is so confident in their product they include a 5-year warranty on the material used to make this river fishing kayak.
2. Sun Dolphin Aruba 10 Sit-in Kayak
What Makes This Kayak Stand Out:
UV stabilized
Comfortable padded seat
Model & Accessory Specs:
Length: 10'
Weight: 40 lbs
Material: Polyethylene
Maximum Capacity: 250 lbs
Accessories: None
Enjoy reeling in your catch in this Sun Dolphin kayak. With padded back support and an adjustable seat you are sure to feel incredibly comfortable here allowing you to stay out longer. With large covered storage areas you can comfortably bring all your gear with you for long distance paddles. Long hot sunny days are made easier by water bottle holders for easy access to your favorite beverage. Know of a lake that requires some hiking to get to? With this kayaks lightweight design and the handles on either end, portaging becomes even easier. With UV stabilized material you no longer have to worry about the integrity of your board after long days in the sun. Fading and weakness will no longer be of concern thereby increasing the lifespan of your kayak.
3. Hobie Mirage Outback Kayak
What Makes This Kayak Stand Out:
Pedal-powered
High carrying capacity
Sail mount
Model & Accessory Specs:
Length: 12'1"
Weight: 82 lbs
Material: Polyethylene
Maximum Capacity: 400 lbs
Accessories: None
The Hobie Mirage Outback kayak is an all around high quality rig. The high carrying capacity allows you to carry all of your gear with you no matter where you go. Ride in style and comfort with the specially designed, fully adjustable seat. Perfect for long days on the water this kayak includes rod holders and paddle clips making fishing that much easier. Don't worry about getting your important items like a cell phone or book wet with the two watertight below deck storage compartment. Taking technology to the next level, the Hobie Mirage offers a foot pedal propulsion system. Simply move your feet to maneuver the boat wherever you'd like to go. Want to turn quickly? Just pull one of the shift cables and you'll be headed in the other direction in no time. This is one of the most versatile ocean fishing kayaks available.
4. Sea Eagle SE370K_P Inflatable Kayak with Pro Package
What Makes This Kayak Stand Out:
High weight capacity
Sun and saltwater resistant
Spray skirt
Model & Accessory Specs:
Length: 10'
Weight: 40 lbs
Material:Polyethylene
Maximum Capacity: 250 lbs
Accessories: None
This inflatable kayak is incredibly durable as it is made out of PolyKrylar, a top of the line material. This allows the kayak to have a 650 lbs weight capacity. The boat can fit a maximum of three people comfortably. This package features everything you could need to get on the water including two paddles, two seats a repair kit and spray kit. Not only is this a good fishing kayak, it can also be used in whitewater environments. The spray skirt will help keep you dry in rough conditions. The five one way valves will quickly drain all of the water accumulated in the bottom of the kayak. It also comes with two skegs to keep you pointed straight. Being sun and salt water resistant means this kayak will have a longer lifespan. This is an excellent option for freshwater kayak fishing weighing a measly 32 pounds, much less than its competitors.
5. Advanced Elements Advancedframe Convertible Kayak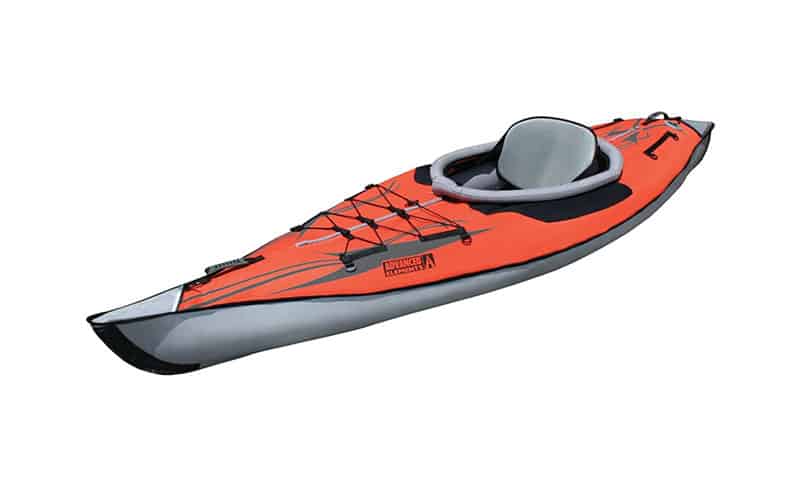 What Makes This Kayak Stand Out:
Dry storage compartment
Bungee deck
Aluminum ribs and high quality material
Model & Accessory Specs:
Length: 15'
Weight: 43 lbs
Capacity: 300 lbs
Material: PVC coated polyester
Maximum Capacity: 300 lbs
Accessories: Seat
This inflatable wide fishing kayak that has been designed to be versatile while extremely durable. The three layer shell ensures that it will stand the test of time and the odd rough landing on shore. A highly adjustable and comfortable seat will allow you to spend days on the water and not have worry about your legs falling asleep. The cockpit is wide, but comfortable while giving your legs room to move around and not feel claustrophobic. An advanced aluminum rib system creates added structure and stability to this high tech fishing kayak. There is no need for fancy transporting gear as this kayak rolls up and fit into a compact bag allowing you to throw it into the trunk of your car. Even with this kayak being inflatable it has ample storage space featuring a below deck dry compartment and a bungee system on it's deck.
Types of kayaks:
The two main types of kayaks for fishing are sit on top or sit inside. There are also pedal, sailing and inflatable kayaks that are excellent for fishing. Each type of boat has its pros and cons in regards to fishing.
Sit on top
Just like the name suggests a sit on top kayak has an open concept where your legs are exposed. Some have a completely flat deck while others have high sidewalls that leave your legs and feet exposed. This type is good for fishing as you can move around on the deck, even standing up to throw long casts. These are usually made out of polyethylene or fiberglass making them affordable. Not being the most lightweight boats the sit on top type makes up for their weight with their durability. They have tons of storage with bungee systems and rod holders making them the most popular type of fishing kayaks.
Sit inside
Another popular type of fishing kayak is the sit inside version. It features high walls that come up out of the water and around your legs. There is a hole for you to slide into keeping your legs dry and out of the way. They usually have multiple storage hatches under the cover of the walls with a bungee system for all of your gear. This type can be made out of any type of material ranging from polyethylene to kevlar. Since they use more material the price is higher than the sit on top counterpart. A low center of gravity gives this boat a low profiled design that is great for stability. Their shape helps to create a fast boat that can move through the water with ease. But since they require you to be confined it is recommended to take classes to help you with emergency maneuvers like the Eskimo roll and proper paddling technique.
Peddling and Sailing
These special kayaks allow you to move around and steer without using your hands, making them perfect for those looking to fish. The technology has created a great system that is on the heavy side. You may need a truck or large SUV to transport this boat because of its weight and size. Depending on the manufacturer the materials can range from polyethylene to kevlar or even fiberglass. These will have lots of space to store your gear and even move around on deck. They are stable and are a good option for people with shoulder or upper body injuries.
Inflatable
The world of inflatable boats has come a long way in recent years. Now military grade PVC is widely becoming the standard material used to create these boats. It is exceptionally strong and even puncture resistant. These are extremely portable usually rolling up into a small compact package. There is a trade off for their portability. They are usually slower than their rigid counterpart and need to be used with care when fishing.
Features of Fishing kayaks
There are many features you should keep your eye out for when searching for your next fishing kayak. It is important to pick a boat that is made with high quality materials which will stand the test of time. Features like rod holders and racks will allow you to fish in complete comfort while enjoying the view and a beverage.
Materials
The materials used to make your kayak will determine everything from durability to weight. It will affect your experience on the lake to the purchase price of your rig. Some materials are easier to damage and repair while others cannot be fixed once damaged.
Polyethylene is one of the main materials used in kayak construction. It is a hard plastic that is resistant to scratching and denting. Kayaks that use a single layer will be a little heavy but durable. Ones that utilize a three-layer system will be more buoyant. The side that touches the water are shiny, which reduces the friction and drag of the water while the inner side is slip resistant. This type is more prone to damage as it has more layers but is still a good choice of material.
Fiberglass is one of the more expensive options of construction. But with the price comes added features. Being one of the lightest and most repairable material, fiberglass is great for long distance traveling and fishing alike. It is prone to damage from the shore but if you are careful will last for decades. Kevlar is the highest end material a kayak can be made of. It is the lightest material that is also the most durable, but the cost will take your breath. It is relatively easy to repair not that that will need to happen at all.
Rod holders and racks
Never be on the water without a place to put your rod. These handy holders will allow you sit back with your feet up and enjoy the day without having to hold your fishing rod for a prolonged time. Fishing kayaks usually have more than one rod holder so that you can cover more ground and not have to struggle with your lines.
They will either be specially placed flush mounts or a deck mount system. A flush mount is essentially a designed slot in the top of the boat. It allows you to insert the end of your rod into it for quick access. The deck mount option consists of a rod holder that is screwed into the top of your boat which can swivel and tilt allowing for the most control.
If you do have more than one rod that you will be using, look for a rod rack. This is a place running along the length of the kayak that holds your rods while you set up in the perfect spot. One rod can be for long casts while the other for trolling. No matter your set up a rod rack and holder will add to your experience.
Storage and Transportation
Depending on which style you decide to buy your storage and transportation will look vastly different. While inflatable rigs are ultra portable and will fit into backpacks the rigid boats will need a little more time and effort to get to the launch site. We suggest measuring your vehicle and comparing it to the size of the kayak you are looking at.
People with trucks and large SUV's won't have to worry about transporting, but people with cars may have an issue. But there are always ways to make it work.
There are kayak racks for the roof of your vehicle that will allow you to throw your rig on your roof to get it to the lake.
Another option is a lightweight kayak trailer which can be towed behind your car. If you have the room to store it, a trailer will allow you to carry multiple boats without the need to attach a rack to your car.
If you live close to the body of water you can invest in a bike trailer. This will give you exercise and allow you to transport your kayak with ease.
Even though these kayaks are made to be in the water, they are not designed to sit in the elements. The sun can warp and break down the material used to make these boats. We suggest finding a space in your garage for your toy. Try a hanging system that will get it out of the way of your car and utilize the unused space. If you don't have a garage try building or buying a shelter system. This will significantly increase the lifespan of your kayak.
Sponsons
These inflatable bags ensure added stability for your kayak, perfect for your fishing trip. Easily strapping to the sides of your boat they inflate when you need the stability. You can start your day with them deflated and use them if the water gets choppy or you need the stability when throwing your casts. They cause a little drag when paddling with them deflated but are much easier to attach before you start your journey.
Types of water
The features of your kayak will differ vastly depending on which type of water you will be using it in.
For smaller bodies of water look for a shorter kayak. This will make it easy to turn and move around.
Larger bodies where you are paddling long distances a longer sleeker boat is a better choice. This will increase your speed by reducing the resistance when paddling.
Freshwater
If you are fishing in still water on a small body your kayak will need to have stability especially if you don't have to paddle far to get to your spot. If this is your regular use of your kayak you should look at a ride on top style. It offers excellent stability while being easy to turn and maneuver in the water.
Larger lakes may need a different approach, especially if you need to paddle a long distance to your spot. Longer, skinnier boats will get you to your ideal location quickly, but give up a little stability when stationary. This can be combatted with a sponson system which will give you the stability you give up with a longer boat.
If you frequent a moving body of water like a river look for a boat that has a pedal propulsion system. This will allow you to fight the current while having both hands on your rod giving you the dexterity to throw casts while the peace of mind of not drifting into hazards.
Saltwater
Fishing in a kayak on the ocean can be challenging and dangerous. The farther you go offshore the more intimidating the experience can be. Hazards include high winds, large swells and fast changing weather.
In shore is said to be in water that is less than 70 feet deep. If you're planning on fishing in this type of water it is recommended to have a long skinny boat that will be able to move quickly through the water. If you are worried about overturning your rig you can opt for a ride on top kayak which has more stability and is virtually unsinkable.
Offshore fishing in a kayak can be intimidating. Waters are deep and the horizon blank. Generally, fisherman like to use a long narrow boat that can get them home quickly if something goes wrong. It is strongly recommended to have training on emergency maneuvers like the Eskimo roll for if you overturn. Your day can quickly turn bad, but with these skills you can help yourself combat the harshness of the offshore environment.
Gear
The gear you bring with you can make your day or weekend trip more enjoyable.
Paddle
This is one of the main ways you will get around the water. Your paddle will be one of the most used items so you are going to want a high quality one that is comfortable and easy to use. They come in a double bladed style but can also be a single sided canoe style oar depending on your rig and use.
Spray skirt
If you frequently paddle in choppy conditions a spray skirt is a viable option for you. It is a piece of material that wraps around your waist and connects to the brim of the kayak. This system is designed to keep you warm and dry for extended trips. This is a nice accessory to always have in your pack as the weather can quickly change while on the water.
PFD
The US coast guard considers kayaks a watercraft which require you to have a life vest on board. It may seem like an inconvenience, but a personal floatation device can save your life. There are low profile options that will not interfere with your paddling or throwing the perfect cast.
Storage
For those dedicated to fishing being able to keep your gear dry no matter the weather or water conditions will put a smile on your face. When looking into the top fishing kayaks keep your eye out for dry storage. This is usually a hatch that opens on the nose or tail of the kayak which ensures that your gear stays dry even if you roll your kayak.
Seat
Everybody who has fished knows what a padded seat can do. Not only will it make you more comfortable, a seat will allow you stay on the water as long as you want. Kayak seats are adjustable and can be made to fit nearly any person. It is important that it provides a lift which will make it less likely your legs fall asleep.
Anchor trolley
This is an anchor system that allows you to maintain your position in the water. It includes rope that runs the length of the kayak which the anchor is attached. This can be adjusted depending on where you want to stay. This is a handy feature that will allow you to fish without worrying about drifting away.
GPS
If you are traveling on the ocean to fish a GPS system may be a good addition to your gear. You don't want to get lost or not be able to find your way home especially since the weather changes quickly offshore.
Propulsion
This is the way you move around in your kayak. Long ago are the days of just using a paddle to move you around the water.
Paddle
The most common way of moving around in a kayak is by your own strength. A double bladed kayak paddle is more than likely the way you will be getting around the lake. It offers excellent control and ease of maneuverability while giving you a full body workout. You will be surprised how much your strength will increase after a few days on the water.
Peddles
A less known way of moving around is by using your feet. Some high-end kayaks have a build in pedal system. This works by pumping your feet in a back and forth movement which moves the blades underneath the boat. It offers excellent control and can put you in the exact spot you
Sail
You wouldn't initially think of a sail powered kayak, but it is an option. Some kayaks have a sail attachment where you can use this trusted option to power your rig. It may not be the most practical to use while you are fishing but can get you to your ideal spot in no time.
Globo Surf Overview
oUsing your kayak for fishing is a popular idea in the fishing world. These small boats will take you to places that are hard to otherwise get to allowing you to get to the best fish. With slender designs and added attachments, these boats are built for comfort allowing you to spend long days on the lake. Fishing kayak reviews agree that a comfortable spacious cockpit is one of the most important features to look for. Having on board rod holders and paddle holders will free your hands and allow you to clear your mind.
Sources
New to kayaking or have a kayak on our list? Let us know how you like it in the comment section below.
Globo Surf Fishing Kayaks Review
★★★★★
"
Wanted to buy my husband a new fishing kayak. Your article really helped me pick out the right ones. Thanks!
"