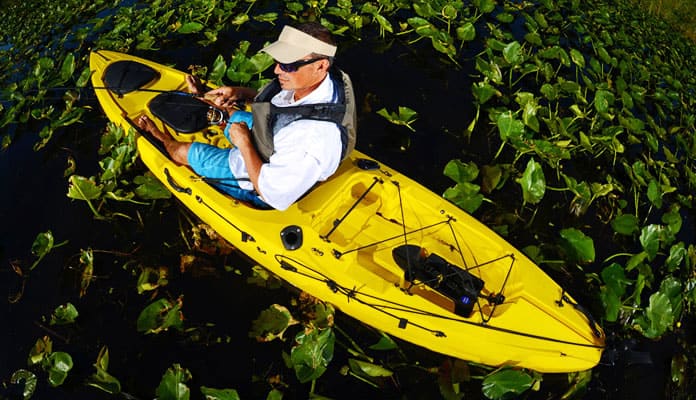 EDITORS CHOICE

---
From small ponds to open ocean waters, a fishing kayak provides unique access to all the best fishing spots. Unlike boats, fishing kayaks are easily portable, quiet, and aren't bothered by weeds or shallow water. As a bonus, all of them can be used for recreational paddling too.
Since every angler has their own preference when it comes to gear and setup, fishing kayaks offer a wide array of designs and available features. In this article, you're going to learn about everything the best fishing kayak can give you and hopefully find a model that you'll love taking out on the water.
How To Choose A Fishing Kayak – Buying Guide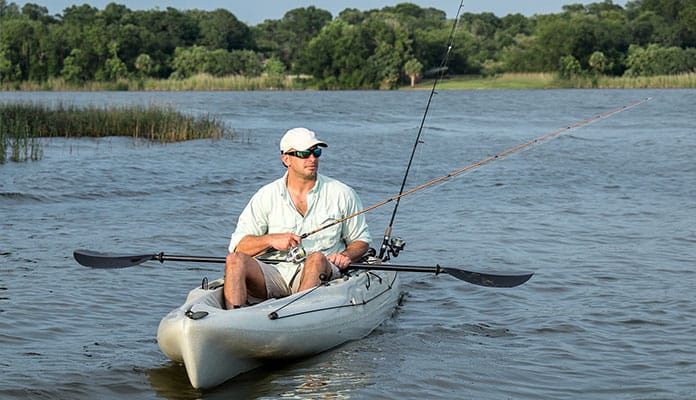 Fishing Features
One of the best things about getting a fishing kayak is that it comes with certain kayak fishing accessories that allow you to hit the water and cast the bait straight away. However, the amount of extra equipment you get varies significantly from one model to the other.
Most models come with rod holders, usually a pair of flush mounts behind the seat. Many higher-end models have more than two, and often also come with a swivel rod holder on the side.
If you're not satisfied with what is provided, be sure to look for a kayak with plenty of gear tracks. Ranging from two to over six, these tracks allow you to mount not just high-quality rod holders from Scotty or YakAttack, but also custom mounts for electronic devices.
On the other hand, instead of buying custom mounts, some fishing kayaks have central consoles that have mounting points for various GPS units and fish finders. Lastly, a few kayaks like Hobie Mirage and Pescador Pilot come with pedal systems for keeping your hands free, while the Wilderness Systems ATAK sit on top kayak even allows installing a small trolling motor in the middle.
Storage Options
A successful day on the water often requires bringing a lot of different kayaking fishing gear so you can adapt to the conditions. Because of this, the kayak you choose needs to have enough organized storage.
Most top-rated fishing kayaks have a bungee-corded tank well behind the seat that allows you to store dry bags, milk crates, and larger tackle boxes. It's a bonus if a kayak has an additional bungee area for smaller items you need close to hand.
As for dry storage, that is always a big plus. While not all fishing kayaks offer this, you'll find that it's a very useful addition. A dry storage hatch not only protects your valuables from water but also allows you to safely store rods inside the hull when you don't need them.
Kayak Comfort
Since you'll probably spend several hours at a time in your fishing kayak, comfort is very high on the list of considerations when buying. This mostly depends on the seat, so we advise that you take a look at its design and adjustability.
The best fishing kayak seat is ergonomic and gives you proper back support so you don't get sore while sitting. Also, it's a big advantage if it's padded in specific areas so it feels softer to sit on. However, this shouldn't compromise breathability, and having a little mesh will prevent you from sweating in the seat.
Furthermore, the seat needs to be adjustable. Most models allow you to change the backrest angle, but the premium seats can move in every direction to find the optimal position.
In addition to the chair, comfort also depends on the deck design. Generally speaking, it should be spacious, with adjustable footrests and enough space for stretching your legs.
Hull Design And Stability
For fishing kayaks, stability is a very important aspect. They shouldn't rock too much while casting or reeling, and it's ideal if they are stable enough to stand on. For this to be possible, the kayak needs to have a wide and flat hull.
While this sounds really nice, there is a trade-off – speed. A shorter and wider fishing kayak is going to be much slower on the water than a longer and narrower one. Getting both speed and stability isn't easy, and you'll usually have to choose between the two.
The closest thing to a compromise is a flat hull kayak with a sharp blow, like the Mirage Compass or the Tamarack Angler. We would advise that you choose stability over speed, as this will make a much larger difference when fishing on a kayak.
Benefits Of Kayak Fishing
Compared to fishing boats and other vessels, the best fishing kayaks have several advantages when it comes to catching fish. Some of these include:
Portability

– Doesn't require a trailer (you can carry or drag it to the water)

Noise Elimination

– Allows you to relax in peace and quiet without scaring the fish

Cost Reduction

– No batteries or gas required, making them more affordable

Wider Access Area

– Able to reach remote areas that are unavailable to larger boats.
FAQs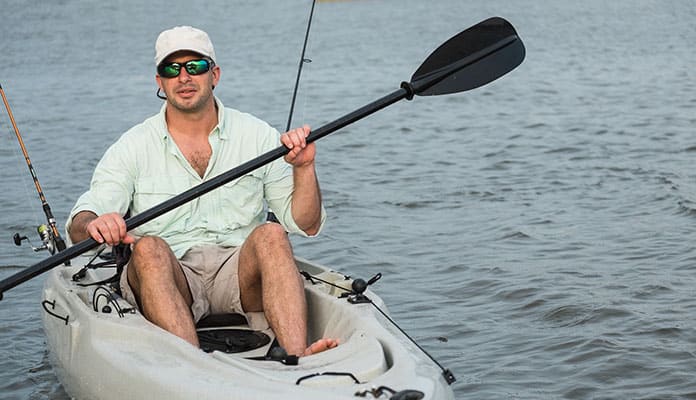 Q: How Much Storage Should My Fishing Kayak Have?
A:
This depends on how much gear you want to bring. Higher-end fishing kayaks offer both dry and wet storage, usually including a spacious tankwell for milk crates. On the other hand, one bungee-corded area and one dry hatch will suffice for most kayakers.
Q: Are Fishing Kayaks Safe?
A:
Yes, fishing kayaks are perfectly safe, perhaps even more than standard recreational kayaks. Their hulls are usually wide to allow standing, so you have nothing to worry about when it comes to tipping or accidents.
Q: Where Do You Keep Your Catch?
A:
The optimal way of storing your catch is using a cooler which will keep the fish fresh even if you sit in the sun all day. However, some anglers don't find these very convenient to keep on-board and choose to go with fish stringers instead.
Q: What If I Fall In The Water While Fishing?
A:
While this is very unlikely to happen, you don't have to worry if it does. Almost all fishing kayaks have flat hulls that provide great initial stability, so you can easily climb back on from the side without tipping the kayak.
Q: How Do I Take Care Of My Fishing Kayak?
A:
If you're using the kayak frequently, it's a good idea to rinse it off with fresh water from time to time to prevent grime build-up. Also, if the hull isn't UV-protected, you should treat it with a UV spray so it doesn't deteriorate in the sun. Additionally, you should avoid dragging the kayak and try to use a kayak cart instead to prevent hull damage.
Q: How Do I Know If The Kayak I'm Using Is For Fishing?
A:
All kayaks can be used for fishing, meaning that you can enjoy the activity even in a regular kayak. However, a true fishing kayak usually comes with rod holders, gear mounts, and a lot of organized storage. Also, it's more stable than a standard kayak. All models featured in our kayak fishing reviews have been specifically adapted for fishing.
Q: Is A Fishing Kayak Worth It?
A:
Yes, it's probably the best vessel for recreational fishing away from shore. It's lightweight, easily transportable, and very stable on the water. In addition, fishing kayaks frequently come with nice accessories to make the adventure even better.
Q: What Color Kayak Is Best For Fishing?
A:
While some studies tried to examine the relation of kayak color and attracting/scaring fish, there is no definite conclusion on this. So, from this aspect, the color is completely your personal choice. However, brighter colors like yellow and orange make you more visible in emergencies.
Q: Is A Sit On Top Kayak Better For Fishing?
A:
Yes, it is. A sit-on-top has an open deck design that gives you much better freedom of movement. This is a big plus when handling the rods and using the gear, not to mention the comfort of being able to extend your legs or stand up.
Q: What Size Fishing Kayak Do I Need?
A:
It depends on how you want the kayak to perform – longer fishing kayaks (12+ feet) are generally faster, while shorter kayaks (under 11 feet) are usually more stable. If you're a less experienced kayaker looking for comfort, we advise that you get a shorter and wider model.
Q: Is Canoe Or Kayak Better For Fishing?
A:
For most anglers, fishing from kayaks is better. It's stronger, more stable, more comfortable, and easier to equip with gear. On the other hand, a canoe is lighter and more portable, but its lower stability makes it somewhat unreliable for fishing.
Globo Surf Overview
Getting a fishing kayak is probably the best way to take your fishing adventures to a higher level. They provide you a quick and convenient access to your favorite fishing spot, and allow you to arrange your fishing gear exactly how you like it. We hope that our reviews helped you find an ideal model that will increase your catch and put a smile on your face when fishing in a kayak.
More Kayak Reviews:
New to kayaking or have a kayak on our list? Let us know how you like it in the comment section below.