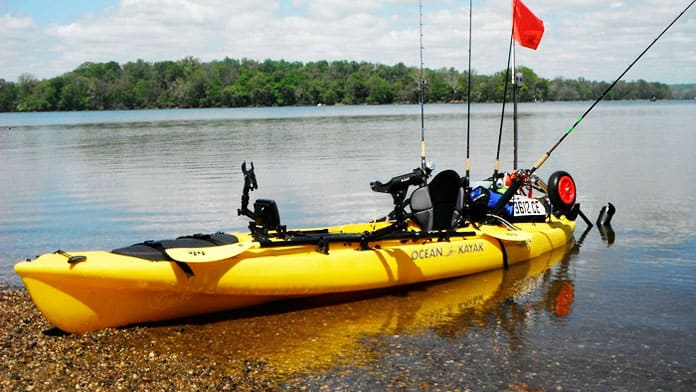 W
ater sports are a favorite summertime activity enjoyed by many. Kayaking is a great sport that can be practiced solo or with groups and many have turned to kayaks for use while fishing. This is because they are lightweight, easy to use and small enough to fit just about anywhere. Not many outfitted for fishing which can easily be fixed with the
best kayak
fishing accessories.
A day out fishing is great but any good fisherman knows that having the right tools will make the day even more enjoyable. We have done the research and made a list of the best accessories for kayak fishing. Now all you have to do is grab your kayak and head out to the lake.
QUICK ANSWER: THE BEST KAYAK FISHING ACCESSORIES
Best Kayak Fishing Accessories
Hanperal 2 Pcs Plastic Flush Mount


Our rating

Highly durable

Easy to install
TMS CART-CANOE / KAYAK-KY001


Our rating

Foam bumpers

Large inflatable tires
Jet Logic A-2 Complete Folding Anchor System


Our rating

Foldable design

Made for any terrain
Kayak Fishing Accessories Reviews
1. Hanperal 2 Pcs Plastic Flush Mount Fishing Boat Rod Holders and Cap Cover Kayak

Check Price Now
These rod holders are a must have accessory for your next fishing trip. This 7.5" rod holder has a 4.5cm inside diameter to fit almost any rod. Being able to fish without holding your rod will make your next fishing excursion that much better. Made using a high quality ABS material you will find this fishing accessory will last you many seasons. It is easy to use, and easy to install which makes this incredibly user friendly.
What makes this accessory stand out:
Highly durable
Easy to install
Fits most kayaks
2. TMS CART-CANOE/KAYAK-KY001 Boat Kayak Canoe Carrier Tote Trolley
This kayak carrier supports a weight of 150 pounds and fits a 12 foot long boat. With a solid metal frame this TMS kayak carrier tote is incredibly strong and durable. Foam bumpers on either arm protects your boat from any damage while large straps ensure your kayak stays on the carrier. Large and extra wide inflatable tires make it easy to roll over sand and gravel. This is a must for getting large kayaks to the beach with little effort.
What makes this accessory stand out:
Foam bumpers
Strong durable design
Large inflatable tires
3. Jet Logic A-2 Complete Folding Anchor System
The Jet Logic folding anchor system is one of the best kayak fishing attachments. Its 3 ⅓ pound frame is capable of holding your kayak and all your gear in place for as long as you need. Being able to throw casts from the same spot will allow you to scope out the fish supply of any body of water. The 25 foot marine grade rope makes it easy to anchor into the shallows where the fish camp out. A small foldable design keeps it out of the way while you paddle to your perfect spot. As an added bonus you get a durable and stylish nylon case to make it even easier to transport and store.
What makes this accessory stand out:
Foldable design
Durable carry bag included
Made for any terrain
4. Scotty 455 Bait Board No Mount
Never worry about having storage space again with this bait board. Creating a large area for you to store your tools and organize your bait. Often kayaks don't have a lot of flat areas but with this bait board you will have enough room to spread out and organize your fishing. Setup is simple with the quick mount posts. Get what you need from this board as you can adjust the height and angle at which it sits. As a bonus you can mount all your favorite tools such as camera, fish finder, cup holder, and anything else you can think of to the edges of this board. This will provide more space than you could ask for in the convenience of a compact kayak.
What makes this accessory stand out:
Large surface area
Easy mount for gadgets
Adjustable
5. SAMS Aluminum Landing Nets Catch and Release Net Fish Saver Nylon Mesh for Fly Trout Kayak Boating Fishing
This heavy duty net is made of knotless nylon mesh and a solid aluminum handle. With a non slip grip you can grab the handle with ease even when your hands are wet. Its soft design is fish friendly which makes it great for catch and release. This net is extremely portable and its lightweight design makes it easy to pack and stow aboard without taking up very much room. The heavy duty design is sure to last you many seasons. The SAMS aluminum landing net is a perfect addition to your fishing kayak
What makes this accessory stand out:
Strong and lightweight
Easily portable
Soft grip handle
Best Kayak Accessories For Fishing: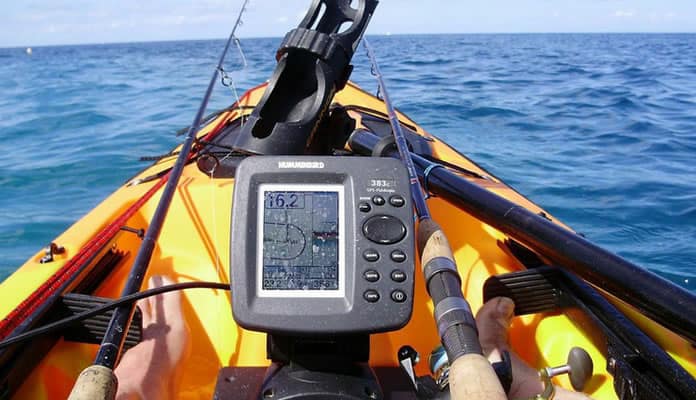 Styling your kayak to have all your favorite fishing kayak accessories will add functionality to your boat and create a personalized experience. Rod and paddle holders will be of the most important accessories to buy for your kayak. This will free up your hands and allow you to fish more comfortably. Kayak accessories for fishing range from nets to coolers to assure that you have the best fishing trip with your kayak.
Globo Surf Overview
Kayaks are a great way to take you fishing just about anywhere. Their long sleek design allows them to be great for rivers, lakes and oceans. A lightweight construction makes them easy to transport and allows you to be able to carry them on the roof of your car. It is important to remember that kayaks are typically not equipped with fishing tools. This is why adding kayak fishing gear and accessories to your boat will make your kayak into the ultimate fishing boat.
Love taking your kayak out for a day of fishing? Have you ever tried one of these accessories to take it one step further? Let us know what you think in the comment section below.
You May Also Like
5 Best River / Fly Fishing Kayaks in 2018
5 Best Kayak Fish Finders in 2018
5 Best Ocean Fishing Kayaks in 2018
Globo Surf Kayak Fishing Accessories Review
★★★★★
"
Was looking for some nice accessories for my new kayak. Glad I found your article.
"