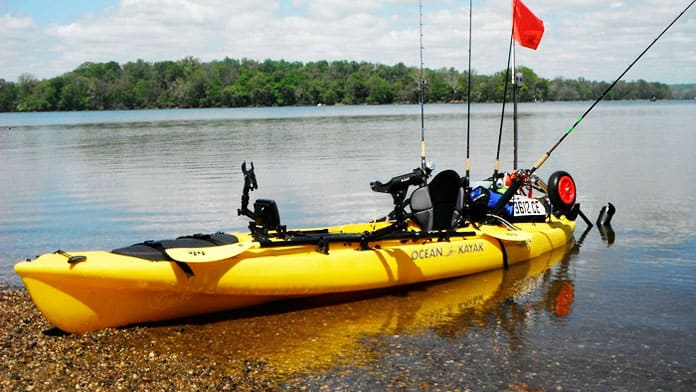 OUR TOP PICK

---

EDITORS CHOICE

---
While you can simply pick a kayak and a fishing rod to go for fishing, including the best kayak fishing accessories let you enjoy the outing even more. Besides, fishing gear for kayaks not only helps you to stay safe but also improves your comfort while kayaking.
However there are endless kayak accessories when it comes to fishing, and creating the right mix is never easy as you need to study their utility, shape, suitability, and map it to your level of expertise before including them for the trip. 
To sort this problem, we have gone through several kayak fishing accessories reviews and compiled a list of the 10 Best Kayak Fishing Accessories In 2023. We have also prepared all the relevant and helpful information in a buying guide that will further help you sort the best kayak fishing accessories for your need. 
How To Choose The Best Kayak Accessories For Fishing – Buying Guide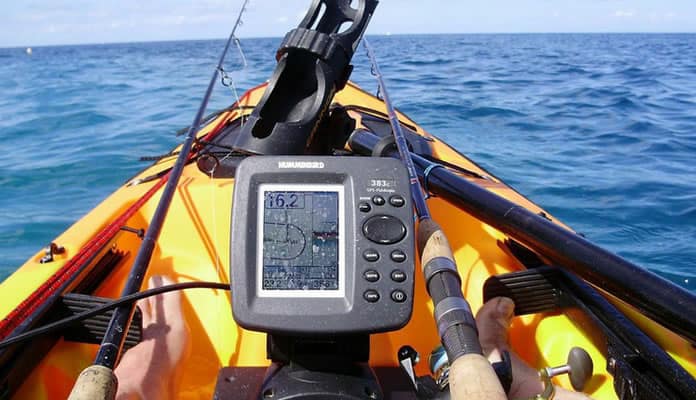 Fish Finders and GPS
Fishfinders help you determine where to fish as well as the size of the fish. With this information, you can adjust your technique and increase the chances of catching whatever type of fish you are after. While some fish finders are restricted to simplicity, some types come with built-in GPS systems. The integration of GPS not only tracks your position but also remembers the last spot of the fish you caught. Besides, you can input waypoints with specific information about the type of fish and location. 
Kayak Selection
Before you purchase your fishing kayak, you need to consider its compatibility with certain kayak fishing accessories for kayaks and conditions. When you are deep-sea fishing or fly fishing you require different features from your boat. If you want to catch big fish, for instance, you need to have a kayak with more stability. Moreover, while picking a kayak to make sure that it has a comfortable seat and plenty of storage as both are essential for kayak fishing. Also, being able to easily transport your kayak from your house to the water is crucial for getting the most use out of your fishing day, so choose a kayak that allows you to do so. 
Fighting Fish
The size and type of fish is an important consideration as this impacts the challenge in catching them. If you are aware of this information, you can adjust the type of line you use for the day. It's the worst feeling when you have a fish on your line and all of a sudden it snaps in two. That is why do some research before getting onto the water.
Safety
While the first thought in your mind is to go in the water with the least possible gear, ignoring the possibility of an accident can be dangerous. That is why you need to take safety precautions, and wearing a life vest is the first thing to do in that direction.
Further, you should always have a First Aid Kit on hand at all times. Another key safety item is a signaling kit. Sunscreen and a sun hat are important as the glare from the water makes the effects of the sun much harsher. 
Regardless of weather conditions, we always recommend bringing along a full change of dry clothes in a dry bag such as a nixy dry backpack etc. This will help to keep you safe and dry in the event of a capsize. Bringing along bug repellent is also a very good idea for keeping those pesky mosquitos at bay.
Weather
In addition to packing extra fishing kayak accessories along with you, it is important to note the weather conditions before going out. Experienced kayakers always recommend considering weather conditions before pushing a kayak into the waters. That is why when you are planning a kayak fishing trip, take some time out and note the temperature, wind conditions, probability of lightning, rain, or fog. Further, it is important to know how to handle different weather conditions to stay safe on the water.
Windy conditions cause waves that can cause tipping of your kayak. These conditions can also cause a current that can make it difficult to get to the shore. If you are struggling to paddle against really strong currents, do not waste your energy to do so. Instead, paddle diagonally towards the shore. A diagonal paddle will help to get you further and move your boat away from any riptides or other external forces.
In case you sense the first sign of lightning, get out of the water quickly. If you are not near your desired port of entry you will want to turn your kayak to the closest land and wait for the storm to pass. While you may think you have time, in the flat water you will be the tallest point putting you at extraordinary risk for a strike.
As soon as you see the fog start to roll in, you should know it is time to leave the water. This is because you will not be able to see but more importantly you will not be able to be seen. But in case, you are stuck in the fog, having a signaling kit and a whistle on board can help you in getting seen or heard if needed.
Additionally, you might enjoy:
Criteria Used for The Evaluation
There can be countless features that can be used for evaluating the best kayak fishing accessories. We narrowed them down to a few to help you choose the best one.
Durability is one of the key features. Your kayak fishing accessories should be able to take a few dings and dents and still work the way you expect it to. To ensure durability, consider military or marine grade construction. Further, check out whether the gears are water and weather-resistant or not. 
The size of your fishing kayak must-haves is another key consideration. Keep in mind that the best kayak accessories are small and compact without losing their ultimate function. Multi-tools are also great for the small spaces of a kayak. Anything that can do more than one thing is worth considering.
Ease of use is another important aspect. Easy to operate gear for kayak fishing have a higher utility rate. Further, think about whether you need a particular item or not. Even the installation time of an accessory determines its inclusion for your trip. If it takes a long time to attach to your kayak, you can avoid carrying it if it is not an essential one.
Get to Know the Area
You shouldn't go to a place without knowing the terrain and landscape. Before starting your trip, get a macro-level idea about the place and its geography. Even knowing the shape of the lake or shoreline helps with guiding your trip.
Carrying a GPS is a must if you are not familiar with the place. Even if you have a GPS you should bring a waterproof paper map of the area. If you rely on a GPS and it runs out of battery or malfunctions you can find yourself in trouble. It's best to be double covered instead of relying on one piece of gear.
Outfitting Your Kayak
While you have plenty of options, you may want to go out on kayak fishing with just the basics first and add useful gears from there. 
The first thing we recommend is a Fishing rod holder. We know that you don't want to have to constantly hold your fishing rod for the entire day. These will give your arms a break and make your day on the water truly relaxing.
If you find a great fishing spot you may want to use an anchor to keep your boat still. You can find one that has a long rope or chain to ensure you stay put even in the deepest waters. After all, waves can make it hard to stay in one position, especially if you have to deal with throwing casts as well.
Other important considerations are an extra bag or crate, and a paddle clip that can come quite handy in a kayak fishing expedition. 
Other Things to Consider
There are a few more things to consider when deciding on what you should accessorize your boat with.
Type of Water
Your kayak accessories look different depending on if you are fishing in the ocean, river, or lake. With the size and type of fish, the weather and type of water also change with the type of water body. If you tend to stick with one body of water, buying your gear will be a lot more straightforward. If you like to travel between, you may want to put more thought into choosing a versatile fishing kayak gear.
Experience Level
Kayaking is all about learning. It takes some coordination to get paddling, throwing casts and maintaining your location down perfectly. And as you get familiar, your set of kayak accessories for fishing also changes. Thus, a wise way is to pick gears as per your skill and update them with your learning. 
Additional Gear
Extra padding:

It makes your long seating sessions comfortable.

Tacklebox:

It stores everything you'll need for your fishing.

Cooler:

It provides you with healthy nourishments.

Light: A waterproof flashlight or a spotlight allows you to see when it gets dark. 
Bug Spray:

Do we need to say more? It saves your life from those irritating bites.
 Single Product Fishing Kayak's Review:
FAQs
Q: Why Kayak Fishing?
A:
Fishing from a kayak allows you to get to places you wouldn't normally reach in a traditional boat. Kayaks also allow you to explore the depths of the water as well as the shallows thus allowing you to explore the best fishing spots. 
Q: What Items Do I Need To Bring Kayak Fishing?
A:
When using your kayak for fishing, you will require more gear than you would for a simple paddle. Along with a fishing rod, you need to have a fish finder, an anchor, a net, and a small cooler that will allow you to store your fish and bring along some cold drinks for the ride.
Q: Where Do You Put Fish That Are Caught?
A:
Some people like to bring a separate bucket or container for their catches while others leave room in coolers for them. To minimize your cleanup, you can bring a small garbage bag and use it to line your cooler or bucket. This way you simply have to grab your bag and you're ready for dinner.
Q: How Do You Keep Your Catch Fresh Until I Get Back to Shore?
A:
A cooler is the best option to keep your catch healthy. In case you don't have one, you can even use a bucket. 
Q: Where Do You Keep All Your Accessories?
A:
There are waterproof duffel bags that are ideal storage containers. These bags have multiple pockets to let you keep your gear sorted and secure during rough waters.
Q: How Many Rods Should I Bring?
A:
Most kayak fishermen bring at least two fishing rods, but the final decision on how many rods you bring is up to you. If you are more comfortable switching your lures every time you want to switch your style, go for it. 
Q: Can I Put A Fish Finder On My Kayak?
A:
Yes, you can. We recommend attaching a kayak fish finder to your lake kayak. 
Globo Surf Overview
Kayaks are a great way to take you fishing just about anywhere. Their long sleek design makes them perfect for river and lake fishing. Lightweight construction makes it easy to transport and allows you to be able to carry them on the roof of your car, as well. It is important to remember that kayaks are typically not equipped with fishing tools. This is why adding kayak accessories will transform your kayak into the ultimate fishing boat.
More Fishing Kayak's Reviews:
Fishing Kayak's Guides: