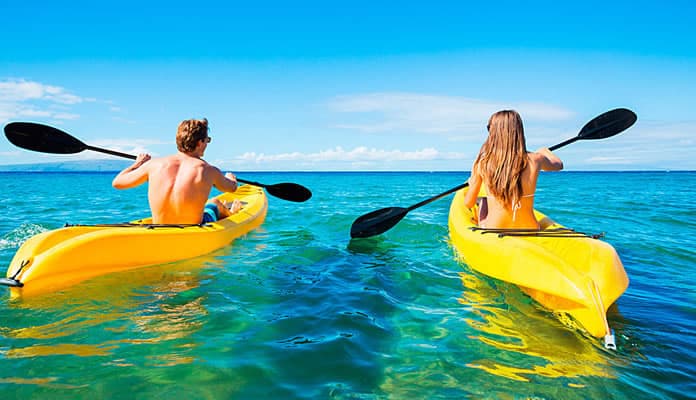 T he best ocean fishing kayak will be able to take you places you never thought possible. Fishing offshore in the open water will give you a new perspective on life. The ocean will hold larger and more variety of fish than that of smaller freshwater lakes. The best saltwater fishing kayaks will be comfortable and have features such as ample storage to get you and your gear to your weekend campsite.
The best ocean kayaks are versatile to be functional in surf and flat water. We have done the research so you don't have to. Here are our top 5 kayaks for fishing in saltwater.
QUICK ANSWER: THE BEST OCEAN FISHING KAYAKS
Best Ocean Fishing Kayaks
Ocean Fishing Kayaks Reviews
1. Ocean Kayak 12-Feet Malibu Two Tandem Sit-On-Top Recreational Kayak
Check Price Now
What Makes This Kayak Stand Out:
Three seats
Skid plate
Easy to carry handles
Model & Accessory Specs:
Length: 12 feet
Weight: 57 lbs
Maximum Capacity: 425 lbs
This kayak is incredibly well known, arguably the most popular sit on top kayak in the world. Fitting up two adults, this kayak can even be paddled comfortably on solo trips. With the high weight capacity you can even bring your child in the center seat, or pack your pup with for a fun day on the lake. With two comfortable seats, you will be able to paddle longer and more comfortably. With overlapping foot wells, this sit on top kayak allows any size paddler to comfortably use this boat. A skid plate increases this boats durability while bungee gear straps allow you to pack all the gear you need. Portaging and transporting this kayak are made easy with the bow and stern easy carry handles. A third molded seat allows for the versatility to fit an extra person, or more gear on board.
2. Ocean Kayak Frenzy Sit-On-Top Recreational Kayak
What Makes This Kayak Stand Out:
Replaceable skid plate
Lots of storage
Easy to carry handles
Model & Accessory Specs:
Length: 9 feet
Weight: 43 lbs
Maximum Capacity: 325 lbs
This kayak is smaller than most others you will find but that doesn't mean it is inferior. This kayak allows you to bring the fun into the ocean with its responsive and stable ride. Performing well in both waves and flat water, this kayak is reliable for both kids and adults. With a 4-way adjustable comfort seat, this kayak has the comfort and cushioning needed to last for long multi day trips. With a front and back storage wells with bungee straps, simply throw your gear in some dry bags and keep them easily accessible on top of your boat. Molded in cup holders assure that all your gear will comfortably fit on board and be within arms reach. The easy to use handles on the bow and stern of this boat ensures that you can easily transport this boat with you. A replaceable rear skid plate increases the durability of the boat and makes it so that your boat will last many seasons.
3. Ocean Kayak Prowler 13 Angler Sit-On-Top Fishing Kayak
What Makes This Kayak Stand Out:
Internal storage hatch
Rod holders
Skid plate
Model & Accessory Specs:
Length: 13'4"
Weight: 56 lbs
Maximum Capacity: 325 lbs
Take to the ocean with this popular sea fishing kayak. With an expertly designed hull, this boat gives you a speedy and stable ride. Multi functional, this kayak braves through rough waters while still performing in still water. With a large front hatch with easy to access internal storage as well as a rear bungee storage system, you are free to bring all your gear with you. With a comfortable seat you can sit in for long trips. With two rod holders and two paddle keeps you can free your hands for a leisurely day on the water. With an under boat skid plate, your kayak will last you even longer increasing durability. This ocean kayak fishing boat has a  high weight capacity allows you to pack all the gear along with you, from coolers to tackle boxes.
4. Ocean Kayak Scrambler 11 Sit-On-Top Recreational Kayak
What Makes This Kayak Stand Out:
Replaceable skid plate
6 inch lock hatch for dry storage
Overlapping footwells.
Model & Accessory Specs:
Length: 11' 6.5"
Weight: 47 lbs
Maximum Capacity: 350 lbs
Materials: Polyethylene
This comfortable kayak offers an incredibly comfortable foam padded seat back that adjusts 4 ways to give you the comfort and flexibility to sit for long paddles. With overlapping footwells this kayak will fit any size paddler. A 6-inch lock hatch allows you to have a place for dry storage to keep your camera or cell phone. It also has deep tank wells with bungee straps to give you even more storage. The paddle holder will allow you to free your hands making the deck space feel even bigger. With molded in side handles, transporting this kayak becomes easy. A replaceable rear skid plate allows added durability to give your kayak an even longer lifespan.
5. Ocean Kayak Caper Classic Recreational Sit-On-Top Kayak
What Makes This Kayak Stand Out:
Large storage hatch
Cup holder
Replaceable skid plate
Model & Accessory Specs:
Length: 11 feet
Weight: 47 lbs
Maximum Capacity: 325 lbs
Materials: Polyethylene
The Ocean Kayak Caper Classic is an excellent kayak for ocean fishing. The open design allows you to reposition your legs for those long journeys through the ocean. A large dry hatch will keep your sensitive items dry even while water is splashing over the bow of your ship while a bungee system is a perfect spot for a dry bag full of items for you to quickly grab. Small details like a cup holder and easy to use carrying handles add to this already robust kayak making it a joy to use. Don't worry about the durability as it comes with a removable skid plate which increases this kayaks lifespan. A threaded drain plug will allow you to quickly remove the water that accumulates in the bottom of the hull. The grooved footrests ensure that no matter how tall you are your legs will rest comfortably while paddling.
What makes the best ocean kayak?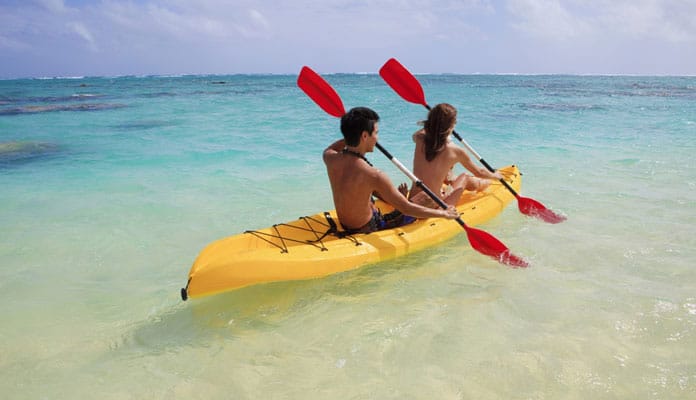 Kayaks have many uses and designs. What makes the best ocean kayak will differ from the best recreational or sit on top kayak.
Length
The vastness of the ocean will undoubtedly make you feel very small especially sitting in a one person kayak. Swells become massive without the cover of an inlet or bay. The length of your kayak will do its best to combat both of these. Look for an ocean kayak that fits in the 15 to 20 foot range. This will make ascending large swells easier and not feel as small in the ocean.
Storage
Since you will more than likely be traveling longer distances than in fresh water ample storage is necessary. Dry storage is that which keeps your items free from water, even if you overturn your kayak. Bungee systems are also a key feature that will ensure you have quick access to your most needed items such as water and snacks.
Cockpit
Comfort is the most important thing to consider when purchasing an ocean kayak. Traveling long distances in a cockpit you feel claustrophobic will not translate into a fun trip. Try to find a kayak where you can sit comfortably and move your feet around easily. Being able to travel with blankets around your legs will make the early morning or end of season trips that much more enjoyable.
Materials
Most kayaks are made out of a polyethylene material. This is a lightweight, durable plastic that does a good job resisting dings and dents caused by the shore. It can be warped if left in the sun for a prolonged time so we suggest storing this type of kayak under cover.
High-end fiberglass is another common building material. It is more lightweight than its plastic counterpart, but is more susceptible to damage. That being said, fiberglass is exceptionally easy to repair which gives it a lifespan of up to a decade.
Kevlar and carbon are the highest end materials you can get for kayaks. They are ultralight and super durable. Expect to pay for this type as the material used is vastly more expensive than that of fiberglass and plastic.
Globo Surf Overview
The best kayak for ocean fishing will allow you to paddle for prolonged periods of time in comfort. Lots of storage space, a comfortable cockpit and a durable frame are key aspects that you should factor into your decision. The best ocean kayaks can maneuver through the unpredictable surf of the ocean as well as being reliable for a straight ride through the lake.
Have an ocean kayak on our list? Let us know what you think in the comment section below.
Sources
Polyethylene material, Wikipedia
Large Swells, Surfing Waves
New to kayaking or have a kayak on our list? Let us know how you like it in the comment section below.
Globo Surf Ocean Fishing Kayak Review
★★★★★
"
Was looking for a kayak to be able to take into the ocean. Didnt know there were so many options. Glad I came upon your site. Nice list and recommendations.
"