A day on the water can drastically change with the best kayak seat. It can go from an uncomfortable afternoon to a perfect day on the water. All sit on top kayak seat reviews agree that a comfortable seat is one of the most important purchases you can make, especially for long trips.
We have put the time into research the best sit on top kayak seats. Here are our top kayak seats reviews.
QUICK ANSWER: THE BEST KAYAK SEATS
Best Kayak Seats
Kayak Seats Reviews
1. Ocean Kayak Comfort Plus Seat Back

Check Price Now
What Makes This Seat Stand Out:
Four way adjustable straps
UV resistant construction
Heavy duty clips
Padded back
Model & Accessory Specs:
Weight: 1.75 lbs
Material: Nylon
Dimensions: 2.5" x 15" x 27"
The Ocean Kayak Comfort Plus seat is an excellent addition to your high quality kayak setup. Offering features like heavy duty clips and loads of four way straps to keep you stabilized this is an excellent option for any type of kayak. The UV resistant nylon material ensures this seat won't fade or warp even after long days in the sun. You don't have to worry about long weekend trips as it has loads of padding that keep you comfortable while providing enough support to stay in control of your kayak.
2. Leader Accessories Deluxe Kayak Seat Boat Seat
What Makes This Seat Stand Out:
Adjustable webbing
Brass straps
Molded foam
Model & Accessory Specs:
Weight: 3 lbs
Material: Brass straps, high quality foam
Dimensions: 20" x 18" x 2"
Quality is this kayak seats middle name. Marine grade brass straps ensure you stay secured in your kayak no matter what the weather. The molded foam padding gives you all the padding you need. A strip of padding runs along your spine which ensures your lumbar is fully supported reducing back aches. Not only does it have enough straps to make you secure, but it is also compatible with nearly all kayaks on the market. This high back kayak seat a good option for your next weekend adventure.
3. Shoreline Marine Universal Kayak Seat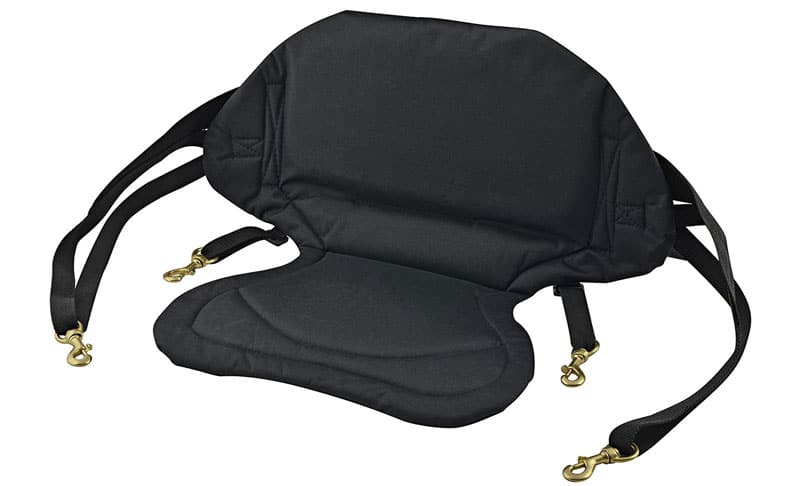 What Makes This Seat Stand Out:
Extra storage
Fits most sit on top kayaks
Comfortable design
Model & Accessory Specs:
Weight: 1.7 lbs
Material: High quality foam
Dimensions: 13" x 3.5" x 22"
This should be your next seat for your sit on top kayak. The straps attach you to your kayak in a way that hugs your body to ensure stability. A slightly rounded back design contours to your body while the bottom of the seat is large enough for any body size possibly making it the most comfortable kayak seat. You won't worry about bringing too much stuff on your next trip as the zippered compartment on the back of the seat will allow you to bring that much more.
4. Sit-on-Top Deluxe Cushioned Kayak Seat With Back Pack Storage Pouch
What Makes This Seat Stand Out:
Marine grade brass straps
Detachable waterproof bag
Extra support
Model & Accessory Specs:
Weight: 3 lbs
Material: Brass straps, wax coating, high quality foam
Dimensions: 18" x 12" x 4"
This sit on top kayak seat ensures that you have all your gear within arms reach. Included in this package is a wax coated bag that will keep your stuff dry – just fill it and attach to the back of your seat and you're ready to go. The lumbar support is key for an enjoyable day on the water. The marine grade brass straps will ensure they stand the test of time even in constant salt spray environments.
5. SOLOMONE CAVALLI Deluxe Adjustable SIT-ON-TOP Kayak Canoe Rafting Seat with Detachable Storage Backpack
What Makes This Seat Stand Out:
4 way adjustable straps
Extra storage backpack included
Anti corrosion
Weight: 4.3 lbs
Material: Brass buckles, nylon straps
Dimensions: 18.5" x 1.2" 1.2"
What makes this seat stand out:
This comfortable thermal designed seat is designed to fit most kayaks and canoes and even clip into some SUP. A contoured seat bag gives you even more storage space. The padded anti-skid design provides a soft seat for long paddles. With marine grade solid brass connecting straps. Anti-corrosion solid brass buckles are guaranteed to last.
Features Of A Kayak Seat
The best kayak seat is a combination of many things including comfort, storage and stability.
Comfort
The right amount of padding is a critical factor of a great kayak seat. If there is too much padding it can be just as uncomfortable as not enough. The key here is to find the right balance while giving enough support for moving around and shifting your weight. You may move around quite a bit or not at all depending on your paddling style, we recommend factoring this into your buying decision.
Stability
Depending on what you're using your kayak for you could need a varying amount of support. This comes by way of straps that secure your seat to the kayak. Each seat has a different amount of support and carrying weight that it can handle. Look for a kayak that has great stability in straps and a wide base and back to support your body.
Storage
What makes a good kayak seat great is the additional storage options it provides. Ranging from packs on the back of the seat to a special space underneath this can make all of your snacks within arms reach.
Globo Surf Overview
If you spend money on one thing in regards to your kayak, make it your seat. An uncomfortable seat can ruin your whole weekend and take a toll on your body. Look for a seat that has enough padding to make the trip comfortable while enough stability to ensure you don't move around in rough water.
Love kayaking? Have a kayak seat on our list? Let us know how you like it in the comment section below.
Sources
Lumbar Support, Spine Health
Kayak Safety, REI
New to kayaking or have a kayak on our list? Let us know how you like it in the comment section below.
Globo Surf Kayak Seat Review
★★★★★
"
Old rusty kayak seat is getting worn out. Wanted to a new one and found your site.
"