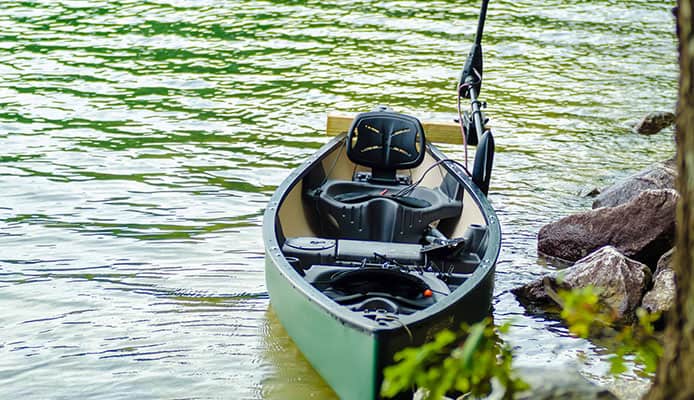 OUR TOP PICK

---

EDITORS CHOICE

---

BEST VALUE

---
The reason for preferring a kayak trolling motor is simple – it saves your energy and doesn't let you get tired. Further, it lets you move at a constant speed when the bait is already in the water, which attracts the fish. 
But choosing the best trolling motor for a kayak is often challenging as they vary in terms of power, shaft length, and speed settings. Moreover, their performance is relative to the size and weight of your kayak, which further complicates the equation. 
To help you in dealing with this challenge, we have gone through several top-rated kayak motors, compared them, and listed the 10 Best Trolling Motors for Kayak In 2023.
How To Choose The Best Trolling Motors For Kayak – Buying Guide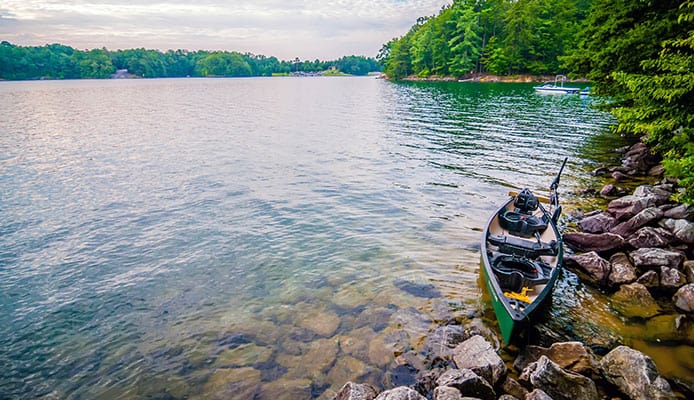 Considering several trolling motors for kayak reviews, here is the list of features that you need to consider before you pick the best kayak motor for you.
Kayak Size and Weight
The size and weight of your kayak fishing trolling motor determine the amount of thrust required to move the kayak without any problem. While considering the weight, you need to include your, everything on board, and the weight of the kayak in total. 
When it comes to size, don't get tempted with large size. Surely, they will go a bit faster, but they are heavier and put too much weight on one end of the kayak, which makes maneuvering difficult.
Saltwater vs Freshwater
You'll often see that kayak trolling motors are marked for freshwater or saltwater use. Saltwater electric trolling motors have hardware made of stainless steel and other metals with high corrosion resistance, so they are safe to use in the ocean. A freshwater motor is designed with materials that last long only if used in freshwater. Though you can use the saltwater type in freshwater too, we advise making a choice basis on the type of water you prefer for kayak fishing.  
Propeller Blades
The design of propeller blades is important because motor efficiency depends on it. A kayak motor comes with either two or three blades. Regardless of the number of blades, you must choose a durable one, which should offer smooth movement, without making much noise or vibrations to scare the fish. Also, look out for an option that is protected by the manufacturer's warranty. 
Speed Settings
It's very useful to have good control over your moving speed as it improves your control over moments. Trolling motors for kayaks usually come with 8 speeds – 5 forward and 3 reverse. Though you can find some trolling motors with simple configuration and less control, it is always good to go with the one which offers more controlling. 
Shaft Length
The shaft size is another key consideration as it needs to be long enough to position the propeller at the right depth. If the motor position is too shallow it won't move you properly. If it's too deep, you risk hitting rocks and the waterbed in some areas. Therefore, you should consider a motor that can be adjusted to a suitable length for your needs. 
Mount Type
Two kayak parts come into consideration when you need to mount fishing kayaks with trolling motor– bow and transom. In a transom mount position, the motor is easy to operate as it sits behind you and pushes your kayak. However, some of them can be modified and adjusted to mount on the bow, as well. This position allows for more precise maneuvers through tight spaces.
Ease of Use
Whether it is a trolling motor for a canoe or a kayak, it is important to ensure that the handle is in a comfortable position to operate, and doesn't cause strain to your wrist or shoulder. That is why the best trolling motors for kayaks come with highly adjustable handles that can be extended or tilted up or down to find the optimal position.
You might also be interested in:
 Perfect Trolling Motor Batteries
In case you want to go for a foot-operated trolling motor, you need to make sure that the pedal comes with a large size and responds to your touch with ease. Generally, this type of trolling motor on kayak fishing is preferred when you have a place to put it. 
Water Depth
Depth doesn't make a big difference in terms of performance, as long as the electric trolling motor is in the right position. However, knowing the depth can be useful for fishing purposes, because it can give you a better idea where fish are. Some types of fish are found at certain depths, and for this reason, some fishing kayak motors show the depth underneath you on the display. Some advanced kayaks with electric motors can even be programmed to follow a certain depth when moving.
Battery
An electric trolling motor kayak requires a battery to work. Usually trolling motors for kayaks come in 12, 24, and 36V versions and this determines the number of batteries you will need. Smaller trolling motors (used on kayaks) are usually 12V models and require a single deep cycle battery to work. More powerful trolling motors on kayaks (24 and 36V) require you to connect two or three motor batteries for them to work properly.
FAQs
Q: What size trolling motor do I need for my kayak?
A:
It depends on what is the size and weight of the kayak you own. But whatever the case may be, try to go with an option that gives you high power in the lowest possible size.
Q: How fast will a kayak go with a trolling motor?
A:
Generally, it goes around 10 mph but the actual speed depends on the capacity of the motor.
Q: Can you use a trolling motor on a kayak?
A:
Yes. If you want to save yourself from efforts of paddling, you should use a trolling motor on a kayak.
Globo Surf Overview
Having the best trolling motor for kayak makes your fishing experience many times better. It's very easy to use, and you can rely on it because it doesn't require much maintenance. It's just a question of finding the right kayak fishing with the motor, and we certainly hope that our guide will help you narrow down your choice and buy the perfect kayak trolling motor for your needs.
More Kayak Reviews:
More Motor Reviews: