W
hether you enjoy kayaking on lakes, down rivers or into the open ocean, this sport requires the proper gear to keep you safe and comfortable. Being able to personalize your boat to your unique touches will allow you to get it to perform in ways you could only dream of. Your kayak isn't complete without the best accessories.
There are lots of essential kayak accessories on the market such as life vests and bilge pumps that will keep you safe while taking up little space. Especially on long weekend trips you will need somewhere to store your gear. Storage options range from dry bags to added bungee systems.
The best kayak accessories are designed to increase your happiness and reduce your struggles. When buying a kayak it is important to consider where you will store your boat and how you will transport it. Luckily, there are accessories for that.
We have done the research to come up with the best kayak accessories. These will make your days on the water more enjoyable.
QUICK ANSWER: THE BEST KAYAK ACCESSORIES
Best Kayak Accessories
Dry Bag – 20L Floating Waterproof Bag


Our rating

100% waterproof sandproof

Welded seams
TMS CART-CANOE / KAYAK-KY001


Our rating

Large: 9.5"

Compact for easy storage
Kayak Accessories Reviews
1. Dry Bag – 20L Floating Waterproof Bag by Outdoors MASTER

Check Price Now
This incredibly durable heavy duty dry bag allows you to take all your gear on board with you without fear of it getting ruined. Great for kayaks without a lot of room, this 20-liter dry bag is so trusted they've stamped it as 100% waterproof, sandproof, mud-proof and snowproof.  As an added bonus if you partially fill this bag with air you can watch as it floats through the water, still holding its integrity. The attractive anchor pattern is fit for sailing and will leave you with not just another boring bag. Its welded seams perform better than glue allowing this bag to last many seasons of hard use without worry. Feel confident in this purchase knowing that if you don't love it you have a no questions asked 30-day guarantee.
What makes this accessory stand out:
100% waterproof, sandproof, mud-proof and snowproof.
30-day satisfaction guarantee
Welded seams
2. TMS CART-CANOE/KAYAK-KY001 Boat Kayak Canoe Carrier Tote Trolley
This compact kayak carrying tote may look small but it is built strong enough to easily transport your canoe or kayak. Being able to carry up to 150 lbs, and a 12-foot boat, means this handy carrier tote will fit most any kayak. 9.5" tires are thick enough to easily take you through sand and uneven terrain with ease. You won't have to shy away from hard to reach beaches ever again. Folding up small for easy storage the TMS Cart will easily fit into the trunk of your car for easy transportation. There is no need to struggle with assembly as it takes but a matter of seconds. The aluminum and stainless steel frame helps this to last the test of time.
What makes this accessory stand out:
Large 9.5" tires to get through sand
Fits almost any kayak
Compact for easy storage
3. Kayak / Paddle Board Heavy-Duty Padded Wall Storage Sling / Mount by COR Board Racks

Having to store your kayak can be a pain, but with this system it doesn't have to be. This storage unit comes with an incredibly simple yet very functional design. This kayak accessories storage unit is great because it is strong enough to hold your kayak and all your accessories. Two heavy duty nylon straps wrap your kayak and lift it off the ground for ideal storage. The ultra lightweight design carries a punch and is guaranteed to hold any kayak for easy storage. Coming in a convenient carrying pouch this system is easy to store when not in use. As a bonus you can be more confident with this purchase knowing it comes with a 100% money back guarantee. This is one of the best kayak accessories storage systems.
What makes this accessory stand out:
100% money back guarantee
Holds any kayak
Easy storage
(Hey! You May Also Like: Best Recreational Kayaks)
4. Crack of Dawn Kayak Rudder with Mounting Kit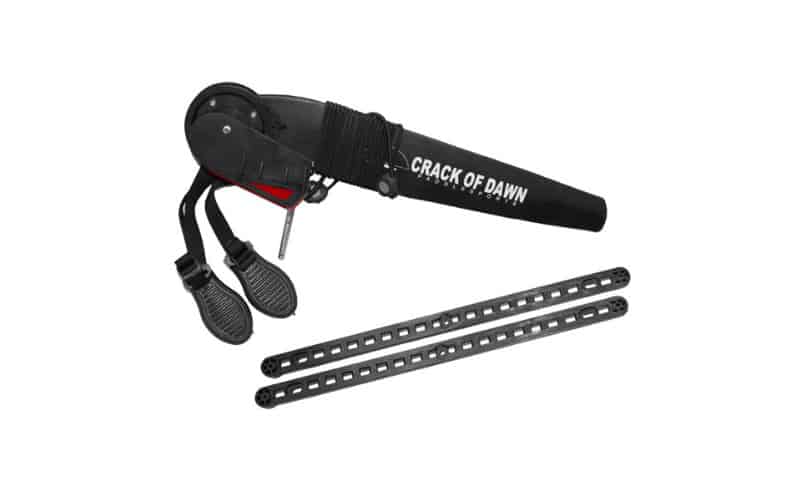 No need to run out to the store for supplies as this kit comes with everything you will need for quick and easy assembly. This rudder allows you to easily navigate your way across the lake. Simply mount this system to the rear of your kayak and you're all set for good times. This rudder system is ideal for fishing as it frees up your hands to be able to focus on your line and casts. The Crack of Dawn Kayak Rudder with Mounting Kit makes it easy for you to add this highly sought after feature to your kayak for a reasonable price.
What makes this accessory stand out:
Quick assembly
Easy steering
High quality materials
5. Jet Logic A-2 Complete Folding Anchor System
This folding anchor is a must have for fishers and river paddlers. Great for keeping you in one place so that you can fish with ease or stay still with a bit of a current the Jet Logic A-2 anchor system will act as a secure line. This anchor holds you steady in mud, sand, gravel and rock giving you peace of mind no matter what weather conditions you are in. Weighing a mere 3.5 pounds this lightweight system carries a punch with the impressive 25-foot long marine grade rope. This anchor is very compact and easily folds up for storage and transport. Storing becomes even easier with the padded nylon storage case.
What makes this accessory stand out:
Marine grade rope
25-foot marine grade rope
Holds up in mud, sand, gravel and rock
6. Seattle Sports Paddlers Bilge Pumpt
Weighing a mere 12 ounces this lightweight pump is easy to store. Keep it near your feet or under your seat for quick access. This pump is easy to use and an important accessory for those paddling in any surf. Being neon yellow in color it is hard to miss this potentially life-saving device. With an easy grip molded handle pumping water out of your canoe is now comfortable and convenient. You will never have to shy away from rough surf or wet weather again with this trusty bilge pump from Seattle Sports.
What makes this accessory stand out:
Lightweight
Compatible with 1" hose
Easy grip handle
7. 10 Pcs Nylon Bungee Deck Loops Tie Down Pad Eye for Kayaks, Canoes or Boats with Screws and Nuts
Do you complain that your kayak doesn't have a bungee system? This 10 piece Nylon Bungee system can change that. These loops easily screw into any kayak giving them a robust bungee net that will be able to secure all of your gear. The hardware includes high-quality stainless steel screws and nuts which secure the exceptionally durable nylon loops. All this comes in a very affordable price point making this a no brainer for extra storage. You will never have to leave anything behind with this convenient system.
What makes this accessory stand out:
High-quality hardware
Rust proof
Easy to install
(Hey! You May Also Like: Best Pedal Powered Kayaks)
8. Paddle Leash with a 2 Rod Leash Set, 3 Leashes Total Plus 1 Carabiner
Kayak kits reviews agree that you need more than one leash for your kit. That is why this set comes with three leashes making it a great option for fishers. Use one to attach to your paddle while having two more to attach to your fishing rods or other light gear. The fixed elongation ensures that this leash will not over stretch and not lose elasticity. Stretching 20 inches these leashes can link together to give you a longer leash.
What makes this accessory stand out:
Optional loop together
Three pack
9. Sport-Brella Versa-Brella All Position Umbrella with Universal Clamp
This lightweight umbrella is a mere 1.8 lbs. Offering a 360°, 4-way swivel you can make sure that you are fully in shade for long hot summer days. Providing you with some much needed shade in the middle of the lake, this umbrella easily clips onto almost any surface. This adds peace of mind so you can paddle longer, even in harsh conditions. With UPF 50+ protection, this large umbrella offers maximum sun protection in virtually any direction.
What makes this accessory stand out:
UPF 50+
360° swivel
Ultralightweight
10. Premier Kayak Paddle Splash Guards
These paddle splash guards work much better than drip rings alone. Keeping your hands and lap drier, these splash guards fit almost any paddle and even come with a lifetime guarantee leaving this to be an undoubtedly good buy. Keep your hands and lap dry by adding these lightweight splash guards to the end of your paddles.
What makes this accessory stand out:
Lifetime guarantee
Fits almost any paddle
11. Seattle Sports Universal Scupper Plugs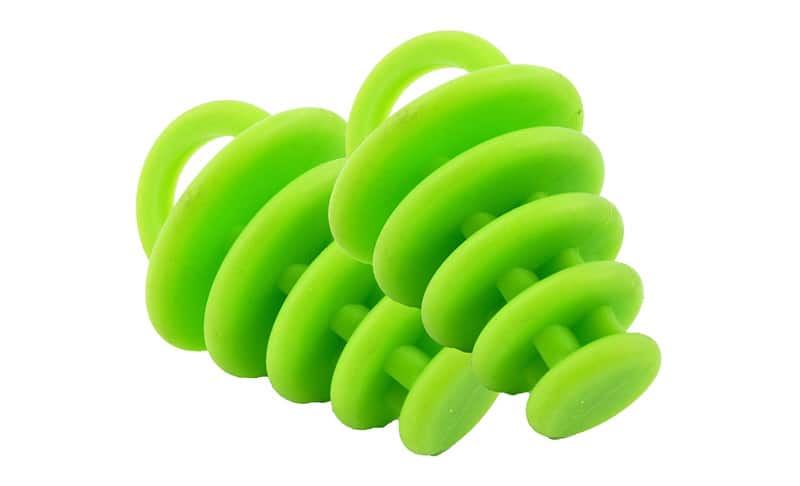 These plugs have five different rings which make it so their flexible silicone design can fit into any scupper. The plug glows in the dark so you will always have the visibility, even during night paddles. The pack comes with two plugs so you can have an emergency spare one.
What makes this accessory stand out:
Fits all sizes
Comes in a two pack
12. Shoreline Marine Emergency Survival Whistle
The Shoreline Marine Emergency Survival Whistle is not an ordinary noise maker. This whistle may be the only thing that can draw people's attention to you. This whistle is bright orange in color which increases visibility making it easy to spot even in the roughest conditions. A very important safety device to have on hand at all times, this whistles will make noise regardless of whether it's wet or dry. A neck lanyard keeps this whistle close by so you can secure this whistle to your boat.
What makes this accessory stand out:
High visibility color
Blows wet or dry
Neck lanyard
13. ONYX MoveVent Dynamic Paddle Sports Life Vest
Even though kayaks don't have a motor the Coast Guard still deems a life vest a mandatory piece of equipment. The ONYX MoveVEnt Dynamic Paddle Life Vest is a soft lightweight flotation device that fits like a glove. Loaded with reflective material for high visibility and an attached whistle, this life vest is truly life saving. With front and back ventilation this life vest is incredibly breathable and provides a cushion against bumps and bruises. This vest has a strong, durable zipper that is just one of the many US Coast Guard Approved features. Adjustable side belts and sizing up to 3XL makes this vest fit any size paddler for a low profile preserver.
What makes this accessory stand out:
US Coast Guard Approved
Reflective material
Lots of ventilation
14. Shoreline Marine Kayak Deck Plate Kit
Ever wanted to add a dry storage bag to your kayaking arsenal? Make the Shoreline Marine Kayak Deck Plate that decision. Not only is this a complete dry bag, but can also be installed as a permanent storage unit in your kayak. This is an easy to install system that requires minimal cutting and comes with everything you need to install. Otherwise you can use this solely as an additional dry bag. The strong pull tab and water resistant material ensures your belongings stay dry.
What makes this accessory stand out:
Can be a permanent fixture
Durable material
15. Garmin eTrex 10 Worldwide Handheld GPS Navigator
In the GPS world Garmin is one of the leaders. Their reputation for excellence is second to none and the eTrex 10 is no exception. This handheld GPS system comes in four different variations which include a color display and expandable memory, barometric altimeter and 3-axis compass and a geocaching bundle on top of the base model. All of these have a 2.2 inch screen in an IPX7 waterproof body. This whole system runs off two AA batteries for up to 20 hours making it an excellent option for any trip. You will be able to plan and save your route for when you need it most. Never get lost again with this high-quality Garmin GPS for kayaking.
What makes this accessory stand out:
Saveable waypoints
Four models to choose from
Waterproof shell
Small, lightweight package
16. YakPads Gel-filled Paddle Saddle
The YakPads Gel-filled Paddle Saddle is a specially designed seat cushion that makes your back and bum more comfortable. The seat cushion easily straps on your existing chair with strong tabs. The nonslip material ensure you don't move around while paddling. A gel-filled core ensures that the seat molds to your body shape which increases comfort and stability alike. This seat cushion will increase your endurance allowing you to paddle longer than you thought possible.
What makes this accessory stand out:
Reduces pressure points
Doesn't raise your center of gravity
High quality material
17. Hot Seat Kayak Seat
The Hot Seat is designed with lycra foam giving you support while keeping you comfortable. Your seat will turn into a space that you won't want to leave. The 1.25 inch thick pad is able to be permanently fastened with its double sided tape. Simply remove the backing and stick it where you want. The stylish design not only makes it look great but also adds more traction for rougher water. A slight tilt forward forces your body into an ideal posture position for paddling. This will make your trip more comfortable and make you feel like you're sitting on a cloud.
What makes this accessory stand out:
Comfortable
Added traction surface
Helps posture
18. Inno Kayak/Canoe/SUP Locking Carrier with Board Pads
If you have roof racks on your vehicle the Inno Kayak carrier is an essential item for your kayak. This system turns your ordinary circle or square rack into the ultimate toy carrier. A highly durable strapping system ensures your kayak will stay on the roof due to its tried and true ratcheting system. A rubber coated stainless steel strap securely fastens your kayak and ensures it does not move around or catch wind. This is a compact, easy to use system that will not damage your kayak and allows you to easily transport it to your favorite spot.
What makes this accessory stand out:
Non slip material
Easy to use
Locking system
19. West System 655k G/flex Epoxy Adhesive Repair Kit
Your gear bag is not complete without the plastic boat repair kit. Everything you need to repair your kayak is included in this handy set. Coming with instructions that give you step by step instructions, you will no longer have to worry about dings or dents in your boat. When hard this epoxy is strong and waterproof ensuring you will get to where you need to go. The small package is easy to store in your kayak for those emergency situations.
What makes this accessory stand out:
Small, compact design
Easy to use
Waterproof
20. Supermomu LL200051 9.5x6x0.1-Inch Kayaker Paddle Canoe White Decal
Show your love for kayaking with this decal. Stick it on your car's window or even on your laptop or bag. Made of vinyl this high quality sticker will stand the test of time. It will remind you to spend more time on the water and even be a talking point for people who also love the sport.
What makes this accessory stand out:
High quality material
Easy to apply
Removes without residue
Why accessorize your kayak?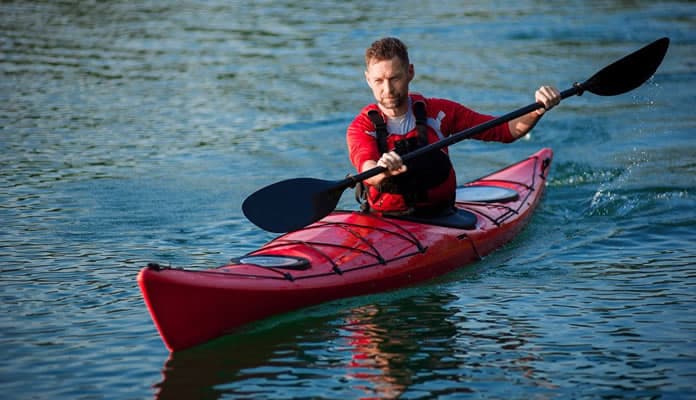 Whether you are looking for inflatable kayak accessories, or for your rigid boat, you have tons of options. Forever growing in popularity and expanding the limits of what is possible, accessorizing your kayak personalizes your boat to your needs.
Some accessories, such as life vests, are needed for safety whereas accessories like rudders are optional. These however completely change your kayaking experience giving you a different experience and making it so that you take a new angle on this sport. These accessories can transform your regular kayak into a fishing boat one weekend and a sail boat the next.
As this is a water sport the best accessories will come waterproof and even float when possible. Weight is an important consideration so you will find that all accessories will focus on a lightweight design. All kayaks have a weight capacity and finding accessories that keep you under this rating is key. These accessories can allow you to bring home the day's catch, anchor for an afternoon on the lake or attach your gear to a leash to keep it close by.
Kayaking is a sport that is ever changing and evolving. Accessories allow you to update and upgrade your kayak without forking over even more money to buy a whole new rig. Don't have enough storage? Add a bungee system to your deck. No matter your needs, there are accessories that will help you to achieve your perfect setup.
Globo Surf Overview
Kayaking is an enjoyable sport you can practice in almost any body of water. From small lakes to the open oceans, their sleek and lightweight design allow you to go just about anywhere. Now, with the increasing amount of accessories available you can take this sport as far as you would like. From necessities such as whistles and storage racks to fun add ons such as umbrellas and leashes accessories can make your day on the water much more enjoyable.
Have you accessorized your kayak? Let us know which accessories are your favorite in the comment section below.
You May Also Like
10 Best Kayak Seats in 2018
10 Best Kayak Fish Finders in 2018
10 Best Kayak Paddles in 2018
20 Best Kayak Fishing Accessories in 2018

Globo Surf Kayak Accessories Review
★★★★★
"
Was looking for some new cool stuff I could put on my kayak. Found your article. Really glad I did. Thanks
"