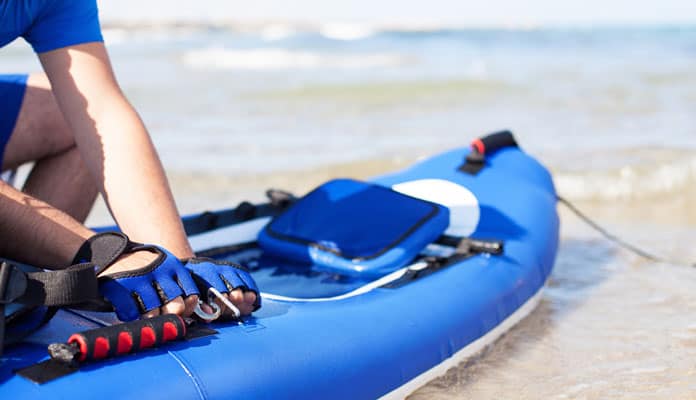 People who love the outdoors will attest to loving the water. Being able to take your adventure out on a calm lake will give you an entirely new perspective on the world. There are many water sports to choose from but a common favorite is kayaking. Often people turn to the best inflatable kayak for an easy to transport water sport that they can take with them just about anywhere. Even into the ocean surf or down a rapid river full of whitecaps.
Having a top rated inflatable kayak will ensure you have a durable ride that has enough cargo space to take you and your gear on long adventures. We have scoured the web to find the best inflatable kayaks to take this sport one step further.
QUICK ANSWER: THE BEST INFLATABLE KAYAK
Best Inflatable Kayaks
Inflatable Kayak Reviews
1. Sea Eagle SE370K_P Inflatable Kayak with Pro Package

Check Price Now
What Makes This Inflatable Kayak Stand Out:
High weight capacity
Sun and saltwater resistant
Spray skirt
Model & Accessory Specs:
Length: 12'6"
Weight: 32 lbs
Capacity: 650 lbs
Material: PolyKrylar
Accessories: 2 paddles, 2 inflatable seats, foot pump, carry bag, repair kit
This inflatable kayak is incredibly durable. With a 650 lbs weight capacity, it can fit a maximum of three people and a whole lot of cargo. Great for still water, or take it through the surf in the ocean. The spray skirt will allow it to glide over the surf without getting you soaked. This is great for those going on extended trips, ensuring your cargo stays dry. No more faded or cracked material that can be common with inflatable materials. This kayak is sun resistant which means that it can handle extended periods exposed to the elements and still look just as good as when you bought it. This keeps the integrity of your board and extends the lifespan of your kayak. It is also saltwater resistant which is great. Now, you no longer have to limit where you go with your kayak. Coming with everything you need to get out onto the water, this inflatable ocean kayak even comes with a convenient carrying bag which makes transporting it even easier.
2. Sea Eagle 330 Inflatable Kayak with Pro Package
What Makes This Inflatable Kayak Stand Out:
3 year warranty
Safe for up to Class III whitewater rafting
Model & Accessory Specs:
Length: 11'
Weight: 19.5 lbs
Capacity: 500 lbs
Material: 33mm PolyKrylar, welded seams, PVC
Accessories: 2 paddles, 2 seats, foot pump, carrying bag, repair kit, skeg
Coming in an excellent package that gives you everything you need to get you and your friend out on the water, this kayak is great for tandem or solo use. This means you can trade your friend for your pup and enjoy a serene day out on the water. We are impressed by its incredible durability, your pup's nails are no match for this kayaks durability. This kayak is great for those looking for a calm day on the lake and those who seek adventure. Take it on your next ocean or white water experience and watch as it expertly handles the waves. It is easy to set up and can be inflated in a matter of minutes getting your on the water faster. A convenient carrying case allows you ease when transporting this inflatable whitewater kayak.
3. Intex Challenger K2 Kayak, 2-Person Inflatable Kayak Set
What Makes This Inflatable Kayak Stand Out:
Mesh cargo carrier
Two air chambers
UV resistant
Model & Accessory Specs:
Length: 11.6'
Weight: 33.5 lbs
Capacity: 400 lbs
Material: UV and puncture resistant vinyl
Accessories: 2 paddles, pump, repair kit
This tandem kayak is expertly built and can be used for single use just as seamlessly. Expertly made using a durable vinyl that is puncture resistant. Not cracking or denting is only part of this kayaks charm. Two air chambers give you peace of mind that even if the worst case happens and you pop a hole in your kayak you can still stay afloat and get back to shore safely. The UV resistant finish allows you to spend long hot days in the sun without worrying about the integrity of your kayak. The entire front of this sporty looking kayak is a mesh cargo area to bring lots of gear along with you. Pack a couple of dry bags and set sail into the open water with peace of mind that you have a sturdy and reliable kayak.
4. Advanced Elements Advanced frame Convertible Kayak
What Makes This Inflatable Kayak Stand Out:
Dry storage compartment
Bungee deck
Puncture resistant design
Model & Accessory Specs:
Length: 15'
Weight: 43 lbs
Capacity: 300 lbs
Material: PVC coated polyester
Accessories: Adjustable seat, skeg
This heavy duty kayak will take you places you only dreamed of. The aluminum ribs and 3 layer puncture resistant material create a rigid ride while giving you the portability of being inflatable. The included adjustable seat is exceptionally easy to setup and attach to the kayak. It is also surprisingly comfortable and will allow you to paddle all day without getting sore. The 300-pound capacity will give you the flexibility to carry all your gear. A dry storage compartment is ideal to store all of your non-waterproof items such as a cell phone or GPS system. The bungee deck gives you the ability to quickly grab your fishing rod or a packed lunch. Don't worry about fishing on this rig as it has a highly durable, puncture resistant material keeping you afloat.
5. Elkton Outdoors 10′ Foot Inflatable Tear Resistant Fishing Kayak
What Makes This Inflatable Kayak Stand Out:
3 separate air chambers
Inflates quickly
6 mesh pockets
Rod Holders(2 Vertical & 4 Trolling)
Model & Accessory Specs:
Length: 10'
Weight: 41 lbs
Capacity: 450 lbs
Material: 18 gauge 1000 D PVC
Accessories: 2 seats, 2 vertical 4 trolling rod holders, 2 paddles, foot pump, carry bag, repair kit
This inflatable fishing kayak is great for your next trip out on the water. With an exceptionally high weight capacity, feel free to pack a cooler and your gear so you have everything you need for a day on the lake. Two vertical and four trolling rod holders make it equipped to handle all your fishing needs. Three separate air chambers ensure that if one pops, you have more than enough flotation to get you, and your gear, safely to shore. With six mesh pockets there is tons of storage on board allowing you to pack everything you need for the weekend. This open style inflatable kayak can transport two people comfortably and the high side walls will keep you dry no matter how choppy it gets. It also comes with everything you need to be fully prepared for your weekend, just bring food and a friend.
Why Opt For An Inflatable Kayak?
Kayaks are designed to be able to go anywhere. Paddling into the open water on a hot day provides peace and serenity. Now imagine being able to carry your kayak to the beach in a compact backpack. Often kayaks are around twelve feet in length which make storing them a challenge. Especially for those without roof racks or who live in an apartment, turning to an inflatable kayak will give you easy storage without compromising on durability. Being able to easily transport and store makes inflatable kayaks ideal for outdoor people who don't have the space to store rigid boats. It also makes portaging your board much easier as you have the option to deflate, and don't have to worry about cracking your board.
What is the best inflatable kayak to buy?
There are many features to know and understand before you purchase an inflatable kayak. We have constructed an inflatable kayak review guide of items for you to consider before taking the plunge to purchase your own. Inflatable kayaks differ from their rigid cousins quite a bit. It is important to know the differences between the features.
Materials
This is a water vessel that will transport you and possibly your children into open water so the material needs to be highly durable and strong. Since you will be deflating and storing it when you're done it also has to be flexible and able to bend without breaking.
When Zodiacs were first invented they used a material called Hypalon. It is an exceptionally durable material that doesn't flex or bend. Because of this, it is heavy and can be cumbersome to move around. It is also very rigid for a fabric like material, retaining its shape for its entire life. For these reasons it is used for inflatables, but rarely used for inflatable kayaks.
The most common type of material used to construct inflatable kayaks is PVC. This is a strong material that can be inflated to a relatively high PSI. It is also lightweight and can be folded and reused. Also, PVC seams can be welded instead of stitched providing a superior construction compared to glue. This is why PVC is one of the go-to materials for inflatable kayaks.
Nitrylon is another widely used material. It is much more eco-friendly than PVC and is essentially synthetic and natural rubber coating a 1200D fabric. This creates a puncture and abrasion resistant system that is easy to patch and stronger than PVC. The only downfall is that it is heavy so it is usually used on the bottom and sides of kayaks where it regularly comes in contact with the ground.
Weight of kayak
Most inflatable kayak reviews agree that the weight of your kayak is among the most important of considerations. Being inflatable ensures that these are easy to transport – a great option for solo users. Being lightweight ensures that you are able to further transport your kayak with ease, thus increasing your ability to use it. It is also an important consideration when going on extended trips that may require portaging.
Length
A typical inflatable kayak will be around 12 feet long. This gives them good stability in the water while allowing them to fit two people. Kayaks can be as long as 16 feet while being as short as 10. These different sizes allow them to do different things. Just keep in mind if it is just you setting this kayak up. A longer one will be more difficult to get to the water and may require a kayak dolly to assist you.
Self-Bailing
This feature is usually found on white water kayaks. A self-bailing system is essentially holes at the bottom of the kayak that lets water out of the hull. The downfall to this is kayaks that do not have plugs will let a little water back in when on calmer waters. If you plan on using your kayak for rapids we recommend looking for a self-bailing system which has plugs or a one-way valve which will not allow water to flow back into the kayak.
Weight Capacity
The weight capacity of your inflatable kayak can vary between 350 and 700 pounds. When looking to purchase one you should consider what you're using it for. Are you going to be transporting more than one person? If you are going to be transporting people from the shore to a sailboat for example you should factor this into your decision. If you are going to use this kayak to get to the hard to reach fishing spots you should think about how much gear will you pack with you and how heavy it is.
Seating capacity
You might not want to bring someone with you every weekend, but it may be nice once in awhile. A second seat can also be a good place to put a cooler for drinks or your tackle box and rod for fishing. A second seat is also great if you are going out on the water with kids or bringing a dog along for the ride. They can experience the front seat and be on the water with you.
Accessories/package
Inflatable kayaks usually come in a package that includes everything you need to get on the water. These packages make inflatable kayaks affordable because you don't have to purchase everything separately.
Look for inflatable kayak packages that include these items:
A pump is required to inflate the kayak to it's recommended PSI while it needs a skeg – a fin system – to keep it on the right path.
Up to two paddles and seats are included to get you moving along the water to places you never imagined. These paddles are double sided and are the same that are used on rigid kayaks.
Some kayaks even come with removable skegs. These are essential fins on the bottom of a kayak that helps you navigate through the water. This will help you to go in a straight line and is a great feature, especially for new paddlers.
If you are an avid fisher keep your eye out for kayaks that have rod holders. These will allow you to fish in comfort and not have to worry about holding your rod all day long. Some have vertical holders while others even have trolling ones, and since there is no motor you don't have to worry about scaring the fish away.
Since these are highly capable boats we strongly recommend to bring enough life vests for every person on the kayak. These will come in handy in dangerous water and can actually save your life.
(Hey! You May Also Like: Best Yoga Paddle Boards)
Types of Kayaks
Just like regular kayaks, inflatables have different categories and shapes. We suggest thinking about what you will use your kayak for before your purchase as the styles will differ depending on your use.
Sit on top kayak
This type of kayak is where you sit higher than the other styles. People who are claustrophobic and don't like to feel trapped should strongly consider this make. Your feet are not inside the hull which makes it easier to get in and out. Keep in mind that this can be a wet ride even in the smallest wake. We recommend using this type in warmer weather places and in still water where the water is warm. It is also less sturdy than other kayaks so it will require you to have more skill and core muscles.
Sit inside kayak
Looking like the typical kayak, the sit inside type will perform very similarly to its more rigid cousin. This kayak will keep you dry even in rougher water as your feet are not exposed. This allows a more sophisticated bungee system because it has the space over your feet to work with. Some of these have the ability to add a spray skirt for really rough water and colder days.
Canoe style
For those looking for a partner when on the water look for a canoe style kayak. This has the shape of a regular kayak but give you the portability of an inflatable. Coming with two seats and storage space, this is a good way to get to the hard to reach places for a weekend trip. Instead of the regular kayak paddles you can use dedicated canoe paddles. These are only one sided paddles.
Open style
Featuring higher sidewalls and lower seats the open style kayak is the shape of a canoe, but the stability of a kayak. This is usually a one seater and uses the dedicated kayak paddles. The deck on this type is completely open but can have a spray cover available for the high wake.
Water conditions
Kayaks will have specific functions and features in regards to the type of water they are made for. For example, an inflatable kayak made for white water will not perform as well on flat calm water.
White water
A kayak designed for whitewater will have specific features for the fast moving water. It usually will not have a tracking fin as it could hit rocks and give you too much steering. These kayaks will also have the self-bailing option that kayaks meant for flat water will not have. We recommend looking for kayaks that have a water tight storage option if you plan on entering the class III rapids with gear.
Open ocean
When paddling in the ocean it is recommended to have a longer kayak. This will give you the stability and support for traversing large swells. These will typically have high sidewalls that combat rough water and spray from the wind.
Lake
Kayaks that are designed for flat water such as lakes have lower walls, possibly an open concept, and lots of storage space. Not having to deal with high waves or rough conditions allows them to focus more on the experience and not keeping you safe and dry. If you are trying to get to the island in the middle of the lake for a secluded weekend this is your best ride.
FAQs
Q: How Much Do Inflatable Kayaks Cost?
A: Inflatable kayaks can cost anywhere from $150 to over $1000. There is such a large range of prices due to the quality of the kayak. A high quality inflatable kayak package (which includes a pump, carrying bag, paddles, and a patch kit) will fit right into the middle at around $550.
Q: How Do I Inflate A Kayak?
A: You can inflate your kayak in a number of different ways. It likely came with a hand pump but if that doesn't suit you, you have options. You can use also use a foot pump if you have back or upper body problems. This type of pump is much easier to operate. If you have an electric pump lying around or are willing to invest the money in one this is definitely the easiest way to go. This type of pump can be plugged into your car and do all the hard work of inflating your kayak. This allows you to get into the water faster. Be sure to check your kayak to see what type of valve it has for inflation.
Q: How Do I Paddle An Inflatable Kayak?
A: It may feel foreign to be in an inflatable kayak the first time you hop in but the truth is they are much the same as plastic ones. Oftentimes, they are even more durable. Paddling in one is exactly the same as if you were in a traditional kayak. A double sided kayak paddle makes this easy.
Q: How Do I Choose An Inflatable Kayak?
A: The first thing to decide is if you want a traditional style sit-in kayak or if you would prefer a sit on top kayak. Both have benefits and largely depend on your intended use. For example, if you would like to use your kayak for fishing you will be looking for one with special features. Deciding if you need a tandem or single kayak is also important. From there, choose the kayak with the right weight limits for your intended use and your desired amount of storage. The Intex Challenger K2 Kayak, 2-Person Inflatable Kayak Set checks off all the boxes as one of our favorite inflatable kayaks on the market. As a bonus, the price is right!
Q: How Long Do Inflatable Kayaks Last?
A: Your inflatable kayak can last just as long as plastic kayaks if cared for properly. They have nearly endless positive features. When caring for your kayak, be sure to wash it after every use. This can be as simple as hosing it off after every use. This should be done when paddling in fresh water as well as salt water as there are microbes in the water that can cause mildew growth. Once your kayak is rinsed you should allow it to fully air dry in the shade. Following that you can deflate it and store out of direct sunlight. This will greatly increase the lifespan of your kayak and allow it to last for many years to come.
Q: Are Inflatable Kayaks Durable?
A: Yes! With more and more people going towards inflatable kayaks rather than hard ones they are being made better than ever. Using high quality military grade PVC these boards are built to last. Being easy to store and transport you run less of a risk of your kayak being damaged as it features more protection than before. The material used for these are so thick that you can even bring your dog with you on your trip.
Q: How Do I Find A Leak In My Inflatable Kayak?
A: If your kayak seems to be losing air you may have a leak. If you have no idea where it is you can simply look for bubbles. This may mean that you have to get in the water along the shore to get a better look. Start at one side and work your way around the boat. If you still can't find it take your gear off and flip the kayak on its back. Do the same – look for bubbles starting at one side and work your way around.
Pro Tip: Keep in mind that if you inflate your kayak in the morning the air pressure can fluctuate during the day. You may not have a leak and just have to give it a few more pumps of air.
Q: How Do I Patch An Inflatable Kayak?
A: Your inflatable will come with a patch kit in case you do experience any damage. While these kayaks are incredibly durable and are likely to not experience any issues, it is always good to be prepared. Patch kits will come with marine grade super glue and all the tools you need to do the job. After locating the hole you can simply patch it up with lots of glue and head back into the water.
Globo Surf Overview
Getting involved in outdoor water sports is a great way to clear your mind and take a new angle on adventure. Having an inflatable kayak will ensure that you are able to make the most of your new activity. Being easy to transport with a lightweight design makes it so that solo adventures are more easily accessible. Inflatable kayaks are also a great idea for those who live in smaller square footage or don't have roof racks. After all, kayaking shouldn't cost tons of money.
A great way to go fishing or for long distance paddles, these are made with a highly durable material ensuring you are able to enjoy your day on the lake to the fullest. They will take you to places you never thought possible. Always wanted to paddle to the other side of the lake? These rugged boats will get you there.
Sources
Class III rapids, American Whitewater
Kayak Safety, Seeker.com
Have an inflatable kayak on our list? Let us know how you like it in the comment section below.
Globo Surf Inflatable Kayak Review
★★★★★
"
Awesome list of inflatable kayaks. I was looking for something my son and I could cruise around the lake on and thought an two person inflatable kayak would be perfect. 5 Star Rating!
"