Being out in a regular kayak can be a great experience but using the best motorized kayak is able to take that to the next level. Having that extra amount of thrust can increase the enjoyment you have and also increase the thrill of being out on the water.
In order to get one of the best motorized fishing kayaks, there is plenty to consider and in our buying guide we will go through all the key features to give you all the information you need. We have also completed a list of reviews of motorized kayaks to show you the best products on the market.
How To Choose A Motorized Kayak – Buying Guide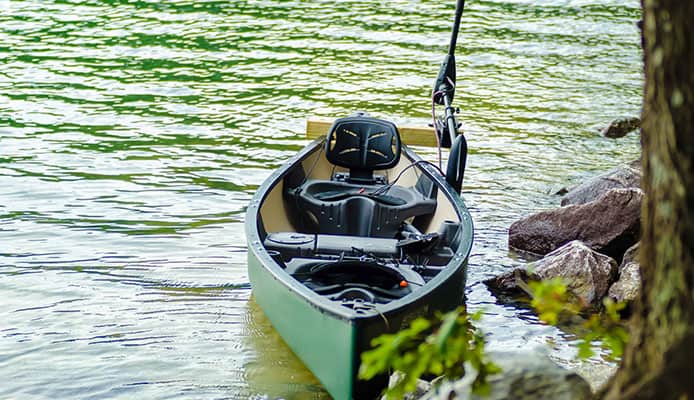 Ease Of Exit And Entry
You always want a kayak to be as easy to enter and exit as possible. This depends largely on whether or not you want to have a sit-in kayak or one where you will be able to sit-on-top. A lot of this comes down to personal preference and how you want to sit on your kayak.
In terms of ease of use, a sit on top kayak is going to be a better option as you are not going to have any restrictions on your movement. Many people would see this as a less stable method though and love the security of being able to sit in your kayak.
In terms of what is going to be the best thing for a motorized fishing kayak, there isn't going to be much of a difference in terms of which is better, as they both have different qualities. Both types will enable you to have a great amount of fun.
Whichever type you choose, you are going to be traveling very fast on a kayak with motor and therefore you simply want to ensure that you are going to be securely sat in and the best sit-on-top kayaks are going to be able to offer that.
Storage
Storage is always going to be in limited supply when it comes to a kayak which is why getting a kayak deck bag is a great option if you need that extra bit of space. This though depends on the type of adventure that you are going to be on.
If you're only going to be out on the water for a couple of hours then you are not going to have a lot of need for a lot of storage options. You're only going to need a small amount of gear and therefore it's not something that you need to worry about.
The best motorized fishing kayaks though have a dry hatch where you are going to be able to place your items and keep them safe from the water. Many pedal and motorized kayaks will also have a bungee system that is going to be able to keep everything safe and secure on your boat.
When you are choosing your kayak, it's important to know how much storage you need. That way you will be able to see if the kayak has enough storage and if not, you will be able to get additional storage for your trip.
Size
It's important that you find a good trolling motor to perfectly fit your needs and the size of your kayak. There is also the potential to get a boat outboard motor too, depending on whether or not your kayak is going to be able to support it.
An important consideration when it comes to the size of kayak that you need will be how many people are going to be using it. If you don't plan on traveling solo then you are going to need a much larger kayak to be able to accommodate this.
In terms of size, this is going to have a large impact on the stability but also the agility of the product. The larger the kayak, the more stable it is going to be while you are out on the water which is going to be an advantage for beginners.
Having a smaller fishing kayak isn't going to give you the same level of stability but it is going to be able to give you more agility while you are out on the water. This can add a lot more fun and allow faster turns and a more exhilarating experience.
Budget
Whenever you buy any product it's important to know what your budget is. Fishing kayaks can vary quite a lot in price depends on the type of feature that you want and the overall build quality of the kayak that you are looking for.
If you have never been on a fishing kayak then it might be the best idea to get a kayak that isn't at the top end of the price range. As well as quality, there is often a correlation between price and how easy the fishing kayak is going to be to handle.
The more expensive motorized fishing kayaks are generally harder to handle and the reason for that is due to the fact that the more experienced someone is, the more they tend to crave a kayak that is able to go faster and with a greater degree of handling.
If you want this type of kayak then you not only have to consider the price of the kayak but also the cost of the motor. This obviously adds an extra level of expense but many people see that as worth it with the extra fun that you are able to have.
There is also the opportunity to get a regular fishing kayak and add a motor at a later date. If you plan on doing this then you want to make sure that it is compatible with a motor and you would be able to mount it when the time comes to add one.
Seat
Getting the best kayak seat is important for your comfort as a bad seat could quickly ruin your experience when you are out there on the water. It would quickly lead to discomfort and injuries such as getting a sore back.
What's also important is getting a seat that is going to be adjustable. All humans come in different shapes and sizes and if you are particularly tall or short, then this could prove to be a big problem when you are on your kayak.
There are two ways that this can be solved as you can either get an adjustable seat to be able to move it back or forward, or there is also the potential to have adjustable footrests so that your feet are going to be in the right position.
If you ever have a fishing kayak that has an uncomfortable seat then you are always going to be able to change it and get a seat that is able to work for you. Comfort is an important aspect of being on a kayak and you always want to give it a high level of importance.
Accessories
If you have an electric motor then you want to make sure that you have the best trolling motor battery possible. You also want to make sure that you are protecting it when it's not in use by using a great outboard motor cover in order to protect it.
As well as your motor, you also want to protect your fishing kayak too and that can be done with a kayak storage rack and hoist to keep it safely stored away. This will ensure that your kayak is able to be used for many years.
It's also important to consider safety too, especially if you are heading out into open water. Using a kayak flag is a good idea, as is having a kayak bilge pump. Other accessories such as a kayak anchor will depend on your own needs.
There are many great kayak accessories out there to choose from and whether you are looking for the likes of kayak shoes, kayak helmets or even kayaking gloves, you want to make sure that you've got the highest quality gear to make sure you have a great time.
When you are going at higher speeds, the need to have the best gear is even more important. You always want to make sure that you're wearing a great life jacket as this will keep you safe if you ever find yourself in the water.
FAQs
Q: Why Choose A Kayak With A Motor?
A:
Regular kayaks can be a huge amount of fun but there is a limit to how fast you're going to be able to go and your arms can get quite tired after a while. While they can be great for heading out to the water, the experience isn't that thrilling unless you are on whitewater.A motor is going to enable you to go a lot faster over the water and also increase the amount of fun that you are going to be able to have. Traveling at that speed can be thrilling and a completely different experience to many other types of kayaking.Having one of the best motorized fishing kayaks will give you a high level of versatility in what you can do. It allows you to travel to places that you might otherwise not be able to on just your arm power alone, giving you greater adventures.
Q: Can I Add Motor To My Regular Kayak?
A:
Adding a motor to a regular kayak can transform your kayak but there are a few reservations that you need to have before you take such a step. You need to be wise about matching the motor to the size of your kayak.The basic answer to the question is usually a yes but not all kayaks are going to be able to support a motor and its battery. You need to inspect your kayak to see whether it has the capability of being able to support a mounted motor.You don't want to be in a situation where you have bought a motor only to find out that you're not going to be able to mount it onto your kayak. Motorized kayaks are specifically set up for this which makes them a great choice.Adding a trolling motor or having a built-in motor can add a lot of fun to your kayak but you need to be sensible about what you are going to get. A small trolling motor is always going to be the best bet unless you have a particularly big kayak.
Globo Surf Overview
There are many great ways to have fun when you are out on the water and for a long time, being on a regular kayak as more than enough fun for most people. A kayak with motor takes it to the next level though for those looking for a thrill.
As we have seen here, there are many things to consider before you make your choice. You want to make sure that you are choosing the right type of kayak for you and your situation with the right features, storage and power that you need.
Hopefully this guide has been able to give you all the knowledge that you need to answer all of those questions. Once you have, then you will be able to fire up that motor and have an experience on a kayak like you've never had before.
More Kayak Reviews: