OUR TOP PICK

---

EDITORS CHOICE

---
If you enjoy spending time in your kayak but aren't all that crazy about the exercise, you should check the new trend in kayaking – motorized fishing kayaks. Not only do they save you energy for other activities (fishing or taking photos) but they also make the kayak a lot faster when going to your favorite spot.
While you could argue that any boat with an outboard can do this job, a motorized kayak is much easier to transport, a lot more agile, and keeps you closer to the action. In this article, we're going to present the best motorized kayaks available and hopefully help you choose your new favorite way to get around on the water.
How To Choose A Motorized Kayak – Buying Guide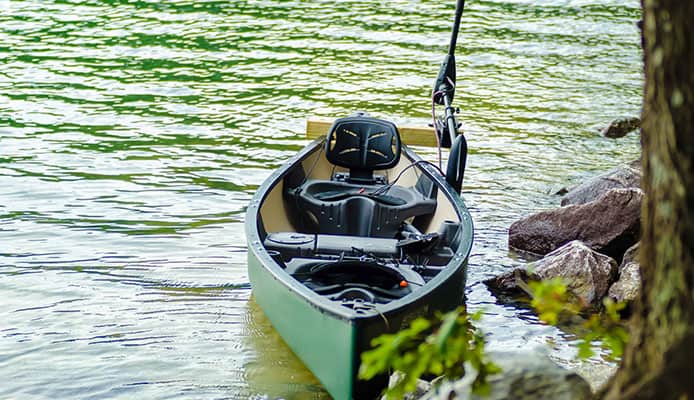 Motor Performance and Compatibility
As you've had the chance to see, you can either get a kayak with a built-in motor or choose a motor-ready kayak and add one yourself. A model with a built-in motor might be more expensive, but it eliminates the headache of choosing and installing a motor on your kayak.
All motors on motorized fishing kayaks have a thrust rating – the power a unit has when propelling your boat. Keep in mind that in addition to the boat itself, the motor also needs to move your own weight as well as the gear you have on-board. When choosing a motor, the rule of thumb is to have 2 pounds of thrust for every 100 pounds of boat weight.
Battery Requirements
Unlike outboard engines, electric motors on motorized kayaks require batteries to work. While some models like the ClearYup kayak come with a battery included, you'll usually have to buy one yourself.
Most smaller motors use a single 12-volt marine battery. However, keep in mind that if you plan to use a more powerful motor (80+ lbs) you'll need a system of two or even three batteries.
An additional concern is where you're going to store the battery. It's probably best (most convenient) if your motorized kayak comes with a dedicated compartment where the battery can be protected and stay out of your way.
Storage Capacity
Storage is an important general consideration, and motorized fishing kayaks are not an exception. Since these are mostly used for fishing, they need to have enough space for all your fishing gear.
We would always recommend that you get a kayak with some type of dry storage that allows you to keep more sensitive items protected from splashing and water damage. On the other hand, many good motorized kayaks for fishing also have spacious tank wells that make it possible to bring full-size crates with gear. 
Kayak Size and Weight
Size and weight are going to have a large impact on the kayak's stability and agility. Larger (wider) motorized kayaks are generally more stable on the water, which is going to be a big advantage for beginners. However, this often comes at the cost of maneuverability and agility.
On the other hand, a longer and narrower kayak for fishing isn't going to give you the same level of stability, but it's going to be a lot more exciting to handle. This will add a lot more fun and allow faster turns and a more exhilarating experience.
Features and Accessories
Even if you have a motorized kayak, certain features can make it even more enjoyable. First and foremost, you should think about how you are going to control the motor. Standard trolling motors require you to turn around and use the handle, but the best motorized kayaks on our list (ClearYup) comes with remote control for controlling the motor operation.
While most motors have a runtime of well over 10 hours, it's not a bad idea to have a backup and not get stranded in the middle of the lake. In light of this, it's a big plus if the manufacturer also includes paddles with the purchase. Other useful features on motorized kayaks include various rod holders, gear mounts, and anchor trolleys.
Projected Budget
Unfortunately, motorized fishing kayaks can be quite expensive and exceed your planned budget. Models with built-in motors and other sophisticated features can have a very high price tag which may be too much for some kayakers. 
If you are in this category, a more budget-friendly option is to get a standard angler kayak and equip it with an electric motor of your choice.
FAQs
Q: Why Choose A Kayak With A Motor?
A:
The main reason to do this is saving energy and avoiding paddling. Motorized fishing kayaks use electric motors to power the boat, so you won't have to paddle endlessly to reach the fishing spot. On top of this, the motor makes your kayak much faster so you'll save a lot of time too.
Q: Can I Add Motor To My Regular Kayak?
A:
Yes, you can add a motor to almost any kayak. However, you have to be very careful and check if a particular motor matches your fish kayak, and which mounting options you have (whether you have to drill holes). In addition, pay attention to the motor power too – a larger kayak loaded with more equipment is going to require a stronger motor.
Q: Can You Put An Electric Motor On A Kayak?
A:
While it depends on the design of a particular kayak, most models can be fitted with an electric trolling motor. However, always check whether the kayak has a mounting point and whether the electric motor itself comes with the right mounting system (it's not the same for regular and inflatable boats).
Globo Surf Overview
Using motor power to propel your kayak is probably the best way to get around while saving energy. It gets you to your destination much faster and allows you to explore waters that would otherwise be too far away. We hope that, using the info from our reviews and guide, you'll be able to find a motorized kayak that will take your adventures to a new level.
More Hardshell Kayak Reviews: