Kayaking has dominated the watersports market for years now being an activity anyone can enjoy. From ocean kayaking, fishing, long lake paddles and overnight camping trips people are stretching the limits of this fun summer activity. Lots of people are even bringing their dogs along for their kayaking trip.
It may seem complicated to bring your dog along, but in most cases training, your dog is fairly easy, especially if they like the water. Finding the best kayak for dogs is easier than ever. In fact, bringing your furry friend along has become so popular many companies are redesigning their kayaks to make it easier than ever to bring your dog along kayaking with you.
To help you in your quest to find the perfect kayak, we have scoured the market and created a list of the best kayaks for dogs.
Ready to get started? Let's go.
How To Choose A Dog Kayak – 

Buying Guide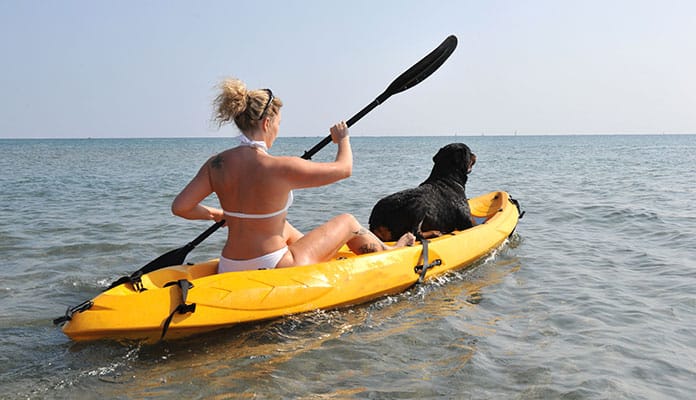 There are few things you should consider when looking for a kayak you can bring your dog on.
How To Choose The Best Kayak For Dogs
As a dog owner when deciding on the perfect kayak for your best friend you should look into the storage options available. Not only will you need to bring gear that can accommodate you but also your dog. If you are planning an overnight camping trip you will need things like extra food, leashes, and even extra padding for them to lay on.
Single Or Tandem
A tandem kayak will give you more space and even a dedicated seat for your dog. These will be larger but also heavier than single seat kayaks. With that being said, single seat options will typically not have enough space for your dog unless they are a small breed.
Sit On Top Vs Sit In Kayaks
Sit on top inflatable kayaks will more than likely be what you're looking for when paddling with your dog. They won't have an enclosed space like sit-in kayaks do. This means your dog can sprawl out and even move around without getting antsy.
Width
Obviously, the wider the kayak pad is the more space you'll have. They will also offer more stability than a thinner option. Some wide inflatable kayaks for dogs even have extra storage space which is always a sought after commodity.
Stability
The width will factor into the stability of your kayak. Also, a lower center of gravity will give you even more. This is where the sit inside kayaks excel. They sit lower in the water which significantly increases their stability.
Types of Kayaks to Avoid When Kayaking with Dogs
Sea Kayaks are not an ideal kayak for travel with dogs. They are more narrow than any of the other types of kayaks which means your pup will not have a lot of room. Sea kayaks are also more susceptible to the waves than regular kayaks. They have lots of secondary stability which mean they don't stay as upright as other vessels
Whitewater Kayaks have not been designed for more than one person. They are controlled by moving your body in the direction you want to go – something you won't be able to do with a dog on board. Even slight movements from your dog will alter the course of your kayak and make it incredibly difficult to paddle.
Kayaking Gear Necessary for Your Dog
Just as you pack along gear for yourself, your dog will require a fair amount of gear to be brought along as well. Most importantly this includes water and a bowl. Your dog gets affected by the heat just as you do so ensure that they have plenty of water access is important. You will want to pack along some food for your dog as well so that they can have rewards for good behavior as well as in case of emergency.
Dimensions
The dimensions of your kayak will be influenced by the size of your dog. A smaller breed like a Maltese, for example, will require less space than that of a larger dog like a German Shepard.
No matter their size your dog will need room to move around. Even the most well behaved dogs will want to stretch their legs after a while and even come say hi while you're paddling. The width of the kayak outrigger will play a large role in this. A thinner option may be better for speed but may not be enough room for your pooch.
The width of kayaks can vary between 30 and upwards of 40 inches. You will want one in the higher range no matter what size your dog is. This will make your boat not only wider for the dog to turn around but also more stable so when they do the kayak won't tip or become unstable.
With that being said, we recommend tandem fishing kayaks for paddling with your dog. This will give them their own place to belong. A simple thing like this will make your dog much more comfortable on the water especially while first getting them used to being on the water.
Inflatables vs. Hardshells
Using an inflatable kayak for dogs may seem like a silly idea, hear us out. Inflatable kayaks for dogs are not made with the same low quality plastic material that beach balls use. Instead, these are made with heavy duty materials that are often much more durable than their hardshell counterparts. These inflatables can be a great option for kayaking with your dog as their sturdy constructions will help to keep you both stable.
While you need not worry about the construction of inflatables kayaks, hardshell fishing kayaks still make a superior option. If opting for this material we recommend putting a blanket down before your dog climbs in. This will help with your dog's nails scratching against and ripping the boats hard plastic frame. This can go a long way in maintaining your boats integrity and allowing you to get maximum use out of it.
Safety
Just like focusing on your safety is important, it is incredibly important for you to ensure that your dog is safe as well. Even dogs that are the best swimmers can get tired. For this reason, it is important to get a safety life jacket for your dog. While they may not like wearing a life jacket, it can provide a great amount of safety for your dog.
Taking into account the heat on the water is important. You will want to ensure that you pack along both food and plenty of water along for your pup. Your dog can get heat exhaustion just like you can and it is incredibly important to avoid that. Having a best kayak umbrella can make it so that you and your pup have shade which can shelter you from the hot sun.
Weight Capacity
This is a key aspect you should consider when looking to buy a kayak for traveling long distances. You will have to get a kayak built for dogs that can not only carry you and your dog but also all your gear. If you are traveling long distances you will need to bring along extra gear. This can include everything from dog food to leashes and even a bed for them to sleep on. All of this extra gear will increase the required weight capacity your kayak will need.
The key is to balance this between the overall length and weight of the kayak. You will need the extra capacity but won't want to sacrifice things like the overall weight of the kayak which can make transporting and carrying it more difficult.
FAQs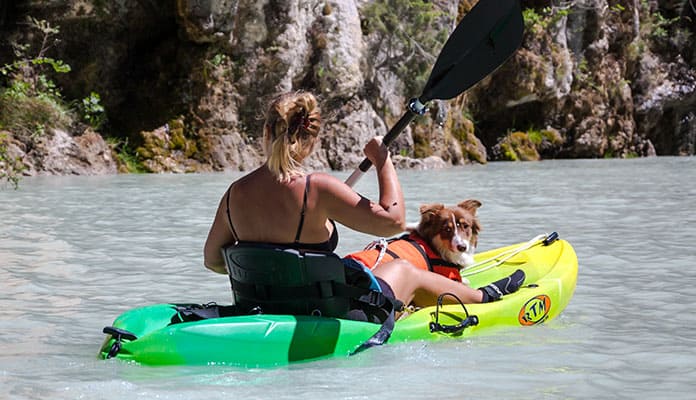 Q: How To Make A Platform On The Front Of The Kayak For My Dog?
A:
This can be done in many ways. There are special waterproof pads you can purchase that will ensure your dog has a comfortable space to lay. At the same time, it will protect your kayak from their nails and ensure they don't slide around in choppy water.
We don't recommend simply laying a towel down for them. They are meant to absorb water which means your dog will be laying on a wet towel. Once it absorbs water it will also become much heavier which can weigh down your rig and potentially make it hard to paddle.
Q: How To Go Kayaking With Your Dog?
A:
Taking your dog kayaking with you is actually quite easy. Most dogs are happy to be alongside you but will require some training. To help get your dogs ready for kayaking it is important to introduce them to the kayak to make them comfortable before throwing them inside. Making a comfortable place for your dogs to lie down is also important. Be sure to remember that just as the heat gets to you, it will get to your dog as well. Having water and even the best dog kayak attachment umbrella on board will help make sure everyone enjoys their day.
Q: Where to go kayaking with your dog?
A:
When you first start out we would suggest sticking to flat lakes to ensure your pup gets comfortable. But once that happens the world is your oyster. You can take them for weekend trips and find the best beach campsite you can find. Be sure to always do some research beforehand to make sure your area is dog friendly.
Q: Do You Plan On Getting Pretty Wet, Or Do You Want To Avoid That Chilly Water?
A:
There are many different types of kayaks for dogs. Especially when you're first starting out with your dog you will want to expect to get wet. This may mean you choose to begin getting them used to the kayak in summer months so you don't get wet in frigid cold water.
Q: How Do I Train My Dog To Sit In A Kayak?
A:
You will want to make sure that your dog understands all basic commands before getting into the water. This means that your dog should understand how to sit and stay well prior to introducing them to the kayak. Once your dog has mastered these conditions on dry land, you can then think about transferring these skills to the water.
Be sure to start to bring a lot of treats along with you to help encourage your dog's good behaviors. After sitting on command, be sure to remind your dog to stay giving plenty of reinforcement. Start your paddle slow to help your dog stay calm and get used to the motion. Remember to keep this a fun and positive experience for your dog. This means plenty of positive reinforcement and patience.
Q: How To Get A Dog Used To A Kayak?
A:
Getting your dog used to a kayak isn't as easy as simply throwing them in the boat with you. There are specific steps you should take to get your dog used to kayaking. Familiarizing your dog with your kayak big enough for your dog should not start when in the water. Instead, put the kayak in your yard allowing your dog free range to smell the kayak. Then, you can work to create positive associations by giving them treats inside or even feeding them in the best kayak. Once your dog is comfortable you can begin to sit inside of it with them to practice the skill. Then, you can begin to introduce your dog to still calm waters.
Q: How Do I Train My Dog To Get Back In The Kayak?
A:
Unless you are in rapids you shouldn't worry about your dog falling out of the kayak. They are able to swim and can tread water until you come to their rescue. You may have to calm them down and reassure them everything will be alright though.
When they swim close to the kayak you will need to help them get on top. You can do this by grabbing them behind their neck and lifting them into the kayak. This may seem harsh but it's really not. This is how their mothers would lift them when they were younger and won't get hurt. You just need to lift them enough to get their front legs on the kayak dog platform then they can get on. But as you're doing this you will want to shift your weight in the opposite direction so you don't tip over and capsize your kayak or canoe for canoers.
Globo Surf Overview
Kayaking with your dog can be some of the best bonding time you get with your best friend. They will love spending time in nature and being with you. Finding the best kayak for dogs will help to make them comfortable and allow everyone to enjoy the trip.
More Kayak Reviews:
Do you have one of the dog-friendly kayaks on our list? Let us know how it works for you in the comment section below.
Leave A Review