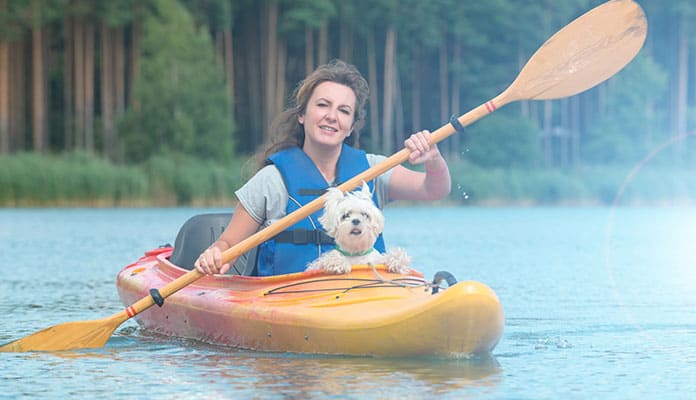 OUR TOP PICK

---

EDITORS CHOICE

---

BEST VALUE

---
While paddling solo is great, bringing your pet for the ride can be very rewarding and make the experience even better. With the right boat, kayaking is perfectly safe for dogs and brings both yourself and your furry friend a lot of joy.
When choosing the best kayak for dogs, you need to make sure that it's stable and has a spacious open area where your pet can lie down and relax. In addition, it's a big plus if the kayak has extra storage for dog gear and food. To help you find the best kayak for dogs, we'll take a look at the highest-rated models on the market and explain everything you need to know before you decide.
How To Choose A Dog Kayak – 

Buying Guide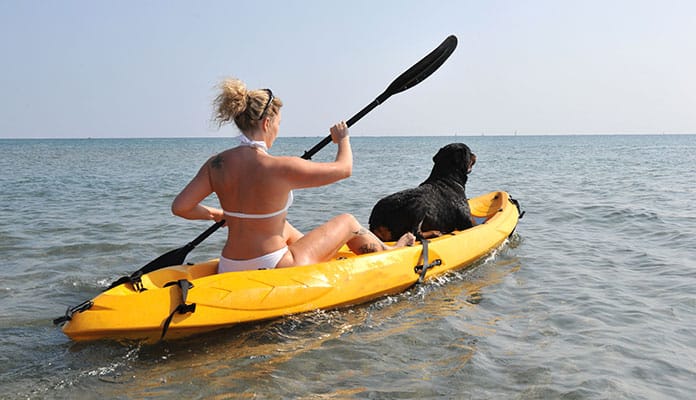 Single Or Tandem
A tandem kayak is a lot more spacious and even offers a dedicated seat for your best friend, so they are probably a better choice. On the other hand, single-seat pet-friendly kayaks are lighter, but they will usually be too cramped for medium-sized and large dogs.
Sit On Top vs Sit In Kayaks
Sit on top kayaks are the option you should go for when paddling with your dog. They won't have an enclosed space like sit-in kayaks do, which means that your dog can sprawl out and move around without getting antsy.
Inflatables vs. Hardshells
While using an inflatable kayak for dogs may seem like a silly idea, they are not made with the same low quality plastic material that beach balls use. Thanks to their heavy-duty materials and portability, these can be a great choice to kayak with dogs. This being said, hard shells are still a better option in terms of durability but weigh more and aren't as easy to transport.
Kayaks to Avoid When Kayaking with Dogs
Sea kayaks are not an ideal kayak for traveling with dogs. They are narrower than other types of kayaks, which means your pup will not have a lot of room. Sea kayaks are also designed differently than traditional kayaks and focus on secondary rather than primary stability. Because of this, they might rock too much when standing still which your dog may find uncomfortable.
One more type of kayak you should avoid are whitewater kayaks, as they have just enough room for a single person in the cockpit. They are controlled by moving your body in the direction you want to go – something you won't be able to do with a dog on board.
Dimensions (Length and Width)
The dimensions of your kayak will be determined by the size of your dog. A smaller breed like a Maltese, for example, will require less space than a large dog like a German Shepard.
Either way, we suggest that you get a long kayak (10+ feet long) with a large open dog platform for kayak at the bow and a beamwidth of at least 30 inches. As a bonus, the extra width in kayaks built for dogs improves the stability and prevents them from tipping when your dog moves around.
You might also like:
Weight Capacity
When kayaking with your dog, you'll need to bring some extra gear for your pet. Because of this, the best kayaks for dogs need to have a large weight capacity, especially if you're traveling long distances. In most cases, a weight capacity of 300 pounds will be more than enough.
FAQs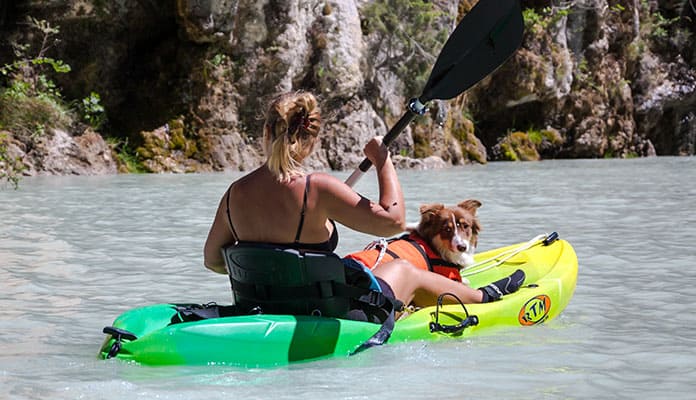 Q: How To Make A Platform On The Front Of The Kayak For My Dog?
A:
While this can be done in many ways, the best option is to use special waterproof pads as a kayak dog platform. These are comfy to lie on, prevent sliding, and protect your kayak from dog nails. Many people also use a towel for this, but we don't recommend it as it gets wet quickly and causes your dog to feel uncomfortable.
Q: How To Go Kayaking With Your Dog?
A:
For a successful trip, it's important to introduce your furry friend to the kayak beforehand. Once they are used to it, you should make sure the dog has a comfortable place to lie down inside. In addition, you want to make sure they don't overheat so you should always have water ready and maybe even bring a dog umbrella.
Q: Where To Go Kayaking With Your Dog?
A:
In the beginning, we suggest sticking to flat lakes to ensure your pup gets comfortable. Once that happens, you can go pretty much anywhere including touring and weekend-long trips. However, always do the research beforehand and make sure the area is dog friendly.
Q: How Do I Train My Dog To Sit In A Kayak?
A:
Before getting into the water, it's a good idea to make sure that your dog understands all the basic commands of sitting still and staying calm. When your dog has mastered these skills on dry land, you can then think about using doggie kayaks and transferring to the water.
Q: How To Get A Dog Used To A Kayak?
A:
Familiarizing your dog with a kayak should not start in the water. Instead, put the kayak in your yard and allow your dog to explore it while creating positive associations with treats. Once your dog is comfortable you can begin to sit inside with them and start introducing them to calm waters.
Q: How Do I Train My Dog To Get Back In The Kayak?
A:
Even with training, the dog won't be able to get back in without your assistance. To help them back on, you should grab them behind their neck and lift them slightly so they can get their front legs on the kayak and climb. In addition, make sure to shift your weight to the opposite side when doing this.
Globo Surf Overview
Kayaking with your dog can be a fantastic bonding time and a great experience for both of you. We guarantee that they will love spending time in nature and being with you. Hopefully, the best kayak for dogs from our list will make them feel comfortable and allow everyone to enjoy the trip.
More Hardshell Kayak Reviews:
Do you have one of the dog-friendly kayaks on our list? Let us know how it works for you in the comment section below.