OUR TOP PICK

---

EDITORS CHOICE

---

BEST VALUE

---
For many people, family kayaking is one of the most enjoyable activities on the water. However, when your children start to grow and can no longer fit in your kayak, they will need one for themselves. Since adult kayaks are still going to be too large, you'll need a model that is specifically designed for young paddlers.
What does this mean? Well, the kayak needs to be stable, compact, and easy for a child to paddle. To ensure that your little one gets a fantastic experience on the water, we've carefully picked out the best kayaks for kids available. We have tried to keep things diverse when it comes to child size and skill level, so you'll be able to find an ideal model for both younger and older children.
How To Choose The Best Kayak For Kids – Buying Guide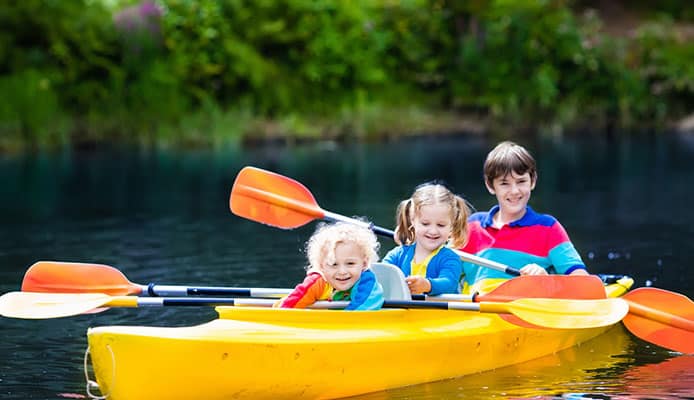 Stability
Stability is one of the most important aspects to consider when choosing a children's kayak. To build confidence in the water, a child needs a kayak that won't tip or capsize even if they make mistakes and don't balance well when paddling. Because of this, we feel that the best kayak for kids should have a wide beam and a lot of primary stability.
Weight
While you may think that lighter is better when it comes to the best kids kayaks, this isn't always true. If the child's kayak is too light, its performance on the water might be compromised (it will be more susceptible to wind and waves). The best kayak for kids should be light enough to carry, but still, have enough weight to handle well on the water.
Sharp Protrusions
If your child is young, you need to pay special attention that the toddler kayaks don't have any sharp protrusions. While most models are rounded and smooth, some have gear mounts and rails that can potentially be dangerous. If you think this might be a problem for your little one, perhaps it's best to go with an inflatable children's kayak. 
Adjustable Foot Braces
Children grow at an incredibly rapid pace. Choosing the best kids kayak with adjustable foot braces will ensure that they can use it for an extended period. Some junior kayaks have molded-in foot braces that work just as well. Ensuring that the child kayak you choose has this feature will end up saving you a lot of money over time.
You might also like:
Durability
As a parent, you know that kids can be very rough on their gear. Naturally, this will extend to their children kayak so be sure that the one you choose is durable enough to withstand harsh use. Both inflatables and hardshell kayaks for youth can stand up to the task, but you need to check whether they are resistant to punctures and hits.
FAQs
Q: How To Kayak With Kids?
A:
It's best to start with a 2-person kayak where you and your child can paddle together, so they can build up their skills and confidence. When it's time to transfer to a solo children's kayak, be sure to begin on a quiet pond or small lake and practice capsizing to make sure they can get back on. Lastly, always bring additional gear including dry clothes, extra food, and a lot of water.
Q: Where To Kayak With Kids?
A:
The answer to this question largely depends on your child's skill levels. Young kids and those in the learning stage will feel much more comfortable in the calm waters of ponds and small lakes.
As their confidence and experience level grows with kayaking, you can begin to venture into more open waters such as large lakes. On the other hand, it's best to completely avoid strong currents like those found in oceans and fast rivers.
Q: What Are Some Safety Tips For Kayaking With Kids?
A:
The first and most important thing is to always wear a life vest. In addition, be sure to always stay in calm waters with kids, especially if they are new to kayaking. Finally, teach your children the necessary paddling techniques and make sure they are dressed properly for the activity.
Globo Surf Overview
Kayaking with kids can be incredibly fun, but you need to take some precautions to ensure their safety. If they're going to use their own kayak, make sure that the size is right and that your little one can control it with ease. We hope that our reviews and guide helped you pick the best kayak for kids and that your family adventures on the water will become even better.
More Hardshell Kayak Reviews:
Does your child use one of the kayaks for kids that made it on our list? Let us know how they like it in the comment section below.