Kayaking has dominated the watersports market being a favorite choice amongst many different groups of people. This is especially true with families. Many people use 2-person kayaks in order to bring their kids with them out for a fun filled day on the water. When your kids turn to a certain age, it may be preferred for them to have their own kayaks. As a sense of pride, getting your child their own kayak can be a very rewarding experience. Not only is this a fun weekend activity but kayaking is also a great upper body workout.
To help you navigate the market of all the kid's kayaks on the market, we put together a list of our favorites kayaks. The best kayak for kids may be hard to find but we hope to help narrow down your search.
Ready to get started? Let's go.
How To Choose The Best Kayak For Kids – Buying Guide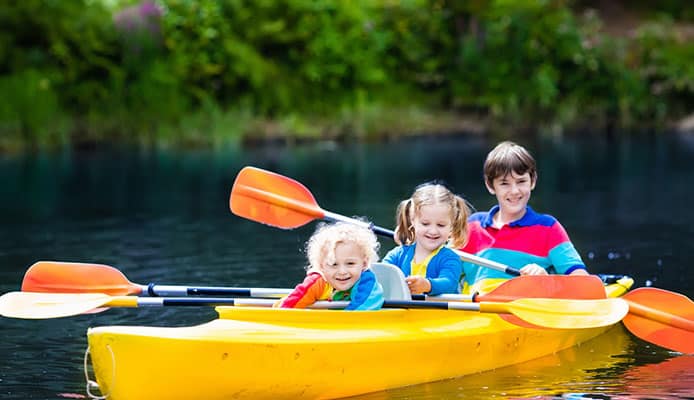 Luckily, many parents are just like you and are willing to invest in one of the best kayaks for kids. This means that there are many kayaks on the market for you to choose from. Whether you opt for a solo or 2-person kayak should depend on how many kids you have. Regardless of what you choose, having the best kayak for kids is important.
There are many benefits your child will receive with kayaking. A great workout this is a sport that is sure to build their physical strength as well as their comfort with the great outdoors. This is a great way for your child to build their problem solving skills and can be quite meditative.
Things To Look For When Buying The Best Kids Kayak
When you are looking for the best kayak for your kids, it is important to look at various reviews and consider the following features.
Durability
If you are a parent you know how rough kids often are on their gear. This will extend to their kayak so be sure that the one you choose is made to be durable and withstand the abuse is important. Inflatable kayaks for children is often ideal for handling the rough use of a child. Otherwise, the more typical polyethylene material is a great option as it is solid and durable.
Sharp Protrusions
Depending on the material used to make the kayak, it is important to note that there may be some sharp corners on the kayak. Once you get your kayak, it is important to run through it to spot any spikes or rough edges that could cause your son harm. These are especially prominent in seams, rails and corners. If this is something you are overly concerned with, opting for an inflatable kayak may be your best option.
Adjustable Foot Braces
Children grow at an incredibly rapid pace. Choosing the best kids kayak with adjustable foot braces will ensure that their kayak will last them a longer time. Some kayaks have molded in foot braces that work just as well. Ensuring that the kayak you choose has this feature will end up saving you a lot of money over time.
Weight
You may think the lighter the better when it comes to choosing the best kayak for kids but this isn't always true. While there are many benefits to a lightweight boat, specifically portability, there are some disadvantages as well.
Kayaks that are quite light in weight combine with a light child to have a negative effect on the water. While they will be easier to paddle, they will also get pushed around a lot in windy conditions. Even the best kayak for kids, if too lightweight, may lose some of its stability and may be easily pushed around in the water. Trying to find the balance to get a happy medium should be a priority.
Stability
When you are new to kayaking as kids often are, you will require a boat with more stability than your average one. This will allow you to build confidence and master your paddling skills without added concern.
FAQs
Q: How To Kayak With Kids
A:
Kayaking with your kids can be stressful at first as you watch them in hopes that they can handle the water. It is best to start with a 2-person kayak where you are with your child in order to ensure that they can build the skills and confidence with the sport. When they go to a solo kayak, be sure to start them on a quiet pond or small lake which will further build their confidence. It is important to use this time to practice capsizing so that you can ensure that your child has the tools needed to get back into their boat with ease. You will want to ensure that you pack a lot of extra gear along with you including dry clothes, extra food and a lot of water.
Q: Where To Kayak With Kids
A:
The answer to this question largely depends on your child's skill levels. Young kids and those in the learning stage will be much better suited to stay on the calm waters of ponds and small lakes. As their confidence and experience level grows with kayaking, you can begin to venture into larger waters such as large lakes. It is best to not have kids paddle in areas with strong currents so sticking out of the ocean is a good idea. Lazy rivers can be ok but we strongly advise to think twice before putting your children in an area with any sort of current.
Q: Safety Tips For Kayaking With Kids
A:
While kayaking with kids can be a very fun and rewarding experience, you will need to take extra safety precautions. Most importantly it is of the utmost importance that your child, as well as yourself, always wears a life vest. While you may not feel as though you need it, remember that your child will need you to be safe in order for you to be there for them.Be sure to always stay on calm waters with kids, especially with those kids that do not have a ton of experience. Teach them the proper paddle techniques in order to equip them with the knowledge to keep safe on the water. You will also want to ensure that your child is dressed properly for kayaking and that he is using one of the best kayaks for kids on the market.
Globo Surf Overview
Kayaking can be a fun activity that all ages will enjoy. Be sure to pack along the proper gear which will help to ensure everyone's day stays fun and safe. It is important to measure your child's size within the boat. Since your son will grow at a rapid rate, you will want to ensure that your kayak for kids has more than enough space in the cockpit so they can sit comfortably. It is important to ensure that your child has an enjoyable and positive experience on the kayak, and this can only happen if you choose the best kayak for kids.
More Kayak Reviews:
Does your child use one of the kayaks for kids that made it on our list? Let us know how they like it in the comment section below.