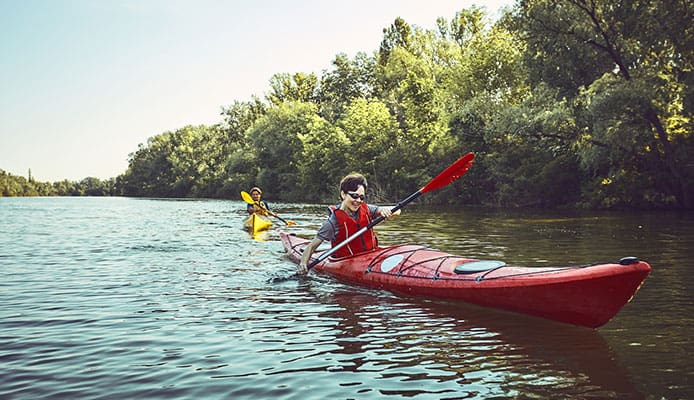 OUR TOP PICK

---

EDITORS CHOICE

---

BEST VALUE

---
As its name suggests, a crossover kayak is designed to transition seamlessly from calm waters to rapids when paddling down a river. The best crossover kayak will be graceful in whitewater and will also track straight and cruise fast in flatwater. While having multiple kayaks would be ideal for the adventurer who wants the freedom to explore different types of waters, a crossover kayak is a perfect compromise if you only have space and/or budget for one kayak.
Cross over kayaks are also great first boats for beginners. To help you find a crossover kayak that suits you, we've reviewed three best Dagger crossover kayaks. Dagger is a leader in kayak design and manufacture. Their kayaks excel in all aspects from quality, design, to performance. They have top performing boats for all types of waters. We've also compiled a guide for picking the perfect kayak for the waters you plan to enjoy. Let's get started with the top three.
OUR TOP PICK
Dagger Katana
See Customer Owner Feedback >>
Stand Out Features - Why We Love It

Drop down skeg system for tracking straight

Plenty of internal and external storage capacity

Comfortable in all waters, fast, slow and flat

Contour Ergo outfitting for comfort

Adjustable thigh braces, hip pads, back band, and leg lifter

Its primary and secondary stability is great

Equipped with comfort carry handles
Length: 10′ 4″/315cm
Width: 27.25″/69cm
Deck Height: 15″/38cm
Boat weight: 56lbs./25kg
Cockpit Size: 37″/94cm by 20.5″/52cm
Paddler Weight: 155 – 285lbs./70 – 129kg
EDITORS CHOICE
Dagger Axis 12.0
See Customer Owner Feedback >>
Stand Out Features - Why We Love It

An attractive look and premium feel

Very stable and versatile design

Glides well through flatwater

Very comfortable and adjustable seat and cockpit

Plenty of storage, both internal and external

Good tracking and top speed

Very good kayak crossover capabilities
Length: 12'/366cm
Width: 27.5″/70cm
Deck Height: 15.25″/39cm
Boat Weight: 55lbs./25kg
Cockpit Size: 38″/97cm by 21″/53cm
Max Capacity: 350lbs./159kg
BEST VALUE
Dagger Zydeco 9.0
See Customer Owner Feedback >>
What Makes This Crossover Kayak Stand Out

Great recreational kayak performance

Compact, lightweight and one person portable

Stable and easily maneuverable in water

Comfortable and adjustable cockpit setup

Great value for money
Length: 9′ 1″/ 276cm
Width: 28.5″/72cm
Deck Height: 14.25″/36cm
Cockpit Size: 38.5″/98cm by 21.75″/55cm
Weight: 36.5lbs./17kg
Max Capacity: 220lbs./100kg
How To Choose A Crossover Kayak – Buying Guide
When choosing any type of kayak, the first question to ask is: `What waters will I be paddling?' Crossover kayaks are the best if you want to explore different kinds of waters. Whether you're buying a crossover kayak or test paddling it, here are the factors to pay attention to in order to identify the perfect pick for you and the kind of waters you will be paddling.
Material, Size And Width
Plastic crossover kayaks made of rotomolded polyethylene are flexible yet tough and durable. They can handle repeated usage in rocky environments without breaking. If you've a plus size build, check the weight capacity of the boat and the cockpit size to ensure that you will be comfortable.
A shorter kayak offers greater maneuverability while more waterline means higher speed in flatwater. A wider kayak has more stability. If you will be embarking on long kayak camping trips that require carrying gear, a kayak crossover with a large bulkhead and hatch will make hauling your camping or fishing gear easier.
Rocker/Waterline
What kind of rocker and waterline the perfect boat for you should have will depend on what kind of waters you paddle. If you will be floating on flatwater mostly but want to be able to run whitewater as well, a kayak with more waterline will be better at tracking and speed cutting through the water.
If you love the rush of whitewater kayaking but also paddle lakes sometimes, choose a kayak with more rocker thus more maneuverability and good performance in rapids. If you will be exploring whitewater and flatwater equally, a balanced rocker and medium waterline will offer both speed and maneuverability.
Comfort
Comfort, support, and stability are very important considerations when choosing a crossover kayak. With the best kayak crossovers, the fit and grip of the cockpit is adjustable to suit various waters. Ensure the kayak you choose has an adjustable seat, thigh braces, foot plates, and hip pads. A roomy cockpit is essential so you don't feel confined and have room to stretch your legs. Also, ensure that the boat has adequate stability to enable you to explore challenging waters safely.
Skeg/Rudder
Those dismissive of kayak crossovers dismiss them mainly because of one weakness: on flat waters, they aren't as fast as touring or rec boats and they require much more effort to paddle. This is because their design make it harder to track straight. To improve their performance on flatwater, cross over kayaks are equipped with a peddle steering rudder or drop down skeg to improve tracking and speed. The skeg is also useful when paddling with a crosswind.
You might also like:
Best Affordable Kayaks You Should Buy!
FAQs
Q: What Is A Crossover Kayak?
A:
A crossover kayak is a general purpose kayak designed to take on different water types. It has a hybrid design with elements of touring kayaks, recreational kayaks and whitewater kayaks and is equipped with a drop down skeg for tracking and speed in flatwater.
Q: What Are The Benefits of Using A Crossover Kayak?
A:
The benefit of using a crossover kayak is the freedom to paddle and experience the joy of kayaking in different types of water. With only one boat, you can explore whitewater, lakes, slow-moving rivers, ponds, and also play in the waves. You will enjoy versatility without having to spend on or worry about storage space for multiple kayaks. You will get more enjoyment out of your boat and more value for your money.
Globo Surf Overview
There are different types of kayaks designed to perform well in different types of waters. To experience the rush of turbulent rivers and also paddle on the sea and lakes and surf, you would have to own multiple purpose-built boats. With the best crossover kayak, you can explore all these types of water with one kayak. You will get a lot of fun out of it but will only pay for it once and it will only take up one slot in your space. If you're a beginner, you will be able to try different waters so you can identify your favorite water type to kayak in and upgrade to a more focused boat. 
More Hardshell Kayak Reviews:
How about you? Which multi purpose kayak is your personal favorite, even included in our crossover kayaks reviews?  Let us know your thoughts and experiences in the comment box below!