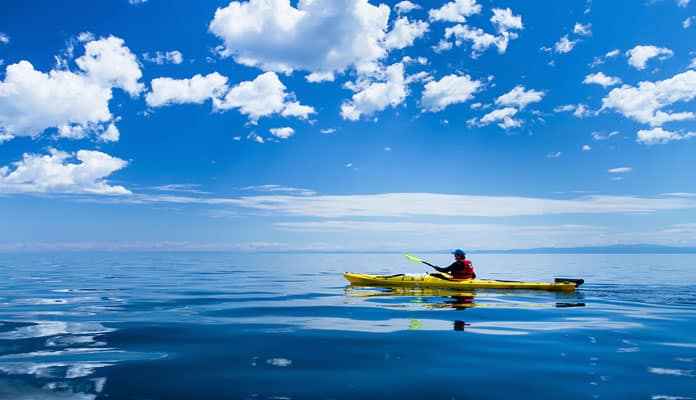 T
he best touring kayak is one that fits you comfortably while having features that make your weekend getaway more enjoyable. Being able to travel long distances is where the touring kayaks excel. Your cockpit should fit you snugly yet give you enough room to move your legs and abandon ship quickly if it comes to that.
The best day touring kayak will have a long and sleek design that allows you to move through the water with ease and precision. These aspects create less drag in the water allowing you to conserve your energy.
We have found the five best touring kayaks on the market and assembled a list to help you for your next adventure.
(Hey! You May Also Like: Best Kayaks)
QUICK ANSWER: THE BEST TOURING KAYAKS
Best Touring Kayaks
Touring Kayaks Reviews
1. Riot Kayaks Edge 14.5 LV Flatwater Day Touring Kayak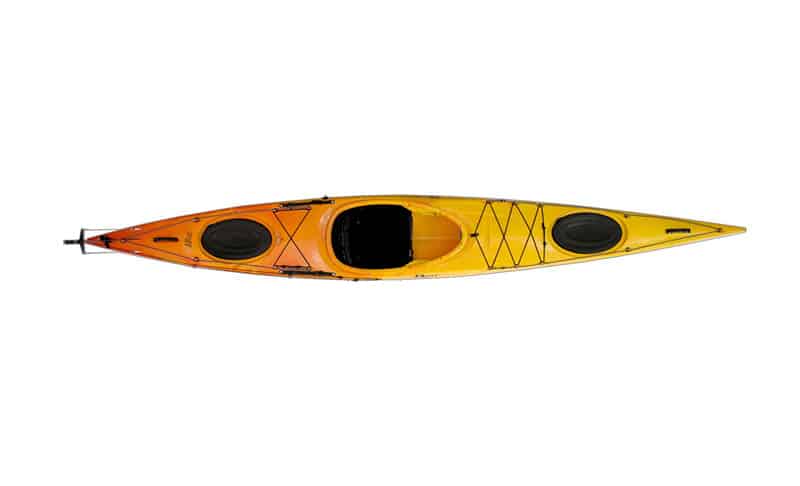 Check Price Now
What Makes This Kayak Stand Out:
Custom-fit seating system
Pilot rudder system
Adjustable sliding foot braces
Model & Accessory Specs:
Length: 14'6″
Weight: 60 lbs
Material: High density polyethylene
Maximum Capacity: 325 lbs
Accessories: None
A custom fit seat is the first thing you will enjoy about this touring sea kayak. With comfort in mind this seat was built for long trips that will have no problem keeping you comfortable. With a spacious cockpit, this kayak will give you enough room to comfortably move around while not compromising on a slender design. Coming equipped with sealed front and rear compartments you will no longer have to fear for lack of storage space. Dual density hatch covers ensure that even your most vulnerable gear will stay dry. A pilot rudder system gives you expert navigation through the water making long distance paddles even easier. Always thinking of safety this Riot kayak is equipped with reflective lines, safety straps and a security bar to ensure your day on the water stays a fun and safe experience. A drain plug makes it so that you can travel without fear into the ocean even in high and unpredictable surf. Pack a picnic on the water knowing you can safely stow your paddle on the paddle hook provided when you're not using it.
2. Riot Kayaks Enduro 12 HV Flatwater Day Touring Kayak
What Makes This Kayak Stand Out:
Custom-fit seating system
Retractable skeg
Fishing rod holder
Model & Accessory Specs:
Length: 12`
Weight: 44 lbs
Material: Polyethylene
Maximum Capacity: 350 lbs
Accessories: None
Take this touring kayak one step further by bringing your fishing gear along with you. With a flush mount rod holder you can go camping without packing food knowing you are free to catch your own dinner while on board this boat. An on board paddle hook is even found on deck to allow you to stow your paddle while you fish or enjoy a snack. A retractable skeg will get you where you need to go with ease while a drain plug will give you peace of mind as you brave the ocean surf. This kayak has wide and low profile hull giving it added stability. There is no shortage of storage on board with two covered storage containers as well as a bungee tie for all your additional gear. Custom fit seating and a spacious cockpit round out this impressive kayak making it an incredibly good buy for your next long distance trek.
3. Necky Eliza Kayak with Rudder
What Makes This Kayak Stand Out:
Foot-pedal-controlled rudder system
Adjustable foam seat
Partial proceeds go to charity
Model & Accessory Specs:
Length: 15`3.5"
Weight: 50 lbs
Material: Polyethylene
Maximum Capacity: 275 lbs
Accessories: Rudder
This kayak is great for your next weekend getaway. Standing up strongly as one of the top rated sea kayaks on the market, this boat is an instant winner. Skilled at maneuvering through wind and waves, the Necky Eliza kayak is great for use in the open ocean. It provides a stable ride with its long and narrow body. It is made of an incredibly durable material which gives it a long lifespan. With a low center of gravity, you are sure to feel secure in this boat. Rough water is no match for this kayaks foot-pedal controlled rudder system helping to steer you through tough times. Carrying toggles flank the kayak which make portaging this long boat even easier. An adjustable foam seat expertly cradles your back to help you sit more comfortably while the impressive design is specifically formulated to reduce pressure on your sciatic nerve. No longer fear long paddles, this spacious cockpit gives your legs enough space to move around as needed. You can pack your gear with confidence in this kayaks covered dry stern hatch. This is great for those who love to bring their camera or phone on their paddle with them. For even more storage strap your luggage on the deck with the use of the bungee system. Simply grab a dry bag to ensure that your gear will be safe. Feel good about this purchase knowing 1% of gross sales will go towards the fight against breast cancer. Keep this in mind when you buy this kayak for your next touring adventure.
4. AirFusion Elite Inflatable Kayak
What Makes This Kayak Stand Out:
Puncture resistant material
Wide design for increased stability
Easy to store and transport
Model & Accessory Specs:
Length: 13`
Weight: 32 lbs
Material: heavy-duty PVC
Maximum Capacity: 235 lbs
Accessories: None
This inflatable kayak is a great option for those looking to save room when storing their new toy. The AirFusion Elite Inflatable kayak is easy to setup and use. Simply unroll it and fill it with air and you are ready to ride. Inflatable kayaks are remarkably durable due to their strong PVC construction. Often standing up better than rigid boats, inflatable kayaks will not bend or dent. The strong aluminum alloy frame ensures that this board is incredibly sturdy giving you a more stable paddle. A wide 28 inch design allows an incredibly spacious cockpit that will be beneficial in long paddles as you can bundle up with blankets if you get cold. It will also help to add more stability to the boat even in rough unpredictable conditions.This boat's design offers lots of easy to access storage with under deck access. You have no need to be concerned with this kayaks speed. It has a high-pressure air chamber which allows it to produce a speed comparable to a rigid kayak. The easy to set up inflatable material is extremely puncture resistant giving you peace of mind on your next adventure.
5. Riot Kayaks Brittany 16.5 Flatwater Touring Kayak with Skeg and Rudder
What Makes This Kayak Stand Out:
Custom-fit seating system
Pilot rudder system
Quick-lock foot braces
Model & Accessory Specs:
Length: 16'6"
Weight: 51 lbs
Material: Polyethylene
Maximum Capacity: 350 lbs
Accessories: None
This extra long kayak expertly performs in both rough and calm waters. Paddle even longer with the incredibly comfortable custom-fit seating system which forms to your back and gives you an extra cushioned feeling to help you paddle longer. With a retractable skeg maneuvering,  this kayak becomes a breeze. Three compartments and plenty of deck storage ensure you are free to bring all of your gear with you. This kayak keeps safety in mind as this boat has a dual lifeline and safety straps with a reflective finish to provide nighttime safety. A compass is recessed into the deck of this boat that will provide you with added security of always having your bearings. Pilot rudder systems and quick lock foot braces gives this boat added appeal. Touring handles are great for easy lifting while built in paddle hooks make it so that you are able to stow your paddle when not in use. This boat is an excellent buy for any long distance paddler.
What is a touring kayak?
A touring kayak is one used for long distance trips. Great for overnight trips or distance training, these kayaks are typically long and slender in shape. Touring kayaks are often brought into the ocean to brave the surf and expertly maneuver through choppy water.
Key features to look for
There are many features that make a touring kayak different from any other type. Touring kayak reviews agree that comfortable seating, as well as lots of storage space, should be at the top of your list when looking for your new boat.
Shape
Touring kayaks carry a long narrow design which allows them to cut through the water with little resistance. Their pointy nose allows them to do this while a smooth texture creates little drag. It is also important for their design to be sleek in an effort to help you glide over still water without much force from your paddle strike.
The shape of the hull ensures that they have a good initial stability and an even better secondary stability. In plain English, this means that sitting in the water a touring kayak won't be the most stable, but once it gets up to speed the stability increases. As avid kayakers know, this helps with steering your rig.
Storage
Being able to pack anything and everything you need for a whole weekend takes space – something these kayaks have. Touring kayaks have large storage containers under their deck, utilizing their long noses and tails. These compartments along with additional bungee systems will ensure you are prepared for your travel ahead of you.
Seat
A comfortable seat is vastly important especially since you will be sitting for a long time. These are meant for long trips and that is why they have custom designed seats with lots of cushioning. We suggest sitting in the kayak before purchasing it to see if you are comfortable and that your legs can fully extend with ease. A good seat will be adjustable and have padding making your trip more enjoyable.
Cockpit
You want a kayak that fits your body size. If you are a smaller person this could mean filling the space around you with blankets to make it more snug – also keeping you warm on those chilly morning paddles. Less space around you means you will have more control. This is important especially when the weather changes and the water gets choppy. Being able to steer and maneuver with ease will not only get you home but make the journey that much more enjoyable.
Material
The material varies for different types of kayaks.
Polyethylene is one of the most used materials for kayaks. It is durable while being flexible and affordable. It is prone to warping and damage if these kayaks are stored in the elements.
Polycarbonate plastics are the next best. They have a glossy finish while being more scratch resistant than a polyethylene boat. They are also easier to repair while still being affordable.
Fiberglass is another lightweight material that is easy to repair. It is not as durable in regards to scratches and dings, but the repairability makes up for it.
Kevlar is one of the best materials but comes at a price. It is a hard material to repair but is as strong as steel. Kevlar will not be affected by dragging it on rocks or sand like the other material and is flexible.
Globo Surf Overview
Kayaking is a favorite sport of so many. Whether you go with a group or prefer solo paddling, a day kayaking on the lake is always a day well spent. This is a great full body workout making it easy to get in shape.
A touring kayak is designed for long distance paddles that can span a whole weekend. Take one of these boats and explore the shore or paddle to the island you've always wanted to see.
Sources
polyethylene boat, Boats.com
Nighttime Safety, The Active Times
Use your kayak for long distance paddles? Have one on our list? Let us know how you like it in the comment section below.
Globo Surf Touring Kayaks Review
★★★★★
"
Was looking for a new kayak to take out in Lake Washington. Found your review on the best ones available. Thanks!
"