You love the outdoor sports. You know that there is nothing better that spending your day outside. Taking your adventures to the water is a natural way to improve your fitness and happiness. You may already have a kayak but are looking to bring a friend or pet on your trips with you. A tandem kayak is an excellent way to do this. Having an extra seat and higher weight capacity allows you to bring anyone you want with you on your journeys, but make sure you get the best tandem kayak available.
Alone time is great but being able to enjoy a day on the water with your family, a friend, or even your pup will make your time even more memorable. We have found the top five double kayaks on the market to help you do just that.
QUICK ANSWER: THE BEST TANDEM KAYAKS
Best Tandem Kayaks
Tandem Kayaks Reviews
1. Lifetime 10 Foot Two Person Tandem Kayak
Check Price Now
What Makes This Tandem Kayak Stand Out:
Includes 2 soft backrests and 2 double sided paddles

5 year manufacturer warranty
Lightweight 60 lb. design
Model & Accessory Specs:
Length: 10'
Weight: 65 lbs
Weight capacity: 500 lbs
Material: High Density Polyethylene
Accessories: 2 double-sided paddles, paddle clips, 2 padded backrests, 3 fishing pole holders
A fisher's paradise, this 2 person kayak has everything you will need for a day on the lake. With three fishing pole holders and holders for your paddles, your hands will be free to hold a nice cold drink. This heavy duty rigid board is incredibly durable and can handle rough everyday use with grace. Lifetime is so confident in its double kayaks, they are even attaching an impressive five year manufacturer's warranty to it so you will feel good at this purchase. A plush padded seat will allow you to spend even more time in the water sitting comfortably. Storage everywhere, the interior storage hatch gives you tons of space to stash your gear out of the way and keep it safe. Bring a friend, or even two friends, on your next adventure with this spacious design coming with different heights of foot rests. This means that no matter your size, you will be comfortable. This company produces high-quality kayaks, often found to be top rated tandem kayaks.
2. Intex Explorer K2 Kayak, 2-Person Inflatable Kayak Set
What Makes This Tandem Kayak Stand Out:
Two separate air chambers
Two removable seats
Lightweight design
Puncture resistant design
Model & Accessory Specs:
Length: 10'3"
Weight: 31.13 lbs
Weight capacity: 400 lbs
Material: Puncture resistant vinyl
Accessories: 2 aluminum oars, Hand pump, Repair kit
Lightweight and compact, rigid and durable, grab lines, removable seats
A popular choice among families, kids love the banana look of this inflatable tandem kayak. The bright yellow design offers increased visibility and adds to the safety. This double kayak was built for expert use in lazy rivers and lakes where the water is more still. With removable seats you can alter this 2 person kayak to fit your needs perfectly. The seats being inflatable mold to the shape of your body making them even more comfortable and allowing you to use them for long periods. Whether you are bringing a partner or going solo, this double kayak will be easy to maneuver expertly gliding over the water. A lightweight design allows you to easily transport this boat from your car or portaging between lakes. The low profile design makes it incredibly stable and thus great for use with beginners. It also comes with a removable skeg, also known as a fin, which helps it with direction so that it can glide through the water in a straight line with ease and grace.
3. Intex Challenger K2 Kayak, 2-Person Inflatable Kayak Set
What Makes This Tandem Kayak Stand Out:
UV damage-resistant
US Coast Guard approved
Comfortable backrest
Model & Accessory Specs:
Length: 11'6"
Weight: 33.57 lbs
Weight capacity: 400 lbs
Material: Heavy duty puncture resistant vinyl
Accessories: 2 aluminum oars, Hand pump, Repair kit
This attractive sporty looking kayak excels in still water. Bringing it out for a day on the lake or on a calm river and watch as it performs expertly. With a large nose, this 2 person kayak devotes it fully to storage space so you can pack even more with you on your next adventure. As this is a mesh cargo bay, we recommend popping your gear into a dry bag to ensure it stays dry and pack all you need for your next adventure. Even coming with a dedicated water bottle holder, you can now bring your favorite beverage with you on the go. A comfortable inflatable tandem kayak backrest forms to your back giving you a comfortable seat while a spacious cockpit will allow you the room to move around with ease. Incredibly durable, this boat is constructed with heavy duty puncture resistant vinyl which leaves you with more peace of mind. Riding much like a rigid board, this inflatable double kayak is incredibly stable and even has double welded seams which is guaranteed to hold much stronger than traditionally used glue. Coast guard approved, this UV resistant boat is sure to pass the test of time.
4. Sea Eagle SE370K_P Inflatable Kayak with Pro Package
What Makes This Tandem Kayak Stand Out:
Sun and Saltwater Resistant
Self bailing drain valve
Inflatable Spray Skirts
Model & Accessory Specs:
Length: 12'6"
Weight: 32 lbs
Weight capacity: 650 lbs
Material: PVC
Accessories: Foot pump, 2 double sided paddles, Repair kit, Carrying bag
Bring your pup with you, his claws are no challenge for this incredibly durable inflatable kayak. Bring a friend, or two, with this boats impressively buoyant weight capacity. Take this double kayak with you just about anywhere. On a still lake or through the unexpected ocean surf, this 2-person kayak is equipped to handle it all. With a spray skirt, glide over the surf or through the white caps without getting soaked as it expertly catches the spray. Pack your cargo with you and watch as this inflatable double kayak is comfortable and easy to use even for extended trips. Don`t worry about the material fading or cracking with extended use. With a UV resistant material, it ensures that this kayak will stay looking great for longer. This will keep the integrity of your 2-person kayak and allow it to perform for years to come. It is also saltwater resistant allowing you to take this sport with you wherever you go. This packaged set comes with everything you need to get into the water and stay in it. Our favorite is the carrying case that keeps everything compact enough to fit in the trunk of your car.
5. Hobie Mirage Outback Kayak
What Makes This Tandem Kayak Stand Out:
Sail Mount
Paddle holder
Tons of storage space
Model & Accessory Specs:
Length: 12'1"
Weight: 99 lbs
Weight capacity: 400 lbs
Material: Rotomolded Polyethylene
Accessories: Two piece paddle
Cruise through the water with this kayaks sail mount, head out to the lake for a fishing trip resting your paddles on their paddle holders or allow it to take you out for an extended trip, this double kayak does it all. A covered bow hatch gives you tons of space to store your cargo. This 2 person kayak is so sturdy, you can easily stand aboard to cast your fishing line or for a different paddling experience. Space isn't of a shortage in this kayak, it is built with comfort and storage in mind expertly designing enough space for you and your gear to be comfortable. While this 2-person kayak may not offer two seats, we included it as it has an impressively high weight capacity and a large surface area which makes it perfect for transporting your pup around with you.
What To Look For In A Tandem Kayak?
There are key features to look for when looking to buy the best 2 person kayak and we have listed some must haves here.
Materials
There are many different types of materials that a two seater kayak can be made of. This is directly related to the weight and durability of the rig.
Polyethylene is a plastic material that is commonly found in a kayak. It is a durable material that is also lightweight. It does a good job at absorbing impact and does not scratch easily. This makes it an easy choice for the hull which routinely comes in contact with sand and rocks along the shore.
But it does have its drawbacks. We suggest keeping it out of direct sunlight as it can warm and become brittle over time. If you keep this in mind and not subject it to the elements your two seater kayak will last for years to come.
Composite is a mixture of high end material. The fiberglass, Kevlar and carbon concoction creates a strong material that will stand the test of time. An added bonus is that these are exceptionally lightweight materials.
Just be careful when launching and landing this boat type as the materials are more easy to damage than its polyethylene counterpart. This material is quite easy to repair but can be a hassle to find a shop.
Believe it or not, inflatable two person kayaks have come a long way over the years. The material has become strong, even puncture resistant, and feature military grade PVC or high-quality Denier material. These are ultra portable usually folding into a small backpack. There are many air compartments that ensure you make it back to the shore even if you spring a leak.
Hull shape
The hull shape will determine how the two person kayak performs in the water. There are three main shapes of these boats.
These are usually found on beginner boats. The flat bottom allows the maximum stability in calm conditions. It is not recommended to take this type of hull into rough or ocean conditions as they will not be able to cut through the surf.
Having a rounded bottom allows these ships to cut through the water. This makes them faster than their flat shaped cousin. Also, it will take less effort to get up to speed since there is less friction against the water. It gives up a little stability from the flat bottomed kayak, therefore this type is recommended for intermediate riders.
A V-Shaped hull will propel you at the fastest speed and is good for long distance travel. Even though they are the least stable they offer secondary stability. This means they can be saved when they are tipped on their side. These types of hulls will be able to turn on a dime and be maneuvered easier than the other two types. They should only be used by expert kayakers.
Weight capacity
Every single boat has a different weight capacity. Two seater kayaks will range from 400 to over 800 pounds. Factors that determine this limit include how many people are riding in it, and the amount of gear you are carrying. The materials used to create the 2 person kayak plays a key role in determining the riding capacity.
Kayak weight
The weight of these top rated tandem kayaks varies from 30 to 100 pounds. The features and construction can add and decrease weight. For example, a rigid polyethylene kayak could weigh double that of an inflatable.
Length
The length will also be something that dictates the abilities of the two person kayak. A longer boat is harder to maneuver but is better at handling large waves and keeping a line. A shorter 2 person kayak will be easier to turn and control but are not the best for long journeys.
FAQs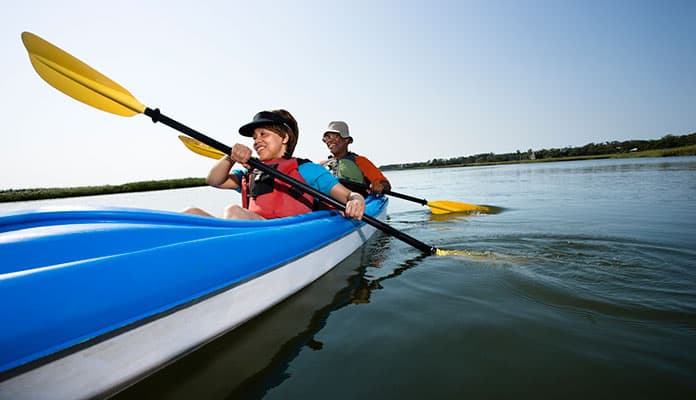 Q: How Do You Paddle A Tandem Kayak?
A: Paddling a tandem kayak takes more effort than a single kayak since you have to be in sync with the person you're paddling with. To do this the person in the front seat should be the one to set the pace. This will reduce the number of times you bonk paddles (it will still happen, especially when you're just starting).
This isn't to say the person in the rear doesn't have any jobs. If the kayak seems to go off course it is the person at the backs job to correct this. They should keep the rhythm but paddle stronger to get the tandem kayak pointed in the right direction.
Q: How Do You Steer A Tandem Kayak?
A: Steering a tandem kayak relies almost solely on the person in the rear. The person in the front should keep paddling in their rhythm while the person in the rear is focused on changing the direction. If a couple strong paddles don't get the job done they may need to try a backstroke. This will get the kayak quickly turned in the right direction. Once the maneuver is done they should time their strokes so that both people are synced backup and paddling in a rhythm.
Q: How Long Are Tandem Kayaks?
A: This can vary depending on brand and use. A typical tandem kayak can range from 10 to 23 feet. Longer kayaks will be more stable in the water but can weigh more. Added length can also mean more storage options as well.
Q: How Do I Transport A Tandem Kayak?
A: Transporting a tandem kayak is much the same as a solo. There are many roof racks you can buy for your car to get you to the beach safely. Once at the beach you have a lot of options for how to transport your kayak from your car to the water. A common way to do this is through portaging. This becomes easier when you have two people as you can each grab an end of the kayak, flip it over your head and carry it above you. If you have children or are struggling to find an easier way, try investing in a dolly to help you.
Q: What Is The Lightest Tandem Kayak?
A: The second kayak on our list, Intex Explorer K2 Kayak, 2-Person Inflatable Kayak Set, is the lightest of our top picks. The kayak is inflatable which contributes to its lightweight design and is very durable. As a bonus is a great family kayak.
Q: What Are The Weight Limits For Tandem Kayaks?
A: As tandem kayaks are designed to hold two people, they have much more generous weight restrictions than regular solo kayaks. Tandem kayaks typically feature weight restrictions in a range from 400 – 650 pound limits.  Depending on your intended use, the weight of you and your partner, and the amount of gear you plan to bring, you can make an informed decision about the best kayak for you.
Globo Surf Overview
Spending your day on the lake is always a good idea. Whether you are going out for an hour, a week or for a fishing adventure, kayaking can do it all. Bringing a friend along for your next adventure will allow you to get even more from this experience. Bring your family, or even just your dog, for a day on the water soaking in the sunshine. A great bonding activity that happens to double as an excellent upper body workout. Tandem kayak reviews agree that having a two seater kayak with a ton of space and a high weight capacity are the key features to look for.
Sources
rigid polyethylene, Plastics Make it Possible
Weight Capacity, How Stuff Works
Do you love kayaking with a friend? Have one of the tandem kayaks on our list? Let us know how you like it in the comment section below.
Globo Surf Tandem Kayaks Review
★★★★★
"
Was looking for a new double kayak for my husband and I. Glad I found your article. Plenty of great options.
"