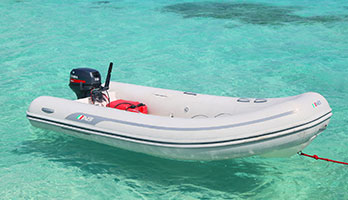 Best All-Round Inflatable Boat

---

Best Five-Person Inflatable Boat

---

Best Inflatable Boat & Pump

---
In order to help you choose a good boat that will serve you well over the years, we have scoured the internet to find some of the best inflatable boat options on the market in 2023. With an inflatable boat, you do not have to worry about transporting your boat to the water on a trailer. Inflatable boats pack up so small that they can fit in the trunk of your car, while still being big enough to transport up to 6 people.
Choosing the best inflatable fishing boat can be hard if you are not aware of all the details that should be considered, so that's why our team has prepared you 10 inflatable boat reviews, together with a complete buying guide including the most frequently asked questions. Because the Inflatable boats are great for recreational trips on a lake, fishing excursions, and even have the capacity to add a motor should you want to really get up to speed on the water, you will need an option that will serve great to those demands.
How To Choose The Best Inflatable Boat – Buying Guide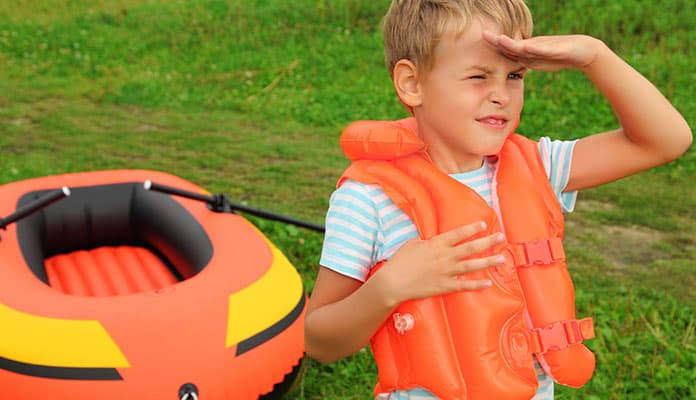 Features
When you want to buy the best inflatable boat, you want a boat that is inflatable, but you are not going to turn your nose up at a lot of features too. So, what features should you be looking for? Most of the inflatable boats can be modified to your exact needs, and there are a lot of accessories out there that you can use to modify your boat, but there are also a lot of boats that come with included features. If you are using your boat for relaxation, then you may want an extra-padded seat. If you are going fishing, then a rod holder will be a welcome addition. You could look for built-in paddle locks or cup holders. The options are limitless.
Durability
You need your boat to be durable. Your boat is inflatable, so it does run the risk of getting a puncture, or rocks rubbing against it. You want to look for high-quality materials, such as PVC. The better the materials, the more expensive your boat will be, but the longer it will last. If you can invest a little bit more, then you will not have to spend a lot on repairs.
Ease Of Set-Up
When you get to the water, you want to be able to get out on the water as quickly as you can. You should look for a boat which can be set up with one person, and one which can be inflated easily and quickly. You should also be looking for a boat that does not need any additional tools to set up.
Comfort
Even though you are looking for an inflatable boat, you should still expect the same comfort as a regular kayak or canoe would bring. There should be enough legroom for you to be comfortable, and the seat should support your back. You should be in a relaxed position in the boat.
Value
The value is a big part of your choice. You want an inflatable boat with all the extras and features, but you also want the boat to be affordable. Start with a budget, and then try to fit everything else into that. You may have to make some compromises, but the more features, comfort, durability, and ease of use you can find, the better.
Stability And Safety
The safety and stability are important in any boat. The same is true with an inflatable boat, but, thankfully, modern technology and advances have made inflatable boats extremely safe and stable. The main thing to worry about is the PSI of the boat. If you do not inflate it to the correct PSI, then the boat can be soft and unstable. Make sure to use a pump with a pressure gauge so that you can check the PSI as you are inflating it.
Capacity / Weight Limit
Inflatable boats cannot take as much weight as regular boats, but with the high-quality materials they now use, they can hold a lot more weight than you think. The key to choosing an inflatable boat is to not only consider your own weight. You should also consider the weight of any cargo you want to take with you. If you are using inflatable fishing boats with motors, then you need to take into account that you will be adding a lot of extra weight. The same is true if you want to go on a camping trip or use an inflatable boat for ocean fishing. Add up your weight plus the total weight of your cargo, and then add 20% to get the capacity you should be aiming for.
Our tip for when you are loading cargo into your boat is to balance the weight on both sides of the boat.
Oars and Pump
Two things which you need to use your inflatable boat are a pump and some paddles. Many boats come with both, but that does not necessarily mean that you need to let that sway your decision. When the boat does come with these items, look for high-quality items. The paddles should at least be made of aluminum, and the pump should have a pressure gauge and inflate a boat quickly.
The best way to ensure that your pump and paddle are high-quality is to buy them separately. Having said that, the pumps and paddles included with a boat can be good enough for your needs.
What Type of Inflatable Boat is Right for You?
The quick answer is, it depends on your needs. It is true that inflatable boats are a relatively new option on the market. When we think of inflatable boats, we often think of the small single-person dinghies which lose air quickly or take a puncture easily. With advances in technology, there are many options for those who want to purchase a dinghy.
The first thing you will want to know is the number of people who are going to be using the inflatable raft. If it is only for yourself, then you will want to go for a smaller dinghy. If you are part of a large family, then you may want an inflatable dinghy which is rated for 5 or 6 people (make sure to check how much weight it is rated for too).
You will also want to know what you are using the inflatable raft for. If you are an avid fisher and will be using the inflatable boat to catch fish, then you will want to look into the features of various inflatable boats. Rod holders are great for fishing.
If you want a craft that will get you places quickly, then you will want to make sure that you have a place to mount a motor and that the inflatable boat is rated for the environment you will be taking it into.
To be honest, the choice starts with you. If you know what you are going to be using your inflatable boat for, then you have already narrowed it down.
How Often Will You Use Your Inflatable Boat?
I am sure that your answer is, regularly, but take the time to really think about it. Will the dinghy be used every day? Is this a dinghy that will only be used on your summer fishing trips? Is this an inflatable boat for the kids to use on the lake? Unless you have all the money in the world, you can make a compromise between price and quality.
If you are buying an inflatable boat that will be used a lot and for long periods of time, then you do not want to skimp. You want an inflatable boat that will last. It is worth investing a few more dollars to get something that will not fall apart after a few uses.
On the flip-side, if you are buying a dinghy which will be used on the lake two weeks a year, then you do not need to buy something which will break the bank.
Catarafts or Regular Inflatable Boats?
While a traditional inflatable boat features many air chambers that come together to surround an inflatable or fabric floor, a cataraft has two separate inflated tubes joined by a platform usually made of aluminum and webbing. The rower will sit on this platform, usually in an included inflatable seat.
As a cataraft has less presence on the water, it is more agile and responsive than a traditional inflatable boat. Catarafts are also stronger and can bear more load. This is especially great if you want to attach a motor or have a lot of gear to transport.
Due to the rigid construction, however, catarafts do not pack down as small and light as traditional inflatable boats.
If you can afford to purchase a cataraft and have space and the means to transport it to the water, then it can be a great craft. If you want something which packs down smaller and will have more space for passengers, then a traditional inflatable boat will be the way to go.
You might also like: Top Pedal Boats 
Construction Materials
Almost all of the inflatable boats you will come across are made of PVC. PVC is a relatively cheap material and is strong and tough. If you want the best inflatable boat which is cost-effective, durable and packs down small, then PVC is the way to go.
If you have the money and want to invest in a more solid and longer lasting inflatable dinghy, then Hypalon may be the way to go. Hypalon is a heavier material, but it is one that will have you coasting through the water better and will last longer. The tradeoff is, of course, the price.
The other material you may come across is aluminum. If there are any rigid parts in the inflatable dinghy you are looking at, you should make sure they are aluminum. You should also choose aluminum oars when you can. Aluminum is light, durable, cheap, and will last in an aquatic environment.
Decking Material and Design
What is underfoot in your dinghy will also be somewhat important. They will come in two styles: inflatable and non-inflatable. If you want something which is cheaper and more comfortable, then an inflatable raft will be for you. The tradeoffs are the threat of puncture and the added time to get the inflatable dinghy water-ready.
The second option for inflatable boats is a non-inflated floor. This may come as a solid fabric floor or an interlocking floor (usually aluminum). These floors are not as comfortable, but they will allow you to glide through the water more easily and they usually include self-bailing mechanisms.
FAQs
Q: How To Repair Inflatable Boats?
A:
As most inflatable boats are made from PVC, we will be dealing with repairs for that material. If you do have a Hypalon boat or find damage in the aluminum or other materials, then we would recommend consulting a professional. Here are the steps for patching a PVC inflatable boat:
Locate the hole to be patched and make sure that you dry it thoroughly. Mark the hole so that you do not lose its position should you be called away to another task.

Find your PVC (after purchasing an inflatable boat, you should purchase some PVC in case of punctures unless there is an ample supply that comes with the inflatable boat).

Cut your PVC so that it will cover the hole and extend two inches in each direction from it. When you are cutting your piece, you should make the piece more rounded than square to get better adhesion.

Place the patch over the hole and position it so that the hole is in the center. Draw around the patch so that your dinghy is marked.

Using very fine sandpaper (180 grit), sand the PVC around the hole and inside the marking. Sand the side of the patch which will be adhered to the puncture. Clean the surfaces with a cleaner and allow to dry.

In a well-ventilated area, apply adhesive to the area around the hole and the piece of PVC which will patch it. Place both surfaces together and make sure that the patch is in the correct position.

Use a roller to roll over the entire area of the patch to remove air bubbles and to ensure that the adhesive covers the whole area.

Allow drying for 24 hours before inflating.
Q: How Fast Do Inflatable Boats Inflate?
A:
This really depends on what you are using to inflate your boat. If you are using a hand pump, then it may take an extremely long time. A foot pump will be quicker than a hand pump, but an electric pump will be quickest and can have your boat inflated in a few minutes.
The other thing which will affect the inflation time is the size of the inflatable dinghy. The bigger the boat, the longer it will take to inflate.
If you have a boat with a single chamber, then you can inflate it quickly and easily. The more chambers a boat has, the longest it will take. You will need to move the pump between different parts of the boat.
I recommend an inflation time of 10 minutes for most inflatable boats.
Q: How Long Do Inflatable Boats Last?
A:
Again, this is something that depends on you.
The cheapest inflatable dinghy can last a lifetime if you take good care of it and monitor the waters it is taken into. You can have the most expensive boat in the world, made from premium materials and have it fall apart by taking it into roaring rapids constantly.
Even the top rated inflatable boat with decent quality will start to break up after a year if you do not take care of it well. If you treat your boat with love and care, kept it clean, keep it dry when out of the water, be sensible with it, and make repairs when needed, then you can expect your inflatable boat to last 5-10 years.
Q: What Are Inflatable Boats Used For?
A:
Inflatable boats are used for everything that a regular boat is used for, though, you can often find that they can do more by getting to places which regular boats cannot. You can use your inflatable boat recreationally in any body of water. They are great on lakes and rivers, and even in the ocean if you stay close to the shore. If you have a big enough above ground pool, then you can even have an inflatable boat in there.
You can also use an inflatable boat for fishing, and there are some inflatable boats that are made specifically to be fished from. Look for an inflatable boat with some storage, rod holders, and a place to process your fish.
You can also use an inflatable boat as part of a camping trip, or a trip into the great outdoors. If you are using your inflatable boat for a camping trip, then look for lots of storage space, for all your equipment, and a boat which can take a lot of weight.
Q: Can A Motor Be Mounted To An Inflatable Boat?
A:
You cannot attach a motor to any inflatable boat, but there are some which are designed to be used with a motor. If you buy a boat without a motor mount, then you can seriously damage your boat by trying to attach a motor. You can also make it dangerous for anyone riding in the boat. If you do want to use your inflatable boat with a motor, then you should make sure that there is a motor mount. Even then, you should make sure that you can find a motor which is compatible with the mount, and after that, you should be prepared for the extra costs which are involved. After you have mounted your motor on the boat, you should take the time to get to know the features of your motor, and start slow when you are beginning to use the motor on your boat.
Q: How Portable Is An Inflatable Boat?
A:
Inflatable boats are extremely portable. Most boats will come with their own bag to carry them in. When you have a bag, it will often have space for your pump, and any other accessories which you need. This means that you can get to almost anywhere with your inflatable boat. Once you are out of your vehicle, you can go anywhere you can walk to, and many places that you cannot get a regular boat to. You could even hike up a mountain and use your boat on a mountain lake.
When the boat is inflated, it is also extremely portable. You may find yourself at the edge of a lake, and there could be another lake next to the one you are in. With an inflatable boat, you can get out of the water and move your boat from one lake to another. You cannot do this with a lot of regular boats, and even kayaks can need trailers to transport them.
Globo Surf Overview
An inflatable boat is a great way to get out on the water without the costs of an actual boat. Inflatable boats have the advantage of low-price and low-volume (when deflated). With a great inflatable boat, you can go almost anywhere a regular boat can (though we do not recommend any trips out into the middle of the ocean). An inflatable boat from our list will have you out on the water in no time, and you will wonder what you did before you had an inflatable boat.