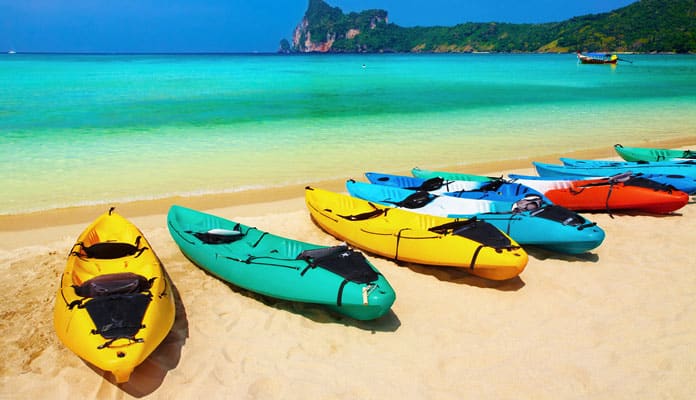 See Customer Owner Feedback >>
See Customer Owner Feedback >>
Enjoy fishing or whitewater rafting? What about weekend trips? Do you need a kayak that's easy to carry and store? Some are even inflatable if you have limited space to store and transport them. Or do you prefer kayaks optimized for your comfort? How much storage do you need? Want to bring along a furry friend? No matter how you want to use it, we're here to help find the perfect kayak for you!
For all kayak lovers, a kayak is an important investment, and we know you want to consider all your specific needs to choose the best kayak for you! With such a saturated market, researching your perfect kayak can be a daunting task. So we've don't it for you! Sit back, relax, learn all about the 10 best kayaks of 2020 and let us help you choose your perfect kayak!
How To Choose The Best Kayak – Buying Guide
Choosing a kayak can be an overwhelming experience. There are a lot of factors to consider, and a lot of different kayaks on the market, so figuring out which one is right for you can be challenging. To help you reach your destination of paddling along the surf, we've provided a low-down on each type of kayak available and their features, so you can make an informed decision and choose they kayak that's perfect for you!
Inflatable Kayaks
More and more people are moving into apartments or smaller homes and driving smaller vehicles. To ensure this sport is still accessible to people who are downsizing, kayak companies have been putting a lot of work and design into creating inflatable kayaks. Being able to carry your kayak in a compact backpack is an incredibly desirable option. For those who like to explore many different lakes, an inflatable boat makes portaging much easier, especially when you have other gear with you as well. Their lightweight design and the ability to deflate between lakes makes them a great option for families or solo paddlers.
Inflatable kayaks are made using a strong and thick material, typically PVC, which allows them to ride similar to a rigid boat. This also gives them added durability so they do not crack or dent and are strong enough to face even your dog's sharp claws! Inflatable kayaks typically hold large capacities which means they can hold more than one kayaker enthusiast aboard. This backpack sized kayak will inflate into fun for the whole family.
Specializing in fun for the whole family, our top inflatable kayak is made by Sea Eagle. It's no wonder it is at the top of our list as one of the best kayaks that can be paddled easily with one person but with its impressive weight capacity can support up to three.
Kayaks for Fishing
Many fishermen are turning to fishing kayaks instead of other boats for their comfortable size and their ability to go just about anywhere. Being able to go with a group or plan for solo trips is much more convenient with the small and portable size of a kayak that can be transported even with the smallest of cars.
Most fishing boats will come equipped with rod holders. These prove very beneficial if you want multiple lines going or to free up your hands for a cold beer from your cooler.
Paddle holders will also free your hands and be a life saver when trying to a reel in catch. Most paddles don't float and you do not want to have to worry about where to put your paddle when you're reeling in a tricky catch. Being in the middle of the lake without a paddle can prove dangerous.
Fishing requires lots of gear and you want to make sure your boat can accommodate that witha large weight capacity. You may want to pack a cooler, bring an overnight bag with a tent and a sleeping bag, or just pack for all kinds of weather. You will need to have a place to be able to store your gear and weight capacity that will allow the added cargo. Fishing can also be lonely, being able to bring your pup along is an option few would pass up.
The top of the line fishing kayak on the market is the Vibe Fishing Kayak. This boat has everything you will need for a great day fishing out on the lake.
Tandem Kayaks
Do you and your partner or friends love kayaking? A tandem kayak makes it easy for you to bring along your friends and family for a weekend adventure.
When looking to purchase a two-person kayak it is important to consider the materials used to make it. This can affect many features of the kayak, from the durability of the boat to the ride and overall weight. Look for a high-end PVC or vinyl material. Both of these are lightweight while offering a durable long lasting skin.
The overall weight of the boat should be another consideration. Even though tandem boats can hold two people comfortably you should be able to carry and set it up yourself. If you can't get it to the water on your own you will not be using your kayak as much as you want. You can easily use the second seat to carry your gear instead of a person so this should be a key aspect of your buying decision.
A maximum carrying capacity is another key aspect you should consider. It is recommended that a tandem boat have at least a 400-pound capacity. This will allow you and a friend to easily fit without worry. If you decide to take it out yourself you will be able to fit all your gear and still have room left over.
Of all of the tandem kayaks on the market, we fell in love with the Intex Explorer K2 Kayak.
Sit On Top Kayaks
A sit on top kayak has been designed with an open feel. Unlike closed kayaks, your feet and legs are not confined making you feel claustrophobic. People with long legs will appreciate the open feel and will be able to move around without struggle. The flat space is perfect for summer days where you may want to jump in to escape the warm air. These are very versatile boats which can even be used for scuba diving or even a dinghy to get to your sailboat.
Depending on what you'll be using this kayak for there are features you should consider. Like any other kayak, carrying capacity will be at the top of the list. If you and your gear can't ride above the water you won't have a good time. If you are considering taking your children or pets out on the water you should look for a higher capacity boat.
Storage for your belongings will be one thing that you should look at when considering a sit on top kayak. You don't have to give up storage space to feel comfortable on your boat. Dry hatches are common which ensure your most prized possessions stay with you and most importantly dry. Bungee systems will also allow you to quickly grab items like a pre-made lunch making your trip more enjoyable.
Since they are exposed to the element, surf water is bound to get into your boat. For this reason, many boats will come with built-in drain plugs ensuring you have a way of draining the water. Feel free to open them while you're moving and let momentum carry the water out of your boat.
These boats are excellent for any skill level. If you are just getting into the sport we recommend trying a sit on top style as you don't need any special training if you face an emergency situation. If you have a closed kayak you would need training on how to properly execute an Eskimo roll if you happen to overturn your boat while you simply have to swim to the surface if you have a sit on top model.
Of all of the sit on top kayaks on the market, we fell in love with the Intex Challenger K1.
Pleasure Kayaks
For those many paddlers out there who are looking for a kayak to just enjoy on weekends and for some potential longer trips, you might be looking for a pleasure kayak. This should take you from still to rough waters with ease.
When looking for a recreational kayak it is important that you test it out. Comfort is key so finding a boat that has a high enough backrest as well as a spacious seat is important.
Ensuring there is enough storage space is also important. Whether you have a love for photography, are planning a camping outing, or just in search of the perfect picnic spot you want the option to bring all your gear along with you.
Having a kayak for camping that is both durable and gives you a stable ride is also important. Kayaks come as an investment and can provide a lot of fun and a killer workout, but it is important that the money spent lasts you many years. These boats should be able to perform on still lakes but also handle themselves with some mild surf on rivers.
Of all of the recreational kayaks on the market, our favorite is the kayak by Riot. The Boogie 50 transforms from calm lakes while holding its own expertly handling rough swells and ocean surf.
Kayaks for Beginners
If you are just entering the sport of kayaking we recommend looking at beginner kayaks. These are boats that have been designed to make learning quick and easy. Featuring things like added stability and balance will ensure you won't have to worry about rolling your boat.
Companies know the challenges and battles every new person has to face and does their best to minimize them. No matter if you are looking for a different way of exercise or just love the water kayaking is bound to impress you.
Beginner kayaks are typically lightweight in design so that you will not need to paddle as hard when navigating through the water. Opting for a boat that has a stable design that will make you feel confident enough to stay out in the water for extended periods of time is important.
As many beginners don't know exactly what they will be using their kayak for, we recommend getting a kayak that can perform in any conditions. Typically you will start out in flat water but being able to handle some surf, especially on long-distance paddles, will help you get the most out of your boat.
The beginner kayak that sits at the top of our charts is the Intex Challenger. This kayak is durable enough to handle a beating while performing well in many different conditions.
Touring Kayaks
Touring kayaks are designed for long-distance trips, such as overnight camping trips. Their long thin shape allows them to cut through the water with ease while their long length allows them to brave the large swells of the ocean. Their versatility makes them an excellent choice for intermediate to expert riders. They will be more difficult to control for beginners as they will be less initially stable which allows them to ride the waves and corner differently than others.
This is due to their hull shape. Instead of a flat bottom like sit on top kayaks this has a more rounded shape which in combination with its pointy nose creates a low resistance boat. This rounded bottom allows the boat to keep its stability when it is in motion but makes it tippy when stationary.
The best kayak for touring will be comfortable and built with lots of storage. The seat is a crucial aspect of comfort. If it is too padded it will not give any amount of stability in rough water. If it is too firm you will be uncomfortable from the start of your trip. A high-quality kayak seat will be fully adjustable by way of straps and belts that make it fit any sized person. Storage will include below deck compartments that ensure your most valuable possessions stay dry. Additional above deck storage will include a large bungee system that will strap your gear and dry bags for quick access.
The cockpit is another aspect that adds to comfort for prolonged paddles. You should be able to sit in it comfortably with enough room around you to put a blanket for the coldest days. Your feet should fit with room enough to move them and not feel restricted. This is important if the worst case scenario happens where you tip your boat and need a quick exit.
A high-quality boat will be made out of a fiberglass or Kevlar material. Even though Kevlar is the highest quality material it is not used as much as fiberglass due to its high price. It is a super heavy duty build that will stand up to the abuse of the shore no matter how rocky it is. Fiberglass is a less durable material but is easily repairable. A well-maintained boat can last more than a decade and be repaired when needed. It is a lightweight material that will allow you to get to the beach with ease and not strain your body with added weight. The most cost-effective material is a polyethylene material which is essentially plastic. This is a heavier option but will stand up to the dings of the shore for years to come. Ensure you store it in a covered environment as the elements, especially the sun, can cause it to deteriorate quickly.
Kayaks for Ocean Fishing
When deciding to take to the open ocean it is important to note that you will need the top kayak for the ocean. An ocean fishing kayak will take on a much different shape than the rest because of the size of the ocean swells and unpredictable currents.
It is important to get a boat that is long enough to handle the rough swells. These will be the longest of all the kayaks typically ranging from 15 to 20 feet long. You will also want a boat that will have enough stability to not tip when cornering and maneuvering. A rounded hull will be the best for this as it creates a boat that is stable and great at taking corners.
Having a boat that has plenty of storage will set you up for the most successful fishing experience while on the water. this is more difficult to travel to and from shore so having everything with you will prove very beneficial. You want to opt for a board that is made from plastic that can withstand saltwater as it is often very harsh on materials. This will drastically increase the lifespan of your boat.
Of all of the ocean fishing kayaks on the market, we can't get enough of the Ocean Kayak Malibu. Built for the ocean this tandem kayak makes a great fishing boat.
Kayaks For River Fishing
Many people love taking their fishing experience one step further. When looking for a river fly fishing kayak you will want to ensure yours can handle the unpredictable currents and surf with ease.
Your ideal kayak for fly fishing will focus on stability giving you a smooth ride in unpredictable surf. A shorter kayak, around the 10 feet mark will allow you to maneuver through the waves with ease. Some kayaks will come with accessories such as paddle holders and even rod holders to sweeten the deal.
We are always a fan of Sun Dolphin's line of kayaks so it is no wonder their Bali SS is at the top of our list.
Hands Free Kayaks
How do you propel a kayak without using your hands? By using your feet. The pedal kayak has gained popularity over the years, spurring technology to advance at a rapid rate. Long ago are the days of pedal powered kayaks being the rental boats seen on ponds. These have transformed into boats you can take with you just about anywhere you go.
Instead of the typical upper body workout you have come to expect with kayaking, this type of kayak works your lower body. It does this by incorporating a manually operated propeller underneath your kayak. Rather than being a leisurely day on the lake, you will feel the workout when opting for this type of boat.
As this boat has much more technology built in, you can expect them to come in at a higher price point. Typically you would find entry kayaks starting at $1,000. But for those that lack upper arm strength or tend to like higher speeds, this kayak may just be what you're looking for.
Pedal powered kayaks have become an increasingly popular style boat. Of all the ones out there, we love the Hobie Sport model. Perfect for fishing, this boat frees your hands so you can focus on reeling in your catch.
FAQs
Q: What's Safer And Easier For One Person: Kayaking Or Canoeing?
A:
In recent years kayaking has begun to dominate the waterways with far more kayaks being used than canoes. For solo riders, kayaking is much easier than canoeing for a couple of reasons. The biggest reason is that kayaks are much lighter and easier to maneuver than canoes. The double-sided paddle used for kayaking allows one person to gain full control maneuvering their kayak. They are generally much faster than canoes as well.
Q: What Is The Best Beginners Kayak?
A:
This can be a tricky question because there are a few different types of kayaks. If you are looking for the best rigid sit-in kayak the Sun Dolphin Aruba 10 Sit-in Kayak is a great option. Sit in kayaks help you to lower your center of gravity making them ideal for beginners worrying about falling in. A great inflatable ride on kayak is the Sevylor Quikpak K1. Being inflatable makes it ideal for storage and transportation as well as increases the lightweight design. The Intex Explorer K2 Kayak is one of the best beginner tandem kayaks if you find yourself wanting to go out with a friend.
Q: How Hard Is Kayaking?
A:
Kayaking is a very popular sport for good reason. It allows you beautiful views of the water while adding in a great workout. Building your upper body strength kayaking can be done lazily while casting a fishing line or provide a killer workout for speed and intensity. If you do not have a lot of upper body strength, there are pedal kayaks that allow you to incorporate your legs for a lower body workout. There is no rush when on the water so be sure to take your time to get your bearings and feel comfortable on the water.
Q: What Are The Benefits Of A Kayak Over A Canoe?
A:
Maneuverability, speed, and efficiency! The type of paddle used for kayaking allows you to gain much more control over your boat and maneuver it from side to side with ease. This paddle allows you to cut through the water quickly delivering faster strokes that increase your speed and efficiency. The lightweight design floats on top of the water and.
Q: What Are Some Tips On Kayaking?
A:
Don't be afraid to dress up your kayak by adding some kayaking accessories. These can be anything from roof racks to fishing gear to seat supports. Personalizing your rig will help you get the most out of it.
Be sure to pay attention to how you are holding your paddle. You will want to use both hands at just over shoulder distance apart. The goal is not to dig your whole paddle below the water's surface for maximum power as it is with canoeing but rather to take light repetitive motions with both hands at a faster speed. Be sure your paddle is facing the right way with the concave part sweeping through the water in a scoop motion.
Q: What Are Kayaks Made Out Of?
A:
Inflatable kayaks are typically made from heavy duty material that is resistant to punctures, dings, and dents. This is typically a vinyl or military grade PVC material. Both of these are super durable while being lightweight and easy to fold. Rigid kayaks are usually made from a high strength plastic, fiberglass or even wood. Each of these has their advantages and drawbacks, but you will usually see kayaks made from plastic. These are the most cost-effective material while also being quite durable. If you are looking for a lighter material, fiberglass makes a great kayak material. Just keep in mind that this is also one of the more expensive options available.
Globo Surf Overview
No matter where your travels take you the best kayaks will get you there. It is important to consider the type of boat that will work best for you. A long-distance touring kayak will perform great during weekend trips, but not be the best choice for fishing or short trips.
More Kayak Reviews:
New to kayaking or have a top rated kayak on our list? Let us know how you like it in the comment section below.
Globo Surf Kayaks Review
; ; ;
★★★★★
"
Was looking for a new kayak and came across your website. Glad I did you had great reviews on all the top ones. Selected your #2 pick.
"
Leave A Review