THE ORU BAY ST FOLDING KAYAK REVIEW
THE ORU BAY ST FOLDING KAYAK REVIEW
Oru Bay ST Folding Kayak
See Customer Owner Feedback >>
What Makes This Kayak Stand Out

Folds very compact

Lightweight and easily portable

Excellent durability and material quality

Handles various conditions really well

Watertight and reliable
Size: 12ft (L) x 25in (W)
Weight: 28 lbs
Capacity: 300 lbs
Material: Plastic (Polypropylene)
Features
Since Oru folding kayaks have an unconventional design, the features had to be adjusted a bit. Luckily, Oru succeeded in giving us a very functional and comfortable kayak when fully set up. Like many other sit-inside recreational kayaks, the Bay ST features an adjustable seat, footrests, and a spacious cockpit. Of course, there are many other useful additions too, so take a look at all the features it comes with:
Foam seat and adjustable backrest for comfort during longer rides
Removable bow and stern bulkheads give the kayak rigidity and prevent flooding
Reinforced cockpit makes entry and exits safe and easy
Lifted cockpit edges for simple spray skirt installation
Adjustable footrests give you a comfortable and stable leg position
Rubber deck straps for securing your gear
Six zipper channels make setting up the kayak easy
Neoprene covers at the bow and stern prevent leaks and have carry handles
Specifications

Model: Bay ST
Length: 12 feet
Width: 25 inches
Weight: 28 pounds
Capacity: 300 pounds
Cockpit size: 30 x 16 inches
Max paddler height: 6ft 3in
Storage volume: 90 liters
Packed size: 33 x 12 x 29 inches
Bulkheads: Bow and stern
Material: 5mm double-layered corrugated plastic (Polypropylene)
Warranty: 1-year warranty, 30-day money-back guarantee
Optional accessories (sold separately): Travel backpack, 4-piece paddle (carbon or aluminum), spray skirt (nylon or neoprene), fishing kit
Alternative models:
Beach LT: 12ft x 28in size, 26lbs weight, 300lbs capacity, recreational paddling, best for beginners
Coast XT: 16ft x 25in size, 36lbs weight, 400lbs capacity, frequent paddling or touring, best for advanced kayakers
User Experience

regular hardshell kayak, and even better than some. Kayakers say that it's very responsive to maneuvers and that it tracks pretty straight. It has excellent stability too and you can even use your body to lean on one side when turning it, without the fear of tipping over.
As you had the chance to see, it comes equipped with bow and stern bulkheads. These add to the overall rigidity of the kayak and prevent the water from getting inside the hull if you happen to flip, allowing you to do a safe self-rescue.
Cockpit: Paddlers are satisfied with the level of comfort this cockpit gives you. The padded kayak seat is easy to install and comes in two pieces. There are also adjustable footrests inside the cockpit, and users say that average kayakers will have plenty of room. Finally, the cockpit walls are reinforced to allow you to get in and out of the kayak easily.
Storage: When it comes to storage, there's a little twist. You get no storage hatches or compartments, but instead, you have to store all of your gear inside the hull before you connect the sides. This being said, people are generally satisfied with how much gear can fit inside. It's good for a lunch cooler, a bag, or even some camping gear if you're going on a longer trip, and all the contents remain perfectly dry. Besides, the deck is rigged with rubber straps which are convenient for keeping a dry bag within hand's reach.
Portability: People agree that Oru folding kayaks are much more convenient than conventional kayaks, both in terms of storage and portability. As we mentioned, it's sized like a suitcase when packed and comes with a shoulder strap to carry the kayak. On top of this, you can get the Oru travel backpack, which has padded shoulder straps and plenty of room for other gear too. Also, kayakers say that it takes very little space when storing it at home, which is a huge plus for all of you who have limited space at home.
Durability: This was the main concern of many users, but the Bay ST has proven itself very tough. The 5mm plastic easily resists hits and scratches, so there is no real worry about breaking the kayak. Also, the plastic has UV protection which guarantees 10 years of protection against structural changes or color fading when exposed to the sun.
Setup: Setting up this kayak isn't difficult, but you need to have some patience for the first few times. Users say that the first setup takes approximately 20 minutes, but that the time can come down to around 5 minutes when you learn your way around it. The setup is very intuitive and you get a user manual to help you with it. There is also an instructional video on the manufacturer's website, which many people have found useful.
Alternatives: We promised at the beginning to briefly discuss the other two models too. Users who choose the Beach LT model are often beginners who want more stability in their kayak. It's shorter, wider, and generally more user-friendly. It's great for practicing your paddling technique, or just having a relaxed day on the water.
On the other hand, the Coast XT is an advanced touring model, designed for skilled users. Oriented towards performance, it has a long and narrow body that gives you top-level speed and maneuverability. This one is very popular among people who go on long kayaking tours and overnight kayaking trips.
Pros:
The convenient package is easy to take to remote locations
Surprisingly tough and resistant to damage
Great space saver both at home and during transportation
Maneuvers and tracks well
Handles both calm water and Class I and II rapids
Cons:
Setup takes a long time for the first few times
Customer service could be improved
You might also like:
Perception Kayak Pescador Pro 12.0 Review
Overall Rating

Price: 85% – To be honest, the price for the Oru folding kayaks is pretty steep, and we understand why some people are skeptical. However, the majority of owners are very satisfied with the overall quality and convenience. Considering the durability, it's a good purchase, unless you need to stay within a budget and be conscious of the kayaking cost.
Material: 90% – We like the thick plastic used for these folding kayaks, because it's almost impossible to damage. As we mentioned earlier, you can fold it numerous times, and it won't crack or get punctured even if you hit something along the way. However, some users suggested that you need to be careful with the plastic connectors (channels) since they are more fragile than the body itself.
Design: 95% – There's nothing quite like this kayak, and we love its originality. But what's even more important, it's straightforward to assemble and handles itself really well on the water. Sure, there are a few downsides to the design, but nothing that is going to ruin your day.
Overall: 90% – This is a very interesting kayak, which leaves a positive impression. We like that it's so light that anyone can carry it, and so compact that it can go anywhere you want. Overall, it's a good kayak that serves as an excellent alternative to inflatable kayaks, if portability is your main focus.
Globo Surf Overview
The Oru Kayak Bay ST will positively surprise you with its original design. It offers something different, while still being very firm and reliable on the water, allowing you to fully enjoy all the kayaking benefits. As we have pointed out several times throughout the text, the best thing about it is how convenient and easy it is to transport and carry. Truth be told, it is a bit expensive and even not for everyone's pocket, but for those of you who like trying new things and don't mind spending a bit more on it, this is a great choice.
Oru Bay ST Folding Kayak
See Customer Owner Feedback >>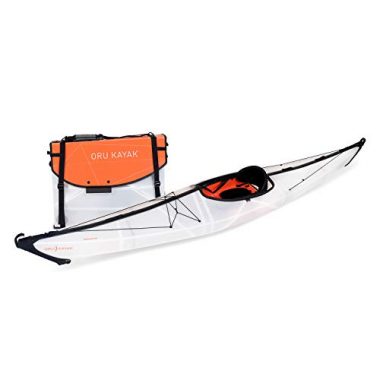 Last Updated: May 13, 2019
Last Updated: May 13, 2019
Single Product Hardshell Kayaks:
Source