Y
ou have a paddle board, or perhaps have rented too many times, and have fallen in love with this rapidly growing sport. You want to take it out for some longer trips or maybe even try your hand at racing these boards through the open water.
When looking to get into racing, either competitively or for sport, we recommend you go for the best racing paddle boards. These are boards that help you to reach maximum speed and maintain it throughout the race. Racing boards move so quickly because they have little drag in the water.
If you are an outdoor enthusiast who is looking to paddle boarding, long distance travel will be more your speed. These boards can help you get to hard to reach places that larger boats can't go, or just push your fitness routine to the limit. The best touring sup will have many of the same characteristics as a racing one, but with lots of storage.
QUICK ANSWER: THE BEST PADDLE BOARDS FOR RACING / TOURING
The Best 6 Paddle Boards for Racing / Touring Are…. Let's Review!
[table id=1 /]
Paddle Board Racing
Whether you race competitively or do it more for sport, the design of your paddleboard will drastically change from your average sup. The best sup race boards will have a sleek, lightweight design, and minimal fin resistance.
Board Shape
These boards are going to be longer and thinner than a regular paddle board. This allows them to cut through the water with minimal drag. Their pointed nose, a displacement hull design, slices the water better than the blunt nose found on regular boards that carry a planing hull design.
Fins
Even though a tri fin system is usually found on regular boards, a single fin system works best for racing. Having only one fin creates less drag (which will slow you down) and is key to increase and maintain your speed.
Race sup boards are quickly becoming all the rage so we have done the research for you and listed our top three boards here.
Tower Paddle Boards iRace Inflatable SUP Package

Check Price Now
Tower is a proven paddle board company. They make high quality boards that have one of the highest rider weight allowance of any board. A military-grade PVC combined with a top of the line drop stitch ensure this board will not get dinged or beat up. Tower believes in their product so much it has given this board a two year warranty. Its long 12 food 6 inch body allows a long glide in water while it's 30 inch width gives you space to move around freely. The 6 inch thick frame will make sure you ride high enough to not get wet, and be rigid enough to not bend over the waves. This board comes with a three piece paddle and a pump to get you started. As far as inflatable sup race boards go, it is no wonder this board is on the top of our list.
Weight capacity: 350 lbs
Board weight: 27 lbs
Length: 12'6"
Materials: Military-grade PVC
Fins: Single fin system
Accessories: 3 piece paddle, pump
What makes this board stand out:
High quality materials
2 year warranty
Easy to store
Compact when deflated
Surftech Laird Race Bark Paddle Surfboards
There is a reason Surftech has two boards on our best racing SUP list: they make fast, well made paddle boards. The Tuflite construction is the original sandwich – epoxy design which makes the board more durable and lightweight. An EVA pad covers three quarters of the board giving you confidence in your step no matter where you are on the board. What makes this board unique is that it is a racing board that performs well in any water environments. Designed by a legendary board shaper the Laird Race Bark paddle board is sure to impress you.
Weight capacity: 200 lbs
Board weight: 35 lbs
Length: 12'6"
Materials: Epoxy, Tuflite
Fins: Single fin system
Accessories: none
What makes this board stand out:
Sleek design
Large EVA pad
Heavy duty construction
Surftech Bark 1206 Competitor Pro-Elite Stand Up Paddle Board
The Surftech Bark 1206 is a seriously fast board. Everything about this board has been designed to do one thing – race. The long narrow body creates less drag in the water while the pointed nose cuts a path. Even though it is a narrow board, it is incredibly stable once you get up to speed. This board has been designed by Joe Bark, a highly renowned board shaper. His designs, including this one, have won many racing competitions. If you are a competitive paddle boarder you should seriously consider this board.
Weight capacity: 200 lbs
Board weight: 38 lbs
Length: 12'6"
Materials: Carbon fibre
Fins: Single fin system
Accessories: none
What makes this board stand out:
Stylish design
Racing handles
Award winning designer
Things to consider
When buying a board for racing, you want a board that is able to soar through the water at top speeds. There are key features that you should look for to ensure your board can do just that.
Shape
When using your paddle board for racing, the shape of your board is one of the most important features. SUP racing requires a narrow and pointed shape to help you glide through the water with the least resistance.  This is most commonly seen in the displacement hull design. The pointed nose design makes the board more aerodynamic allowing it to cut the water and push it to the sides leaving you soaring through the water at top speeds.
Fins
Fins on your board cause resistance in the water, but they also provide direction. These come in a single or tri fin system but the single fin system is most commonly seen in racing boards. These provide the least resistance while still keep you pointed in the right direction getting you through the water both quickly and efficiently.
Paddle
The type of paddle you use will greatly affect your speed. This is the main factor to determine how you cut the water and how much force you can get behind you. Having a lower quality plastic design won't allow you to achieve the top speeds that a lighter and stronger design will. Higher end boards do not come with a paddle. We suggest you choose one that works best for your style of paddling.
Touring
You love paddle boarding but want to be able to take it on some longer paddles. Pack an overnight bag and incorporate this fun sport into your transportation for a multi day camping trip. Much easier to portage than your average canoe, paddleboards are a great option to use for touring purposes.
We have done the research and found our top three choices for paddle boards for your next long distance paddle below:
ISLE Airtech Touring Inflatable Stand up Paddle Board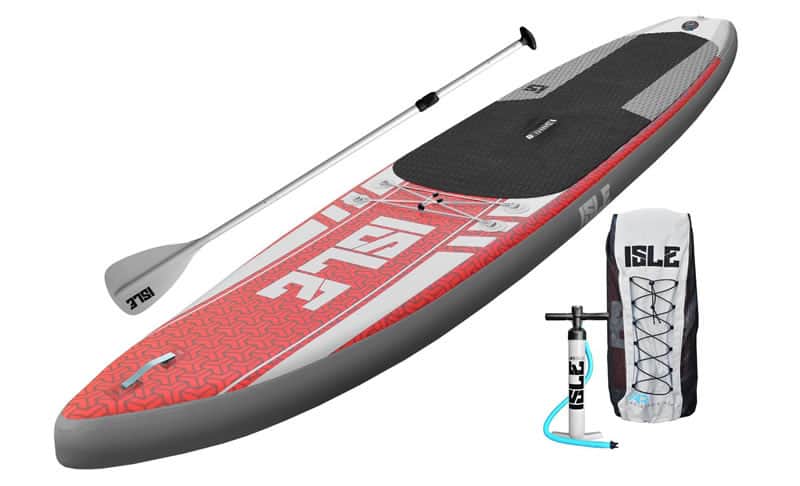 Combine your paddle boarding hobbies with this touring board as its wide nose design makes it incredibly stable so you can practice SUP yoga. Being 6 inches thick this board will help keep you up and out of the water. Great for flat water and the open ocean alike, the bow shaped nose cuts through choppy water with ease. With a coated drop stitch design, this paddle board feels feels like a rigid solid board without the heavy weight design.
Weight capacity: 275 lbs
Board weight: 20.5 lbs
Length: 12'6"
Materials: Military grade PVC
Fins: Tri fin system
Accessories: Paddle, backpack, pump
What makes this board stand out:
30 day money back guarantee
1 year warranty on materials
Ten Toes iSUP Inflatable Touring SUP, the JETSETTER
This is the longest board on our list measuring an impressive 14 feet long and 6 inches thick. Its foam EVA deck pad provides much needed grip as the narrow nose of this board tears you through both calm or choppy waters. The high quality design of this board along with its storage in the front makes it an excellent touring option.
Weight capacity: 250 lbs
Board weight:
Length: 14'
Materials: Military grade PVC
Fins: Tri fin system
Accessories: 3 piece paddle, pump, repair kit
What makes this board stand out:
Extra long sleek design
1 year warranty
BIC Sport Sup AIR Inflatable Stand up Paddleboard
The BIC Sport is a well made touring paddle board featuring a double rail system and dropstiting. This board comes with carrying handles to get you into the water quickly and easily. The diamond griv EVA padding gives you the confidence to move around freely. Sporting a universal fin box this SUP will be compatible with aftermarket fins. Coming with a sturdy pump and well made backpack this is a package that will get you on the water quickly and easily, just bring your own paddle and leash.
Weight capacity: 240 lbs
Board weight: 25 lbs
Length: 12'6"
Materials: Military-grade PVC
Fins: Single fin system
Accessories: Pump, backpack, carry handles, deck rigging
What makes this board stand out:
Easy to carry design
Many styles and colors
Things to consider
When looking to buy a touring stand up paddle board for your next long distance paddle, makes sure you consider these few key features.
Storage
When touring with your paddle board, buying one with enough storage space is key. You want to be able to roll your paddleboard into a compact bundle. There is no need for racks to store your board, just put it in your garage or closet to store. Being able to roll it will also allow you to throw it into the trunk of your car for transportation as well.
Shape
SUP touring boards, like racing boards, carry a pointed nose displacement hull design. This helps them cut the water and glide with the least resistance creating an aerodynamic look that cuts through the water with ease. These are much thinner and longer than regular paddle boards which makes them not a good option for beginners.
Thickness
Your boards thickness is a largely unthought about but incredibly important feature when buying your inflatable touring sup. It is said that a 6 inch thick board is the perfect height to ride without getting wet. It also ensures that the board rides rigid and doesn't flex when in choppy water. When packing your board, we always recommend you use dry bags as there is a high chance your stuff will get some water splashed onto it. Having a thicker board that the weight capacity isn't maxed out will help you to keep your stuff dry.
Paddle
A paddle has to be comfortable for the rider. This means one paddle does not fit all. Most packages come with a three piece foldable paddle that is easy to store and transport. We suggest trying a few out to see which type works best for you.
Globo Surf Overview
Whether you are going on long distance paddles or race competitively it is important that you get the best paddle board. These, while often expensive, will carry features that will last you a long time. While many may think that touring and racing boards have the same characteristics, there are different priorities that should be placed based on how you intend to use your board. Both carry a displacement hull design to help you soar through the water quickly with less strokes but the features will vary. Lightweight design and fins are important in racing while storage and paddle board thickness is a priority for touring.
Do you race on your paddle board? How about going on long distance trips with your board? Let us know what you like in a board in the comment section below.
You May Also Like
5 Best Paddle Board Fishing Accessories
5 Best Stand Up Paddle Boards For Fishing
5 Best Paddle Board / Surfboard Wall Racks
5 Best Paddle Board Car Racks
Last Updated On The 15th January 2017
Like What You See? Please Rate This Post And Let Us Know What You Think!