BEST ALL-AROUND INFLATABLE PADDLE BOARD

---

BEST BEGINNER INFLATABLE PADDLE BOARD

---

BEST LIGHTWEIGHT INFLATABLE PADDLE BOARD

---
Stand-up paddleboarding is fun and provides a great exercise, which is why its popularity is constantly on the rise. Inflatable SUPs take the game to an even higher level – they allow you to pack the board and take it anywhere with you.
When looking for the best inflatable SUP, you should pay attention to its dimensions, construction quality, and the features it offers. These boards are so versatile that you can use them for all types of activities, from recreational paddling to multi-day touring. In this article, we'll do our best to explain what makes a good iSUP and present the best inflatable paddle boards for different types of paddlers and activities.
How To Choose The Best ISUP – Buying Guide
Inflatable Paddle Board vs Fiberglass Paddle Board
When comparing a similarly sized inflatable board to a fiberglass board, you will be hard-pressed to see any difference. You may find that a rigid board goes slightly faster and might be easier to paddle, but unless you were riding one after the other you wouldn't be able to tell the difference when it comes to performance.
Even the carrying capacity and rigidity are similar between these two types of paddleboards. The rigid board is obviously stiffer, however, the inflatable is still more than capable of carrying coolers and extra gear.
Characteristics of an Inflatable SUP
Length: It's no secret that a longer board will be able to go faster, but be more cumbersome to turn. This is why people new to the sport go with a shorter board, while people who've been inflatable stand up paddle boarding for years choose a longer option.
Width: A narrow board is faster but less stable. Wider boards offer more stability but are slower.
Thickness: A thicker stand up inflatable paddle board is better in our opinion. It will not only be able to hold more but also make you ride higher in the water. This will give you the option of paddling in socks or even shoes without getting your feet wet.
Rocker: This describes the curve of the nose of your board. You will want more of a rocker when paddling in places with large waves.
Pros
Portability: Inflatable paddleboards are much easier to transport and store than rigid boards. The best SUP inflatable boards can even be thrown in the trunk of your car and forgot about until you want to use it again.
Durability: A lot of companies are turning to military-grade PVC for the construction of these boards. This material has been specially designed to be nearly bulletproof while still being able to be folded neatly.
Storage: Inflatable paddleboards are some of the easiest water sport items to store. You don't need a big yard or garage, instead, a small closet will be enough room.
Cost: You can find amazing deals for these boards starting at around $500 which includes everything you need to get on the water.
Ease of Use: Learning on an inflatable is much easier, and less painful, than on a rigid board. Your kids will love that they can play on the best paddle board inflatable without hurting themselves every time they fall.
Cons
Setup: It's no surprise this is on our list. Instead of taking a rigid board off your car, you have to spend the time to pump your board up.
Surfing: Inflatable paddleboards aren't the best for surfing with. You can manage but if you're used to a typical surfboard you may be disappointed.
Related Review: Surfboard
How We Evaluated The Inflatable Paddle Boards
There are a few different features that you will want to look for in a paddle board and we have listed them below.
Stability
This is important for paddlers to consider, especially those in the beginner or intermediate skill levels. Paddleboarding is quite an easy sport to learn, but due to the high center of gravity, it is easier if you have a board that excels in stability. 
While many people think that the length of a board determines its stability, this isn't completely true. While this does play a role, the thickness of your board plays a bigger role. Most often, a board around thicker than 4 inches is preferred.
Paddling Performance
A higher rocker plays the biggest role in determining how well the board cuts the water and therefore how easy your SUP is to paddle. Inflatable SUPs are often harder to paddle than solid boards for this reason.
Ease of Transport
Owning a paddle board is only enjoyable if you can actually get it into the water. For those that don't have a vehicle to transport their SUP, opting for a stand up paddle inflatable board is a good idea.
These are also ideal for storing as paddle boards often sit around 9 feet long. While they don't perform quite as well in the water, their benefits often far outweigh their cons.
Speed/Ease of Inflation
Typically, inflating your paddle board should take between 3-5 minutes depending on the size and how quickly you work. Keep in mind that most paddle boards blow up to a PSI level between 12-15.
Oftentimes you will find that the gauge provided is relatively inaccurate. Rest assured that you cannot over-inflate these boards. When in doubt just keep pumping until you are certain it is enough.
Value For The Money
Paddleboards are decreasing in price as more competitors enter the market. You should be able to get a board between $350 – $800 depending on quality. Typically speaking you get what you pay for in the SUP world.
More expensive boards will incorporate higher quality plastic and will have better accessories. Keep in mind that the quality of your paddle and pump should be secondary as you can upgrade those later.
Paddle
Typically all the best inflatable SUPs come with heavy adjustable aluminum paddles. These should be collapsible for easy transport. Carbon fiber paddles are of better quality and are also much lighter in weight.
Backpack
Oftentimes you may not need a transport bag for your SUP, especially if you frequent waters close to where you park. If you plan to hike to your lake, you may want to focus on getting a SUP carrying bag.
Life Vest / PFD
Typically SUPs don't come with a PFD included but they are incredibly important to have along for your paddle. These should typically only set you back between $20 – $50.
SUP Leash
Having a paddle board leash is important, especially if traveling into rougher water such as rivers or the ocean. They prevent you from getting separated from your board in case you fall.
Roof Rack
While SUP's don't require you to have a roof rack, it can be incredibly desirable if you frequently use your board. This is because you may not want to inflate and deflate your SUP when you are using it multiple times in a short period.
What Are the General Stand Up Paddle Boarding Rules on the Water?
Yield to bigger boats: Even though you may not consider it to be, a paddleboard is still a water vessel. This means you have to play by the rules on the water. It's best to let anything larger than you have the right of way.
Wear a PFD: You might not like the look or feel of a personal floatation device but it can save your life (and is often required when paddleboarding). Every state has different regulations that you'll need to be familiar with before heading out on the water.
Inflatable SUP Uses
When choosing your perfect paddleboard, we recommend that you pay close attention. These sought-after paddle boards have dropped significantly in price as more and more products become available making it so there is no better time to buy than now. We love inflatable boards since they are easily stored in the trunk of your car which means you can paddle whenever the mood strikes.
Consider your weight and your preferred use and then search within your comfortable price range. No matter your decision, we are confident any of these iSUP boards will serve you well.
Reading the iSUP reviews will show you just how popular and versatile these are. The convenience of having your ten-foot board collapse into a backpack you can bring to work or school is incredibly desirable. Not having to strap a rigid board to the roof of your car will allow you more time on the water.
The list of features doesn't end there. From a quick five minute setup time to unparalleled durability, the best stand up paddle board inflatable models will exceed your expectations. Hard foam SUP boards are susceptible to cracks, dents, and chips that inflatable boards are immune to.
Alternative Inflatable SUP Uses
We highly recommend you try different ways to use a stand-up paddleboard. More than just an afternoon leisure activity, an iSUP can take you across the lake to find great camping spots or even be the perfect platform for fishing.
Looking to get fit? This is more than just a lazy day at the beach. Without knowing it you will get a great full-body workout. Had a busy day at work? Try paddling to the middle of the lake for a unique perspective and a quiet place to meditate.
No matter your age, people everywhere agree that paddleboarding has quickly become a favorite activity. No longer just for suburban folks, the best inflatable paddle boards are great for city dwellers as well as they will easily fit in an apartment and smart car. A great family outing even with the dog, floating on water does wonders for just about everyone. It can be a relaxing lounging experience or a race to the finish line.
Are you an adrenaline junkie? Once you're comfortable with your iSUP, try taking to the waves. The best inflatable SUP for surfing should include a leash and be an inflatable sup board in which you have lots of stability.
So, Which Board Is Right For Me?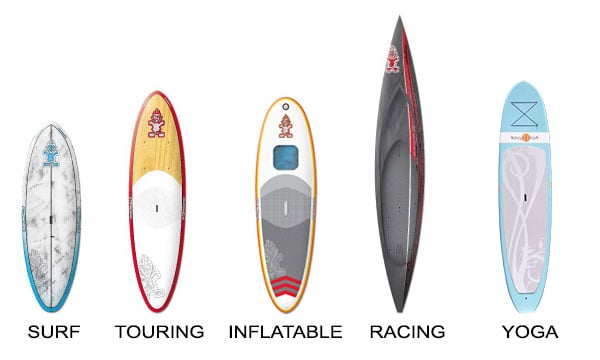 The iSUP boards in our paddle board inflatable reviews are designed for all skill levels. If you are new to the sport these iSUP boards are designed to be stable and ride like rigid foam board. This will ensure that you learn quickly and ride like a pro in no-time. More advanced riders will be able to take their board for weekend adventures or paddle in rough conditions.
When looking for a SUP board inflatable, it is important to know the terminology and features of the best inflatable stand up paddleboard. Being able to understand how these details will affect your ride will help you determine which paddle board is right for you. We have put together a list of everything you need to know.
Hull Type
Planing Hull – The all around, great at everything inflatable paddle board. Being flat and wide, these iSUP boards are very stable while performing great in flat or choppy water. Being easy to maneuver makes them a great sup board for beginners and experts alike. All of the boards in our inflatable paddle board review fall into this category.
Displacement Hull – Designed for long-distance paddling and racing, these sleek inflatable SUP boards are designed with speed in mind. Their narrow body with a pointed frame gives them the power to cut through the water with ease. Not recommended for beginners, these are tricky to navigate and much less stable.
Weight Capacity
When looking at different paddle boards it is important to check out how much weight the iSUP board will comfortably keep afloat. Don't just account for your weight, but the full weight you want to put on the iSUP board. Want to paddle with a friend, pack a daypack, or bring your dog along for the ride? Their weight will need to be added to yours when choosing inflatable paddle boards.
Board Length
Short boards (9 feet and under) are typically intended for kids because they are easy to maneuver.
Medium boards (9 to 12 feet) The majority of paddleboards fall into this category being ideal length for both calm lakes and ocean riding.
Long boards (12 to 14 feet) are designed for touring or racing. Coming narrow and long they may be more difficult to turn but are great for catching speed.
Materials
Inflatable – We love these SUP boards for their unparalleled durability and their extreme lightweight. Usually made with a strong PVC shell, these are strong and durable boards that are easy to store. All of the models in our paddle board inflatable review fall into this category.
EPS Foam – Among the lightest of the iSUP boards, the interior of the paddle board is foam with a fiberglass or plastic outer shell.
Polyurethane Foam – Comparable to the EPS boards this paddle board weighs in heavier. Most often seen used on beginner iSUP boards.
Related Review: Foam Surfboard
Hollow Core – A hollow interior makes this iSUP board lightweight while delivering expert performance
Fins
On the underside of your iSUP board, there is either one large singular fin or three smaller fins which act as a guide navigating you through the water. These little pieces of plastic allow you to maneuver through the water with ease. They are removable to increase storage ability.
Single fin – This provides more resistance in the water and is best suited for those with a powerful stroke. The best choice for a beginner as it will provide a straighter paddle, especially through choppy water.
You might also like: Nixy 12'6" Manhattan G4 Performance ISUP
Multiple fins – This setup provides less resistance in the water due to smaller fin size. It is best used by intermediate paddlers
Accessories
Paddles are usually sold separately except in some iSUP packages. Having adjustable height ensures that the paddle can be 6-8 inches taller than your head. This is the optimal height for the best stroke.
Leashes ensure you and your paddle board stay attached. Paddleboarding is a relatively easy sport to learn but in the beginning, you may take a few dives in the water. In an ocean with more unpredictable surf, it is critical to make sure your inflatable sup board stays within arms reach.
Pump: The one downfall of inflatable sup boards is your need to pump your boa*rd up with every use. A small price to pay for storage and transportation simplicity.
Backpack: It may seem incredible but these 10 feet long sturdy iSUP boards condense small enough to fit inside a backpack. Lots of inflatable SUP come with backpacks that are the perfect size to fit your iSUP board.
Gauge: Each inflatable SUP board will have a PSI rating that you should optimally inflate your blow up paddle board. Having a gauge will ensure you stay within it as to not overinflate your iSUP board.
FAQs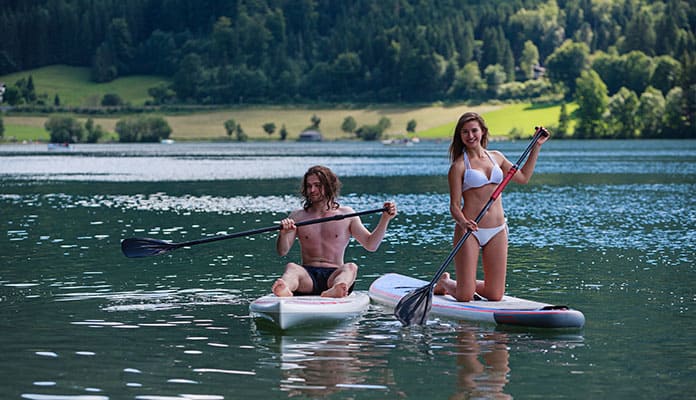 Globo Surf Overview
The beauty of having the best inflatable SUP is that you can bring it with you anywhere. They are practical and convenient while matching or topping the performance of standard paddle boards. We hope that our inflatable paddle board reviews and guide helped you find the best inflatable SUP board so that you can start enjoying the water even more.
Single Products paddle Board Reviews:
Inflatable Paddle boards Reviews:
Have one of the best inflatable stand up paddle boards on our list? Let us know how you like it in the comments below.