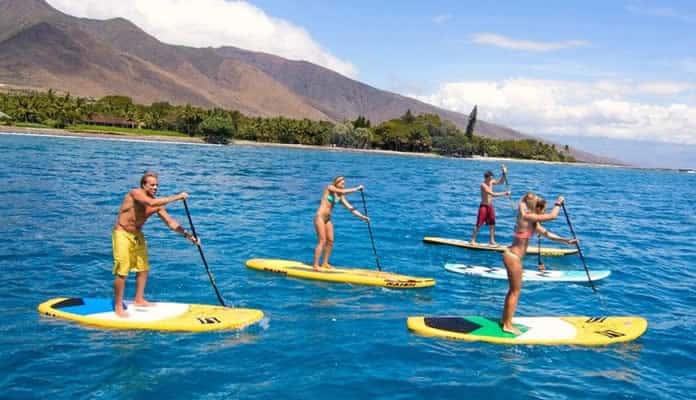 P
addleboarding is a relatively new and increasingly popular leisure activity. Offering a great full body workout or simply just a relaxing trip around the lake, stand up paddleboarding (SUP) offers something for everyone.
Although this is a relatively new paddle activity, it has quite a bit of terminology to consider before choosing the right board for you. To help, we have scoured the web and compiled a list of our favorite inflatable sup boards on the market.
iSUPs typically are around 10 feet long, that's why we have chosen to highlight the best inflatable paddle board. The best inflatable SUP will still be very durable and carry a high buoyancy while still getting small enough to fit inside of a backpack.
QUICK ANSWER: THE BEST INFLATABLE STAND UP PADDLE BOARD
Best Inflatable Stand Up Paddle Boards
Inflatable Stand Up Paddle Boards Reviews
What Makes This Inflatable Paddle Board Stand Out:
Lightweight
Ultimate all around isup
Ultra durable
30 day money back guarantee
Model & Accessory Specs:
Size: 10'4" long x 32" wide x 6" thick
Weight: 23 lbs
Weight limit: 300 lbs
Material: Military-grade PVC. This is one of the main selling points of the Tower Adventurer isup boards. They're super-duper durable.
Fins: Single Fin System
Accessories: Paddle, Backpack, Leash, Pump, Repair Kit
This inflatable sup is made by Isle Surf which is a company that was founded by two San Diego surfers who had a passion for paddleboarding and surfing. Since 2004 they have used their experience to develop top quality inflatable paddle boards. Their love for nature and water have guided their company's philosophy and research.
Like others on this list the PEAK Inflatable Stand Up Paddle Board is made of military grade PVC. The non slip grip is great for keeping you secure and allows you to bring your dogs with you for an extended trip. You will always stand out as this inflatable sup comes in four different colors.
The PEAK Inflatable stand up paddle board is a well rounded board. It has a high rider weight limit, 300 pounds, and is lightweight, only 23 pounds. Inflated to its full 15 PSI this board sits 6 inches high and rides like a rigid foam board. This makes you feel stable even in choppy waters. A bungee system makes it easy to carry items with you. Pack a lunch and a sleeping bag for a trip to an island. Bring a friend along with the inflatable sup high weight capacity.
The package PEAK has put together includes everything you need to get started. The pump fills the iSUP with ease, the three piece paddle is adjustable and folds up small, and the leash keeps your board in arms reach when you fall. We like that a repair kit is included as well. PEAK has created an inflatable paddle board and package that you will be happy with for years to come. This is one of the top paddle boards on the market.

Check Price Now
What Makes This Inflatable Paddle Board Stand Out:
Incredibly Durable
6" thickness
2 year manufacturer warranty
Excellent size for beginners or kids
Model & Accessory Specs:
Size: Size: 9'10" long x 32" wide x 6" thick
Weight: 25 lbs
Weight limit: 350 lbs. This board can hold a lot of weight! A lot of inflatable SUPs will have lower weight limits.
Materials: This isup board is made out of military-grade PVC with drop-stitch construction. Don't think that this paddle board is wimpy just because it's inflatable — unlike hard standup paddle boards, it's not susceptible to dents and cracks. Impressive!
Fins: Tri Fin System
Accessories: Paddle, Pump
Tower is a company that was featured on Shark Tank years ago. It has years of experience in developing one of the best inflatable stand up paddle boards. We love that this company is so sure of the quality of this inflatable paddle board it is even willing to ad a two year manufacturer's warranty.
Being made of military-grade PVC means that this is a very durable iSUP. Don't worry about scuffs or dings as this material can handle normal wear and tear. Tower even boasts its durability to be so strong it can withstand being run over by a car. We love this inflatable sup board for its unparallel buoyancy being the highest weight capacity on our list. Perfect for extra cargo, a pup or even a friend.
Being a smaller inflatable sup board means that this is a good choice for people just starting out in the sport. The tri fin system will allow this board to point where you want it to. Easy to inflate, the included pump will inflate the board in under five minutes. Being lightweight allows it to be carried with ease. Its thick stance allows you to ride high above the water which means you can ride in any water conditions or ride with clothes and not get wet.
The package includes a paddle and pump which gets you quickly in the water. The pump includes a gauge so you know exactly how rigid the board will be. It can be pumped to 15 PSI, but is rideable past 10 PSI.
What Makes This Inflatable Paddle Board Stand Out:
Package includes fiberglass paddle, pump, bungie and handles
Made of military-grade PVC material
4 on-board D-rings for securing a leash or other accessories
Collapsible paddle (from 66" to 34.5") for stowing away and travel
Carry strap for deflated rolled-up board
One Removable fin and 2 secured fins
Model & Accessory Specs:
Size: 10'4" long x 32" wide x 6" thick
Weight: 25 lbs
Weight limit: 350 lbs
Material: Military-grade PVC. This is one of the main selling points of the Tower Adventurer boards. They're super-duper durable.
Fins: Tri Fin System
Accessories: Paddle, Pump
There is a reason Tower is featured on our list twice – it makes excellent paddle boards. The Adventurer 2 is no exception. It is a full size isup board coming in at just under ten and a half feet.
This is an inflatable paddle board that is designed with military grade PVC which means it is exceptionally durable. Tower claims that even fully inflated a car can drive over it without popping it, something we don't recommend trying. It's supreme build is due to it's drop stitch seam. This allows it to hold air for the life of the iSUP board. Being so rigid makes it ride like a solid inflatable paddle board. This means it cuts through waves and rough water with ease.  Just to prove how confident they are, Tower includes a two year warranty on their board.
The Tower Adventurer 2 is just 26 pounds which makes it very portable. The iSUP boards 350 pound capacity is in the upper echelon for similar paddle boards and makes it so you can pack gear, or even your dog, along for your ride. The large non slip mat provides sufficient grip to keep you on the inflatable sup board while the bungee system can keep your bag with you while you paddle
Being inflatable has its benefits. Coming with a pump, this paddle board inflates with ease. When you're done your day just deflate and roll out the air. The small package allows you to easily store and transport this iSUP. Folding it allows you to put it in a bag and hang it in your garage. Don't worry about buying roof racks for your vehicle as it easily fits into the trunk of your car.
This sup board comes in a package that saves you money because it includes a paddle, pump, and even a carry strap. The price is not an indication of the quality of the sup board. For the surprisingly low price of $550 you are getting everything you need to jump in the water. The Tower Adventurer 2 is comparable to paddle boards that are nearly double this price.
4. ISLE Airtech Inflatable All Around Stand Up Paddle Board Package
What Makes This Inflatable Paddle Board Stand Out:
Incredibly lightweight
Package includes everything you need
30 Day money back guarantee
High quality design and materials
Model & Accessory Specs:
Size: Deflated Dimensions: 1ft in diameter x 36 inches wide (about the size of a rolled sleeping bag); Inflated Dimensions: 10′ x 31″ x 6″
Weight: 24 pounds
Weight limit: Supports up to 240 pounds
Material: Super durable PVC material, extra light compared to other inflatables
Fins: Tri Fin System
Accessories: Paddle, Backpack, Pump, Repair Kit
Being around since 2004 has given this company time to figure out what works and what doesn't. An impressive amount of time and research has gone into making this inflatable paddle board. ISLE is so confident that you will like this isup board it includes a 30 day money back guarantee and one year warranty.
Being made of military grade PVC ensures you don't have to worry about losing air or the board flexing. It is the lightest inflatable sup board on our list making it the easiest to carry and maneuver into the water. Keep in mind that one trade off with being so lightweight is the lower weight capacity at 240 pounds.
The ISLE Airtech paddle board is designed for a comfortable ride. Once it is inflated it sits at six inches thick which allows it to glide over the wake with ease. This makes it a good isup board no matter what your skill level. Beginners will like the stable body and the no slip pad while more advanced riders will enjoy its sleek look and high quality design.
This package includes everything you need to jump into action. The three piece paddle is strong and durable while the pump has a readable gauge that tells you when your iSUP is inflated. As a bonus the backpack has enough pockets for snacks and a music player.
5. Solstice Bali Inflatable Stand-Up Paddleboard
What Makes This Inflatable Paddle Board Stand Out:
High quality backpack
Very affordable
Rides like a rigid board
Lots of tie downs
Model & Accessory Specs:
Size: 10'8"
Weight: 39.4 pounds
Weight limit: 250 pounds
Material: 1000 Denier 3 Ply PVC Reinforced Fabric
Fins: Single Fin System
Accessories: Backpack, Pump, Gauge
Solstice Sports is a paddleboard and kiteboarding company from Colorado. Their paddleboard lineup is impressive, specializing mainly in racing paddle boards. The Bali is more of a cruising board that has an impressive design.
Like the other inflatable sup boards on the list the Bali is constructed using PVC. The durable 1000 Denier 3 ply PVC ensured this paddle board will stand the test of time as it is the same material Zodiac boats are made of. You won't have to worry about losing air or bending over waves as this paddle board feels very rigid in the water.
This is also the heaviest inflatable paddle board on the list coming in at almost forty pounds. This could make it difficult for some people to maneuver into the water. But with that being said this is a solid iSUP board for any skill level. It rides firm and stays stable in the water. The non slip pad will ensure your feet stay planted even in moderate waves. The large single fin tracks well and keeps you on the path you want.
The Solstice Bali paddleboard comes in a very well rounded package including a pump, fin, backpack. We were disappointed to see it doesn't come with a paddle but a small price to pay for an affordable quality inflatable sup board. The backpack is made of a durable mesh material with a rubber base that fits the inflatable board easily making it an all around high quality buy.
Choosing your Inflatable SUP:
When choosing your perfect paddleboard we recommend you be incredibly picky. These sought after paddle boards have dropped significantly in price as more and more products become available making it so there is no better time to buy than now.  We love inflatable boards since they are easily stored in the trunk of your car which means you are able to paddle whenever the mood strikes.
Consider your weight and your preferred use and then search within your comfortable price range. No matter your decision, we are confident any of these isup boards will serve you well.
Reading the many iSUP reviews out there will show you just how popular and versatile these are. The convenience of having your ten foot board collapse into a backpack you can bring to work or school is incredibly desirable. Not having to strap a rigid board to the roof of your car will allow you more time on the water.
The list of features doesn't end there. From a quick five minute setup time to the unparalleled durability, these isup boards will exceed your expectations. Hard foam sup boards are susceptible to cracks, dents and chips that inflatable boards are immune to.
Inflatable SUP Other Uses
We highly recommend you try different ways to use a stand up paddle board. More than just an afternoon leisure activity, a iSUP can take you across the lake to find great camping spots or even be the perfect platform for fishing.
Looking to get fit? This is more than just a lazy day at the beach. Without knowing it you will get a great full body workout. Had a busy day at work? Try paddling to the middle of the lake for a unique perspective and a quiet place to meditate.
No matter your age, people everywhere agree that paddleboarding has quickly become a favorite activity. No longer just for suburban folks, these inflatable paddle boards are great for city dweller as well as they will easily fit in an apartment and smart car.  A great family outing even with the dog, floating on water does wonders for just about everyone. It can be a relaxing lounging experience or a race to the finish line.
Are you an adrenaline junkie? Once you're comfortable with your iSUP, try taking to the waves. The best inflatable SUP for surfing should include a leash and be a inflatable sup board in which you have lots of stability.
(Hey! You May Also Like: Best Yoga Paddle Boards)
So which board is right for me?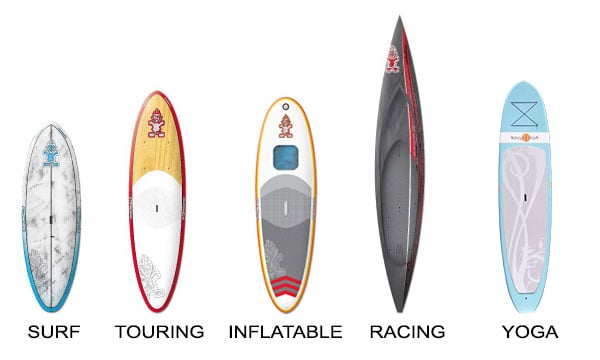 All of the isup boards on this list are designed for all skill levels. If you are new to the sport these isup boards are designed to be stable and ride like a rigid foam board. This will ensure that you will learn quickly and be able to ride like a pro in no time. More advanced riders will be able to do things take their board for weekend adventures or paddle in rough conditions.
When looking for a iSUP it is important to know terminology and features of the best inflatable stand up paddleboard. Being able to understand how these details will affect your ride will help you determine which paddle board is right for you. We have put together a list of everything you need to know.
HULL TYPE
Planing Hull – The all around, great at everything inflatable paddle board. Being flat and wide, these isup boards are very stable while performing great in flat or choppy water. Being easy to maneuver makes them a great sup board for beginners and experts alike. All of the paddle boards on our list fall into this category.
Displacement Hull – Designed for long distance paddles and racing these sleek inflatable isup boards are designed with speed in mind. Their narrow body with a pointed frame gives them the power to cut through the water with ease. Not recommended for beginners, these are tricky to navigate and much less stable.
WEIGHT CAPACITY
When looking at different paddle boards it is important to check out how much weight the  isup board will comfortably keep afloat. Don't just account for your weight, but the full weight you want to put on the isup board. Want to paddle with a friend, pack a daypack, or bring your dog along for the ride? Their weight will need to be added to yours when choosing an inflatable paddle board.
BOARD LENGTH
Short boards (9 feet and under) these are typically intended for kids because they are easy to maneuver.
Medium boards (9 to 12 feet) The majority of paddleboards fall into this category being ideal length for both calm lakes and ocean riding.
Long boards (12 to 14 feet) are designed for touring or racing. Coming narrow and long they may be more difficult to turn but are great for catching speed.
MATERIALS
Inflatable – We love these sup boards for their unparalleled durability and their extreme lightweight. Usually being made with a strong PVC shell, these are strong and durable boards that are easy to store. All of the paddle boards on our list fall into this category.
EPS Foam – Among the lightest of the isup boards, the interior of the paddle board is foam with a fiberglass or plastic outer shell.
Polyurethane Foam – Comparable to the EPS boards this paddle board weighs in heavier. Most often seen used on beginner isup boards.
Hollow Core – A hollow interior makes this isup board lightweight while delivering expert performance
FINS
On the underside of your isup board, there is either one large singular fin or three smaller fins which act as a guide navigating you through the water. These little pieces of plastic allow for you to maneuver through the water with ease. They are removable to increase storage ability.
Single fin – This provides more resistance in the water and are best suited for those with a powerful stroke. The best choice for a beginner as it will provide a straighter paddle, especially through choppy water.
Multiple fins – This set ups provides less resistance in the water due to smaller fin size. It is best used by intermediate paddlers
Paddles are usually sold separately except in some iSUP packages. Having an adjustable height, ensure the paddle can be 6-8 inches taller than your head. This is the optimal height for the best stroke.
Leashes ensure you and your paddle board stay attached. Paddleboarding is a relatively easy sport to learn but in the beginning you may take a few dives in the water. In the ocean with a more unpredictable surf it is critical to make sure your inflatable sup board stays within arms reach.
Pump: The one downfall of inflatable sup boards is your need to pump your boa*rd up with every use. A small price to pay for storage and transportation simplicity.
Backpack: It may seem incredible but these 10 feet long sturdy isup boards condense small enough to fit inside a backpack. Lots of inflatable SUP come with backpacks that are the perfect size to fit your isup board.
Gauge: Each inflatable sup board will have a PSI rating that you should optimally inflate your paddle board to. Having a gauge will ensure you stay within it as to not overinflate your isup board.
FAQs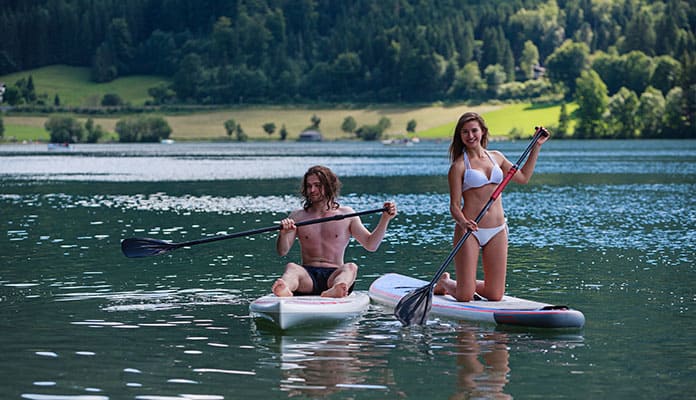 Q: How Do I Choose An Inflatable Paddle Board?
A: Choosing an Inflatable Paddle Board doesn't have to be a hard process. You will want an inflatable SUP because of its portability, ease of storage and its versatility. Since it can be condensed into a small package it can be thrown in the trunk of your car, or even worn on your back in a backpack.
Once you've decided that an inflatable SUP is right for you the next step is to figure out your use. Aspects like the length, width, and weight (including carrying capacity) all vary with different boards. There are boards for everything from yoga to racing to fishing. If you are looking for a great all around board look for one that is at least 6 inches thick with a weight capacity of at least 350 lbs. This will allow you to stand on the board without getting your feet wet while giving you the ability to carry gear with you.
Q: How Long Will My Inflatable Paddle Board Last?
A: This answer isn't always easy to answer. The truth is, it depends on how well you care for it. SUPs are built durable, especially inflatable ones. If you rinse your paddle board after every use to get rid of any build up and store out of direct sunlight your board will last much longer. The sun is harsh and reducing the exposure will help it look sharp and keep it from warping. It is also important that you store your board safely. Due to the size of these boards, the best way to do so is to invest in a sup wall mount. You can expect your board to last many many years. You will likely look to upgrade your board and sell this one before it becomes unusable. Most SUPs come with warranties between 1-3 years long.
Q: How Durable Is My Inflatable Paddle Board?
A: The answer is simple: VERY durable! Inflatable paddle boards are usually made of military grade PVC. This is a material that has been designed by the military, for things like zodiac boats, that has an increased durability. Boards made from this material are usually puncture resistant which makes them great for rocky shores and hidden obstacles like tree stumps. What makes this type of PVC great is that it is still able to be folded and maintains a lightweight feel.
While these boards can handle a rough beating, it is still ideal to use a SUP board bag to provide further protection. These bags also make transporting your SUP super easy. If you have to hike to your favorite beach simply throw your board into a bag and you have both hands free to hike and climb.
Q: Can I Use My Foot Pump To Inflate My Paddle Board?
A: Yes you can. Some boards come with a pump which has a gauge on it. If yours didn't we strongly recommend getting a pump that has one. Every board has a different rating for how much air they can handle. This is usually around 15 PSI. You will find that when you first pumping your board will inflate effortlessly. But as you reach 12 PSI it will get harder and harder to get to that elusive 15 PSI. Without a gauge telling you your board is fully inflated you can overinflate it which can cause it to pop or seams to become weak. An underinflated board will not perform nearly as good either. It can bend in weird ways and not be responsive in ways you need it to be.
Q: How Do I Clean My Inflatable Paddle Board?
A: Cleaning and maintaining your SUP is important. Many people think this is only needed when taking it through salt water but it is important to do so after use in fresh water as well. There are many microbes in lakes that will cause mildew to grow on your board. A thorough rinse is all you need using the fresh water from your hose. Be sure to pay close attention to any metals on your board that are prone to rusting. This is especially important around your fins and where your leash attaches.
Many people hose their board off forgetting about the other water accessories they use. Rinsing your paddle, leash and pads you use is important as well. This will allow your gear to last for much longer and allow your money to go further. Be sure to always rinse your life vest as well. This can be done with a hose or for a deeper clean you can rinse in a tub of 10 parts water to 1 part bleach.
After rinsing your board allow it to fully air dry before putting into your paddle board bag. This will reduce the chance of mold growing. Limit the exposure to the sunlight by allowing your board to dry in the shade and storing out of direct sunlight.
Q: How Do I Locate A Leak In My Paddle Board?
A: Your paddle board is large and locating a small leak can be challenging. Running your hand over to feel air blowing works. If this doesn't work, a better way is to fill your SUP with some air and then put it below the water and look for bubbles. As these are designed to float be sure not to fully inflate and hold specific sections below the surface so you can easily locate the leak.
Q: How Can I Patch My Inflatable Stand Up Paddle Board?
A: Most iSUPs come with a patch kit that will give you everything you need to repair your board. A patch as well as a stick of heavy duty glue help to ensure that your board rides like new again after patching. Simply place the patch over the hole and thoroughly secure it with the marine grade glue provided.
Q: What PSI Do I Inflate My Paddle Board To?
A: Every board will have a different recommended PSI. Most boards will be around 15 but can vary depending on their size and width. Be sure to not overinflate your board as it can cause havoc on the seals and seams.
Globo Surf Overview
We love when our exercise is more fun than tedious. Paddling is much like escaping to the mountains for the weekend, a great experience for your mind and body. Breathe the fresh air and paddle to the middle of the lake with confidence. You can go where you've never been before with the help of these paddle boards.
The isup boards on our list will ensure your weekend trip is full of fun. These inflatable stand up paddle boards will be the life of the party. All of the inflatable sup boards are made of durable PVC material and are stable and rigid when fully inflated. The feeling of walking on water will be hard to get used to in the beginning so kneeling to start is often a great idea.
The beauty of having an inflatable SUP is that you can bring it with you anywhere. Having an inflatable sup board is not just great for storage but will prove much more useful as you can stuff it into your luggage and bring it just about anywhere.
Sources
PCV material, pvc.org
Try paddling, Isle Surf and Sup
Have a isup board on our list? Let us know how you like it in the comments below.
Globo Surf Inflatable Paddle Board Review
★★★★★
"
Great Review of inflatable paddle boards. I saw the Tower Paddle Board from shark tank. Loved your review on it so went and purchased one.
"