See Customer Owner Feedback >>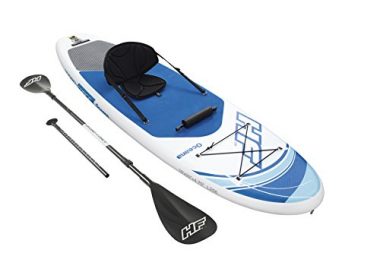 See Customer Owner Feedback >>
The Best Bestway Hydro Force SUP
Stand up paddling is one of the most rapid growing recent sports. Stand up paddling offers a lot of health benefits and comes in a variety of options including the use of inflatable paddleboards. The inflatable paddle boards used are normally made with sturdy and thick material to with stand weight and high waves.
These paddleboards offer the firmness of fiberglass and yet are portable and can inflate in no time, making you ready for your water adventure in just a few minutes. The hydro force sup's convenient and portable features allows one to enjoy a whole range of water activities varying from flat water cruising to ocean surfing. Some of the best hydro force sups combine features that allow them to double as kayaks, thus, boosting its functions and offering more options.  
Below is a review of the 5 best Bestway Force SUPs in 2020 highlighted with their features and reasons as to why they are best.
How To Choose A Bestway Hydro Force SUP – Buying Guide
Length
Best way hydroforce sups have lengths ranging from 9 – 12". When choosing the length of the sup, the buyer should consider the weight of the paddler and the water activity they want to engage in. Typically, a 10"-11" long paddleboard is ideal for an average sized person.
Proper paddle sizing does also effect efficiency and comfortability. A buyer should also consider this when choosing a proper paddle to buy. Bestway hydroforce sups come with paddles that have eased the headache by having adjustable oars.
Weight
The weight capacity of the boards varies from 150 – 300lbs. This allows for options for different individuals ranging from kids to adults (with ability to accommodate heavier adults).
Durability
Bestway hydroforce sups are made with strong PVC which is layered with a thick polyester mesh. Additionally, this material is complimented with a drop stitch technology. The drop stitch sewing technology is a firm stitching process that allows these relatively light weight inflatable paddleboards to be rigid, highly stable on water and resistant to tug and tear, rough surfaces and weight.
Size
The width of a paddle board affects stability and space of a sup. Wider paddleboards tend to be more stable, offer more deck room and are able to comfortable accommodate adults. Thicker sups are also more ideal to accommodate adults. Average width and thickness of paddle boards is approximately 33" and 4" respectively.
Budget
The typical cost of Bestway hydroforce inflatable sups is on a US$200 to US$300 range. This cost is relatively competitive considering the price of inflatable sups as well as the quality f Bestway hydroforce sups. The cost is further competitive with some sups which come as 2-in with all accessories included. A typical 2-in 1 kayak & sup such as Oceana style will go for US$249.99 per unit.
Material
Bestway hydroforce sup are made with a strong and light weight PVC material. The PVC material is used for its molding, air tight and sturdy properties whilst maintaining its portability and light weightlessness.
FAQs
Q: Why Choose A Bestway Hydro-Force Paddle Board?
A:
Material Bestway hydroforce paddle board is made with a strong PVC material and a drop stitch sewing technology that guarantees stability and rigidity.
2. Competitive costs With all the options such as a 2-in 1 kayak and sup for some of its paddle boards as well as paddling accessories included with all its paddle boards, a Bestway hydroforce sup is highly competitively priced. 3. Options Bestway hydroforce sups offer a wide range of options ad styles to suit an individual's needs from paddleboards designed for beginners, kids to paddleboards that come 2-in 1 such as the kayak and sup.
Q: What Are The Pros And Cons Of A Bestway Hydro-Force Paddle Board?
A:
Pros
No slip traction pad on the deck
Made with strong PVC material with drop stitch technology
Finished with a tri-fin system
Most are accompanied with all accessories such as paddles, surf leash, pump, repair kit and back seat & foot rest (for 2-in 1 sup and kayak).
Paddles have adjustable aluminum oar.
Cons
Sizes might not accommodate heavier adults
Q: What Is The Difference Between A Regular And Bestway Hydro-Force Paddle Board?
A:
The use of PVC & polyester material coupled with the unique drop stitch technology makes the Bestaway hydroforce paddle board more rigid, stable and efficient for its job compared to a regular paddle board.
Globosurf Overview
Bestway hydroforce products prove their expertise and knowledge in the industry. These sups offer some of the options in 2020. The Bestway hydroforce sup customer reviews have proved their credibility.
The distinctive use of the strong PVC material complemented with the drop stitch technology definitely makes these sups the best for their function. The careful design that rationalizes into practicality for comfort, stability, rigidity and easy maneuver of the paddleboards definitely sets the Bestway hydroforce paddleboards attached.
Due to their inflatable property and well as an average all-round design, Bestway hydroforce paddleboards are ideal on flat water, ocean touring as well as shallow waves. Bestway hydroforce paddleboards however, do offer a wide array of choices to individual whether beginners looking to explore the activity or an outdoor enthusiast wanting to go for a brief paddle experience ad breeze through the water on a kayak. The Bestway hydroforce sups are listed above are definitely the best Bestway hydroforce sups in 2020!
More Paddle Reviews:
Globo Surf Bestway Hydro Force SUPs Reviews
; ; ;
★★★★★
"
Very nice reviews. I got one model for me and another one for my husband. I can't wait to take them out on the water.
"