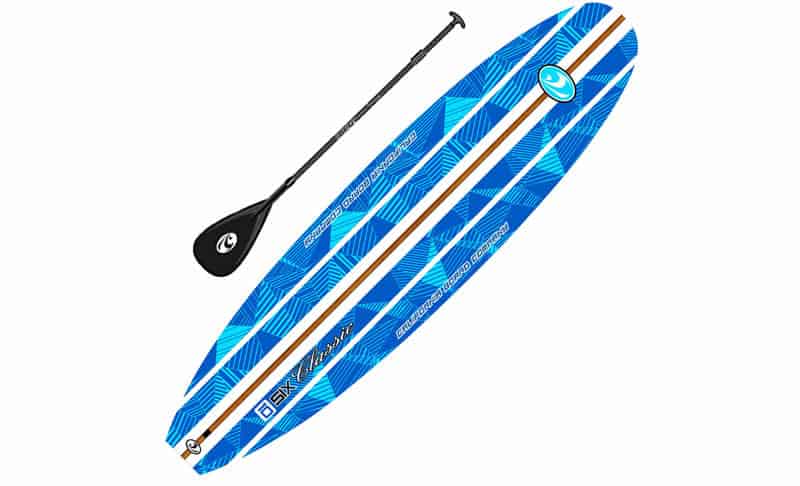 Keeper Sports Stand Up Paddle Board Review
T The first thing we noticed about Keeper Sports' California Board Company (CBC) Stand Up Paddle Board (besides its total mouthful of a name) is that it is gorgeous. Though this is certainly among the most affordable stand-up paddleboards, Keeper Sports hasn't sacrificed anything in the style department.
Of course, with stand-up paddleboards, it's all about function — again, this board definitely gets the job done. At around just $500, it'll be hard to find many other decent boards that can match the low cost. This board is ideal for someone looking to get into paddleboarding or add a backup board to an existing collection, without breaking the bank.
Keeper Sports can keep the price low by building this board out of EPS foam — while it's by no means fragile, it will require a bit more care than some of the sturdier (and pricier) boards out there (if you're willing to throw down an extra $200, check out the Tower Adventurer 9'10" Inflatable SUP for a similar ride with more durability and portability).
Despite the more economical foam construction, the three wooden stringers ensure that this board still lives up to the standards of more expensive boards as far as rigidity and strength. For the impressively low price, the California Board Company SUP performs very well and keeps up with the fancier boards.
Keeper Sports SUP Features:
The Keeper Sports 10'6" SUP comes with a floating paddle, a leash with a neoprene ankle strap, a camera mount, and a padded roof rack mount for the car. This package covers all the basics. Some reviews advertise that this board has a "tri-fin" system, but the board actually only has one. We don't view that as a problem (unless you are a more advanced rider), but want to set the record straight so you won't be expecting three fins!

Surf leash with ankle strap
Camera mount
Padded roof rack for car
Height-adjustable paddle with blade shield
Single fin
Keeper Sports Specifications:
Size: 126″ x 31″ x 5.5″
Weight: 25 pounds
Weight limit: 300 pounds
Material: High-density EPS Foam. 100% waterproof core. Molded-in laminated wood stringers. HD polyethylene slick bottom. IXPE/XPE HD deck.
Keeper Sports SUP User Experience:
Set up: There's really no set-up with this board. It comes with a leash, roof racks for your car, and a good paddle. You may want to get an anti-slip deck pad — otherwise, you'll just have to wax the deck.
The Ride: The 5.5" thickness and wide 32" deck make for a sturdy, comfortable board. The California Board Company SUP is designed and packaged to get you out on the water and paddle with no hassle.
Pros:
Unbeatable price.
Beautiful design. This board is very pretty.
The paddle is adjustable, and floats (in case you drop it in the water — not all paddles will float, so be sure to check!).
All the basics are included, along with a couple of bonus features — camera mount and roof rack.
Cons:
The deck can be slippery, so you have to make sure you wax it well or buy an anti-slip deck pad.
One user complained about damage from riding over rocky surfaces. If you're going to be doing that, go for an extra-durable board, perhaps the Tower Adventurer Inflatable which uses military-grade PVC.
The roof rack is a very nice addition, but not the best quality. If you're going to be strapping the board to the roof a lot and going on longer/rougher drives, consider getting a more heavy-duty rack.
Paddle Board Overall Rating:
Based on all the information we've gathered on this board, here's our overall breakdown for the Tower Adventurer Inflatable Paddle Board (SUP):
Price: 100% – This is what it's all about. Keeper Sports has managed to create a solid board at a very low price point. You'll be hard-pressed to get a better board without shelling out at least a couple hundred dollars more.
Material: 80% – The EPS foam is totally functional, but not the most durable.
Design: 90% – Totally sturdy and stable, very easy to ride even for beginners, and the artwork on the board is stunning! Paddlers planning on going out in the waves might want to look at a board with three fins, but the one fin on this board is very adequate.
Overall: 96% – Beautiful design, sturdy build, mid-level materials/durability, and unbeatable price. Get this board if you're just starting or looking to add a backup board to your collection for friends and family.
Globo Surf Overview:
Again, the CBC Stand Up Paddle Board from Keeper Sports is among the most affordable stand-up paddleboards you will find on the market without settling for, quite frankly, a crap board. At this price point (around $500) you should exercise caution, and make sure the board you choose has solid reviews. If you're just starting and looking to save, we think this board is a very safe bet. For a slight sacrifice in durability, you get a comfortable board that's very easy on the eyes (and on the wallet).
If you're ready to jump into the stand-up paddling world, this board is available at Amazon — head over there to check out the rest of the reviews and take advantage of their free shipping.
More Paddle Reviews:
Sources
Reviews, www.reviews.com
Surf Wax, The Inertia