If you've learned how to paddle a stand up paddle board and fallen in love with the sport, you may be interested in investing in your own board. There are various types of paddle boards, but if you want to get back to the root of nature, a stylish bamboo paddle board could be the design for you.
Bamboo paddle boards are becoming very popular in the SUP community for their sleek finish that evokes traditional tribal culture. Bamboo is a durable natural fiber that has the highest strength to weight ratio. It is also lightweight and extremely buoyant, even while supporting weight. 
Bamboo can be a great alternative to traditional hard
stand up paddle boards
and their prices will be about the same. Bamboo SUP boards are an investment, but a top rated bamboo stand up paddle board will serve you throughout multiple trips to a variety of locations.
Bamboo Paddle Board Reviews
CRAZZIE Real Bamboo Paddle Board
See Customer Owner Feedback >>
What Makes This Bamboo Paddle Board Stand Out

Black rails

Extra straps on board

Epoxy clear coat
Product Dimensions: 125 x 33 x 4.8 inches
Weight: 27.6 pounds
North 2 Boards Bamboo Paddle Board
See Customer Owner Feedback >>
What Makes This Bamboo Paddle Board Stand Out

Great beginner board

Extra thick

Extra durable
View More By North 2 Boards »
Product Dimensions: 11 feet x 33 inches x 4 ¾ inches
Weight: 27 pounds
JK Surfboards Bamboo Paddle Board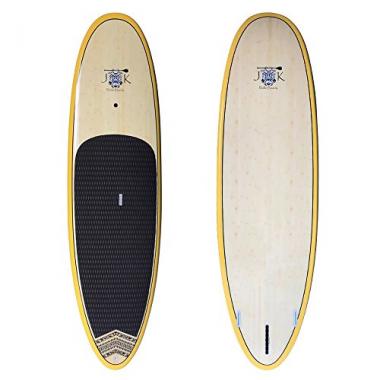 See Customer Owner Feedback >>
What Makes This Bamboo Paddle Board Stand Out

Entire package

Supports up to 270 pounds

Hand shaped or hand finished
View More By JK Surfboards »
Product Dimensions: 10 feet x 33 inches x 4 ¾ inches
Weight: 25 pounds
How To Choose A Bamboo Paddle Board – Buying Guide

There are amazing benefits of paddle boarding, so it's very understandable that you would want to purchase your own paddle board. It is easy to learn what SUP is and how to stand up paddle board. If you want to get on your feet, a bamboo stand up paddle board can give you the support you need.
There are still a few different bamboo SUP designs, so it can be difficult knowing which design you should choose. There are a few different features that can help you decide which board design would best suit your needs. A stand up paddle board bamboo design can have different sizes, which will ultimately affect how well you are able to balance and paddle.
Length
There are a variety of lengths available in most bamboo SUP boards. The length of the board will ultimately affect how you move through the water, how easy it is to maneuver the board in water, and how well the board tracks in water.
The longer the board is the easier it will glide on the surface of the water. However, a longer board will be harder to maneuver in turns versus a shorter board. A shorter board will have a better turning radius and take less energy to paddle the turn. But longer boards will track better in the water.
It is important that you correctly size your board, just like you correctly size your paddle. For beginners and intermediate paddle boarders, boards that are about 10 feet to 12 feet or longer are the best design.
Width
Just like there are different lengths, there are a variety of widths available too. The wider a board's design is, the more stable it will be. However, this also means that the board will drag more in the water. The drag in the water will make the board slower or faster. Skinnier boards will move the fastest through the water.
For beginner and intermediate paddle boards, wider board designs are better because they offer more stability. With a wider board, new paddle boards can easily learn how to properly balance the board and get to their feet. A wider bamboo stand up paddle board could also be used for different types of paddle sports, like paddle board yoga.
Size
While we've discussed specific aspects of the size of your board, the overall size of your board will be larger. Perhaps larger than you expected. The size of your bamboo SUP can make it hard to carry when out of the water. It can be helpful for you to learn all the parts of a stand up paddle board, so that you aren't overwhelmed by its size.
It is important that you learn how to maneuver your water both on and off the water. You should learn how to store your paddle board and how to transport your stand up paddle board. This can ensure that both you and your board are safe. As well, learning how to care and manage the size of your top rated bamboo stand up paddle board will keep it in its best shape to ensure it is a long lasting investment.
FAQs

Q: Why choose a bamboo paddle board?
A:
One of the first reasons why paddle boarders are attracted to bamboo SUP boards is the visual design. Bamboo is an attractive material and most people have designs that are made of fiberglass, plastic, or are inflatable paddle boards. A bamboo SUP is entirely unique.
Bamboo stand up paddle boards are also eco-friendly because bamboo is a natural material. This means that the majority of your board is made with a durable and strong, natural fiber. Bamboo is also a material that rivals the synthetic stand up paddle boards. Bamboo can give you a strong and reliable performance for paddle boarders of any level.
If you are struggling to decide if bamboo is the right choice for you, it can help to learn the differences between plastic and fiberglass boards, as well as the differences between fiberglass and inflatable boards. Ultimately, bamboo SUP boards are still a large investment. They can be just as expensive as fiberglass and plastic paddle boards. If you are looking to save money, cheap paddle boards would be best.
However, you should remember that what you invest can determine quality. Bamboo SUP boards are expensive, but they are made of high-quality materials. A bamboo stand up paddle board should last you for a long time. Even with the price, many bamboo paddle board reviews rave about the design. Other paddle boards have fallen in love with this natural fiber and it is quickly becoming the go to material for paddle boards.
Q: Are bamboo paddle boards safe and sturdy?
A:
Yes. Bamboo is a lightweight, but extremely durable natural fiber. A top rated bamboo stand up paddle board that is made with quality materials will have a sturdiness that rivals the hard synthetic materials like fiberglass and plastic. While still being sturdy, bamboo is also extremely buoyant, which means you will easily float on top of the water.
The best bamboo paddle boards are also safe for any paddle boarder to use. Whether you are a beginner, an expert, or paddle boarding with kids, you can safely use a bamboo SUP. However, there are some things that you should never do, which can ensure your safety while paddle boarding.
Q: How to care for a bamboo paddle board?
A:
There aren't any different or special steps to take care of bamboo SUP boards than any other paddle board. To keep your top rated bamboo stand up paddle board in the best shape you should ensure that you don't leave it exposed to the sun, store it fully dry, store it properly, transport it properly, and that you go on your adventures with everything that's on your gear and equipment checklist.
You may also want to make additional investments to keep your board safe. There are a variety of paddle board accessories that can help keep your board safe and clean. As well, looking to invest in SUP board bags can help ensure that your bamboo SUP is always kept safe for storage and transportation.
If you are worried about a caring for a specific feature of your board, you should check for any instructions or guides that were provided with your purchase by the specific brand of your stand up paddle board bamboo design. This can help you ensure you are properly caring for your board and ease your worries.
Globo Surf Overview
There are lots of reasons to try paddle boarding or to invest in a board if you've already been hooked on the sport. Paddle boarding is a great way to get out on the water and still get your exercise. A top rated bamboo stand up paddle board can ensure that you have a great time paddling the gentle waves.
If you are ready to make an investment and own your own paddle board, you can choose from the best bamboo paddle boards to satisfy your needs. Not only will you have a durable and sturdy bamboo SUP, but you'll turn everyone's heads at the beach. Bamboo SUP boards are strikingly attractive and will ensure that you look entirely unique in the water.
If you know exactly what you want or are looking for, you can find the best bamboo stand up paddle board that suits your needs, so that you can get out on the water faster.
More Paddle Reviews:
Do you own one of the bamboo paddle boards that made it onto our list? Let us know how it has worked for your stand up paddle boarding needs in the comments section below.
Globo Surf Bamboo Paddle Boards Reviews
★★★★★
"
I invested in bamboo paddle board and never regretted it. Thank you for helping me choose.
"