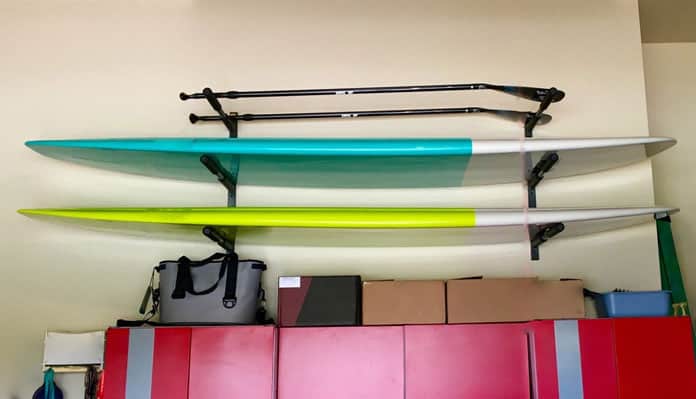 EDITORS CHOICE

---
The best sup wall rack ensures that your boards are stored securely until the next time you hit the waves. Ranging in size, material, and capacity, sup racks differ from one another immensely, therefore it wouldn't be a surprise if your quest for searching the best sup rack turns into a daunting task. Thankfully, we've already searched the market thoroughly and created a list of the best players to give you peace of mind as you place your paddle board on it.
How To Choose A Paddle Board / Surfboard Wall Rack – Buying Guide
Key features in a wall rack
Ensure your board has enough coverage. At least 3/4 of the board should be held by the rack.

Thick padded arms, typically made of foam or a soft fabric are important. These pads prevent your board from getting marked up.

Easy to set up racks come with the hardware that's needed, eliminating the need for a lengthy, tricky setup.

Getting racks with a warranty is the best choice, as it will only be a one-time investment.
Related Review: Surfboard Car Rack
Type
There are two types of rack storage available; horizontal and vertical (side storage), and it's up to you which one suits your style. With horizontal storage, your boards are stored flat, but they stick out more. With side storage, the boards sit more flush with the wall, meaning that they do not stick out as much.
Durability
Racks should be a one-time investment. Once the rack is on your wall, it should not take any damage, and the wear and tear from storing your board should be minimal. When shopping for your board, look out for high-quality materials rather than durable racks.
Indoor Or Outdoor Use
This will make a big difference to the rack you look for. For a rack for outdoor storage, you should look out for one which uses durable materials and can hold its own. Most outdoor racks are waterproof, but look out for a rack with UV coating, too as the sun may be an issue.
Strength Of The Rack
The weight capacity you should look for on your rack should be the weight of your boards + 20% extra weight. If you're planning on upgrading your boards, then you can customize the weight of your racks, based on your customization.
Installation
Numerous brackets and screws can be annoying, and they should not be a part of your setting up process. Get a rack which can be installed on any wall, and one that only has a couple of points. Get your tools ready, and check if the board rack comes with fasteners. If it does, your set up process should be a breeze.
FAQs
Q: Why Do I Need A Paddle Board / Surfboard Rack?
A:
You'll need a paddle board/ surfboard rack to prevent any damage to your board. If not stored correctly, it could fall over, making your surroundings look messy, and sometimes becoming dented and chipped off. The main reason why you should have a rack is for storage and a proper place for your board.
Related Post: How to Store a Stand Up Paddle Board
Q: How To Lock A PaddleBoard / Surfboard To A Rack?
A:
Here are some steps to follow when locking in your board:
Follow the instruction guide for the rack you are using

Place the board centrally in the rack

Ensure the board is clean and dry

Make sure that the boards are not held too tight when securing board
Globo Surf Overview
With any of the racks on our list, storing your paddleboard or surfboard does not have to be a struggle. These are easy to set up and have a high carrying weight that ensures your stand up paddle board will be upon your wall and out of your way.
More Paddle Reviews:
More Racks Reviews: