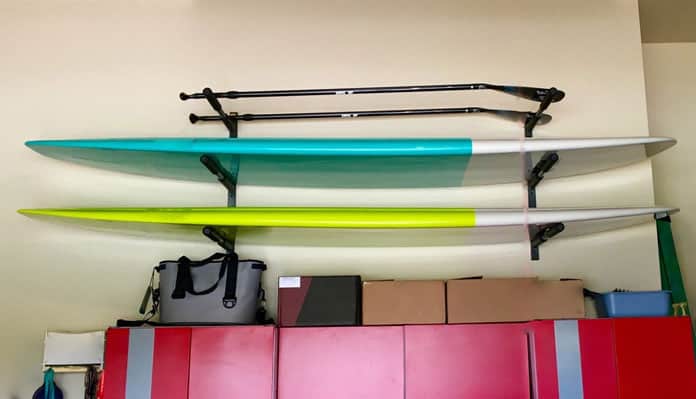 Y
ou bought your paddleboard and now you need to store it. You paid valuable money for your boards so it makes sense to have the best sup wall rack to take care of them. These will range in size and strength but all should be made of a strong metal. Some even have slots for more than one board so you can hold multiple boards for the whole family.
We have done the research for you and put together a list of the best sup racks on the market.
QUICK ANSWER: THE BEST PADDLE BOARD / SURFBOARD WALL RACKS
The Best 5 Paddle Board / Surfboard Wall Racks Are…. Let's Review!
[table id=1 /]
SUP Rack Paddleboard Wall Storage

Check Price Now
This is a solid wall mount made with a steel frame strong enough to hold your boards. It sports a foam cushion which gently cradles your boards. Holding three boards, it is big enough for the whole family to use. This wall mounted surfboard rack is easy to install and holds boards up to 40" wide. It is a complete kit that even includes the mounting screws. Only have one board? Use as many arms as you need. It allows your board collection to expand and be properly stored. As far as sup racks for wall mounting goes, this one is at the top of our list for a reason.
Weight capacity: 75 lbs
Item dimensions: Arms: 27″ long, spaced 12″ apart
Materials: Steel
Amount of boards it holds: 3 boards
What makes this rack stand out:
Three board capacity
Easy to install
Removeable arms
COR Surfboard Paddle Board Wall Rack
This stand up paddle board wall rack is as solid as they come. Holding two boards, more if you want to stack them, this rack has a high weight capacity and an excellent design. With a rust resistant finish and heavy duty wall anchors this board excels in performance. COR is a trusted family based company so confident in this product that they extend a lifetime warranty with it.
Weight capacity: 100 lbs
Item dimensions: Height: 20.5″ Arm Width: 28″ Spaced 10″ apart
Materials: Steel
Amount of boards it holds: 2 boards
What makes this rack stand out:
Lifetime warranty
Rust resistant rack
High weight capacity
Naked Surf | Minimalist Surfboard Wall Racks StoreYourBoard
This wall rack acts as a spotlight rather than just a regular rack to hold your board. This is all about looks but don't be fooled this is a well designed and heavy duty rack fit to showcase your board. Felt padding to give your board a soft cushion feel while the minimalist design keeps this rack well hidden showcasing your board.
Weight capacity: 50 lbs
Item dimensions: 6.5 x 2 x 11 inches
Materials: Aluminum
Amount of boards it holds: 1 board
What makes this rack stand out:
Will never rust
Low profile rack
Soft padded rails
Double SUP Wall Rack StoreYourBoard
This impressive wall rack boasts steel arms wrapped in foam to gently hold two boards at a maximum combined weight of 75 lbs. Powder coated to resist rust this wall rack is easy to install and holds just about any surfboard. When not in use you can simply pop the arms off for a more compact look giving you endless versatility.
Weight capacity: 75 lbs
Item dimensions: 24″ tall and 27″ wide arms – Spaced 11.5″ apart
Materials: Steel
Amount of boards it holds: 2 boards
What makes this rack stand out:
Easy to install
Removable arms
Space for two boards
SUP Hanger Rack Paddle Board Wall Hooks
This single board holder is great for boards of all sizes even as big as 5" thick. With an upward slant your board will sit close to the wall taking up much less space than other wall racks. With a separate holder space for your paddle these wall hooks are great for keeping all your gear together so you can get on the road sooner. The arms are super lightweight which makes installing a breeze. It also doesn't put a large strain on the walls of your home.
Weight capacity: 1.4 lbs
Item dimensions: 2.8 x 13.1 x 23.9 inches
Materials: Aluminum
Amount of boards it holds: 1 board
What makes this rack stand out:
Has paddle storage as well
Great for indoor or outdoor use
Vertical storage takes up less space
What is the best surf leash for you?
Key Features in a wall rack
When looking to purchase one for yourself, we put together some things to keep in mind.
Ensure your board has enough coverage. We recommend having at least half, closer to ¾ of the board held by the arms of the rack.
The best surfboard wall rack will have thick padded arms. Typically foam or another soft fabric, this will ensure that your precious stand up paddleboard, or surfboard, won't get marked up, especially when storing your board for the winter.
An easy to setup rack will come with the hardware needed without the hassle of a tricky installation. Racks that have a system like this will take less than ten minutes to set up.
Getting a rack with a warranty is a great peace of mind to ensuring this purchase will only be a one time hit. This also shows how much faith the company has in their product.
Globo Surf Overview
With any of the racks on our list storing your paddleboard or surfboard does not have to be a struggle. These are easy to setup and have a high carrying weight that ensures your board will be up on your wall and out of your way. Also, storing your board out of the elements will increase its lifespan as it won't be subject to harsh rain and sun.
Have any of these racks? Let us know what you think in the comment section below.
You May Also Like
6 Best Paddle Boards for Racing / Touring
5 Best Stand Up Paddle Boards For Fishing
5 Best Paddle Board Fishing Accessories
5 Best Paddle Board Car Racks
Last Updated On The 12th January 2017
Like What You See? Please Rate This Post And Let Us Know What You Think!