P
addle boarding is an incredibly fast growing sport that has infinite ways to personalize and extend your paddle experience. Once you have your paddle board it may be time to start looking to accessorize your board for even more usage. Customizing your pride and joy with some of the best sup accessories will expand the realm of your adventures. We all paddle board a little differently so finding your perfect gear will make your trip all the more pleasurable.
What kind of paddle board accessories are there?
If you can think it up someone has made it. This increasingly popular adventure sport is only growing with popularity. This means that all the best paddle board accessories you can think of are available.
The best paddle board accessories will come fully equipped with waterproof and lightweight technology which makes it specialized to the sport. Love bringing your pup on your board? There is a traction pad accessory to keep your dog comfortable. Expand your paddle time with glowing lights on your board, perfect for sunset paddles. Attach an anchor for mid-lake tanning, even pop a cooler on top for the ultimate party setting. Whatever you decide you are guaranteed to make your day on the lake that much more enjoyable.
We love accessorizing, so we scoured the web and found our favorite paddleboard accessories here:
QUICK ANSWER: THE BEST PADDLE BOARD ACCESSORIES
The Best 20 Paddle Board Accessories Are…. Let's Review!
[table id=1 /]
Deluxe SUP Carry Pack by BPS

Check Price Now
This is a lightweight over the shoulder strap system that makes it so you can transport your rigid SUP easily. The most basic of the paddle board gear, this strap is sure to make your life much easier. Its adjustable straps extend to fit any size board and any size carrier. The idea is to transfer the weight of your board from your arms as you'd regularly carry it to your shoulder. With a soft and comfortable triple layered shoulder pad you can carry your board with comfort and ease. This strap carrier is incredibly durable which means it can fully support the weight of your board for years to come. When not in use this strap rolls up small and lightweight making it incredibly easy to store.
What makes this accessory stand out:
Waterproof waist strap
Space to hold your paddle
Easy to store
Waterproof phone case
Voxkin PREMIUM QUALITY Universal Waterproof Case – for Any Phone
This case is at the top of our must have stand up paddle board equipment list. It is 100% dust proof, sand proof and waterproof. Fitting any size phone, this case can hold much more than just your phone. Pack some change for a cold drink and your car keys and you're set for an awesome day on the water. Coming with a lanyard and armband there are different ways you can wear this case. This carrying case even comes with a built-in compass to help guide your way for overnight adventures with your SUP. Our favourite part is that it has a touch sensitive design which allows you to send texts and even take photos through the transparent case. Talk about a great accessory.
What makes this accessory stand out:
Has compass on phone case
Comes with lanyard and armband
Fits any phone type
Completely waterproof
Touch sensitive design
Dry Bag Sack, Waterproof Floating Dry Gear Bags
As far as paddleboarding accessories go you can never have too many dry bags. This top of the line bag comes in different sizes ranging from 5 to 40 litres. A touch sensitive design gives you complete access to any of your touch screen devices. Simply strap this dry bag to your sup and feel confident that your gear will stay safe and dry no matter where you go. With shoulder straps attached, it's easier than ever to transport all your luggage for your next adventure. This is great for those with dogs, kids or who are generally heavy packers.
What makes this accessory stand out:
Touch sensitive design
Many different colors and sizes
Completely waterproof
Stylish design
SUP Buddy
Your day on the lake isn't truly complete without the SUP Buddy. Among the best sup board accessories for any party, this allows you to bring your drinks with you wherever you go. Really, what more could you ask for? A cold drink will never be more than arms reach away. Available in six colors, this bottle koozie with a velcro bottom that sticks to a suction cupped velcro circle that can hold up to three beer koozies. Have one of these and you will quickly become the life of the party.
What makes this accessory stand out:
Holds up to three koozies
Suction cups to your board for stability
Great for parties
Kayalu Kayalite Kayak Light
Gone are the days that paddle boarding is restricted to sunlight hours. With this sup lamp you can take in a breathtaking sunset while on the water, go for a moonlight paddle, or extend your time on the water for lengthy overnight trips.  Experience 200 hours of bright LED lighting on your trip, all powered by only two AA batteries. With marine grade materials this light is sure to perform, even being submersible to 1000 feet. The Kayalu Kayalite light is Incredibly durable. This is not only a beneficial accessory, it can add a lot of safety to extended trips.
What makes this accessory stand out:
200 hours of light
Powered by two AA batteries
1000 ft submersible
Bright LED bulb
Dock Locks SUP and Surf Board Lock
This SUP board lock is easy to use and will ensure that your SUP is taken care of. Simply attach it to your recessed leash plug. Don't have one? No problem, it even comes equipped with an attachment you can clip to your fin. The 10' coiled steel wire cable will ensure that your board is safe on the roof of your car, attached to a park bench or wherever else you go. The high quality stainless steel lock will not rust or corrode in salt water ensuring it can be used anywhere you take it. No key to hold onto with this board lock, simply add your four digit pin and trust that your board is secured.
What makes this accessory stand out:
No key: passcode operated
Heavy duty coiled steel wire
Highly durable
COR Board Racks / SUP Paddle board Cart Carrier
This wheeled carrier is great for transporting any size board for long distance ventures, or if your hands are filled with other accessories. This is a lightweight system that has detachable wheels that makes it easy to storage when not in use. The aluminum bars and hardware are guaranteed to not rust which makes it great to bring to the ocean. This is reinforced by a 100% money back guarantee. The large wheels make it easy to navigate through sand and rough terrain. As a bonus, it comes with a lifetime – this deal just keeps getting sweeter.
What makes this accessory stand out:
Lifetime warranty with 100% money back guarantee
Large detachable wheels
Won't rust
SUP Deck Bag with Waterproof Insert
Need more storage? This deck bag easily mounts to any SUP using four industrial grade suction cups. A mesh bag is stretched in between them to create a great home for everything you need for a day on the water. Large enough to fit the important things like sandals and sunscreen but compact enough to not get in the way this system is the perfect size for any board. It also comes with a waterproof insert so you can be sure that your keys and phone will be safe as you paddle.
What makes this accessory stand out:
100% money back guarantee
Comes with a waterproof insert
Ultra lightweight
BaiFM Downwind Paddle Kayak Wind Sail Kit 46 inches Kayak Canoe Accessories
Love paddle boarding and seeing how far this fun sport will take you? Well look no further. Spice up your regular paddle boarding experience by turning it into a sail boat. Catch the wind just right and take off with this incredibly durable wind sail. Triple stitched perimeters ensure that this sail will propel you through the water for years to come. It is easy to setup and deploys in a matter of minutes. This wind sail is sure to revamp your paddle boarding experience.
What makes this accessory stand out:
Incredibly durable
Lightweight
Easy to set up
AIRHEAD AHSUP-A015 SUP Anchor Kit
Bring your pool parties to the lake this summer with your paddle board. Skip the busy beach packed with kids and head to the middle of the lake with your specialized SUP anchor. This kit allows you to anchor in 15 ft deep water ensuring you bring the party with you or simply enjoy your time tanning with a group of friends. This anchor is super compact folding down to a small size making it easily transportable. It will even fit in your sup bag. This anchor will not rust even in salt water because it uses a stainless steel system. Only weighing 1.5 lbs, this anchor is a great lightweight addition to your paddle boarding setup.
What makes this accessory stand out:
Compact for easy storage
Won't rust
Rope extends 15 ft
FUN TOES 2.5MM Neoprene Socks for Water Sports for Women & Men
Paddle boarding is no longer just a summer activity when you are equipped with the proper gear, including the best neoprene socks. Never fear the cold water again with these thick and incredibly warm socks that can be used for both men and women. These are the perfect addition to a wet suit, or simply wear them and watch as your season gets longer. These socks provide added grip to your board and can even be used as water shoes well for painful rocks. As an even better bonus, you get an extra pair of these water socks when you order them.
What makes this accessory stand out:
Gender neutral
Provides added grip
5mm thick
Pup Deck SUP Traction Pad for Dogs Stand Up Paddleboard Deck
If you're anything like us, your pup is more than just a dog, he's your furry kid. You want to bring him everywhere with you and now you can. Test your pup's balance by bringing him on your paddle board. This traction pad is a great sup accessory to ensure your dog can stay securely on the board with you. It also adds a welcomed barrier against your dog's nails and your precious board. Its oval design is sure to fit on most paddle boards. The 3M adhesive will create a firm bond to your board. This will also give your dog a specific area that is his which will make him feel more secure.
What makes this accessory stand out:
Fits any dog
Oval design to fit on most boards
Sticks well to your board
Easy installation
SUP Rack | 3 Paddleboard Wall Storage | StoreYourBoard
You spent hundreds, maybe even thousands on your sup including roof rack for your car. But where are you going to store your board when the weather turns cold? You need a storage solution that will hold your board against the wall, freeing up some valuable space in your garage or storage room. The SUP Rack will do just that. It is has a rust resistant finish on this wall mount will help ensure it lasts many years to come. This sup holder is great for the whole family holding three boards at a maximum weight of 75 lbs.
What makes this accessory stand out:
Holds three paddle boards
Large weight capacity
Rust resistant finish
AO Coolers Vinyl SUP Soft Cooler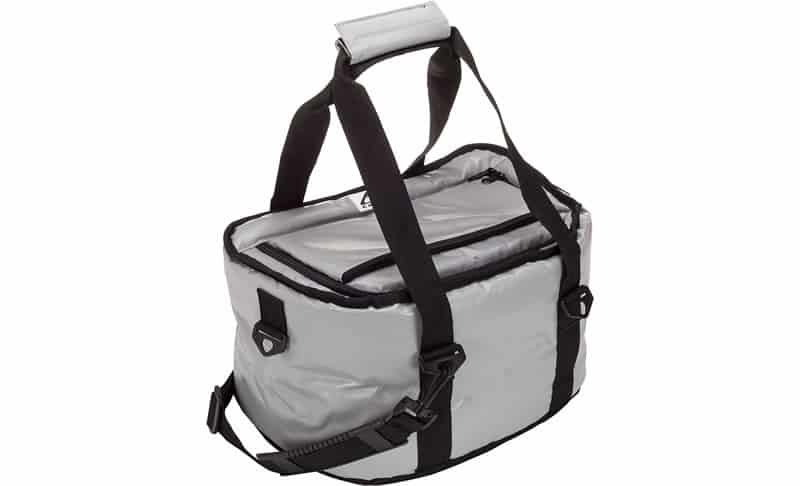 Adding a cooler onto your board will allow you to bring your drinks with you anywhere you go. The AO Cooler will ensure your drinks and snacks stay cold no matter how long you ride for. This cooler is great for those who fish on their SUP. Load some ice into the cooler and you have a place to put your fresh catch. Being lightweight with a flexible design making it easy to transport. Being completely waterproof ensures this cooler will hold ice for 24 hours. A leak proof design makes it safe to bring in your car without worry. This cooler is easily secured to your paddle board with use of the provided suction cups, or it can be tied down using the eye hooks provided. This is a summer must have, especially when fishing.
What makes this accessory stand out:
Soft design easy to pack
Lightweight
Waterproof
Stand Up Paddle Board, Bungee It Deck Attachment
It's true what they say, you can never have too much storage. This goes for your paddle board as well. Whether you are a weekend warrior or an avid paddler, having added places to hold your gear will prove infinitely valuable. With this bungee system, you can increase your storage space and pack even more gear with you on your next adventure. An impressive bungee system gives you more space to pack your gear onto your board for your next overnight or long distance paddle. Great for storing a ton of gear without weighing your board down with added storage solutions.
What makes this accessory stand out:
Heavy duty and durable
Stretchy design
Fits on all paddleboards
Mesh Top Zipper Bag
This is a zippered mesh bag that sits securely on your paddleboard. It is a great SUP accessory that will fit onto any board. This bag is a great place to stash your water bottle, some snacks and some valuable sunscreen for a mid lake reboot. Extend your time spent on the water with this SUP bag. Weighing in at less than half a pound it is ultraportable. As a bonus this useful accessory comes with a 100% lifetime warranty so you can be sure you made a good buy.
What makes this accessory stand out:
100% lifetime warranty
Lightweight design
Easy to install
DORSAL Surfboard Kayak SUP Surf Rack Tie Down Straps
Need a quick and easy way to transport your boards? These tie down straps are just what you're looking for. Coming in at 15 feet long, these straps allow you to throw your boards on the roof of any vehicle and safely secure them down without using any hardware. Preserve the look of your vehicle by not having to drill into your roof. These tie down straps are also a great option for those with multiple vehicles, allowing you to carry your board on different vehicles using only one roof rack system.
What makes this accessory stand out:
Fits on all vehicles
No drilling into your car
Thick straps won't damage your board
Inno Kayak/Canoe/SUP Locking Carrier with Board Pads
This cross bar is a great way to transport your SUP on your car's roof racks. Easy to install and incredibly durable, these cross bars will mount to both square and rounded roof racks which ensures they fit on any car, SUV, or truck. A ratcheting system allows them to be effortlessly secured to your roof. Locks on the hinges add security to the system giving you peace of mind while you run into the store. This cross bar will create ease and simplicity while transporting a wide range of paddleboards on your car's roof.
What makes this accessory stand out:
Includes locks for security
Mounts to most roof racks
Paddle Hugger – Velcro
Never struggle with balancing your paddleboard and paddle again with this handy paddle hugger. Simply install this velcro strap to your board using a highly adhesive velcro holder and allow your paddle to stick to your board with ease. Made using high density foam, this paddle carrying system is incredibly durable. Use this system when carrying your board to minimize the amount you have to carry, giving you a hands free SUP experience.
What makes this accessory stand out:
200 hours of light
Powered by two AA batteries
1000 ft submersible
Bright LED bulb
SUP Sticker Decal by NALU
Show your love for this fast growing sport with this SUP sticker. Sport it on your car, paddle board or even your computer and show the world how much you love taking your sup on adventures. It has an extra durable design with a UV layer makes it so this fun sticker will stay on in rain or shine. Feel good about this purchase knowing 10% of profits goes directly to ocean clean up.
What makes this accessory stand out:
Strong adhesive
Fun design
Partial proceeds go to charity
Globo Surf Overview
Your board is not complete without accessories. The items on this list will make your day, or weekend, on the water that much more enjoyable.
Having the right paddle boarding accessories will transform this from a sport to a way of life. Grow as this activity does by incorporating this full body workout into every part of your life. You will sure to be the envy of the summer by dressing your paddle board up with the latest gear is sure to give you endless fun in the sun.
Have any of the accessories on our list? Or, did we miss your favorite? Chat with us about it in the comment section below.
You May Also Like
5 Best Paddle Board Leashes
5 Best Beginner Stand Up Paddle Boards
5 Best Inflatable Stand Up Paddle Boards
5 Best Stand Up Paddle Boards For Yoga
Last Updated On The 5th January 2017
Like What You See? Please Rate This Post And Let Us Know What You Think!