Transporting your paddleboard can be a daunting task. What good is spending hundreds or even thousands on a SUP if you can't transport it into the water? SUPs are typically around ten feet long and can catch wind and act as a parachute atop your car. Having the best stand up paddle board car rack will ensure that your board is safe. Lets face it, struggling to get your paddle board on and off your car will make you less likely to want to use it.
We want to see more stand up paddle boarders out in the water every chance they can. That's why we have done the research to find the best paddle board rack for car mounting. These five options are sure to make your trip less stressful and get you on the water fast.
How To Choose A Paddle Board Car Roof Rack – Buying Guide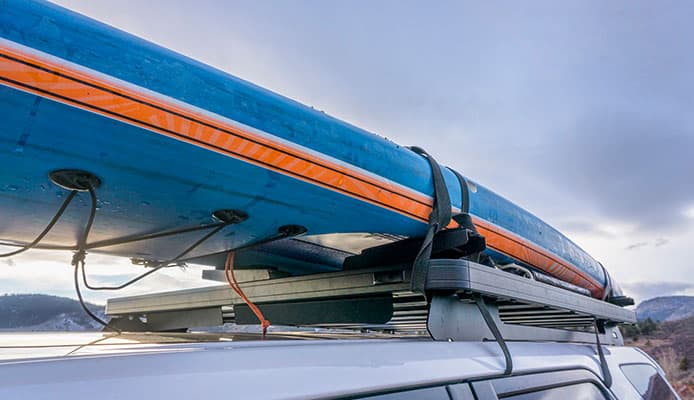 A paddle board roof rack will be the best and easiest way to get your board from your home to the beach. You can use everything from a simple foam and strap system, or a more sophisticated board cradle. Either way, you can rest assured your board will get to the beach safely.
Which Model is Right for You?
No matter which system you decide on safety should be your first and last thought. When you strap your board to the roof of your car you must ensure it's done properly and safely. If your board somehow ends up flying off your car you can be held responsible. For this reason, we suggest investing in a roof rack for your paddle board rather than trying to jerry rig it yourself.
With that being said, every single paddle board roof rack has been specially designed to carry boards safely. On top of that, every system comes with instructions on how to set it up including how to strap it to your vehicle.
The best model for you is the one that will suit your needs. For example, if you have three boards you will need a system that can handle that load. You will also need to think about its portability. You may not need the rack on your car at all times, so you will need a place to store it when you're not using it. Having a roof rack that you can throw in your bedroom closet will ensure you have a place to store it.
Mounting System
The right mounting system can vary depending on your vehicle. If you have a vehicle that has crossbars already installed, you can get a rack system that simply attaches to it. But if your vehicle doesn't have this you will need to make sure the system is compatible with your car.
These systems usually attach to the gutters on your car. Some specialty racks even have suction cups that add extra grip to secure your board. Ensure that you specifically look for your model when purchasing one of these systems. The last thing you want is to be ready for a day on the water only to find the system won't work with your car.
Versatility
Your roof rack should be able to handle many types of boards. You may currently only have a paddle board but should look for a rack that can also carry surfboards. Some systems also allow you to strap kayaks or canoes to the roof of your car. These are great for growing families who love the outdoors.
If you have a wide variety of water sports gear you should double check that your racking system can handle many at the same time. Some can be confusing by saying that they accommodate kayaks and paddleboards, but only one at a time. Be sure to read the fine print so you don't find this out when you go to use it.
Related Review: Kayak Roof Rack
Number Of Boards
It is important to pay close attention to how many SUPs your roof rack can carry. One thing to remember is while paddle boards are not overly heavy, they are incredibly long and awkward. This restricts the amount your car an hold. These roof racks can also be used for surfboards so make sure to take that into account when deciding on a size of the carrier.
Our surf and paddle board car racks hold anywhere between two and four boards. It is important that you pay attention to these restrictions as overloading your roof rack can be very damaging.
If you are looking to carry a single paddle board then the Yakima S.U.P. Brah Stand Up Paddleboard Tie-Down System as it is quite cost effective and will support your singular board. For those with a family needing to tow multiple boards your best bet is the FCS Premium DOUBLE SOFT Surfboard Car Racks. This holds up to four boards and is quite versatile in use.
Related Review: Surfboard Car Rack
Locking Mechanism
The locking mechanism is key for keeping your gear safe. If you need to run into a store or leave your car for a few minutes, this system will keep your gear on your roof. It will include a lock with a key that is not easy to break. With that being said, it doesn't allow you to leave for prolonged periods of time. We strongly don't recommend leaving your gear at all. If you're traveling with a friend, let them go into the store while you hang out by the car.
To break the lock a person will need bolt cutters or some cutting tool. We still recommend you look for a paddle board roof rack with a locking system because it deters people. Knowing that your gear will stay on your roof is enough reason for us to recommend these systems.
Tips For Transporting Your Paddle Board
Despite the size of your paddle board transporting your board should be relatively easy. This is made even easier when you have the right gear for transporting. Having a roof rack that will transport your boards is the most important part. There are some tips that will help to make your installation and transport even easier.
You may find it convenient to have a board cart for ease once you get to the beach.
Ensure you follow the guidelines of your rack carrier. Read all the instructions to be sure you are properly understanding how to safely load your boards.
To offer your board even more protection, try padding your roof rack. This doesn't have to cost a lot of money but can actively work to prolong the lifespan of your board. In most cases, a simple pool noodle cut in half lengthwise and some duct tape will do the trick. Wrap the noodle around your roof rack to reduce the risk of scratches and damage to your board.
Get your roof racks professionally installed. You may not want to spend the money on this but when it comes to drilling into your car, it is best left to the professionals. Saving the $100 is certainly not worth it when considering the integrity of your car.
Keep your receipt! This may sound silly but many roof racks come with manufacturers warranty, something you will want in case something goes wrong.
FAQs
Q: What Is The Best Way To Transport My SUP?
A:
The first thing you want to do is to ensure that your roof rack is securely fastened to the top of your vehicle. If the roof rack were to come off, then your paddleboard would be in all sorts of trouble. Start with the longest paddleboard, and place it on top of your roof rack. The best way to do this is to start with the paddleboard against the side of your vehicle, bring it up onto your knee, grab the board with both hands, lift it over your head, and place it on the roof rack. If your vehicle is too tall, then you can slide it up from the rear.
Ensure that your SUP is positioned parallel to your vehicle and tie it down. The buckle on the rack should be near the middle of the board. Throw the other end of the strap over the board and to the other side. Attach the strap on the other side, and do the same with any other straps. If you have a second board, then attach that on top of the first board.
Tie down all the straps, and then test that the SUPs are secure by wiggling the ends to check for movement. Make sure to detach the fins if you can or have them facing up. If you have two boards with fins, then place the bottom one with the fin facing down, if you can, and the top one with the fin facing up. If you hear any rattling or feel any vibrations when you are driving, then stop and check the boards.
Q: What If You Need To Haul A Lot Of Paddle Boards?
A:
Paddleboard roof racks are designed for only a few boards, but if you find one which carries more, then go ahead and attach it as per the manufacturer's guidelines. If you do want to carry more than two, then we recommend carrying some inside your vehicle or having a friend carry them on their vehicle. Never tie more than two/three boards to the top of your vehicle if the rack specifies, and never attach them on their sides or they will act like giant sails.
Q: What If I Don't Have A Crossbar Or Roof Rack?
A:
You should always try to find a roof rack which is compatible with your vehicle, but that is sometimes not possible. Some cars will have an existing roof rack which pads can be attached to, to hold your SUP. Some vehicles will have a crossbar where you can attach a roof rack. But, what if your vehicle does not have either? What do you do then? Your best option is to find a roof rack which attaches to your roof with suction cups.
Now, when you are looking at suction cups, you do not want to choose ones which are just pressed into place, you want to choose a system which uses vacuum cups. Vacuum cups create a vacuum under the cup to hold the roof rack in place, and they offer a lot more stability than regular suction cups. With suction cups, you can attach the roof rack to any vehicle, which does not have any obstructions on the roof. They are also easy to take off and put back on again, meaning that you could transport your paddleboard on your vehicle, and then attach the rack to your boat, and enjoy a day of sailing and paddleboarding.
Globo Surf Overview
It is important to realize that despite these boards light weight, they are incredibly large and can be awkward to transport, especially if you have a foam board spanning over nine feet in length. You spent valuable money on purchasing your paddle board, but what good is that if you can't bring it with you to the lake? We want to see you out on the water enjoying your paddle. Any of these roof top carrying systems will get you there quickly and with less stress.
More Paddle Reviews:
More Racks Reviews:
Have a favorite roof rack? Did it make our list? Leave a comment below and tell us how you like it.