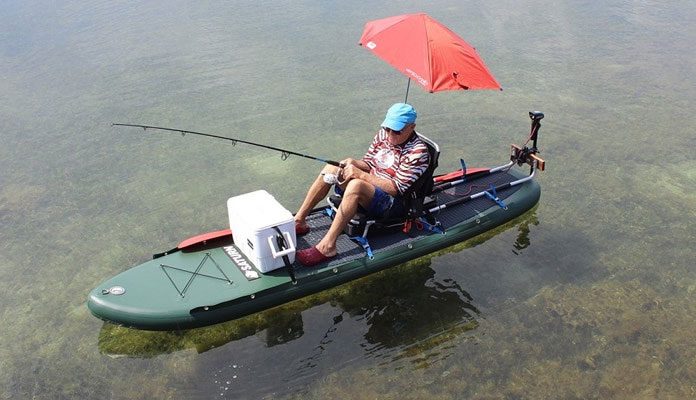 Y
ou've heard about paddle boarding, the latest craze water sport. As always we are looking to push the limits on this enjoyable sport and see how far we can take it. From doing yoga on these boards to the new fad of using your paddle board for your next fishing day. We love the idea of loading up a cooler and hitting the lake for a day of fishing. The best fishing sup will be one that is stable with a heavy weight capacity to carry you, your gear and your catch.
Paddle boarding is an incredibly fast growing sport and one that can connect with a number of different sports to make an extreme sport. A great workout in itself, paddle boards all carry main features that will be useful no matter how you intend to use your board.
We love paddle boarding and combining a day on the lake with some delicious fresh trout to cook up for dinner can't get any better. That's why we have done our research to find the best fishing paddle board.
QUICK ANSWER: THE BEST STAND UP PADDLE BOARDS FOR FISHING
Best Stand Up Paddle Boards For Fishing
Tower Paddle Boards Adventurer


Our rating

Length: 10'4"

Weight capacity: 350 lbs
Atoll Inflatable Stand up Paddle Board


Our rating

Length: 11"

Weight capacity: 250 lbs
Imagine Surf V2 Wizard Angler


Our rating

Length: 11'

Weight capacity: 350 lbs
Stand Up Paddle Boards For Fishing Reviews
1. Tower Paddle Boards Adventurer 2 Package

Check Price Now
The Adventurer 2 is a top of the line paddleboard that is perfect for fishing. It's wide 37-inch stance creates a stable platform to throw your cast. It's 6-inch thick ride height allows you to wear shoes without getting wet. Go where a boat can't take you with this paddle board. You will be catching fish in no time with the Adventurer 2. Included in the package is everything you need to get on the water. The paddle is high quality and easily stored in a compact backpack. The pump will inflate the board to its recommended 15 PSI without strain on your body. This board is a great overall package. It is excellent for fishing and paddling on the open water.
Weight capacity: 350 lbs
Board weight: 26 lbs
Length: 10'4"
Materials: Military Grade PVC
Fins: Tri fin system
Accessories: Three piece paddle and pump
What makes this board stand out:
Two year warranty
Full package
Durable material
2. Atoll Inflatable Stand up Paddle Board
Atoll has been in the industry for some time now and has become an expert in paddle board design and now has taken it a step further making a design excellent for fishing. This board has plenty of storage. With 14 D rings and bungee straps on either side, it has more than enough room to hold all of your belongings. With a 3 piece paddle, you can easily take it apart and store it under bungee straps so you can focus on fishing. This board rides like a foam board with a fully wrapped second layered material giving it all the sturdiness of a foam board with the durability of an inflatable one. With an EVA foam pad for nonslip purposes it doubles as a comfortable pad to sit on for fishing trips.
Weight capacity: 250 lbs
Board weight: 38 lbs
Length: 11"
Materials: Fusion Light construction with Korean drop stitch
Fins: Tri fin system
Accessories: 3 piece paddle, pump, backpack
What makes this board stand out:
2 year manufacturer's warranty
14 D-rings
3. Imagine Surf V2 Wizard Angler Stand Up Fishing Paddle Board
Imagine Surf have been creating paddle boards since 2006 and have used their knowledge to create the V2 Wizard Angler board which is specifically designed as an inflatable sup for fishing. Their board is perfect for your next fishing excursion or just a casual paddle. With two rod holders, four fishing mounts and a seatback that folds up, this board has thought of it all. Not only will you be able to fish, but also sit back and relax while you catch your fish. The boards two storage hatches and a front bungee give it enough room to store both your gear and your catch. This sup fishing board containing a paddle clip so you don't have to worry about losing your paddle while you're busy fishing. Fishing sup reviews for this board are overwhelmingly positive, this board has thought of it all.
Weight capacity: 350 lbs
Board weight:
Length: 11'
Materials: Polyethylene
Fins: Single Fin System
Accessories: None
What makes this board stand out:
Tons of storage
Paddle clip
Fold up seat
This board is solid with its Korean drop stitch construction making it incredibly durable and stable. Riding like a rigid board this is excellent for beginners and intermediates alike. Its sturdy performance makes it a great option for fishing and long distance rides. Features like a diamond groove pad will give you the confidence to throw a long cast while heavy duty D-rings allow you to pack a cooler and all of your gear on board with you.
The package includes a foldable paddle, pump and carrying case. It also rolls into a compact package making it easy to throw in the included backpack.
Weight capacity: 250 lbs
Board weight: 35 lbs
Length: 10'
Materials: High grade PVC with Korean drop stitch construction
Fins: Single fin system
Accessories: Three piece paddle, pump and carrying case
What makes this board stand out:
One year manufacturer's warranty
Small deflated package
Shoulder strap
5. ISLE Airtech Inflatable Explorer Stand Up Paddle Board Package
This SUP is designed to give you everything you need to get in the water, and stay in. With 14 D rings, two bungee straps and a heavy weight capacity this board is able to pack you and our gear. Use some of your D rings to secure your paddle while fishing and load a cooler on board. You will not feel cramped on this spacious 11-foot long board. Despite its size, this board is one of the lightest boards we have yet to come across. Still not convinced? Isle has added a 30 day no questions asked guarantee as well as a 1-year warranty to sweeten the deal. Now that's a good buy.
Weight capacity: 275 lbs
Board weight: 19.1 lbs
Length: 11'
Materials: Military-grade PVC
Fins: Tri fin system
Accessories: Paddle, backpack, pump, repair kit
What makes this board stand out:
30-day money back guarantee
1-year material warranty
14 D rings
Choosing your Fishing SUP: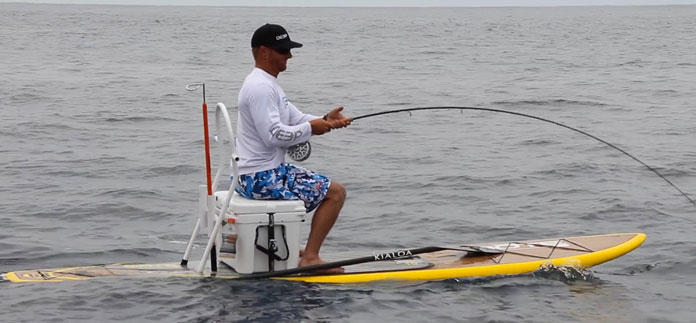 A paddle board that is good for fishing will have features that are different than a standard board. Fishing on a paddleboard is a new twist on an already fun and popular sport. Companies have put time and money to design boards that specialize in this new activity. When looking to buy your next sup fishing board we recommend looking for the following characteristics.
Weight Capacity
This will ensure that your board still remains afloat despite having a heavy load on. Nothing is worse than a board that is struggling with buoyancy when you are fishing. Ensure that your SUPs capacity accounts for your weight, and the weight of all the gear you intend on packing with you.
Board Size
Width: Fishing on a paddleboard can be tricky if you don't have the balance and stability to throw the perfect cast. A wide board, 30 inches or more, will not only give you the stability, but also allow you to get into the right stance. Also, it will give you the confidence to ride in choppy weather.
Thickness: The height of the board will also come into play when fishing. Boards that are around 6 inches thick will ride high enough that no water will crest the board. This ensures that your feet will not get wet even if you are only wearing socks. A thicker board will also not flex when going over choppy water. Keep in mind this directly corresponds with weight capacity as heavier weights on a board will sink it more into the water.
Length: A longer board, when coupled with a wide stance and high frame, will create the ideal fishing paddle board. The length ensures that you can carry all of your gear and have enough room to move around freely.
Grip
Most boards come with some sort of padding on the board. When fishing it is important to make sure this is sufficient to stand on. Grip will not only allow you to stand comfortably, but will make your tackle and cooler not slide around when in choppy water. Boards nowadays are thick enough
Foam pad for seating
An easily overlooked aspect of a paddleboard is the seating area. While paddle boards are typically designed for standing, when using for fishing you will spend quite a bit of time sitting. You want to be comfortable doing it. Paddle boards typically come with a foam non slip pad that will act as a foam comfort pad to sit on. Some paddle boards even go as far as to have a seat back that will provide back support while you fish.
Materials
SUPs come as either a hard material or an inflatable "soft" material. Often we associate items made from hard materials to be the most durable but this isn't the case with paddle boards.
Hard materials typically refer to any sort of foam or hard plastic design where the board is rigid and does not collapse in size. These boards ride rigid and are excellent for beginners or those needing more stability. They also typically come with large non-slip foam pads for added grip.
Inflatable paddle boards are made using incredibly high-quality PVC that is sometimes military grade. They do not dent, bend or crack and collapse to fit into a backpack. Often riding like a rigid board, these boards are strong enough to bring your pup on board without fear of his nails causing damage.
Paddle holder
Having a board equipped with a space to hold your paddles while you fish will provide a much needed peace of mind. Having to hold onto your paddle while you are fishing can prove extremely inconvenient and take away from your experience. If your board doesn't have a designated space for this, buying a paddle that comes apart into smaller pieces that you can store under a bungee strap will have the same effect.
Storage space
This can be as simple as some D-rings or as fancy as an enclosed cargo bay but never undervalue the usefulness of having storage space on the board. Having an enclosed storage bay is ideal as it can be turned into a cooler. Having a place to store your fishing poles and tackle will give you peace of mind while fishing.
Warranty
One way to tell the quality of a paddle board, and the confidence of the company, is to see how long they will warranty a board for. A one-year material warranty is standard, but some companies include a money back guarantee and a warranty that stretches up to two or even three years.
Globo Surf Overview
Paddle boarding can be a very serene and meditative hobby, as is fishing, so it makes sense that these two would be combined. To ensure you get the most out of this fun and relaxing excursion ensure you pick a board you are comfortable with and one that will support you and your gear. Fishing sup boards are quickly becoming a popular trend and companies are putting more focus on ensuring that their boards meet your standards. All of the boards on our list are excellent for both sup use as well as to catch fish.
Ever used your SUP for fishing? Have a board on our list? Let us know how you like it in the comment section below.
You May Also Like
20 Best Paddle Board Accessories in 2018
5 Best Paddle Board Fishing Accessories in 2018
5 Best SUP Paddles in 2018
5 Best Paddle Board Car Racks in 2018
Like What You See? Please Rate This Post And Let Us Know What You Think!
Globo Surf Fishing Paddle Board Revie
★★★★★
"
Was excited about fishing paddle boarding and wanted to find out which paddle board would be the best for that. Glad I found your review. Very high quality.
"