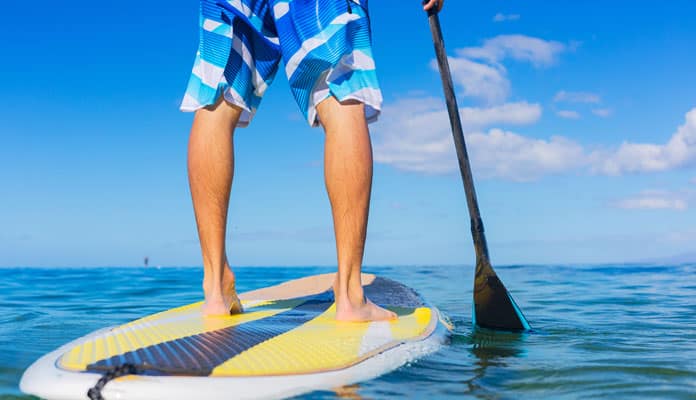 OUR TOP PICK

---

EDITORS CHOICE

---
Stand up paddleboarding is a fantastic way to relax and have fun on the water. Paddling a stand up paddleboard (SUP) also provides a phenomenal core and upper body workout. To make the most of this amazing watersport and have the best experiences on the water, it is essential to have a stand up paddle board.
Being the world's fastest growing water sport, there is an overwhelming array of stand up paddleboards out there and choosing one can be a daunting task. To make it easier to find the perfect SUP for your needs, we have narrowed down the options to the 10 best SUPS on the market and reviewed them below.
By choosing from this list, you can rest assured you will end up with a best performing and high-quality board whether you're looking for a top rated stand up paddleboard for a beginner, want an all-around board that can do it all, want to be able to fish and do yoga on water, or want a travel-friendly inflatable board. We've also created a handy guide on how to make the right choice for your height and weight, paddling environments, and personal requirements.
Let's get started with reviews of the 10 best stand up paddle boards in 2023.
How To Choose The Best Paddle Board – Buying Guide
Stand up paddle boarding looks like a fun, effortless activity. It is in fact fun but it can be a bit tricky to master when first starting out. There are some key fundamental things you should keep in mind when you are just starting out. These will not only make it easier to have fun but will also keep you safe.
We have done the research on what is the best paddle board so you don't have to. Here are some of the top tips and frequently asked questions.
Ready to get started? Let's go.
Choosing Your Stand Up Paddle Board
The paddle boards we've chosen here are mostly pretty similar in shape, with minor differences that will affect the balance and feel of the sup board, as well as speed. These boards are all around 10' long, in the ideal range for beginning boarders. All of these stand up paddle boards will work in a variety of conditions and for riders of all sizes. There are, of course, much longer sup boards out there, but those are more "specialized." (If you really want a fast board, check out our reviews of the Isle Airtech 12'6" or the Tower Xplorer 14'.)
Related Review: Isle SUP Boards
For most buyers, this is the place to start. So what are the main differences between these boards? The first thing you'll want to decide is whether you want an isup or a solid paddle board. The isups are super convenient and durable, and actually almost indistinguishable from hard boards once they're pumped up. The solid sup boards here, on the other hand, have soft tops, which makes them extra safe for beginners, and if storage and transport aren't as big of a deal to you, these can actually be more convenient, since you don't have to deal with pumping them.
Another deciding factor is the difference in shape. The Tower Adventurer 2, for example, is a bit longer and has a pointed nose. That'll make it a bit faster cutting through the water, which some riders may prefer. Dig into our short write-ups on each board below in order to figure out which design appeals to you most.
Finally, each paddle board comes with a slightly different package of included accessories. We've only chosen packages that include all the basic essentials (paddle, pump, etc.), but some include nice bonus accessories that you'll want to consider.
Tips And Tricks To Get You Paddleboarding Like A Pro
Be patient. When you are starting out in this sport be prepared to take a few tumbles into the water. People make it look easier than it really is. But don't worry you will get the hang of it in no time. Don't get frustrated if you are having trouble staying on your paddleboard. It can take some time to get used to balancing on the best sup board, especially if the weather is windy or the water is choppy.
Wear your leash. Every sup board should come with its own leash. This is a tether that straps to your ankle for when you fall. It ensures your sup board doesn't float away from you leaving you stranded far from shore. Even if you are a seasoned paddle boarder ensuring your leash is securely fastened to your ankle can save you in a pinch.
Keep your distance. If you are paddle boarding in a popular spot you may have a lot of people around you. It is important to give other people space even if you are paddleboarding with a friend. You should be able to at least turn around without bumping into anyone. After all being able to go anywhere you want is what this sport is all about.
Learn how to fall. Like we talked about earlier you should be prepared to get wet when paddle boarding. Learning how to properly fall can save you from injury. Your initial reaction will be to drop to your knees or try to fall onto your sup board – Don't do this! Even if you have an isup board it will hurt and even possibly injure you to fall on it.
Instead, you should fall away from your sup board – yes, this means you will get wet. When you first get your sup board you should actually practice falling. It will build not only muscle memory but also your confidence. Just keep in mind that you should do this away from the shore. If you fall in shallow water you can hit the bottom which is not good either.
Head in the right direction. No matter what style of sup board you decide on there is a correct direction the board travels. This may seem obvious but it can be confusing your first time on the water. How you can tell is by looking at your fins. They should be behind you with the tips facing away from you. This orientation will help you to keep pointed in a straight line. The fins will also help in choppy water by maintaining your connection with the water. If you didn't have fins your sup board would struggle to move even as you're paddling. You would be pushed sideways instead of in the direction you are wanting to go.
(Hey! You May Also Like: Inflatable Paddle Boards)
Types of Paddle Boards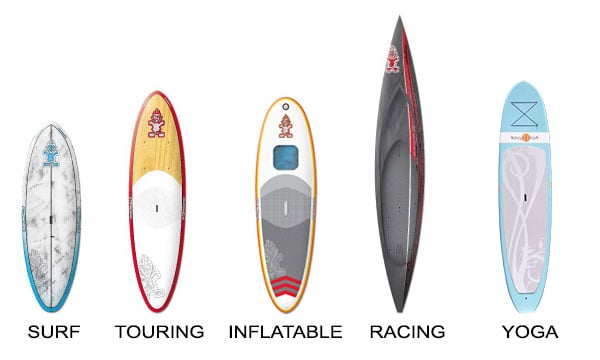 Trying to figure out why there are so many different shapes and sizes and lengths and widths and thicknesses and materials?? Don't worry— it's actually pretty simple, once you break it down. Here's what you need to know in order to choose the right stand up paddle board for you:
HULL TYPE
Planing Hull — This is a flat and wide hull (the front or "nose" of the sup board). This is the best all-around shape, and definitely a good choice for beginning paddle boarders. It's balanced and sturdy, and can handle small waves. Good in all sorts of conditions.
Displacement Hull — A displacement hull has a pointed nose. This allows it to efficiently cut through the water like a kayak or canoe. These paddle boards are usually longer and less wide than other stand-up paddle boards. They're faster, but can be less balanced.
BOARD LENGTH
Short boards — under 9': These are easier to maneuver, and good for surfing, but will be slower in the water.
Medium boards — 9' to 12': This is the sweet-spot length for most riders, especially beginners. Anything in this range will work for most paddlers.
Long boards — 12' to 14': These are usually racing or "touring" paddle boards. Longer boards will be faster (and usually have a displacement hull), but they will also be harder to turn.
BOARD WIDTH
This is all about stability. The wider the sup board, the more stable it will be. The narrower the board, the faster it will be.
Wide boards — 31" or more: This is ideal for most beginning stand up paddlers. A nice paddle wide board will make it very easy to balance.
Narrow boards — 30" or less: Again, these boars will be faster, but they'll be less stable, and more difficult for inexperienced riders.
MATERIALS
Which material you choose is perhaps the first thing to consider. This decision is less about the ride, and more about your lifestyle — Do you have space in your home to store a solid paddle board? How far will you have to carry it to get to the ocean or lake? An isup board can be a great alternative, as they are super convenient and highly durable, and they actually function very well and can be almost indistinguishable from a hardboard once they're fully pumped. Many beginning stand up paddlers choose an isup. But, if you have the storage space, you may want to go with a traditional hard board or foam sup board so that you don't have to go to the hassle of pumping and deflating each time. Also, soft top paddle boards are somewhat safer than the rest, in case you take a spill.
EPS foam: The most common type of board has a foam core wrapped with fiberglass and epoxy. This is the "traditional" solid board style.
Hollow core: A hollow core board can be similar to an EPS foam board on the exterior, but be a bit lighter for performance purposes.
Polyurethane foam: This is heavier than EPS foam, but more affordable.
You might also be interested in:
NIXY Venice G4 10'6" Cruiser ISUP
Inflatables: These are usually made of PVC or some other durable plastic material. Believe it or not, these are often the most durable (the other paddle board types will be more prone to dings and scratches). The only downside is that you have to pump each time.
Advantages of Using a Paddle Board
Stand up paddling has been one of the fastest-growing outdoor sports in the US for the last few years. That's probably just because it's simply a SUPER FUN hobby and social activity — but, as an added benefit, it also happens to be a really great way to get a workout without feeling like you're "working out."
Stand up paddling improves your balance and does a lot for core stability. You're cruising along, paddling with your arms, and hardly realizing all the great work your legs and core are doing to keep balanced. And of course, paddling is fantastic for your cardio health. You end up getting a full body workout, without having to hit twelve different specialized machines in the gym. The best forms of exercise are the ones that naturally require you to engage your whole body in the activity. Stand up paddling is one of the easiest ways to do that.
Like most water sports, stand-up paddling is very low-impact. That means it's easy on the ligaments and joints. Swimming has long been praised as a great alternative workout for people experiencing joint pain, and now stand up paddling is proving to be a similarly great option. And of course, we think stand up paddling is a whole lot more fun than swimming laps…
Beyond the exercise benefits, this a great group activity! Again, that's part of why you end up getting a workout without even realizing it. Once you've gone out on the water with a few friends, or with your family, or with your kid (or your dog!) on your sup board with you, you'll understand the serene joy that draws so many to this sport.
Not to mention, you are basically walking on water. On a quick personal note — as a lifelong city-dweller, I'm not usually one to ooze about the beauties of nature… but the very first time I went out on a lake on a stand up paddle board, I really felt a peaceful, calming connection with the nature around me. Again, it's a very cool feeling to be standing on the water. Head out at sunrise for some replenishing yoga on the water, wave hello to the nerds sitting in their rowboats, chase down your little sister and push her off her paddle board into the water, mount a seat on your board and do some fishing with almost nothing between you and the little unlucky fishes you're about to catch.
Long story short, stand up paddling is a great workout and an even better time. Welcome, and enjoy!
FAQs
Q: How do you stand up paddle board without falling?
A:
The best way to get into an upright position on a paddleboard can take some getting used to. There are many different ways you can do this. As you get more comfortable you will start to do it your own way. We find that starting in a kneeling position is the best way for most people. Put your paddle across the sup board just in front of you and use your hands to push yourself off your knees.
You will rock backward so your feet are firmly planted and as you slowly stand, grab your paddle and use it to balance you. Once you are fully upright, keep your knees slightly bent to give you better balance. That's it! You are standing up on your paddleboard. Keep in mind: Your feet should be shoulder width apart and be facing forward.
Q: How many different types of sup boards are there?
A:
Many! There are sup boards for everything you can think of including racing, competition, inflatable, solid core, even surfing SUPs.
Q: How do I choose the right SUP board?
A:
There is no easy answer to this questions. The paddle board you get will be determined by how you use it. For example, if you are planning on primarily using your best sup board for yoga you should look for one on the thicker and wider side. This will give you the stability you need to do all of the positions. But if you are looking to go as fast as possible you will try to find a sup board with a pointy nose and on the thinner side.
Q: How do I stop falling in the water?
A:
Paddle boarding has a lot to do with balance. We suggest starting out in water that is not choppy as this will make it much more difficult to stay upright. The key to paddle boarding is in your legs. Keeping them slightly bend will allow them to move with the water. Also, when you are paddling you need to use your entire body. Instead of just using your arms you should bend your arms and use your shoulders to make a smooth sweeping motion with your paddle. Your legs will allow you to turn your upper body and shift your weight from one leg to the other. Be sure to always wear a life vest.
Related Review: Balance Board For Surfing
Q: How heavy are stand up paddle boards?
A:
This can vary with the size of the paddle board. A standard sup board can range from around 14 to over 50 lbs. This is one of the key aspects to investigate before buying your sup board. The size also plays a role with your skill level. A larger board will have more stability and allow you to do activities like racing or even fishing. Smaller boards may be better for younger people who would have a harder time transporting or controlling a large board.
Q: What material is a paddle board made of?
A:
There are two main types of paddle boards: inflatable and rigid. Isup boards are typically made from an industrial strength PVC material. This allows them to be folded and transported easily while also being tough enough to stand up to rocky shores. Rigid paddle boards usually have a rigid foam core with a special coating. But some rigid boards have a strong outer shell with nothing as its core. If you live in a small space an isup board will be your best option. If you live close to water and are looking for the highest quality sup board, a hollow rigid board can be your best option. All you need to do is take your sup board across the street and you're ready to have an awesome day on the water.
Q: Can I get a good workout from stand up paddle boarding?
A:
Paddle boarding is an excellent form of exercise and will give you a full body workout. The rowing movement will work your arms and shoulders while the balance will work your legs and core. This is a low impact exercise that nearly everyone can safely enjoy. You can even use your sup board as a movable dock and use it to dive into the water. There are so many uses you can find for your paddle board.
Q: What length should I look for on a stand up paddle board?
A:
The length of your sup board will vary based on what you intend to use your sup for. Typically these sup boards are between 9 and 12 feet in length. A shorter board will be easier to maneuver through the water while a longer paddle board will have more stability for moving around or gear.
Globo Surf Overview
Paddle boarding is a magical and fun sport. Starting out will take a bit to get used to but once you build your confidence you will be paddling up a storm. Once you get a taste of a perfect day on the water you will never want to leave. The best part of paddle boarding is that there are so many options. If you are an outdoors person you can even fish or go on a camping trip with your paddle board. Some sup boards even have a bungee system that is perfect for storing a cooler or even a seat.
Take your paddle board experience one step further by incorporating surfing or some water photography. This summer sport will quickly become a favorite as you are able to see the world from an entirely new perspective. As you will get the sun's reflection on the water, be sure to bring some extra sunscreen along with you.
With paddle boards ever increasing in popularity you can now do even more with your board. Whether you enjoy a leisurely day of on the lake or prefer to crash through surf racing your board, there are specific paddle boards that will meet your needs.
No matter what you use it for your SUP should excel. The features and material should compliment each other creating the best sup board that will surpass your expectations and each one of these best stand up paddle boards has been hand selected to do just that.
Single Products paddle Board Reviews:
Like What You See? Please Rate This Post And Let Us Know What You Think!