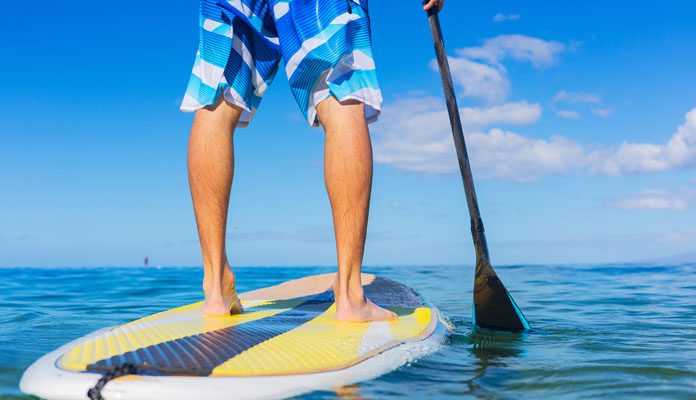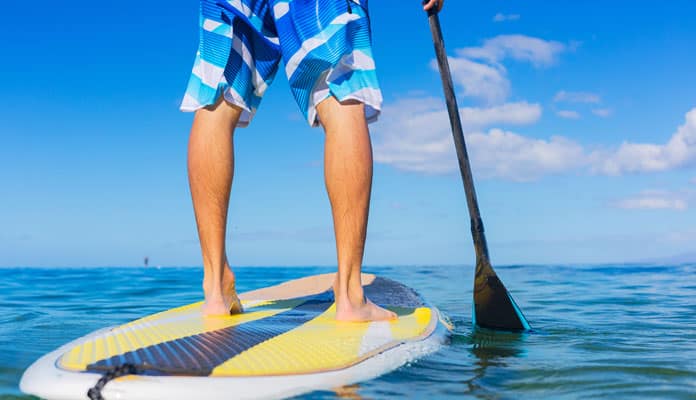 IStand up paddle boarding is suddenly a booming sport and the market is filled with all sorts of boards. We know it can be confusing sifting through all the information and trying to figure out the difference between the endless array of options.
If you're new to the sport, this is the place to start. We've narrowed down the selection to our five top picks for beginning to intermediate stand up paddlers, and we've created a handy guide so you can get some clarity and understand exactly what you're getting before you decide on a board.
Of course, these are not the only good boards out there, but we think this small pool of boards covers the range of options, and we're confident in the quality of these boards. If you read nothing else before buying your first SUP, follow this guide and you'll end up with a board that's right for you.
QUICK ANSWER: THE BEST BEGINNER STAND UP PADDLE BOARDS
Best Beginner Stand Up Paddle Boards
Beginner Stand Up Paddle Boards Reviews
What Makes This Paddle Board Stand Out:
Non-slip deck
1 fin, included
Soft-sided rails
Aluminum paddle included
Leash included
Model & Accessory Specs:
Size: 10ft. 8in. long x 31in. wide x 5in thick
Weight: 27 lbs
Weight limit: 275 lbs
Material: High Density polyethylene slick bottom, high density durable IXPE/XPE deck, waterproof EPS foam core, modeled in laminated triple wood stringer
If we said any of the other boards were nice on the eyes, hold up — the Isle 10'8" Soft Top is the true standout most-beautiful stand up paddle board. It comes in a variety of retro print colors, all evoking the style of old wooden surfboards.
Again, this is a foam board, not an isup — go for this if you have the storage space available, and maybe would prefer to not have to re-pump and deflate your board again every time you go out paddling. And of course, the soft rails make it nice and safe for beginners.
What's nice about this somewhat-longer board is that it does a pretty impressive job in the ocean as well as in flat-water. It is mainly intended for flat-water paddling, but it can handle small waves. So if you're planning on going out on the ocean or on a choppy lake or river, the Isle 10'8 Foam Top is a great choice.
Like the CBC soft top, this board has three wooden stringers for rigidity and sturdiness, and it comes with a paddle and ankle leash. We're especially impressed with the non-slip, water-resistant soft skin, for which Isle holds a patent. With the CBC, for example, you'll have to use wax to make sure your feet don't slip while you're paddling.
Comparing the California Board Company Soft Top and the Isle 10'8" soft top? The CBC board gives you a couple extra accessories (camera mount, roof rack for the car), but the Isle board gives you an extra two inches of length and the nice non-slip deck. Both boards are very good-looking, but we'll give the slight edge to the Isle board, which comes in a variety of color choices. They're both great soft top SUPs, and we're confident you'll be pleased with either.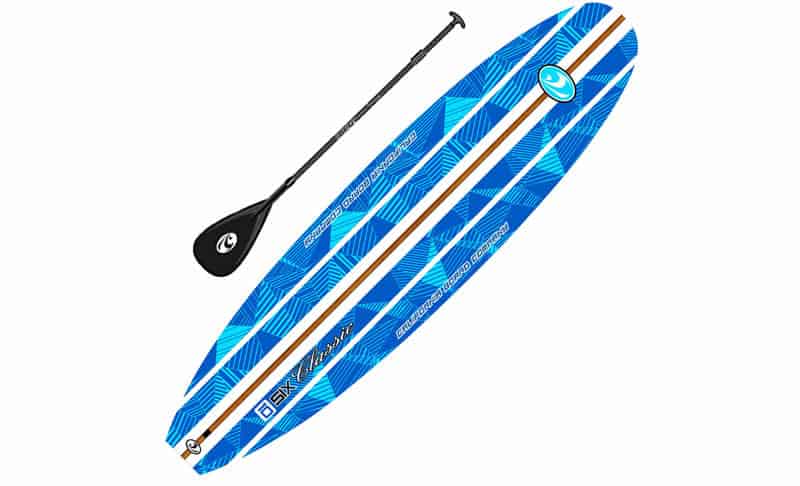 What Makes This Paddle Board Stand Out:
Surf leash with ankle strap
Camera mount
Padded roof rack for car
Height-adjustable paddle with blade shield
Single fin
Model & Accessory Specs:
Size: 126″ long x 31″ wide x 5.5″ thick
Weight: 25 pounds
Weight limit: 300 pounds
Material: High density EPS Foam. 100% waterproof core. Molded in laminated wood stringers. HD polyethylene slick bottom. IXPE/XPE HD deck
The California Board Company (CBC) soft top from Keeper Sports is among the coolest-looking stand up paddle boards, and it also happens to be among the most affordable.
This is not an isup board — part of what keeps the cost down is the EPS foam construction. This is definitely a well-built board, but you should note that any foam board will require a bit more care than a well-made inflatable. For more on deciding between an inflatable vs. a foam board, see below where we discuss Types of Paddle Boards.
The CBC 10'6" board comes in with a basic package that includes all the essentials plus some extra bonus goodies — you get the board, a paddle (which floats!), a neoprene ankle strap, a camera mount (pretty cool!), and a padded roof rack mount for your car.
The California Board Company 10'6" soft top is also built with three wooden stringers, ensuring that the board remains rigid and sturdy in the water (always make sure you don't get a board that's going to flex!). The EPS foam keeps the board soft on the surface, so it's extra safe for beginning riders.
The ride is sturdy, comfortable, and easy to control, the looks are super slick, and the board is nice and soft in case you take a spill. It's a very good package, and it's among the most affordable stand up paddle boards around. We recommend this board to anyone just starting out in stand up paddle boarding, or looking to add a board to their collection without throwing down a huge chunk of money. And again, if you're in the market for a foam board, make sure you get one that won't bow and flex — with its three wooden stringers, the CBC 10'6" is a very good choice.
What Makes This Paddle Board Stand Out:
Rolls Up into a Sleeping Bag Size for Easy Storage
Isle advertises this board as great for flatwater, river runs and small waves.
Includes 3 piece adjustable aluminum paddle and high pressure hand pump
Built-in carry handle that recesses into the deck while riding
3 fins: "2 plus 1" fin system, with removable center fin
Deck mounted bungee system and 4 stainless steel D-rings for carrying gear on board
Diamond groove traction on the deck
Includes a very nice travel bag
2 year manufacturer's warranty — comparable to Tower's warranty
30 day "Ride it and love it" guarantee
Model & Accessory Specs:
Size: Deflated Dimensions: 1ft in diameter x 36 inches wide (about the size of a rolled sleeping bag); Inflated Dimensions: 10′ x 31″ x 6″
Weight: 24 pounds
Weight limit: Supports up to 240 pounds
Material: Super durable PVC material, extra light compared to other sups
Inflating: Inflates to 15 PSI, rideable at 10 PSI depending on rider's weight
The Isle Airtech 10' is nipping at the heels of the Tower Adventurer boards! This board comes in a very, very close second place to Tower's boards, and may be the better choice for many riders. Again, it's a similar package, but with slight differentiators.
The functional difference — the Airtech is a pound lighter than the Adventurer boards, and right in between them in length. That pound means its a little lighter to carry and a little lighter on the water, which can make a nice difference for maneuvering.
The PVC construction is top notch and the price is about the same as the Adventurer boards. Unlike the Adventurer boards, the Isle Airtech comes with a nice carry bag. Otherwise the package is the same, with all the essentials — board, paddle, and pump.
In our opinion, the Airtech 10' is a good deal prettier as well, which certainly doesn't hurt.
Like the Adventurer boards, the Isle Airtech 10' is one of the ideal boards for stand up paddling beginners. For those choosing between these three — choose this one if you like the idea of a slightly lighter board, or you want the carrying bag, or you simply need the stylish Isle flare.
4. Tower Adventurer 2 10'4" Inflatable SUP Package
What Makes This Paddle Board Stand Out:
Package includes fiberglass paddle, pump, bungie and handles
Made of military-grade PVC material
4 on-board D-rings for securing a leash or other accessories
Collapsible paddle (from 66" to 34.5") for stowing away and travel
Carry strap for deflated rolled-up board
One Removable fin and 2 secured fins
Model & Accessory Specs:
Size: 10'4" long x 32" wide x 6" thick
Weight: 25 lbs
Weight limit: 350 lbs
Material: Military-grade PVC. This is one of the main selling points of the Tower Adventurer boards. They're super-duper durable.
Inflating: Inflates up to 20 PSI, but 15 PSI should be enough for most riders
A handful of feature improvements and an additional 6" of length make the Adventurer 2 a perfect sequel (but not a replacement) to Tower's original Adventurer isup. And it's still got the great PVC material and high-quality construction, as well as the included paddle, pump, and carrying strap.
So what's the difference? The extra 6" and the pointed nose of the board will make it a bit faster, and better for distance riding. This is not a racing board — it's still very stable and easy for beginners to maneuver — but riders will notice that it cuts through the water a bit more smoothly than the original Adventurer.
As far as updated features, Tower added a bungee system for attaching gear, and front and rear handles for carrying the board in and out of the water.
Rather than just adding on new features, Tower decided to update the design of the board and give customers a distinct option. This can make choosing your board a bit tricky — our advice? Go with either! Okay… we apologize for the cop-out, but the truth is that both of these are excellent boards. We kept the original Adventurer at the number 1 spot because, even though it has a few less features than the Adventurer 2, we believe it has the best, "classic" all-around shape fit for the widest variety of riders. Go for the Adventurer 2 if you like the added features or like the idea of the pointed nose and a little extra speed.
5. Tower Adventurer 9'10" Inflatable SUP Package

Check Price Now
What Makes This Paddle Board Stand Out:
Includes fins, roll-up carrying strap, adjustable 3-piece paddle, and hand pump
D-rings for attaching a leash, water bottle, or any other gear
Attached handle for easy carrying
High-grip, comfortable surface, and excellent balance and maneuverability
2-year warranty covering any defects or problems beyond normal wear and tear
Model & Accessory Specs:
Size: 9'10", 6" thick, and 32" wide (when inflated)
Weight: 25 lbs
Weight limit: 350 lbs. This board can hold a lot of weight! A lot of SUPs will have lower weight limits.
Material: This board is made out of military-grade PVC with drop-stitch construction. Don't think that this board is wimpy just because it's inflatable — unlike hard standup paddle boards, it's not susceptible to dents and cracks. Impressive!
Inflating: As advertised by Tower, this board can inflate up to 15 PSI, but works great at just 10 PSI.
The original Tower Adventurer is pretty much THE ideal beginning to intermediate stand up paddle board. This board sets the standard in the sup board market, and for good reason. It's made with Tower's military-grade PVC, and comes with everything you need to get started — board, paddle, pump, and a carrying strap.
With a handful of quality sup boards around the same price point, it's the Adventurer's shape that sets it apart and keeps it at the number one spot over time. This board is generously wide, but relatively short compared to other boards, and we think it's a very good balance. More experienced riders should know that this board isn't going to be super-quick cutting through the water, but it is super sturdy and easy to ride, and the relatively short length keeps it maneuverable.
So why would anyone buy anything else?? Well, this isn't the flashiest board looks-wise, so if that's important to you, keep scrolling! Also, the Adventurer doesn't come with a carrying bag — the included strap works fine, but if you want a bag, other board packages will include that. Otherwise, it's just a matter of taste as to what board shape you prefer — each board will ride slightly differently. The Adventurer 9'10" gets the number one spot because we think it's the most well-balanced, all-around board for just about any type of rider.
The stand up paddle board for you is the one that fits your needs, your paddling style, and your budget. Again, these boards are our favorites for beginning to intermediate paddlers. The main deciding-points for most buyers will be materials (do you want inflatable or solid?) and budget. Use this chart to sort through the options, and read on below to get the full low-down on any of these boards, and go more in-depth on the differences in how they feel on the water.
The Top Stand Up Paddle Boards Reviewed
The boards we've chosen here are mostly pretty similar in shape, with minor differences that will affect the balance and feel of the board, as well as speed. These boards are all around 10' long, in the ideal range for beginning boarders. All of these stand up paddle boards will work in a variety of conditions and for riders of all sizes. There are, of course, much longer boards out there, but those are more "specialized." (If you really want a fast board, check out our reviews of the Isle Airtech 12'6" or the Tower Xplorer 14'.)
For most buyers, this is the place to start. So what are the main differences between these boards? The first thing you'll want to decide is whether you want an isup or a solid board. The isups are super convenient and durable, and actually almost indistinguishable from hard boards once they're pumped up. The solid boards here, on the other hand, have soft tops, which makes them extra safe for beginners, and if storage and transport aren't as big of a deal to you, these can actually be more convenient, since you don't have to deal with pumping them.
Another deciding factor is the difference in shape. The Tower Adventurer 2, for example, is a bit longer and has a pointed nose. That'll make it a bit faster cutting through the water, which some riders may prefer. Dig into our short write-ups on each board below in order to figure out which design appeals to you most.
Finally, each board comes with a slightly different package of included accessories. We've only chosen packages that include all the basic essentials (paddle, pump, etc.), but some include nice bonus accessories that you'll want to consider.
(Hey! You May Also Like: Inflatable Paddle Boards)
Types of Paddle Boards: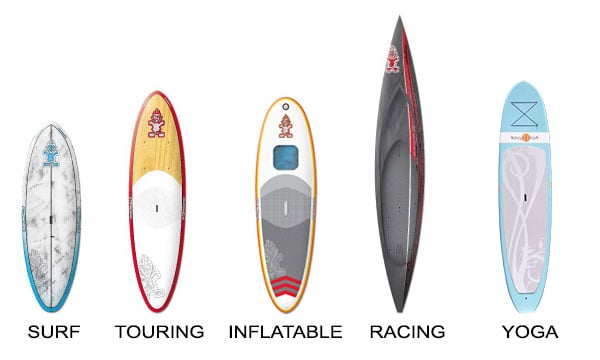 Trying to figure out why there are so many different shapes and sizes and lengths and widths and thicknesses and materials?? Don't worry— it's actually pretty simple, once you break it down. Here's what you need to know in order to choose the right stand up paddle board for you:
HULL TYPE
Planing Hull — This is a flat and wide hull (the front or "nose" of the board). This is the best all-around shape, and definitely a good choice for beginning paddle boarders. It's balanced and sturdy, and can handle small waves. Good in all sorts of conditions.
Displacement Hull — A displacement hull has a pointed nose. This allows it to efficiently cut through the water like a kayak or canoe. These boards are usually longer and less wide than other stand-up paddle boards. They're faster, but can be less balanced.
BOARD LENGTH
Short boards — under 9': These are easier to maneuver, and good for surfing, but will be slower in the water.
Medium boards — 9' to 12': This is the sweet-spot length for most riders, especially beginners. Anything in this range will work for most paddlers.
Long boards — 12' to 14': These are usually racing or "touring" boards. Longer boards will be faster (and usually have a displacement hull), but they will also be harder to turn.
BOARD WIDTH
This is all about stability. The wider the board, the more stable it will be. The narrower the board, the faster it will be.
Wide boards — 31" or more: This is ideal for most beginning stand up paddlers. A nice wide board will make it very easy to balance.
Narrow boards — 30" or less: Again, these boars will be faster, but they'll be less stable, and more difficult for inexperienced riders.
MATERIALS
Which material you choose is perhaps the first thing to consider. This decision is less about the ride, and more about your lifestyle — Do you have space in your home to store a solid board? How far will you have to carry it to get to the ocean or lake? An isup board can be a great alternative, as they are super convenient, and highly durable, and they actually function very well and can be almost undistinguishable from a hard board once they're fully pumped. Many beginning stand up paddlers choose an isup. But, if you have the storage space, you may want to go with a traditional hard board or foam board so that you don't have to go to the hassle of pumping and deflating each time. Also, soft top boards are somewhat safer than the rest, in case you take a spill.
EPS foam: The most common type of board has a foam core wrapped with fiberglass and epoxy. This is the "traditional" solid board style.
Hollow core: A hollow core board can be similar to an EPS foam board on the exterior, but be a bit lighter for performance purposes.
Polyurethane foam: This is heavier than EPS foam, but more affordable.
Inflatables: These are usually made of PVC or some other durable plastic material. Believe it or not, these are often the most durable (the other board types will be more prone to dings and scratches). The only downside is that you have to pump each time.
Advantages of Using a Paddle Board:
Stand up paddling has been one of the fastest-growing outdoor sports in the US for the last few years. That's probably just because it's simply a SUPER FUN hobby and social activity — but, as an added benefit, it also happens to be a really great way to get a workout without feeling like you're "working out."
Stand up paddling improves your balance and does a lot for core stability. You're cruising along, paddling with your arms, and hardly realizing all the great work your legs and core are doing to keep balanced. And of course, paddling is fantastic for your cardio health. You end up getting a full body workout, without having to hit twelve different specialized machines in the gym. The best forms of exercise are the ones that naturally require you to engage your whole body in the activity. Stand up paddling is one of the easiest ways to do that.
Like most water sports, stand-up paddling is very low-impact. That means it's easy on the ligaments and joints. Swimming has long been praised as a great alternative workout for people experiencing joint pain, and now stand up paddling is proving to be a similarly great option. And of course, we think stand up paddling is a whole lot more fun than swimming laps…
Beyond the exercise benefits, this a great group activity! Again, that's part of why you end up getting a workout without even realizing it. Once you've gone out on the water with a few friends, or with your family, or with your kid (or your dog!) on board with you, you'll understand the serene joy that draws so many to this sport.
Not to mention, you are basically walking on water. On a quick personal note — as a lifelong city-dweller, I'm not usually one to ooze about the beauties of nature… but the very first time I went out on a lake on a stand up paddle board, I really felt a peaceful, calming connection with the nature around me. Again, it's a very cool feeling to be standing on the water. Head out at sunrise for some replenishing yoga on the water, wave hello to the nerds sitting in their rowboats, chase down your little sister and push her off her board into the water, mount a seat on your board and do some fishing with almost nothing between you and the little unlucky fishes you're about to catch.
Long story short, stand up paddling is a great workout and an even better time. Welcome, and enjoy!
Sources
Walk on water, Walking on the water
Watersports, Surfline
Like What You See? Please Rate This Post And Let Us Know What You Think!
Globo Surf Beginner Paddle Board Review
★★★★★
"
My husband and I were looking for beginner paddle boards. We came upon your list here and found the #1 option to be the best. Thanks for your recommendations.
"