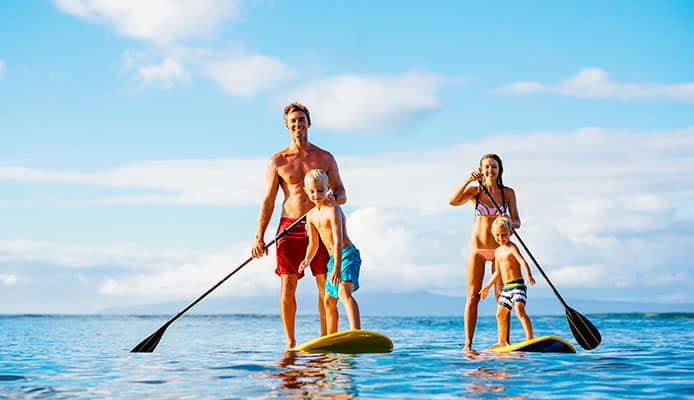 OUR TOP PICK

---

EDITORS CHOICE

---

BEST VALUE

---
As paddleboarding gains popularty as sport, the market for paddlboarder is overhelmed with manufacturers. This makes the choice very hard and complicated especially for beginners. However, one of the most well-designed brands for surfboards, paddles boards, and accessories is Isle Surf and SUP. Their best isle SUP boards are designed to ensure that you have a great adventure out on the water.
Isle was started by two college graduates, who were surfers from San Diego. They left their corporate positions to start designing new products that embraced adventurers of any age and any skill level. Today, the company has grown to become one of the largest premium retailers of the best isle inflatable paddleboard option worldwide.
If you are a beginner and just learning what is SUP or if you are finally ready to invest in your own paddleboard, Isle SUP boards are an excellent choice. They have a variety of different types of boards available; from soft tops to fiberglass and inflatable designs. Here we have made a list with their best isle SUP boards, including seven of their designs to go on a variety of adventures with the best Isle inflatable paddle board under your feet.
How To Choose An Isle SUP Board – Buying Guide
The Size of the Board
Sizing is one of the most important factors you should pay attention to when choosing a board. Isle SUP boards are already large, but some designs can feel overwhelmingly large. The size of your Isle board can make it hard to transport it to or from the water. To ensure you are safe, you should learn all the parts of a stand-up paddleboard, which can help you manage the size.
You should learn how to store your paddleboard and how to transport your stand up paddleboard to ensure that your board and you, stay safe and fit. Learning how to store and transport it will also ensure that your board stays in top shape and is a long-lasting investment.
It is also important that you correctly size your board and correctly size your paddle. In general, longer boards are better for certain activities or beginners. While shorter boards should be left to those with experience.
Choosing the Right Length
Isle SUP paddle boards come in a variety of lengths. The length will affect how the board moves through the water, how easy it is to maneuver, and how well it tracks in the water.
The longer it is, the easier it will glide across the surface of the water. But remember, that a longer length also means it will be harder to maneuver your board in turns. Shorter boards have a better turning radius and will take less energy to paddle and maneuver. In turn, longer boards track better.
Beginner and intermediate paddleboarders, you will want a board that is about 10 to 12 feet in length, or longer.
The Width of the SUP
Another aspect of size is the width. Just like lengths, there are a variety of widths available too. The wider the board is, the more stable it will be. Yet width also means that the board will have more drag in the water, which will make the board slower or faster. Skinnier boards will move faster through the water.
Beginner and intermediate paddle boarders should look at wider designs because they are more stable. Beginning paddle boarders can learn how to stand up paddle board and how to balance the board easier with a wider design. A wider design would also be better for paddle board yoga.
You might also be interested in:
The Stability as One of the Key Aspects
As we've discussed, the size of your board will be a determining factor in how stable your board is on the water. Isle SUP paddle boards that are larger in size will be more stable, which makes them great for certain paddle boarding activities or for beginner riders.
However, you may feel that the material of the board will also determine how stable the board is, but Isle ensures all their designs are stable. An Isle touring SUP board, which may be made of fiberglass, will be just as stable as an Isle inflatable SUP board.
The SUP's Material
Different Isle SUP paddle boards will be made of various materials based on their design. Most paddle boards are made of plastic, fiberglass, or are inflatable. Isle touring SUP boards may be made of fiberglass or plastic, but they also have Isle inflatable SUP designs too. An Isle Airtech SUP is another one of their inflatable options, which can help save money.
In general, Isle SUP boards that are made of fiberglass will be more expensive. Isle inflatable SUP boards are made affordable for paddle boarders on a budget. It may help you to make a choice by learning the difference between plastic and fiberglass paddle boards and fiberglass versus inflatable paddle boards.
FAQs
Q: Why choose Isle SUP before other stand up paddle boards?
A:
The main reasons are quality and reliability. Isle is a company that strives to deliver the best to its customers. Other stand up paddle boards don't match the quality of Isle. Their designs are eager to encourage people to get out on the water and explore. They have products for every budget but ensure that money doesn't always mean quality. An Isle inflatable SUP board may be less than an Isle SUP board made of fiberglass, but both products are made to the company's high-quality standard.
Isle SUP board reviews are another indication that this company is going places. They have become reliable and a favorite go-to brand for many other paddle boarders. Their designs are often the best out of the competition and offer the best performance. You can check the other inflatable stand up paddle boards and beginner stand up paddle boards to help determine which would be best for you. But Isle is a top choice for many paddle boarders.
Q: How to clean and maintain an Isle paddle board?
A:
Since all Isle SUP paddle boards are designed for water and waterproof, they can be easily rinsed off after an adventure. If you rinse your board after every trip and ensure that it is properly stored, it shouldn't have to be cleaned. However, if you do find yourself in need of specific cleaning instructions, they should be provided with your purchase.
Due to the variety of materials that are used for Isle SUP boards, you should look to the specific instructions provided with your purchase regarding the care and maintenance of your board, which can help you avoid damaging your board. Every time you clean your board, you should rid it of any dirt or sand. It should also be stored completely dry to avoid any issues with mold or rot.
The better you care for your board while it is in and out of the water, the longer it will last. It will also ensure that you stay safe. You may also want to look at paddle board accessories like the bags, which can give your board more protection and provide better care.
Q: Are inflatable stand up paddle boards safe?
A:
Stand up paddle boarding is safe, but there are always steps you can take to ensure your safety. There are a few things you should never do, which can help keep you safe. You can also review a standup paddle boarding gear and equipment checklist before every trip to ensure you have everything you need. Even if you fall, you can get back on it. Everyone falls, even the pros. So, don't worry if you take a few spills. You'll get the hang of it in no time.
If you are looking at an Isle inflatable SUP or an Isle Airtech SUP, these boards are just as safe as any other Isle SUP boards. However, to ensure your safety you will want to review the instructions provided with your Isle inflatable SUP board. There will be instructions on how to properly inflate your board and how to use accessories like electric pumps to make the time go faster.
Globo Surf Overview
There are lots of reasons why you should try paddle boarding that entice you to try the sport, but once you are on the board you will likely be hooked. Paddle boarding is a fun and creative way to get out on the water and anyone, regardless of age or skill level, can give it a try. If you are looking to invest in your own board, Isle is a premium company that can provide you with everything you need to get started. There are Isle touring SUP boards, Isle SUP paddle boards, Isle inflatable SUP boards, and Isle yoga SUP boards.
If you know exactly what you want or need, you can easily find the best Isle SUP boards to choose from. A top-rated Isle inflatable paddle board will have you going to new places and on new adventures with ease.
More All Round Paddle Board Reviews:
Single Products paddle Board Reviews: