Jimmy Styks has become a popular choice for paddle boarders since coming onto the SUP scene in 2009. The company offers a diverse range of inflatable SUPs that appeal to many paddlers. Jimmy Styks inflatable paddle boards range in size from 10.4ft to 14ft in length. They also have two inflatable surfboards, a 6ft shortboard and an 8ft longboard. Their boards come with all the paddle board accessories you need to start paddling.
Jimmy Styks Paddle Boards Reviews
In our review, we'll look at 3 Jimmy Styks paddle boards. We've also included specs for each model and why we picked them to help you choose the best Jimmy Styks paddle board.
Jimmy Styks 11′ 2″ Hybrid 208 Stand Up Paddle Board
See Customer Owner Feedback >>
What Makes This Jimmy Styks Paddle Board Stand Out

Padded board bag

An all-around performance

Perfect for beginners

Extra wide platform for stability
View More By Jimmy Styks »
Weight: 31.5 pounds
Weight Capacity: 260 pounds
Dimensions: 2 x 32.5 x 4.6 inches
Colour: Blue and white
Jimmy Styks Stand Up Surfer AirSurf6 Inflatable Paddle Board
See Customer Owner Feedback >>
What Makes This Jimmy Styks Paddle Board Stand Out

Agile design

Portable

Dual layer fusion

Durable
View More By Jimmy Styks »
Weight: 34.6 pounds
Weight Capacity
Dimensions: 4 x 15.8 x 13.5 inches
Colour: Blue and Red
Jimmy Styks Amberjack Soft Top Stand Up Paddle Board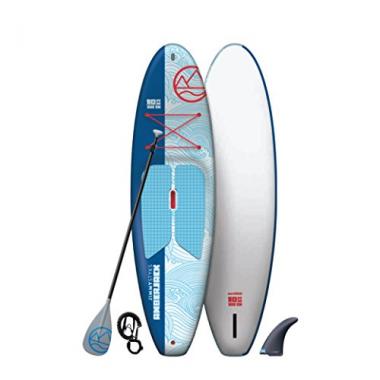 See Customer Owner Feedback >>
What Makes This Jimmy Styks Paddle Board Stand Out

Camera mount ready

Impact resistant

Durable

Lightweight
View More By Jimmy Styks »
Weight: 22 pounds
Weight Capacity: 280 pounds
Dimensions: 10  x  32.5 x  5.2 inches
Colour: Blue and white
How To Choose A Jimmy Styks Paddle Board – Buying Guide
Choosing the right paddle board can be time-consuming especially when you don't know what to look out for. Here are factors that will help you pick the best Jimmy Styks SUP that's well designed and of good quality:
Length
The length of a board plays a major role in determining the performance of the board. Longer boards are usually faster compared to shorter ones. However, shorter boards are more maneuverable. Also, think about your intended use.
Shortboards below 10ft are great for kids or beginners who want to learn SUP surfing. They're more maneuverable than longer boards making them ideal for surfing waves.
Medium boards between 10ft – 12ft are perfect for SUP yoga and all-around use.
Long paddle boards measuring 12.6ft and above are ideal for racing or touring and fast paddling. They tend to track straighter and are faster than short and medium boards.
Width
A wider board is more stable however it can be difficult to paddle if it's too wide for you. SUP width range from 25 inches to 36 inches. When choosing the width of your SUP, consider your body type, type of paddling you'll be doing and ability level.
Body Type
If you're a big rider, go for a wider board and if you're a smaller rider, pick a narrower board. A smaller rider will find their balance on a narrow board while a bigger rider will struggle to do so. And if you put a smaller rider on a big board, they'll struggle to reach out to the side to get their SUP paddle in the water.
Type Of Paddling
If you'll be going on long trips that require you to carry extra gear, choose a wider board to have more storage space. A board that's 31 inches wide or more is ideal if you want to do yoga. It will give you space and stability for doing SUP yoga poses especially if you're a beginner.  If you want to race or surf, go for narrower boards. They're more maneuverable and faster.
Ability Level
You may be comfortable on a narrower faster SUP if you've paddled a lot. However, a beginner may prefer a little extra width to help them secure.
Durability
The materials used in constructing a paddleboard will determine how long it will last. Jimmy Styks paddle boards are built using two layers of drop stitch materials and other technologically advanced materials to provide increased stiffness and rigidity.
Size
When choosing a paddle board size, pick one that has enough volume based on your experience level and weight to help you keep afloat. The size also depends on your height and type of paddling you'll be doing.
Budget
An inflatable stand up paddle board is less expensive compared to a regular board. Inflatables allow for an affordable price-point making them a good stand up paddle board for beginner paddle boarder. Paddleboards that cost around $300 may not be good. You'll be disappointed by its performance on the water or even break quickly. Appropriate price for a quality board is usually about $400 and more.
Material
Jimmy Styks paddle boards are constructed using:
Two layers of drop-stitch material fused in the manufacturing process to provide increased rigidity and stiffness while decreasing weight.
A layer of durable PVC material with thousands of threads connected to the top and bottom to help the board maintain its shape.
Multiple layers of fibreglass and epoxy around an expanded polystyrene core and wood stringer for maximum strength.
 FAQs
Q: Why Choose Jimmy Styks Paddle Board?
A:
Jimmy Styks paddle board is lightweight and rigid. Here are other reasons why you should choose their boards.
They're affordable making then a good board for beginners who may not be able to buy expensive paddle boards.
They're versatile and can be used for a variety of paddling activities and conditions.
They've good tracking performance.
Q: What Are The Pros And Cons Of Jimmy Styks Paddle Board?
A:
The Jimmy Styks paddleboard is a very popular board among paddlers. Let's take a look at the pros and cons of this board:Pros
Their stability on the water makes them more maneuverable and faster.
They have a soft foam layer on top for comfort and a great choice for those paddlers starting in stand up paddling.
They're cheap paddle boards and will still provide the same fun as more expensive boards.
They come with everything you need to start paddling
Cons
Warranty is only one year
Not ideal for experience paddle boarders
Q: What Is The Difference Between A Regular And Jimmy Styks Paddle Board?
A:
Below are numerous ways in which Jimmy Styks paddle boards differ from a regular board:
They're designed to be compact and can deflate easily and quickly into a smaller size.
Easy to carry due to their compact size when deflated. You can even tuck them under your arm.
Their lightweight nature opens up the possibility of paddle boarding to a wider range of paddle boarders because they don't weigh more.
They're stable on water and will allow beginners to enjoy SUP fishing or yoga without tipping over.
Globo Surf Overview
Jimmy Styks offers well rounded inflatable paddle boards that won't break the bank. Their paddle boards are of high-quality and well designed to allow you to enjoy paddleboarding. We hope our detailed reviews will help you choose the paddle board that suits your preferences.
More Paddle Reviews: