OUR TOP PICK

---

EDITORS CHOICE

---

BEST VALUE

---
You love fishing. Spending a long and peaceful day on the water with a cold beer and your fishing rod sounds like the perfect day. You also love getting a great full body workout on your SUP. Combining the two sounds great but, first you need to get your hands on some accessories.
Why not combine your two loves and take your paddle boarding experience one step further by loading a cooler and you tackle box? This idea has taken off in the SUP world and more people are looking for the best sup fishing accessories. We have done some research and come up with our favorites.
EDITORS CHOICE
THURSO SURF Seat SUP
See Customer Owner Feedback >>
Stand Out Features - Why We Love It

Folds small

Can attach to any board with D rings

Easy setup
Materials: Neoprene material, bolt snap hooks
Weight: 1.8 lbs
Best use: Fishing
View More By THURSO SURF »
BEST VALUE
Scotty Fly Rod Holder
See Customer Owner Feedback >>
Stand Out Features - Why We Love It

Fully adjustable

Fits rail-mount systems

Works with all rods
Costa Del Mar Fantail Sunglasses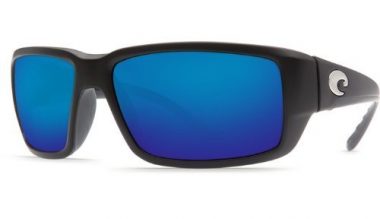 See Customer Owner Feedback >>
Stand Out Features - Why We Love It

Polarized lenses

Lightweight

Stylish
View More By Costa Del Mar »
See Customer Owner Feedback >>
Stand Out Features - Why We Love It

Temperature reflective

Leak-proof

Easy to clean
Jet Logic Complete Folding Anchor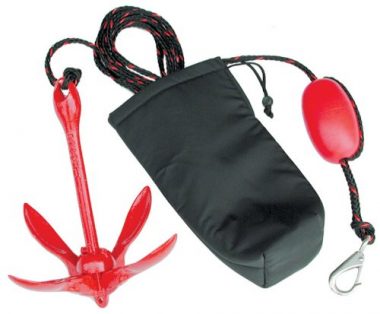 See Customer Owner Feedback >>
Stand Out Features - Why We Love It

Folds for compact storage

Long 25 ft rope

Lightweight design
Materials: Marine grade rope, nylon bag
Weight: 3.3 lbs
Best use: SUP fishing, canoes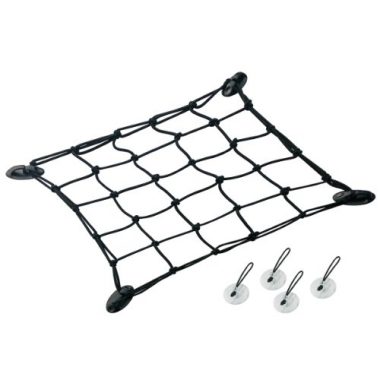 See Customer Owner Feedback >>
Stand Out Features - Why We Love It

Heavy duty

4 suction cups

3M adhesive backing
Boardworks Boardfisher Safari Pak
See Customer Owner Feedback >>
Stand Out Features - Why We Love It

Ultra lightweight

PVC piping for fishing poles

Easy to mount
Materials: PVC pipe, mesh material
Weight: 0.3 ozs
Best use: Fishing, storage
View More By Boardworks »
Huk KC Scott Long Sleeve Shirt
See Customer Owner Feedback >>
Stand Out Features - Why We Love It

Stylish

Unique

Breathable
View More By HUK Performance Fishing »
See Customer Owner Feedback >>
Stand Out Features - Why We Love It

Easy setup

Fits any sized board

High quality materials
Materials: PVC bladders covered in nylon
Weight: 3.9 lbs
Best use: Fishing, rough water
How To Choose The Best Paddle Board Fishing Accessory- Buying Guide
Use
A lot of people will look down a list of accessories for any water sport and begin picking out the ones which they like. In our experience, this can be a recipe for disaster. The first thing you should be doing is thinking about the type of paddleboard fishing you are going to be doing. Where are you going to fish? What is the water like? What are the conditions going to be like? What time of day are you going? What type of fish are you catching? Are you doing this for fun? Or to eat? There are many questions which you can ask yourself to get an idea of your needs. It is only once you have figured out what you need that you can figure out which accessories you should buy.
You do not want to spend needlessly. You may think that a cooler is a good idea, but if you are staying close to the shore the whole time, then a large regular cooler may be better. If you are catching your fish on a camping trip to eat them, then you may not be on the water long enough to need a rod holder. If you suffer from sore legs, then a seat may be a necessity. If you are primarily fishing in calm waters, then waterproof accessories will not be as important. For choppier water, waterproofing will be important.
When you are paddleboard fishing, you cannot take a lot of accessories with you. It is a good idea to start with your needs and fill them before you purchase luxury items.
Size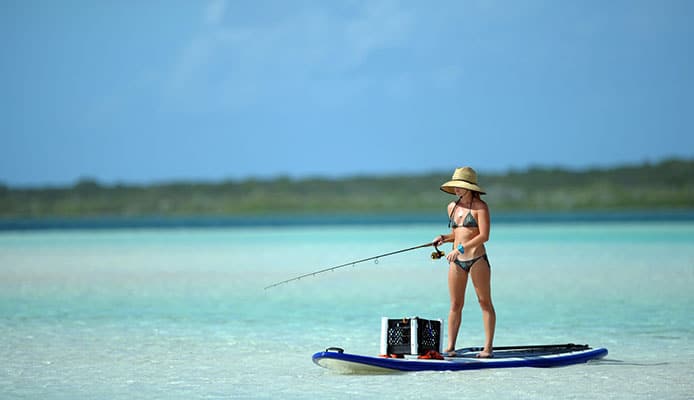 The size of your accessory will play a big part in your decision making. Paddleboard fishing differs from many other types of fishing in that you cannot take a lot of equipment with you. In fact, you cannot take much equipment at all. If you have not yet bought a board, then you may want to consider the size of board you buy before you start buying accessories. If you find that your board is too small, then you can always upgrade.
For basic fishing, you will not need to take a lot of equipment, but the more experienced you become, the more you will want to take. We recommend looking for the smallest items in their respective categories while still having an eye on the quality of the item. The less cluttered your board is, the more relaxed you will be on your trip.
You might also like: Fishing Paddle Boards
Mount
There are a number of ways in which your accessory will attach to your board. One of your main decisions will be between permanent and temporary mounts. You will want to use permanent mounts for things such as rod holders while cargo nets can be attached temporarily. You do not want to be changing the position of permanent mounts often as you can weaken your board so make sure that you have an accessory in place before you permanently attach it. You can always attach mounts temporarily to get an idea of how they feel in the water before you make a permanent addition to your board.
When you are attaching items to your board, always have an eye on the future. Does the position of the accessory leave room for other accessories in the future? You cannot add a lot to a paddleboard so make sure to be economical and smart with your accessories.
FAQs
Q: What Is The Best Accessory For Paddle Board Fishing?
A:
That is a hard question to answer, and a lot of the decision will rest with the individual and the type of fishing they intend to do. When you are planning a paddleboard fishing trip, it is important to pack as lightly as possible, and with that in mind, we have our top 2 must have paddleboard fishing accessories. These two items are two we always have on our fishing trips, and, while we often bring many more accessories than just these two, we could go without the others if we had to.
We always take a cooler with us on our fishing trip. Not only do we love to have a cool drink and some food with us, but a cooler is a great place to store the fish which you catch (after you have removed the food and drink, of course). Our second must-have is a rod holder. Fishing is a meditative experience, and you should not plan to be out on the water for anything less than two hour. Holding a rod is fun, but it is almost impossible to do for any length of time. A good rod holder will stop you from becoming fatigued and will make the trip more relaxing. Take these two items with you and your fishing trip will always be a good one.
Q: How Expensive Is a Good Accessory?
A:
There is no set price for any accessory, and we would never put a price on the item you are after. The only thing which we would recommend is setting a budget and sticking to it, but also recognizing that you get what you pay for. There is no point in buying the cheapest accessory you can find to save yourself some money, only for it to fall apart a few weeks later. Our recommendation is to always spend a little more to get an item which is higher-quality and one which will last you for a long time. It is better to save up for one quality item than to buy multiple cheap items.
Having said all of that, you can save yourself some money by shopping around for the best deal. Of course, we have already done that, so an item from our list is not only a high-quality item, but it is at a price which you will find hard to beat.
Q: How To Determine A Quality Paddle Board Fishing Accessory?
A:
There are a few things which you can look at to determine whether a fishing accessory is high-quality or not. The first is the materials which it is made from. You are going to be spending your time in the water, so you should find materials which can hold up to the water, especially the salt water. Aluminum is lightweight and strong. For larger items with handles look for aluminum. You should also be looking for materials such as urethane, PVD, vinyl, silicone, and polyurethane. We could go on with the list, but if you have an accessory made from one of these materials, you should be fine. If you are ever in doubt, then a quick search online will tell you about the material.
The other thing you can do is to buy your material from a trusted company. If you look for a dedicated watersports brand, then you know that you will be getting a quality item. The last thing to do is to look at the customer reviews. Most reviews will be generic, but there will be some reviews which detail personal experiences under certain conditions. These reviews can tell you if the accessory is going to be suitable for your needs.
Globo Surf Overview
The limits of paddle boarding are forever getting expanded and now more and more people are going fishing on their SUPs. This is a great way to combine a killer full body workout with all the relaxation and enjoyment of fishing. Paddleboards allow you to fish where regular boats can not go.
They also add a flair to an already favorite activity. On your next trip out, try these fishing accessories for an even better day on the water. A relaxing day on the lake followed by a night with some fresh catch, well that can't get any better.
More Accessories Reviews: