THE LIFETIME TAMARACK ANGLER REVIEW
THE LIFETIME TAMARACK ANGLER REVIEW
Lifetime Tamarack Angler 100 10′ Sit on Top One Person Fishing Kayak with Fishing Rod Holders and Paddle Included
See Customer Owner Feedback >>
What Makes This Kayak Stand Out

A very stable platform for fishing

Reasonable pricing and excellent value

Spacious with plenty of storage room

Three fishing rod holders and a paddle holder

Secured by a five years warranty
Size: 10 ft. long by 31 in. wide by 14.1 in. deep
Weight: 52 lb.
Maximum Capacity: 275 lb.
Material: High-Density Polyethylene
Features
Constructed using UV resistant high-density polyethylene, the Lifetime Tamarack 100 Angler Kayak is built for hours spent in the sun paddling and fishing. The blow-molded hull resists impact very well and won't be broken by rocks, trees, and other objects encountered in the water or when beaching. You can rest assured this is a solid kayak that will last.
Designed to offer great paddling and fishing experiences, it is equipped with the following features:
Chine rails and a flat bottom make it a very stable vessel in the water.

Deep hull channels enable it to track straight.

A comfortable kayak seat with a cushioned and adjustable seatback.

Multiple footrest positions accommodate paddlers of all heights and sizes.

Two flushes mounted 

kayak fishing rod<span style="font-weight: 400;"> holders and one swivel top mount fishing rod holder.

A 6″ storage compartment at the rear and another at the center. These hatches are sealed with rubber gaskets that are hinged and secured with bungee cords.

Shock cord straps at the front and back.

A paddle keeper with a bungee that wraps around the paddle to secure it to your kayak.

Comes with one black kayak paddle.

Front, rear, and side carrying handles.
Specifications
Length: 10'/120" (304,8 cm)
Width: 31 in. (78,7 cm)
Height: 14.1 in. (35,7 cm)
Draft: 5 in. (12,7 cm)
Weight: 52 lb. (23,5 kg)
Maximum Weight Capacity: 275 lb. (124,7 kg)
Material: High-Density Polyethylene (HDPE), blow-molded construction
Warranty: 5-year limited warranty
User Experience
Portability and Setup: 10 feet long and 52 pounds heavy, this kayak isn't difficult for one person to pick it up and load and unload it on the top of a vehicle. Carry handles at the front, back and sides make it easier to haul it to and from the waterfront. Purchasing a kayak cart<span style="font-weight: 400;"> can make moving it easier. Once you get it into the water, it is easy to get in and out of this kayak.
Usability: A sit on top kayak<span style="font-weight: 400;">, this kayak is roomy with plenty of legroom and multiple footrest positions. You will find the seat onboard the Lifetime Tamarack 100 adequately comfortable for short trips not more than three hours. While the seatback is nicely cushioned and adjustable, the seat pad could use more padding and can be a pain to sit on if you are going to be out there for more than three hours in one seating. You may want to add a cushion to improve. If you see yourself going out to fish often, it is a good idea to invest in a more comfortable and supportive kayak seat. 
The two sealed storage hatches, straps on the rear and front, and space on deck provide enough room for a crate, small fishing cooler, small to medium-sized tackle box, fishing accessories, personal items such as drinks, and other kayaking accessories you may need.
For your fishing rod and reel setup, there are three fishing rod holders on this kayak. On the front is a removable holder that swivels 360 degrees and two more right behind the seat. They are sturdy and stay in place without wobbling. When you need to put down the paddle to handle the fishing rods, there's a paddle cradle where you can lay down your paddle and secure it with a bungee cord.
Furthermore, you can modify the kayak as much as you want. You can add a transducer mount, add more fishing pole holders, add a kayak anchor, etc. 
Performance On the Water: A stable hull design with a wide beam and chine rails make the Lifetime Tamarack 100 Angler Kayak very stable in the water. It is not tippy at all even in not so favorable conditions. This makes it a great platform to cast from and fight fish without it dumping you out. You can sit sideways with both legs dangling into the water. It isn't designed for fishing while standing up but you can stand on it when you need to stretch your arms and legs.
With deep hull channels, it moves through the water easily and is not a struggle to keep moving straight. You will be surprised at how maneuverable it is too. It will get you to fishing spots boats can't access.
Due to its length and width and the smoother bottom, you won't win any races in this kayak but it is fast enough for recreational kayaking and fishing. With effective paddling techniques, you can work up a nice cruising speed. 
You might also like:
Vibe Sea Ghost 130 Angler Kayak Review
Sun Dolphin Aruba 10 Kayak Review
The Lifetime Tamarack Angler Kayak is at home in calm ponds, reservoirs, bays, and slow-moving rivers and creeks. It is not designed for fast-moving water, whitewater rapids, or windy conditions. It can handle some currents well and also handles powerboat wakes well if you encounter them on your way to your fishing cove. You can use outriggers to improve stability if you want to paddle it in choppy conditions.
Pros
An awesome first fishing kayak
Great stability in the water
Lots of storage and tie-down points for gear and accessories
A swivel fishing rod holder and two flush mount holders
Storage hatches have lids secured with cords
Great build quality
Impact and UV resistant hull material
Five years manufacturer warranty
One of the best deals in fishing kayaks
The kayak isn't leak-proof from the get-go. You will have to get scupper plugs to plug the drain holes and prevent the kayak from taking in water.
The material scratches easily
The seat cushion is thin and gets pretty uncomfortable after more than a couple of hours seated on it
The included paddle is flimsy
Moves slowly in the water and not good for covering a long distance quickly
Overall Rating
Price: 100% 

– A 

fishing kayak under $500

, this is one of the best budget fishing kayaks and an incredible value.
Material: 95% 

– Constructed of blow-molded and UV-protected high-density polyethylene (HDPE) that resists damage by impacts and the sun's UV rays, this is not a fragile kayak. It isn't affected by rocks, sand, twigs, or even boat ramps. The only downside to this material is that it scratches easily.

Design: 95% 

– With a flat bottom with chine rails for stability and deep hull channels for tracking and equipped with plenty of storage options and pole holders, the design suits kayak fishing and recreational paddling very well. The only aspect it sacrifices is speed.

Overall: 96% 

– This is a great f

ishing kayak

at a great price

. It's well built, sturdy, has great features, and will last many years. For the money, you can't beat the Lifetime Tamarack.
Globo Surf Overview
Does the Lifetime Tamarack Angler Kayak sound like the kayak you're looking for? We absolutely recommend it! It is well made, a great value, and works very well as a fishing and recreational kayak. With its stability, price, and ease of handling it is a great first fishing kayak that suits beginner kayak anglers very well. 
Lifetime Tamarack Angler 100 10' Sit on Top One Person Fishing Kayak with Fishing Rod Holders and Paddle Included
See Customer Owner Feedback >>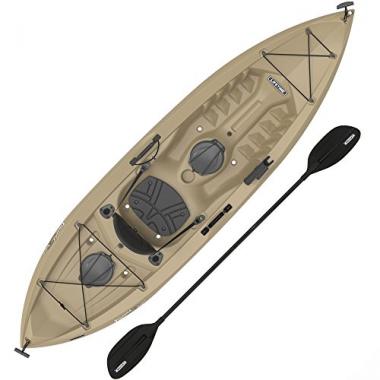 Last Updated: June 14, 2019
Last Updated: June 14, 2019
Single Product Hardshell Reviews:
Source