Kayaks can be hard to carry, especially if you have a long walk from your car to the water. Even if you mastered the proper carrying technique, it can put a strain on your body after some time. For this reason, and because they are bulky, investing in the best kayak cart is a good idea, especially if you go kayaking frequently.
Kayak carts are devices specially designed to put under the kayak and take it's weight while rolling. Essentially, it's a frame with two wheels, and there are several types for different kayaks and also your preferences. We wrote this kayak cart guide with the intent of helping you get the know the features and specs kayak carts have, and to present  the best kayak carts around so you have a solid choice when you decide to buy one.
Let's get started.
How To Choose A Kayak Cart – Buying Guide
Even though the purpose of kayak carts is pretty straightforward, there are a few different types which can be positioned and attached differently to your kayak, so you may prefer one over another. Also, not every cart has the same build quality. Check out some of the different options you have when buying a set of wheels.
Cart Attachment Method
A cart can be attached to your vessel in three ways. You can have an end cart for your kayak, which gives you maneuverability of the vessel. These are handy, and have a hook to attach to the kayak, to keep the cart in place. However, they usually aren't adjustable, so be careful that your kayak can fit through the hole of the cart. Also, because they are placed at the end, they only carry a small amount of the weight which means that your hands will do much of the heavy lifting.
Next, we have scupper hole carts. Scupper holes are included in some kayaks to help the excess water escape. This type of kayak carts uses these holes for attachment, which is very useful. Keep in mind that the position and diameter of the holes is not the same on every kayak so your cart needs to be adjustable to fit properly. Or you have to measure beforehand.
The final type, which is possibly the best option, is the platform (cradle) cart to which you strap your kayak. It is positioned in the center, so the weight distributes itself evenly and removes the strain from your arms. When you put your kayak in the desired position you use straps which are provided by manufacturer or bought separately, and bond everything in place. Your kayak shouldn't be able to move on the cart.
Wheels
Because the main goal of a kayak cart is to transport your kayak, choosing a cart with wrong tires can beat the purpose. Main types of tires for cart wheels are plastic, rubber and inflatable. Plastic tires are cheaper, but they have their downside. They will do their job very well on flat surfaces like tarmac for example, but when you roll over uneven terrain or sand, they can get stuck and annoy you.
So, unless you're always going to use a flat road, it's better to choose the alternative. Inflatable tires give you more stability on uneven terrain. If you buy a model which has wide tires you can roll even on sand without problems. Some of the models have tires that are puncture proof, which is the best option. They can be made from rubber or permanently inflated with polyurethane.
Frame Material
This is a very important checkpoint when choosing the best kayak dolly. When buying equipment you want something that is built to last, and here the material used plays a big role. Most commonly used are stainless steel, aluminum, plastic and composite. These materials are corrosion-resistant which is important because there is a good chance that the cart will be wet very often.
Regarding the materials, plastic is perhaps too fragile and won't tolerate rough handling unless it's specially made and reinforced. On the other hand, steel is very sturdy and durable, but it is heavy. Possibly the best choice here is a frame made from aluminum. It is tough and durable but also lightweight, which is significant if you plan to pack the cart in your kayak and take it with you.
Strap Types
As we briefly mentioned in the section about attachment methods, kayak needs to be strapped to some kayak carts. Some of them come with straps that are more than adequate to use and tie down the kayak. However, if you don't have straps, simple quick straps will do the job just fine, especially if the kayak isn't too heavy. Ratchet straps are also very good since they bind everything tightly, but aren't really necessary for this situation.
Versatility
You should look for a cart that is adjustable and foldable. Many kayak carts have the possibility of adjusting width to allow different vessels to be mounted. This is a great solution if you'll be using it for different kayaks. Also, it's very useful if the cart can be folded and broken down for easier storage in your car or kayak when on water.
Finally, the weight capacity is also important. Some kayaks (tandems for example) weight more, and you should also count in the equipment you are taking with you. Some people even use a single cart to transport two kayaks. This is why the best kayak dolly needs to endure everything without breaking and usually the maximum weight supported ranges from 100 to 300 lbs, depending on the product.
FAQs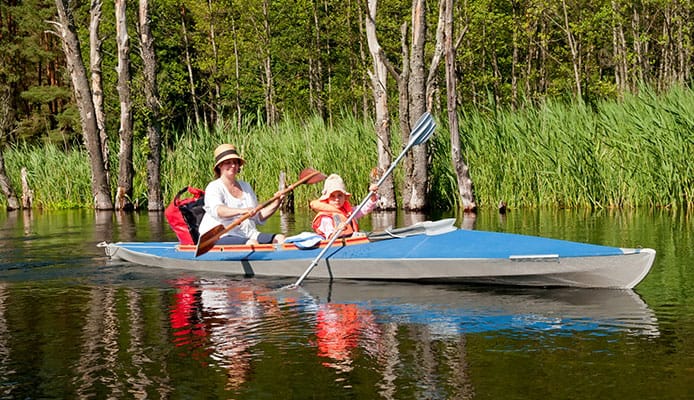 Q: How To Use A Kayak Cart?
A:
This depends on the type of cart you have. If you have an end cart, the tail of your boat slips through it easily, and it usually comes with a hook to secure it. The scupper hole cart uses the scupper holes on your kayak. Make sure there is no gear in the kayak and then turn it to the side. You then load the cart into the holes flip it back and you're ready to go. The same thing goes for when removing the cart – take the equipment out of the boat, turn it to the side and pull the cart out. As we mentioned earlier, it's good to buy a cart with adjustable width because the distance between scupper holes can vary.
The third type is the strap (platform) cart on which the kayak is easily loaded. You put the cart next to the center of the boat at a small angle compared to the boat. You then lift the front, rotate your kayak and position it on the cart. When it's sitting in the position you like (best in the middle for weight distribution reasons), you proceed to secure it with straps.
Q: How To Secure A Kayak To A Cart?
A:
The first two types of kayak carts mentioned don't require any special securing – the end cart remains in place because of the design and the hook. The posts of the scupper cart sit tightly in the scupper holes so it has nowhere to go.
However, even if it is possibly the best solution (if you want to carry as little weight as possible), the platform cart requires some strapping to prevent the boat from slipping and damaging. You can do this as follows – wrap the strap around a post on the cart, then bring it back to you. Bring the strap over the kayak and wrap it around the matching post on the other side, and then tighten it down nicely.
Q: What To Do With Your Cart When Kayaking?
A:
If you bought a lightweight foldable cart your solution is simple – fold it, put it in your kayak and take it with you. This is why it's important to choose a cart that has these options. Otherwise, you can either walk back and put it in your car, or you can leave it on the shore and hope to find it there when you get back.
Globo Surf Overview
As you can see, there are several types of kayak carts available, and it depends on your preference and kayak type which one you should choose. We featured different solutions in our kayak cart guide, and you won't be making a mistake choosing any of them. You can finally relax and save your strength for paddling instead of carrying your kayak around!
More Kayak Reviews:
Have you tried a kayak cart that made it onto our list? How efficient was it in helping you move your kayak? Let us know in the comment section below.