OUR TOP PICK

---

EDITORS CHOICE

---

BEST VALUE

---
Kayaks can be very hard to carry, especially if you have a long walk from your car to the water. Even if you've mastered the proper carrying technique, it can still put a serious strain on your body. For this reason, investing in the best kayak cart will save you a lot of energy and make kayaking adventures more enjoyable.
Even though the purpose of a kayak cart is pretty straightforward, there are still variations in design that might make one model more suitable than the other. In this article, we will break down everything there is to know about cart design and present the best kayak carts currently available so you can always have a reliable way of getting your kayak to the water.
How To Choose The Best Kayak Cart – Buying Guide
Cart Types (Attachment Method)
When discussing the possible ways of adding wheels to your kayak, three options are available – an end cart, a scupper hole cart, and a platform cart. An end kayak cart attaches to the stern of your kayak and lifts it, allowing you to pull it. It's very maneuverable but carries only a portion of the weight so you'll have a more difficult job.
A scupper hole kayak cart comes with vertical bars that go through the scupper holes on your boat. While this is very convenient, keep in mind that sit-in kayaks come without scupper holes and even sit-on-top models can have them in very different positions. Lastly, a platform (cradle) kayak cart is the most universal option as it usually fits any kayak model and holds the most weight.
Wheels
Since a kayak cart's main goal is to transport your kayak from point A to point B, choosing a kayak cart with the wrong tires can beat the purpose. The main types of tires for cartwheels are plastic, rubber, and inflatable.
Kayaks with wheels made from plastic are cheap but don't perform well on soft surfaces. Inflatable tires are soft and roll over anything, but can get punctured and damaged. Because of this, we feel that flat-free rubber tires filled with polyurethane are the best choice for kayak carts.
Frame Material
When looking for a kayak cart, it's very important to consider the materials used to make its frame. The material should be strong enough to support the kayak weight and resistant to damage and corrosion. The most common options are stainless steel, aluminum, plastic, and composite.
Plastic is perhaps too fragile and won't tolerate rough handling unless it's reinforced. On the other hand, steel is very sturdy and durable, but these wheel carts for kayaks tend to be heavy. Possibly the best choice here is a frame made from aluminum because it's both tough and lightweight, which is significant if you plan to pack the wheels for a kayak and take them with you.
Strap Types
Unless you buy a kayak transporter that connects to the scupper holes, you're going to need some type of straps to secure your kayak on wheels. Luckily, most trolleys for kayaks come with a set of ratchet straps so you'll have an easy job. If the package comes without these, even simple quick straps will do the job just fine.
Versatility
If you want the best experience when transporting the kayak, you should look for a trolley for a kayak that is easily-adjustable and foldable. In relation to this, the most excellent kayak carts allow you to tune the width so they can fit any kayak size (great if you'll use it for multiple kayaks). In addition to the adjustability, the best kayak cart should also have a good weight capacity so it can support the vessel without breaking.
You might also like:
 Kayak Outriggers And Stabilizers
FAQs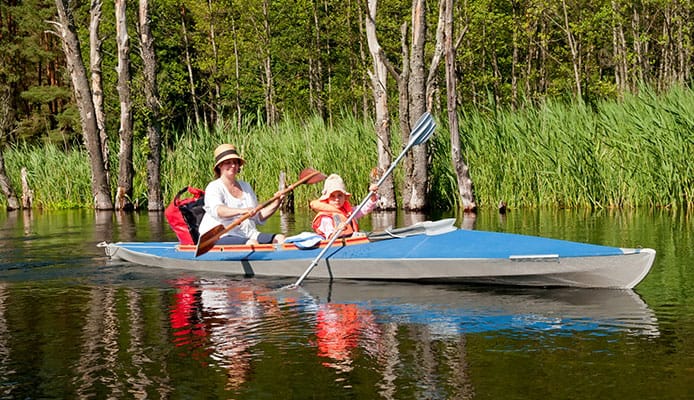 Q: How To Use A Kayak Cart?
A:
This depends on the type of kayak cart wheels that you have. If you have an end cart, the tail of your boat slips through it easily, and it usually comes with a hook to secure it. On the other hand, the scupper hole cart uses the scupper holes on your kayak. With this type, you need to turn the kayak to the side, load the cart into the holes, and flip it back (same goes for unloading).
As for the strap (platform) models, you need to put the kayak cart dolly next to the center of the boat at a small angle compared to the boat. You then lift the front, rotate your kayak, and position it on the kayak caddy. When it's sitting in the position you like (best in the middle for weight distribution reasons), you proceed to secure the kayak with wheels.
Q: How To Secure A Kayak To A Cart?
A:
You can do this as follows – wrap the strap around a post on the kayak trolly, then bring it back to you. Bring the strap over the kayak and wrap it around the matching post on the other side, and then tighten it down nicely.
Q: What To Do With Your Cart When Kayaking?
A:
If you bought a lightweight foldable kayak cart, your solution is simple – fold it, put it in your kayak and take it with you. Otherwise, you can either walk back and put the trolley kayak cart in your car, or you can leave it on the shore and hope to find it there when you get back.
Globo Surf Overview
As you've had the chance to see, there are several types of kayak carts available, and which one you should choose depends on your preferences and the kayak type you own. All of the transport wheels for kayaks featured in our kayak cart review are tried and tested on various terrains, so you can finally relax and save your strength for paddling instead of carrying your kayak around.
More Kayak Reviews: