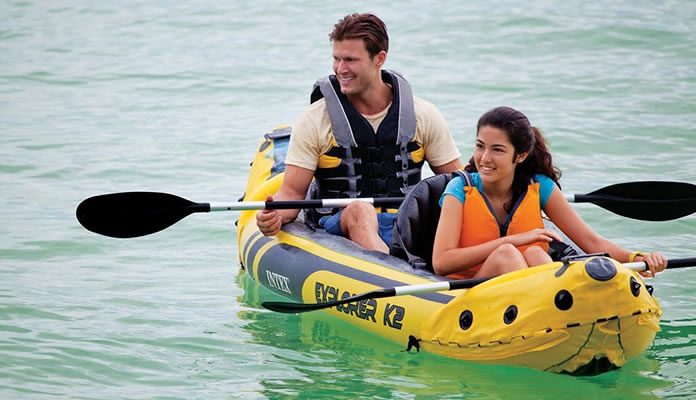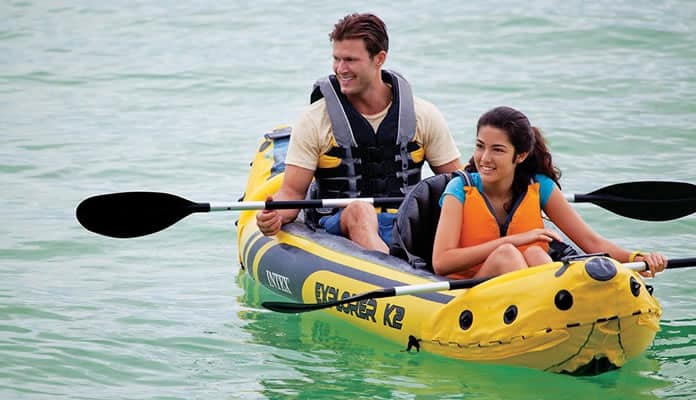 E
ver experienced a leg cramp when sitting in a kayak and with the limited amount of legroom? With a closed style kayak there is unfortunately not a ton you can do. This is a common experience, feet and legs falling asleep with a cramped feeling. This doesn't mean you should give up the sport all together especially when there is another option out there.
Sit on top kayaks are a great way to combine the many benefits of a kayak with the amount of room you get in a canoe. Touring sit on top kayaks are often preferred as they will give you a lot of space for the movement you need.
This type of kayak gives you all the space you get in a canoe with all the fun and convenience of a kayak. A favorite activity by so many, we found the top five on the market.
Best Sit On Top Kayaks
Sit On Top Kayaks Reviews
1. Intex Challenger K1 Kayak, 1-Person Inflatable Kayak Set
Check Price Now
This is an inflatable kayak that is great for still water. Take it with you for a day on the lake or down a lazy river for a new and fun experience. The coast guard has approved this incredibly durable board that rides similar to a rigid board providing the stability you are looking for. This boat is also UV resistant which will give you peace of mind that despite long term use, it will stand the test of time. With durable welded material you don't have to worry about the integrity of this boat. The welded seams hold up much better than the more commonly used glue to hold the seams. The vinyl is puncture resistant which is sure to give you peace of mind. A comfortable backrest that is also inflatable makes it so that the seat expertly forms to your back giving you an increasingly comfortable experience. A spacious cockpit will allow you enough room to sit comfortably for long periods of time and to bring your gear with you. The entire front of the boat is dedicated to cargo space with a mesh top. Pop your gear into some dry bags and take to the water with enough space to hold enough stuff for your next weekend trip. Plenty of peace of mind with this purchase, it handles well in all waters.
Length: 9 feet
Weight: 27.2 lbs
Material: Heavy duty puncture resistant vinyl
Maximum Capacity: 220 lbs
Accessories: Aluminum oars, Air pump, Repair kit
What makes this kayak stand out:
Comfortable backrest
UV damage-resistant
US Coast Guard approved
2. Intex Explorer K2 Kayak, 2-Person Inflatable Kayak Set
The banana look of this tandem sit on top kayak will quickly spike your interest. Great for use with kids that will love the look, this color also offers added safety in the open water increasing your visibility. This inflatable kayak has a lightweight design making it easy to portage between lakes no matter how many people are there to help. Its low profile design makes it a great option for still water such as lakes or lazy rivers. The removable seats gives you the ability to make this kayak fit your needs, even if they are ever changing. They are incredibly comfortable, being inflatable allows them to conform to your back giving you added comfort as it conforms to your body's shape. Great for individual or solo use, this kayak expertly moves through the water with ease. The low profile design makes it incredibly stable and thus great for use with beginners. This kayak is great for beginners as it has a removable skeg, similar to a fin, that helps you maintain direction and maneuver your boat with ease.
Length: 10'3"
Weight: 31.3 lbs
Material: Heavy duty puncture resistant vinyl
Maximum Capacity: 400 lbs
Accessories: Aluminum oar, Air pump, Repair kit
What makes this kayak stand out:
Lightweight design
Two separate air chambers
Two removable seats
Puncture resistant design
3. Lifetime 10 Foot Sport Fisher Tandem Kayak
For those who love fishing, this is a great kayak. If the impressive five year manufacturer's warranty does not get you excited, the fact that it has 3 fishing pole holders will. With a comfortable padded backrest, this tandem kayak will keep you and your friend comfortable for long quiet days on the water. Coming with many different heights of foot rests, it doesn't matter your height, you will be comfortable in this boat. An interior storage hatch ensures you have more than enough space to hold all your gear and even enough to bring your days catch.  Don`t worry about the integrity of this rigid board as it is incredibly durable. Lifetime has thought of everything, even incorporating paddle holders on the boat for while you are fishing.
Length: 10'
Weight: 65 lbs
Material: Polyethylene plastic
Maximum Capacity: 500 lbs
Accessories: 2 double-sided paddles, paddle clips
What makes this kayak stand out:
3 fishing pole holders
5 year manufacturer warranty
Fits many different heights
4. Ocean Kayak Frenzy Sit-On-Top Recreational Kayak
The Ocean Kayak Frenzy kayak is a well rounded sit on top kayak. The molded foot rests ensure you will have enough room no matter how tall you are. A perfectly placed cup holder allows you to have quick access to your favorite beverage. The seat is comfortable and easy to install while the bungee storage system ensures your belongings stay securely on the deck. Being four way adjustable, this seat is great for long distance travel or for extended time spent in your boat.  A threaded drain plug will let the water drain freely as you coast along the water. A replaceable rear skid plate ensures you will not need to purchase another kayak any time soon no matter how hard you are on it. The handles allow you to carry it from your vehicle to the water with ease. Kayak sit on top reviews for this boat agree, this boat is exceptionally great at navigating through the water for your next adventure.
Length: 9'
Weight: 43 lbs
Material: Polyethylene
Maximum Capacity: 325 lbs
Accessories: None
What makes this kayak stand out:
4 way adjustable seat
Loads of storage space
Replaceable skid plate
5. Old Town Canoes & Kayaks Vapor 10 Angler Fishing Kayak
This camo kayak will have you fishing out in the open water in no time. It sports a wide stable base with a spacious cockpit. You sit along the bottom of the hull while the walls come high around you all while your legs are completely exposed. Even with this feature it still has ample room for your belongings in its well thought out bungee system, dry storage and even rod holders. Coming equipped with a comfortable, adjustable seat and an anchor trolley system you will want to spend the whole day sitting in the middle of the lake enjoying the scenery. It also has a drain plug for any excess water you accumulate during your journey.
Length: 10'
Weight: 49 lbs
Material: Polyethylene, foam
Maximum Capacity: 325 lbs
Accessories: Anchor trolley system, mounted rod holders, deck bungee
What makes this kayak stand out:
Stable base
Cup holder
Comfortable seat
Lots of storage
Fishing rod holder
What is a sit on top kayak?
Kayaking comes in many forms ranging from inflatable to hard styles. There are also sit on top kayaks which don't require you to slip into a covered hull but rather, just as the name describes, sit on top of your boat. The best sit on top kayaks will have different features than what you would typically expect in other rideables. These are typically easier to use and often come at a more affordable price.
Who are these designed for?
These are perfect for people with long legs or are claustrophobic. The flat deck allows you to stretch out and even dangle your feet into the warm summer water. It is easy to see the value sit on top kayak will carry for those who are very tall, or carry most of their height in their legs.
Also, if you are an adventure lover this type of kayak is perfect for you. Bring your scuba gear with you to the middle of the lake, set the anchor and go take a look at the bottom. Love fishing? Bring your rod and tackle box and paddle into the reeds to catch the hiding fish. Live along the ocean shore? Use these kayaks as a boogie board and coast into shore. They can keep kids entertained for hours. You can even use these kayaks as a way to get to your houseboat.
Things to consider when purchasing a kayak
Just like every boat there are many aspects and features you should know and understand before purchasing. Sit on top kayaks are typically made out of a durable fiberglass or plastic material. Having a wide base for your body means these are comfortable kayaks that serve many purposes. Their flat top allows you to fish, scuba dive, or even surf with ease.
Carrying capacity
A ride on top kayak will sport a high carrying capacity also makes these ideal for larger people. It is also makes it extremely easy to bring your dog or children with you. It may take a couple of minutes to get them comfortable but once they are, your pup will not want to leave. You don't have to worry about limiting your gear for your weekend getaway as they also have ample storage space.
Shape
Their short wide base makes them extra stable which beginners to this sport will appreciate. You will have the confidence to take it out into deep water from the moment you sit down on it. Some may look like flat canoes, but they perform worlds different from them.
Since they have a flat top and don't have a closed area while being practically flat they may allow more water to crest the walls. For this reason they are usually equipped with a drain plug to easily get rid of the excess water. This also makes them perfect for riding with pets and children. These kayaks don't have a closed area and are practically flat so dogs feel comfortable sitting with you as you paddle.
The open space also allows you to escape quickly if you happen to roll. You don't need to practice escape maneuvers necessary for closed kayaks. If you do end upside down all you need to do is flip the kayak right side up and climb back on.
Cost
Since these are more basic than other kayaks they are much cheaper in cost. Depending on what they are designed for and their features they can range from $100 to upwards of $800. This makes these an excellent option for a summer weekend or toy for the cabin. Some also use these kayaks as dinghies to get to their sailboat or houseboat. No matter what you use them for sit on top kayaks are exceptionally versatile and multifunctional.
Globo Surf Overview
A sit on top kayak is a fun way to enjoy a hot summer day. Take one of these to the lake and enjoy snorkeling around with this as a home base. Always wanted to go camp on an island? Use this to transport you and your gear for the perfect weekend getaway.
The stable bases will instill confidence from the moment you sit on one of these kayaks. Their durable material allow you to be as hard as you want without having to worry about breaking these rigs.
Sit on top kayak reviews agree that the freedom you get from the spacious designs great for longer paddles, or bigger people. With all the boats on our list you can combine the space you need with a comfortable and expert ride.
Have a sit on top kayak? Let us know how you like it in the comment section below.
You May Also Like
5 Best Pedal Powered Kayaks in 2018
5 Best Recreational Kayaks in 2018
5 Best Beginner Kayaks in 2018
Last Update on the 16th of February 2017
New to kayaking or have a kayak on our list? Let us know how you like it in the comment section below.