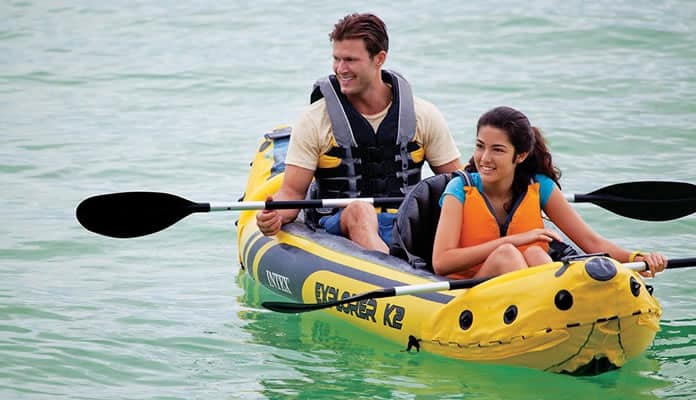 Best All-Round Sit On Top Kayak

---

Best Tandem Sit On Top Kayak

---

Best Sit On Top Kayak For The Money

---
For those of you who enjoy freedom and comfort while paddling, sit on top kayaks are hard to beat. Thanks to their open design, using them is much easier compared to closed style kayaks. On top of this, many of the best sit-on-top kayaks are also excellent for fishing or even sharing a ride with a friend.
Whether you need a true touring sit on top kayak or something smaller to paddle on your local pond, our product reviews will guide you through the selection process and help you choose. And, if you're interested in what makes a kayak great, the buying guide below will give answers to all your questions.
How To Choose The Best Sit-On-Top Kayak – Buying Guide
Advantages Of Sit-On-Top Kayaks
Sit-on-top recreational kayaks offer many benefits to the paddler, especially in terms of comfort. Take a quick look at why getting one is a good idea:
Open deck design

: You'll have plenty of legroom so you can easily stretch or dip your feet in the water.

Extra stability

: Wider hull design makes it more stable on the water – perfect for beginner paddlers.

Enclosed hull: Kayak always remains buoyant and can't sink or fill with water.
Scupper holes

: Drain the water from the kayak so water won't gather on top.

Storage space: Spacious tankwells and dry hatches for bags, scuba gear, or tackle boxes.
Water activities

: Thanks to the open deck, sit-on-top kayaks also work great as scuba or

fishing kayak

s.
Length And Width
The relation between length and width will determine the performance of your kayak on the water. Longer kayaks with narrower beams will generally be faster, while a wider but shorter kayak will lean more toward stability rather than speed.
Carrying Capacity
While it depends on the model you pick, sit on top kayaks generally have good carrying capacities (from 250 to over 500 pounds). This is a very important aspect when buying the kayak, and you should make sure that you get a model that can easily support you and all of your gear.
Comfort On The Water
Kayak comfort determines how your body will feel after a whole day of sit on top sea kayaking. For example, lower-end models come with molded seats that can feel very hard and uncomfortable after a few hours. On the other hand, a high-quality padded seat and adjustable foot braces will have you feeling great throughout the day.
Cost Of The Kayak
Compared to sit-inside models, these have a simpler design, which means a significantly lower price. However, the final price depends on the construction quality and the extra features that you get. Basic models go for as little as $100 (some inflatable kayaks), while the best sit-on-top kayaks easily cost $800+.
Considerations When Choosing A Sit On Top Kayak
While looking for the best kayak for your sit on top kayaking style, there are a few things to consider. These will help point you in the right direction and make your decision much easier.
Budget

: Before starting your search, it's ideal that you have a number in mind (to narrow down the options).

Type of use:

Kayaks for touring, recreation, and fishing all have specifics in their designs, and you should choose based on the intended activity.

Frequency of use:

If you won't be using the sit kayak often, it's perhaps better to go with a cheaper option or even rent one.

Transportation: Think about how you'll get the kayak to the water – whether it can fit in your car or if you need to get a roof rack.
Extra features: Additional features like fishing rod holders, dry hatches, or paddle rests can make a big difference in comfort.
Number of paddlers: If you enjoy sharing the ride, the best kayak for you is a tandem sit-on-top kayak. On the other hand, a solo might be a more maneuverable and comfortable kayak if you're usually going out on your own.
FAQs
Q: What Is A Sit On Top Kayak?
A:
As its name suggests, a sit on top kayak is a kayak where you sit on top of the molded kayak deck. The main advantage of using this type of kayak is comfort – they don't feel confined and give you plenty of leg space for moving and stretching.
Q: Are Sit On Top Kayaks More Stable?
A:
Yes, they usually are. Compared to sit-in kayaks, sit-on-top kayaks have a much wider hull. This is because of the higher sitting position, and results in much better primary stability. However, secondary stability is often reduced, which is why most sit on tops are best for flat water and not surf or whitewater.
Q: How To Get Into A Sit On Top Kayak?
A:
To get into the kayak, you'll first need to get into the water to about knee-deep. Then, grab both sides (so it stays in place), and sit on kayak in the seat. After this, you only need to put your feet in the boat, make yourself comfy, and you're ready to go.
Q: How To Stay Dry In A Sit On Top Kayak?
A:
Staying dry in a sit on top sea kayak isn't always easy, as some splashing is bound to occur. Still, there are a few things you can do. If it's cold out and you want to avoid getting wet, make sure you're wearing the right apparel to protect yourself. 
Also, it's a plus if the seat is raised from the deck (you won't sit in a puddle), and if the kayak has properly-positioned scupper holes to drain the water.
Q: How To Get Back In A Sit On Top Kayak?
A:
To get back inside the kayak, you first need to get on the kayak side, next to the seat. While gripping the kayak firmly, pull your legs behind you to the water surface. Then, push down with your arms and kick with your legs to put your chest on the kayak. After this, rotate your body, sit on the seat, and put your legs inside.
Q: How To Carry A Sit On Top Kayak By Yourself?
A:
The easiest way to carry a kayak is over your shoulder. The first thing you need to do is stand to the side, kneel down and grab the handle on the side next to you. Then, pull the kayak up on your thighs, grab the handle on the other side, and rotate it on your shoulder (lift from your legs and not your back).
Q: How To Store A Sit On Top Kayak?
A:
Probably the easiest way to store a kayak (inside or outside) is to get a storage rack or hoist to put it on. If this is not an option and you're putting it on the ground, you should place it on its side, with the deck side leaning against the wall, under a roof. If you're storing it for a longer time, always cover it with a UV and water-resistant cover.
Globo Surf Overview
A sit-on-top kayak has countless advantages, which is why many kayakers prefer it over a sit-inside. With it, you can count on stability, comfort, and versatility on the water. Hopefully, our sit-on-top kayak reviews have pointed you in the right direction, so you'll be able to pick the best sit-on-top kayak to enjoy on all of your adventures.
More Hardshell Kayak Reviews: