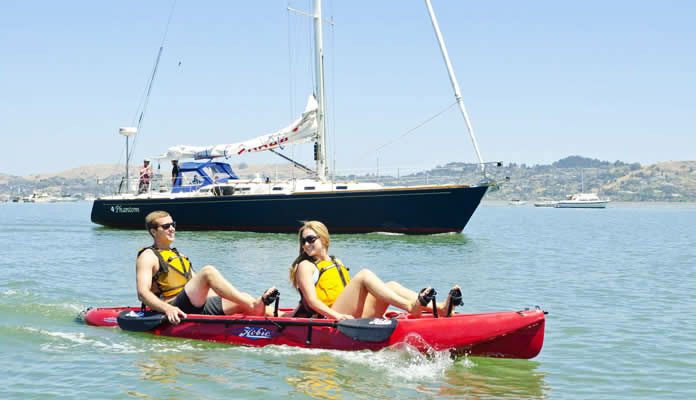 K ayaking is an ever changing and growing sport. There are many ways to propel yourself through the water, one of which is with pedals. Companies have designed high tech systems that will allow you to move hands free at speeds that are greater than with paddles. This is a great option for those looking to exercise their legs.
We have put together a list of the best pedal kayaks that will get your weekend started right
QUICK ANSWER: THE BEST PEDAL POWERED KAYAKS
Best Pedal Powered Kayaks
Pedal Powered Kayaks Reviews
1. Hobie Sport
Check Price Now
What Makes This Kayak Stand Out:
Drain plugs
Lots of storage
Rod holders
Model & Accessory Specs:
Length: 9'7"
Weight: 61 lbs
Maximum Capacity: 225 lbs
Materials: Polyethylene
The Hobie Sport is a well equipped pedal powered kayak. The comfortable, adjustable seat will keep you positioned correctly for even the longest trips. An advanced push pedal system has shoe loops to secure your feet while pedaling through rough water. The open sit on top style allows you to get up and move around with ease, perfect for activities like fishing. A large bungee storage area directly behind the seat will store everything you need for your trip while the dry storage at the front will keep your prized possessions free from water. This bright kayak with pedals will make any weekend trip amazing.
2. Hobie Mirage Outback Kayak Ivory Dune
What Makes This Kayak Stand Out:
Easy to use drain plugs
Paddle included
Loads of storage
Model & Accessory Specs:
Length: 12'1"
Weight: 81 lbs
Maximum Capacity: 400 lbs
Materials: Polyethylene
Hobie has cornered the pedal powered kayak market. Features like the MirageDrive ensure you can paddle with ease while the tru-hull wire plugs allow you to drain water that accumulates in the hull. Much like the Sport, this kayak has ample storage with the large dry storage in the bow and easy to use bungee system in the rear. Don't worry about traveling in the shallows as this kayak comes with a paddle that will give you the option of easy small adjustments. This can be a perfect pedal fishing kayak for your next trip to the lake.
3. Hobie Mirage Revolution 11 Kayak
What Makes This Kayak Stand Out:
Rudder system
Comfortable seat
Easy to access storage
Model & Accessory Specs:
Length: 11'
Weight: 64 lbs
Maximum Capacity: 300 lbs
Materials: Polyethylene
The sleek design gives this boat an edge up. The rounded rear allows a rudder system to give you a more defined direction through the water. A comfortable seat is at the center of this design. It is completely adjustable and will ensure you stay comfortable no matter how long you are on the water. Bring all your gear with you with the ample storage this kayak offers.
4. Hobie Cat Mirage Revolution 13

What Makes This Kayak Stand Out:
Sail mount
Ample handles
Included two piece paddle
Model & Accessory Specs:
Length: 13'
Weight: 70 lbs
Maximum Capacity: 350 lbs
Materials: Polyethylene
This is a top of the line pedal powered kayak. Features like easy to use carry handles, cup holder, and an included two piece paddle make this a well equipped option. A sail mount on this boat ensures it will not become obsolete any time soon and will keep you customizing your setup. Like to fish? The included rod holder make this a great fishing kayak with foot pedals. This is one of the heavier boats sitting at nearly 90 pounds fully rigged, but the features make up for the added weight.
5. Hobie Mirage Revolution 16 Kayak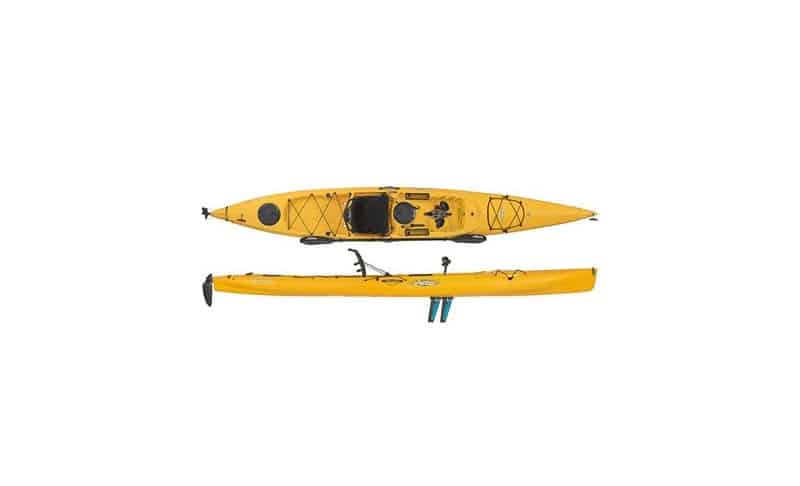 What Makes This Kayak Stand Out:
Loads of storage
Included paddle
Comfortable seat
Model & Accessory Specs:
Length: 16'
Weight: 77 lbs
Maximum Capacity: 350 lbs
Materials: Polyethylene
The Hobie Mirage Revolution 16 Kayak is one of the best kayaks with pedals on the market. The long 16 foot frame allows you to take it into open ocean without feeling small. There is more than enough storage for long three day weekend trips. The seat is comfortable while being supportive and the MirageDrive system ensures you always have a means of getting home. A rudder system in the rear will guide you in a straight line while the included paddle can maneuver you around tight spaces.
Why opt for a pedal powered kayak?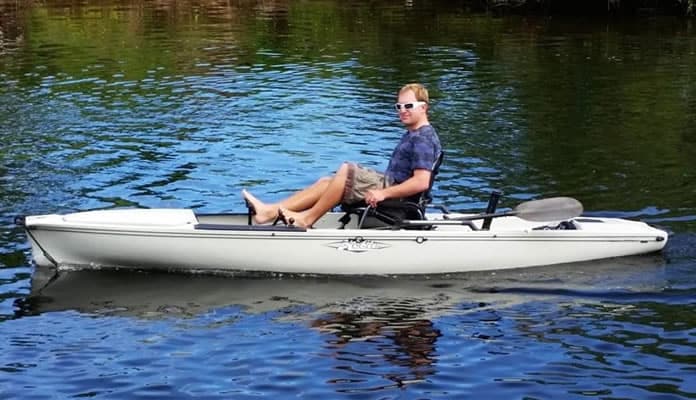 This is one of the least known types of kayaks. Often seen in water sport rental shops this type of kayak will allow you to spend time on the water without straining your upper body. This makes them perfect for people who want to get exercise while being on the water, or people who like to fish in their kayaks.
Types of pedal kayaks
These kayaks use your lower body to propel them through the water using propellers on the bottom of the kayak. These propellers push you through the water faster than you can using paddles.
Push pedals
Instead of pedaling like a bicycle a push pedal system involves both legs repetitively moving the same way. The props underneath you require nearly constant leg movement to keep you at speed and fall off quite severely once you stop. This type of boat will get you a very rigorous exercise and will need a person who is physically fit to operate, especially on longer trips.
Rotation Pedals
This type of propulsion system is the one you typically think of when you picture a pedal powered kayak. Similar to bicycling the pedals move one after the other causing the propellers to move you through the water. This requires much less effort and slows down much slower than the push pedal system. If you are just starting out with one of these kayaks the rotation system should be highest on your wish list.
Features of a pedal powered kayak
Most pedal fishing kayak reviews agree that there are features that make the best pedal driven kayaks.
Size and weight
Even though a longer kayak is easier to control it adds weight that needs to be propelled. The key is to find a balance that will allow you to control it while not overloading it with unnecessary weight. This will depend on the length and width. The length of these kayaks usually starts at 10 feet and goes up to over 16. You should expect that a longer kayak will also come with a higher weight ranging from 45 to upwards of 100 pounds.
Price
Since there are many moving parts and technology that goes into these boats the price will be higher than a typical kayak. This can push the introductory price to over $1000 and a well equipped option nearing the $3000 mark.
Globo Surf Overview
Pedal powered kayaks are perfect for people who want to get an increased workout or who have injuries to their upper body. Not having to constantly paddling will allow you to take part in activities like fishing or snapping the best photographs.
Sources
Like a bicycle, California Bike
Excercise, Medicine Plus
Enjoy kayaking on a pedal powered kayak? Tried on our list? Let us know how you liked it in the comment section below.
Globo Surf Pedal Kayak Review
★★★★★
"
Looking at the options available for a pedal driven kayak. Found your review. Cant wait to take it out and go fishing in it.
"