Our Top PIck

---

Editor Choice

---

Best Value

---
If you are looking for an easy way to transport your kayak from your house to the water and back, a kayak trailer is a fantastic solution. It will allow you to easily load, transport, and unload your kayak.
With the best 2 kayak trailers, you can even transport the whole family's kayaks with ease. On this page, we feature the very best trailers for kayaks and discuss the features and specs to pay attention to so you can choose the best kayak trailer to make life with a kayak easy. 
How To Choose The Best Kayak Trailer – Buying Guide
How Many Kayaks Will You Carry?
As you've seen in our reviews, different trailers can carry a different number of kayaks. When shopping around for the best kayak carrier, have in mind the number of kayaks you need it to accommodate. The best kayak trailers have carry capacities ranging from 1 to 4 kayaks.  
What Size Are Your Kayaks?
While a compact trailer may be desirable, it's the size of your kayak that will dictate the size of the trailer you should choose. Since the length of the trailer tongue jacks/trailer tongue will determine the length of the kayak it can hold, be sure to always check the length restrictions that the trailer you're considering has. 
If you have a tandem kayak, it's especially important to choose a tandem kayak trailer designed to handle the longer lengths of 2-person kayaks. The last thing you want is to be driving down the road with a ton of overhang from your kayak, as this can result in your kayak not sitting securely, risking an accident. 
Weight Capacity
Every kayak carrier has a maximum weight rating. If you already have a kayak, it's important to weigh your kayak in mind so you can choose a trailer with an appropriate load rating. The average kayak will weigh around 40 lbs, while the typical single kayak car trailer has a weight limit of about 200 lbs.
When looking for a fishing kayak trailer or a multi kayak trailer, the load limit becomes an even more important factor to consider. Keep in mind that you not only have to factor in the weight of the kayaks but also the weight of the trailer and any other gear strapped to the trailer.
Storage
As these trailers are quite large, they require a designated area for storage. If you have limited storage space, consider getting a folding kayak trailer. Folding kayak trailers fold up compact for space-efficient storage. Kayak carriers are also a great way to store your kayak. Instead of storing the trailer and kayak separately, you can maximize the space you have by storing the trailer while it's attached to your kayak. 
You might also be interested in:
Price
As with any other purchase you make, it's important to consider the cost of a kayak carrier. If you're looking to invest in a super-strong and durable trailer, you will have to pay more to get the very best kayak trailer. Similarly, buying a pre-built trailer is often more expensive than getting one that requires assembly.
When on a tight budget, buying a cheap kayak car trailer you will have to build yourself is a much better option. However, it's important to not compromise on quality even when looking for the cheapest trailer. High-quality trailers provide the best value for money, as they provide years of dependable service.
Materials
The best kayak carriers need to be made of lightweight yet durable materials. The best material for kayak trailers is galvanized steel. It's not only one of the strongest and most durable materials, but also extremely rust and corrosion-resistant. With a trailer constructed with this material, you can pull right up to the water, and even into it, to launch your kayak. Powder-coated steel also makes for reliable trailers. 
Tongue Length
The tongue of kayak trailers for cars is the distance from where it connects to the hitch ball. Having a good distance from your car to the start of the trailer gives you sufficient clearance for when you're trying to turn around. If this distance is too small, you risk hitting your car when taking sharp corners. 
Trailer Suspension
A good suspension system is necessary for your trailer if you want to have a smooth ride. This is an especially important aspect to consider if you will be riding down dirt roads. Some trailers come with specially designed suspensions that guarantee a smooth ride on rough roads. These are the ones to consider if you travel on dirt roads regularly.
Ease of Assembly 
Assembling a trailer correctly is vitally important for safety. Most trailers don't come pre-assembled, so you will need some mechanical skills and tools to put them together. While the best kayak trailers will come with clear assembly instructions and mounting hardware included, it's important to consider the ease of putting the trailer together, especially if you're not mechanically inclined. 
Tire And Wheel Size
Smaller tires are good to use if you are transporting a lightweight load on well-kept roads such as in cities. If you have a heavy kayak or will be hauling your kayak on rougher terrain, large tires are ideal. Many lakes require you to meander down dirt roads and rocky paths. Having a kayak car trailer with large diameter tires will enable you to pull up right at the water's edge.
Kayak Trailer Comparison
As there is a wide selection of options when it comes to trailers, understanding what you are buying is important. To get the best trailer to suit your needs and provide the most value for money, it's important to thoroughly compare the various options. When comparing trailers for kayaks, the important features and specs to consider include materials, crossbar width, weight, wheels, and capacity.
FAQs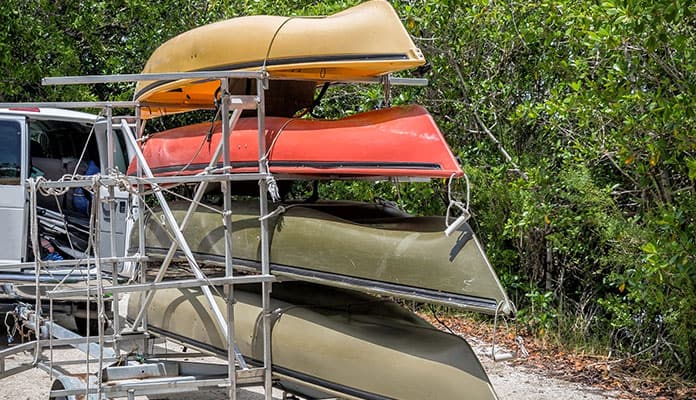 Q: How To Tie Down A Kayak On A Trailer?
A:
Most trailers will have a specially designed way of tying down the kayak. Most have crossbars that are compatible with most rack systems while others come with tie-down solutions included in the package. If your trailer doesn't come complete with a tie-down system, we recommend using ratchet straps. They are easy to use and will give you great control over how tightly you secure your kayak. 
Q: How To Lock A Kayak To A Trailer?
A:
You can attach a lock to the strapping system on your kayak car trailer. However, this is not a sufficient security measure against theft if you have to leave your car unattended for an extended duration.
Q: What Is A Kayak Trailer?
A:
A kayak car trailer is a lightweight trailer that is specifically designed for hauling kayaks, canoes, or other small watercraft. As they are designed for transporting kayaks and canoes, canoe and kayak trailers are made of marine-grade materials that can resist rust and corrosion.
Q: How To Properly Secure A Kayak?
A:
Securing your trailer is critical to ensuring it gets to your destination safely. Many trailers come with straps to use to secure your kayak to the trailer. If your trailer doesn't come with straps, we suggest getting a set of ratchet straps.
Your trailer will have a place to strap to, usually on either side of the cockpit of your kayak. To strap your kayak properly, get the straps tight, and add one extra rung on the ratchet. Make sure the straps are nice and straight. When strapped properly, the kayak won't move when you push on it.
Q: Can I Travel Long Distance With A Kayak Trailer?
A:
There's no distance limit for towing a kayak on a trailer. As long as the weight of your trailer is within the safe towable limit of your cars hitch rating, and the kayak is properly secured, you will have no problems traveling for long distances with a kayak car trailer.
Q: How Much Weight Can A Kayak Trailer Hold?
A:
This varies from trailer to trailer. Most kayak trailers have a 300lbs weight capacity. However, there are small kayak trailers with 200lbs load limits and heavy-duty multi kayak trailers that can hold as much as 800 pounds.
Q: How Many People Does It Require To Put A Kayak On A Trailer?
A:
Even when loaded, a kayak car trailer tongue weight is light enough that one person can lift and load the kayak on a trailer. However, it depends on the person loading the kayak and the weight of the kayak. More pairs of hands and eyes will certainly make the task easier. 
Q: What Is The Best Vehicle To Pull A Kayak Trailer?
A:
Any vehicle that's equipped with a tow package can pull a trailer. It's important to ensure the weight of the trailer when fully loaded with kayaks is well within the weight rating that your vehicle can tow. A kayak car trailer should also have good brakes, especially when traveling on highways.
Q: How Do You Haul A Kayak On A Trailer?
A:
Simply load the kayak onto the trailer and secure it properly. Connect the trailer to your vehicle, and drive to your destination. Due to the additional weight, your vehicle will drive differently. You will need to go slower than normal and take wide turns.
Globo Surf Overview
Using the best kayak trailer can make a world of difference in the ease of loading, transporting, and unloading your kayak. It is important to look for the best kayak trailer that is user-friendly and sized for the kayak or kayaks you will be trailering. Hopefully, our reviews and buying guide have made it easy to find the right trailer for your needs.
More Kayak Accessories Reviews:
Do you use one of the kayak trailers that made it on our list? Let us know how it works for you in the comment section below.