For many of us, kayak fishing is our favorite hobby. There's nothing better than enjoying a nice day in your kayak while casting the bait. Of course, you always hope to catch some fish too. Adding a fish finder to your kayak fishing rig can make a huge difference in the outcome.
A fish finder is an awesome device that allows you to see the fish that are swimming under and around your kayak. This way you know where to go to potentially make a bigger catch. On top of this, the best portable fish finders allow you to see the type of fish, bottom configuration, and have GPS to make navigation easier.
To help you find the perfect fish finder for your kayak, we have created a buying guide that breaks down all of the features and explains them in detail. Additionally, the fantastic fish finders for kayaks on our list will make sure you never go home empty-handed, so don't miss out.
How To Choose A Fish Finder For Kayaks – Buying Guide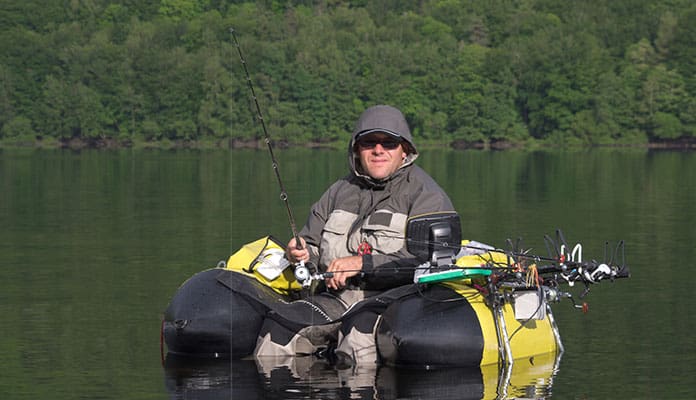 Screen
Size: Good screen size allows you to easily read the information on your fish finder. This being said, getting the largest possible fish finder isn't always the best idea. Since kayaks are pretty compact without room to spare, a large display (and therefore the finder) will get in your way too much.
Furthermore, a larger fish finder will also add extra weight and require a stronger support system. Smaller models will only require a stand that has to support a few ounces, instead of several pounds.
Fishfinder screens sizes range from 3 to upwards of 6 inches (diagonal). A display 4 inches or larger is usually enough to see the fish clearly. However, this also depends on how far away you are sitting. If the fish finder is going to be near you, even a smaller screen will do just fine. But if you plan to install it farther away, going with a larger one will be smart.
With all that being said, we find that top-rated fish finders for kayak have screens between 4 and 5 inches big. This creates a nice compromise between actually being able to see the screen while still being portable.  As a bonus, some models have wireless connectivity and use the screen on your smartphone or tablet to display the information.
Resolution: In addition to size, the display resolution is equally important. There's no use in having a large screen if the image on it is blurry and hard to read. Screen resolution is measured by the amount of dots they contain (pixels), much like that of a tv or a smartphone.
For example, a screen that has a 300 x 200 resolution will have 300 pixels along the horizontal and 200 pixels on the vertical. We don't recommend getting a display lower than 320 x 240, as the detail won't be high enough. Going above this mark will allow you to see the outline of fish even when the sun is bright.
A high-resolution screen will start around 640 x 640 and increase from there. Obviously, this type of display will give you the most accurate description of not only where the fish are but also their size. Just keep in mind that a high-res screen will require more power to operate.
Color vs Black/White: Almost all modern fish finders are equipped with colored screens. Compared to monochrome, these show much more detail, giving you a better idea of what's going on in the water underneath you. When you're in dark overcast conditions or experiencing intense glare, colored screens are far easier to read than the previous black and white design.
On the other hand, black and white screens are now a thing of the past. The first fish finders were primarily black and white in color. In reality, this turned the display  into a million shades of gray. While it still provided a view of the underwater world, they were often quite hard to read.
Transducer (Sonar)
The transducer is an essential part of every fish finder – it emits the sound waves and picks up the echoes, allowing the device to show you where the fish are. Depending on the system, a sonar can either be attached to the kayak or dangle freely in the water.
Frequency: Each device will work on different frequencies which, in turn, determine how the finder sees fish in deeper or shallower water. These are measured in kilohertz (kHz) and fish can't hear them. For example, a shallow water fish finder ranges between 50 to 100 kHz, while a deep water fish finder for kayak will use higher frequencies from 192 and 200 kHz.
Power: The fish finder power determines how efficient it is in sending and picking up signals. A more powerful device will emit stronger signals and give you faster and more accurate readings. This is great for kayak fishing in deeper water. Unfortunately, more powerful fish finders are also more expensive too.
Cone Angles & Beams
Cone angles refer to the imaging angle the finder can show. Think of it as a triangle that starts at the sonar under your kayak. The width of the triangle is the number of degrees of the cone. Depending on the cone width, this is also known as down and side imaging.
You will find that cone angles range from around 10 to 65 degrees. However, the majority of fish finders will stick to around the 15-20 degree range because it's a good starting point for people who like to fish in different water depths. Just keep in mind that the deeper the water the less sensitive the reading will be on your finder. Furthermore, it's also important to angle the cone in the direction you wish to fish.
On top of this, some models come with dual imaging, offering both down (narrow angle) and side (wide angle) imaging on the same device. The more beams you have the more area you will cover in the water. This is ideal for maximizing efficiency, especially when traveling in larger bodies of water.
Down imaging: The sonar uses a narrow angle and reads what's directly underneath the boat. This type is better for kayak fishing in deeper waters because the wave travels farther.
Side imaging: The sonar uses a wide angle that shows what's on the sides of the boat. While these waves won't go very deep, they are great for showing what's around you. This is why fish finders with side imaging are great for kayak fishing in shallow water.
Water depth
Before buying a fish finder, think about the depth you'll be fishing in. As you had the chance to see, depth ratings vary significantly between different models. In addition, salt water will make the sonar signal harder to travel through the water. This, in turn, reduces the distance it can "see", so keep this in mind if you plan to deep-sea fish.
Keep in mind that the reading gets more limited as the sound waves travel through the water. This means that even though a fish finder has a 1600 foot depth reading it may not be as accurate as one that has a 400-foot depth capability. This is why, besides the specified depth rating, you should also consider how powerful a transducer is.
With this said, fish finders that use a dual frequency are generally great for deeper conditions. For example, a 77/200kHz finder will use the 77 for shallow waters and 200 kHz when it needs an extended range.
Additional features
3D Sonar: Instead of a grainy set of dots on the display, a 3D sonar shows a detailed view of the area under you. It will allow you to see the slope of the floor and even the plant life in great detail. This is an excellent feature as you will have the best idea of where the fish are and how many are populating the body of water you are in.
GPS: GPS is always a nice feature to have. It gives you navigation through the water and allows you to precisely map where fish are. Some manufacturers even combine it with pre-loaded maps that allow you to create waypoints and fully plan your kayak fishing route.
CHIRP: Some fish finders for kayaks use more sophisticated technologies to improve the readings and make them more accurate. A model equipped with the Compressed High-Intensity Radar Pulse (CHIRP) technology is going to be superior compared to standard transducers. 
Mounting
It's a huge plus if your new fish finder comes with a way to mount it to your rig. Holding the device in your hand the whole day isn't very convenient, so make sure you have a way to secure it to your kayak. Look for angled arms or stand that can easily connect to the edge of your rig. It's even better if you can simply attach it to the gear tracks on your kayak, instead of drilling holes for the mount.
Power Source
It makes sense that more powerful devices with larger screens require more power to operate. Since you're using your kayak for fishing, you won't have lots of storage space for an on-board battery. Luckily, the best portable fish finder often has built-in batteries that last upwards of 10 hours.
A fish finder with a rechargeable battery is probably the most convenient. When they run out of juice, simply plug them into an outlet and you're good to go. Some chargers can even be plugged into your car's cigarette lighter for quick charging on the go (do this while your car is running as it can drain your battery).
Alternatively, some models use different types of disposable batteries. The great thing about this type of power is that you can buy a couple of sets so you can stay on the water for an entire weekend. These batteries last much longer than small rechargeable options, but you have to buy new ones once they're drained.
Software
The quality of your finder is greatly influenced by the software inside your device. The software offers you different viewing options. You can get depth readings, see floor configuration, and some even offer FishID feature that shows you not only the fish size but its type too. All this significantly improves the functionality of the fish finder. We've noticed that fish finder apps used on smartphones lead the way when it comes to best software.
Portability
What good is all this technology if you can't bring it with you everywhere you go? Some finders are quite large and inconvenient for smaller vessels such as kayaks. Not only do they take too much space on-board, but you also want to avoid always carrying a heavy fish finder along with your other gear.
Opting for a smaller portable fish finder will allow you to bring it with you on all your trips. Portable fish finders are generally quite a bit lighter, making them a better option for kayaks.
Ease Of Use
The device you get should be easy to set up, easy to use, and have a user-friendly interface. You're going out on the water to enjoy yourself, and struggling with the fish finder is the last thing you need.
If you're kayak fishing on a sunny day you'll experience a lot of glare, which is why it's important that the display is always easy to see. You should also pay attention to the font size on your device, as opting for a larger font will prevent you from straining your eyes.
Many portable fish finders for kayaks are designed to provide quick and straightforward use, featuring only a few buttons and simple functions. Of course, it's best to take time and get familiar with your device before you head out. 
FAQs
Q: How Does A Fish Finder Work On A Kayak?
A:
A fish finder uses a sonar (sound waves) to determine where the fish are. Essentially, the transducer emits sound waves and then picks up the echo. This allows the device to determine where objects are, based on how long the signal takes to get back to the starting point.
These readings show you how far away the fish are from your kayak. In addition to showing fish, it also shows where the bottom is, as well as other structures such as weeds and rocks. You'll also be able to see how the water depth changes under your kayak. This information can be very helpful when looking for fish hiding spots.
Q: Where To Mount Fish Finder On A Kayak?
A:
The fish finder unit should be mounted within arms reach, which is why most kayak anglers choose to mount it on the side of the kayak. While mounting it on the nose is perhaps easier to read, operating it is going to be harder. Side-mounting will allow you to swivel the arm in front of you when you need it, and move it to the side when you don't.
As for the transducer, it depends on the fishfinder model. It can be attached to the bottom of your kayak, threaded through a scupper hole, or left floating and towed behind the kayak. If you're drilling a hole, putting it between your feet and seat allows the unit to send its signal without being bumped or moved around too much.
Q: Do I Need A Fish Finder For Kayaking With GPS?
A:
While you don't absolutely need it, having a GPS-enabled fish finder is great. It allows you to see your exact position and where the fish are relative to you. Seeing a map and your location on the display makes navigating the water much easier, especially in low-light conditions.
On top of this, a fishfinder with GPS can create waypoints and log your movement, so you can always easily find your way back to your favorite kayak fishing site. Additionally, it prevents you from getting lost too. All this makes it worth it to invest in a device that has GPS.
Q: Are Fish Finders Waterproof?
A:
Most portable fish finders are water-resistant, but not waterproof. It means that they are perfectly safe to get splashed on all day, but that you shouldn't submerge them in water. This is more than enough protection for kayak fishing, allowing you to fish comfortably without worrying if your device gets a little wet.
Q: What To Look For In A Fish Finder?
A:
The main features to look for are good screen size, resolution, transducer power, and frequency. This covers the basics of showing a reliable image on your device. On top of this, going with a multi-angle sonar will expand your kayak fishing range to both shallow and deep water. Finally, consider the type of battery you want in your device – a rechargeable one is perhaps the best to use.
Globo Surf Overview
A fish finder can make all the difference when trying to catch some fish in your kayak. Instead of guessing, this great device will show you exactly where the fish are. And, if you invest a bit more, you can also get improved GPS navigation and plenty of other info on the display . Hopefully, our guide and fish finder reviews have helped you figure out what works best for your kayak, so you can always count on the best catch.
More Kayak Reviews:
Leave A Review