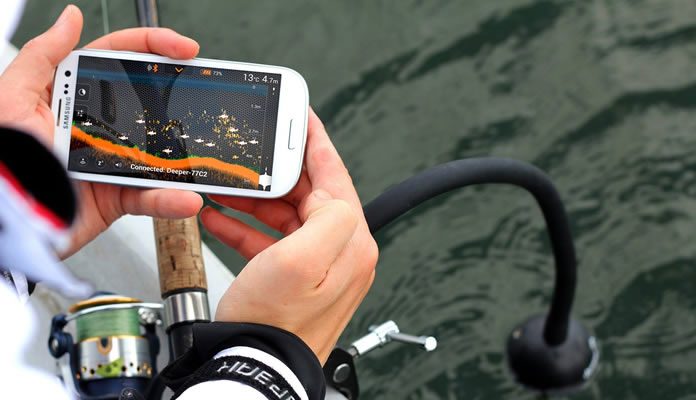 Fishing is an old favorite hobby of so many. Being able to spend a day out on the water relaxing while coming home with the day's fresh catch is the ultimate experience. Using your kayak to help you fish will mean that you get a great upper body workout while having a lazy day on the water. The best kayak fish finder is sure to impress your friends with some of the best catch of the season.
Kayaks are an excellent way to get to the hard to reach fishing spots. Being manually powered kayaks won't disrupt the wildlife underneath you. When out on the lake, guarantee you will come home with a fresh catch by using the best fish finder for kayak fishing on the market.
Having eyes underwater is too sweet a deal to pass up. We love the idea and have done all the research so you don't have to. Here are the top small boat fish finders on the market.
QUICK ANSWER: THE BEST KAYAK FISH FINDERS
Best Kayak Fish Finders
Kayak Fish Finders Reviews
1. Deeper Smart Sonar iPhone iOS and Android Smartphone and Tablet Compatible

Check Price Now
What Makes This Fish Finder Stand Out:
Rechargeable battery
Connects to your smartphone
Model & Accessory Specs:
Weight: 100 grams
Size: 2.6" x 2.6" x 2.6"
Range: 130 feet
Frequency: 290, and 90 kHz
This sleek looking orb is an excellent fish finder for a reasonable price. Not only does it have a rechargeable battery, it has capabilities that allow it to connect to your smartphone. The 130-foot range is excellent for such a small and compact system. Coupled with the 15 and 55 degree angled cones, the Deeper Smart Sonar fish finder will allow you to see the fish around you with ease. It even comes with an easy to use application that includes a calendar, weather, maps and even a sharing feature to show your friends your favorite spot. You don't have to worry about the resolution of your screen as it utilizes your high quality smartphone's screen.
2. iBobber Wireless Bluetooth Smart Fish Finder for iOS and Android devices
What Makes This Fish Finder Stand Out:
Long battery life
Bluetooth sync
Palm size
Model & Accessory Specs:
Weight: 45 grams
Size: 3" x 3" x 3"
Range: 135 feet
Frequency: 90 and 290 kHz
Keep this handy palm size gadget with you and give yourself eyes in the water. The iBobber allows you to mark fish, map the lake underwater, save water temperatures, weather and location, species, photos and hot spots. This allows you to know where the fishes are and even has a function to share it with your friends on social media. Compatible with any iPhone or Android using a free app. This device pairs using Bluetooth so you do not have to worry about messy wires. This is a great tool to have when ice fishing so you know you will cut your hole in the best location. With a 10+ hour rechargeable battery life, you can be sure that the iBobber will last your whole day of fishing. Never forget your day on the lake with the trip log function that will map your full fishing conditions. This palm sized portable fish finder kayak mounted device will help make sure you come home with the best catch of the season.
3. FishHunter Directional 3D Wireless, Portable Fish Finder
What Makes This Fish Finder Stand Out:
Can be trolled up to 2 MPH
3D Sonar
Built in WiFi
Model & Accessory Specs:
Weight: 204 grams
Size: 1" x 1" x 1"
Range: 160 feet
Frequency: 381, 475, 675 kHz
Using the screen of your smartphone or tablet the FishHunter fish finder will use 3D sonar and 5 transducers to show you exactly where the fish are. Not only will it show you the fish, but also how the bottom of the lake changes as you move around. Included in this high tech fishing tool is a map that tracks your location using GPS which also creates and saves maps of the floor of the body of water. The coolest feature is that this fish finder will tell you where to throw your cast to have the best chance of landing a fish. Built in WiFi allows you to connect to the device up to 150 feet away, perfect for trolling in fish filled areas. This kayak depth finder will ensure you never run a ground. All of this technology comes in a small and compact design that is lightweight and easy to use. Simply download the free application on your phone or tablet and you're ready to go fishing. This setup is one of the best available on the market.
4. Raymarine Dragonfly-4 Pro Sonar/GPS with US C-Map Essentials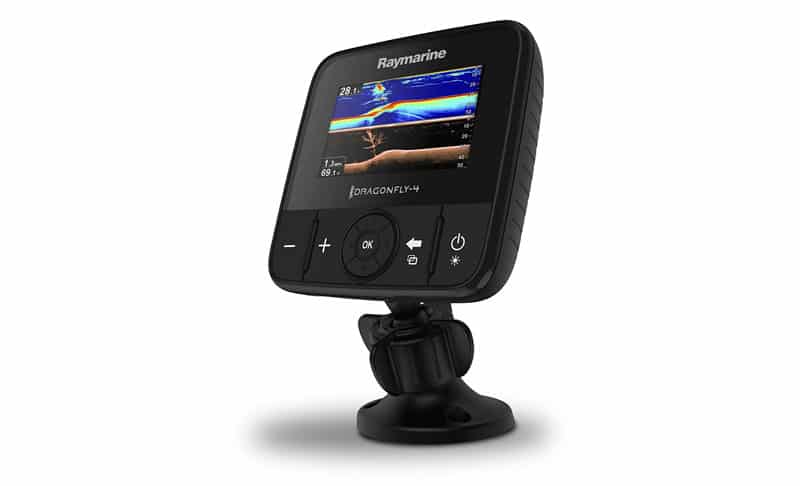 What Makes This Fish Finder Stand Out:
Built in WiFi
50 channel GPS
Micro SD memory card
Model & Accessory Specs:
Weight: 4 pounds
Size: 13.78" x 13.78" x 13.78"
Range: 600 feet
Frequency: 170-230 kHz, 320-380 kHz
For those that fish solely in the USA, the Raymarine Dragonfly is one of the best fish finders on the market. With maps of US lakes, rivers and coastline you are sure to know where the fish are. Equipped with an SD card you can even save sonar screenshots to your phone. With an all weather, high definition LED screen you will be able to see the fish in real time color. The systems built in Wi-Fi allows you to save, rewind and share live sonar and the days catch straight to your phone to send them to your friends or share them on social media. A built in GPS connects to 50 channels you can count on accuracy and precision. The 4.3 inch waterproof screen is LED backlight so it will continue working even as the weather changes. This whole system runs off 12 volt batteries, making this exceptional system that much better. Expand your use with this device even being compatible as a fish finder for canoe trips.
5. Humminbird 409690-1 PiranhaMax 197C DI Color Fish Finder with Down-Imaging
What Makes This Fish Finder Stand Out:
IPX7 waterproof
Fish and depth alarms
Good resolution screen
Model & Accessory Specs:
Weight: 2.45 lbs
Size: 8" x 16" x 12.3"
Range: 320 feet
Frequency: 200, 455 kHz
The Hummingbird fish finder is a full bodied machine. A 320 x 240 resolution screen will indicate where the fish are while showing the contours of the waters floor. Featuring a Fish ID+ which includes fish and depth alarms you will never miss your chance at a fish again. Sit back and relax while this fish finder does the work for you. All you need to do is throw a cast and watch. The incredible 320 foot depth range coupled with a 600 foot down imaging capability will ensure you can use this system in even the deepest water. This package will fit any sized boat with ease while giving you a large enough screen to see all of the fish with detail. You won't have to worry about running aground any longer as it will sound an alarm at any depth you want. The IPX7 waterproof rating makes it easier to keep seeing the fish no matter what conditions you find yourself fishing in.
(Hey! You May Also Like: Best Recreational Kayaks)
Kayak Fish Finder Features:
There are many things that make a good fish finder. Everything from the size of the screen to the frequency the transducer works off will affect your day on the water.
Screen size
Since a kayak isn't a huge fishing boat a large screen may actually be a hindrance. Fish finder screens range in size from 3 inches to upwards of 6. Being able to see the screen and the fish is easy on a screen 4 inches or larger. Some even use the high resolution screen of your smartphone or tablet to show you exactly where the fish are.
Transducer
This is the part of the system that sends the waves to find the fish. Depending on the system a transducer can either be attached to the boat or dangle freely in the water. It is important to angle the cone, the part that reads the waves, in the direction you wish to fish. A wide angled cone will give you the best visual on the water below you and the fish it holds. These angles can range from 9 to 60 degrees. A rating of 20 degrees is a good starting point for people who like to fish in different water depths. Just keep in mind that the deeper the water the less sensitive the reading will be.
Frequency
Each machine will work on different frequencies. Different frequencies allow you to fish in deeper or shallower water. For example, a shallow water fish finder will range in the 192 and 200 kHz frequency while deep water will use lower frequencies like 50 to 200.
Power source
Since you are using your kayak to fish you won't have lots of storage space for a battery. There is a balance between performance and readability. A high resolution screen requires a high amount of power while a lower powered device will show readings slower and in less detail. Many fish finders have built in batteries that last upwards of 10 hours, while some run off large 12 volt car batteries.
Screen Resolution
The screen of your fish finder will be one of the most important parts. If you cannot see the fish clearly the whole system is useless. Resolution is measured in pixels much like that of a regular television. We recommend not getting a screen with a lower resolution than 240 x 160 as the detail won't be high enough to distinguish clearly. A high resolution screen will start around 640 x 640 and increase from there. Just keep in mind a higher resolution screen will use more energy which can reduce its usability.
3D Sonar
Instead of a grainy set of dots on a screen 3D sonar shows a detailed view of the area under you. It will allow you to see the slope of the floor and even the plant life in great detail. This is an excellent feature as you will have the best idea of where the fish are and how many are populating the body of water you are in.
Mounting
Make sure when purchasing your fish finder that it comes with a way to mount it to your rig. It can be cumbersome and make your day feel long if you have to keep one hand on your fish finder while you throw casts. Look for angled arms or stand that can easily connect to the edge of your rig. You will be able to wrap and necessary cords around the arm to make sure they don't dangle in the water.
GPS
Depending on your use a GPS may be a nice gesture to have. If you travel to new lakes and fishing holes a GPS will allow you peace of mind of not getting lost. If you regularly stick to a few places you are familiar with a finder without a GPS can save you some money.
Globo Surf Overview
Fish finder kayak reviews agree that having a small ultraportable device that maps the underwater area makes for the best fish finder on the market. With some stretching to depths of an impressive 160 feet, you now have eyes under the water. On your next day on the water, coming equipped with the best fish finder will help you to bring the nicest catch home impressing your friends and your wife.
Sources
LED Backlight, CNET.com
iPhone, Apple.com
Love to fish? Have you ever tried using a kayak fish finder on our list? Let us know how you like it in the comment section below.
Globo Surf Kayak Fish Finder Review
★★★★★
"
Looking for a new fish finder for my ocean kayak. Really glad I found your article.
"