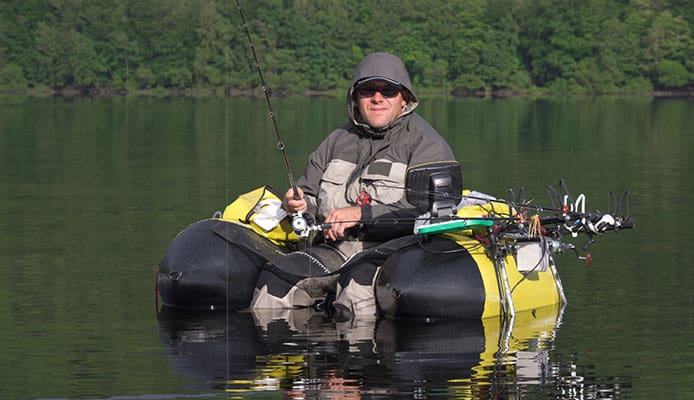 OUR TOP PICK

---

EDITORS CHOICE

---

BEST VALUE

---
Fishing from floating tubes is becoming increasingly popular among anglers because it provides unique access to boat-restricted areas. On top of this, the best fishing float tubes are incredibly convenient to pack and transport so you have a lot more options regarding fishing locations. 
When choosing a fishing tube, it's very important to consider its size, construction, and storage it offers. To make your decision easier, this article takes a look at the best fishing float tubes available, with all their pros and cons. In addition, our buying guide will discuss the features associated with these tubes, so you'll know exactly what you need when comparing models.
How To Choose The Best Fishing Float Tube – Buying Guide
Tube Shape
When it comes to the float tube shape, there are four main options: round, teardrop, pontoon, and U-shaped. While every angler has a preference, each of these types has some upsides and downsides.
Round fishing float tubes for fly fishing are among the hardest to maneuver across a lake or pond. They create more drag than other float shapes and it can be very difficult to get them exactly where you want to go. Even though they are very buoyant, they are far less popular than other shapes.
You might also be interested in our:  
Best Fly Fishing Rods, Best Fly Fishing Waders
U-shaped fishing float tubes for fishing are shaped like the letter U with an opening on the front. The open side is where you will sit, with your legs hanging over. These fishing float tubes are much easier to maneuver than round models and they are also easy to get in and out of. On the other hand, the only problem is that they can be uncomfortable after a while.
Pontoon fly fishing float tubes are modeled after pontoon boats and look like their miniature versions. They have cylindrical float tubes (pontoons) on each side and provide exceptional balance. Pontoon tubes usually offer a lot of room in the seat too. However, their downside is that they are usually larger than other types which can be a problem when transporting.
Teardrop fishing float tubes are a hybrid of the U-shape and the pontoon. The two cylindrical floats on the sides come together in the middle to form a sharp point that gives them a teardrop shape. The pointed part acts as a bow would on a boat, and cuts through the water to improve maneuverability and speed. This is currently the most popular shape for most anglers.
Comfort
If you plan to sit all day, you should expect at least a decent comfort level from your float tube. When considering the comfort, the seat design should play a huge role in your decision. Whether it's inflatable or padded, it should be able to easily hold your weight and give you good support both in the thigh area and on your back.
Furthermore, you should also be looking at the back design. It's ideal if the backrest is ergonomic to give you proper support instead of making you tired. Of course, it's a big plus if you can also adjust the angle. If you suffer from a sore back, you may need to invest a little more and get a model with a higher-quality seat.
When you're unsure, you should always check out the customer reviews for the product you like. Most fishermen will comment on the seat and tell you whether it's too hard to sit on for long periods or if it's soft and comfortable. Either way, you'll know what to expect if you do decide to buy that particular float tube.
Portability
One of the main reasons that fishermen enjoy using fishing float tubes is their portability – they are a lot smaller, lighter, and easier to carry than other vessels. Unlike standard boats and kayaks, you'll easily be able to bring the float tube down to the water on your own, both inflated and deflated.
Fishing float tubes are more comfortable to carry when deflated because most models pack down very compact and come in carrying bags. However, setting it up on the spot might be an issue if the shore isn't clear. Because of this, many models also come with adjustable backpack straps on the bottom that allow you to carry the inflated tube like a backpack.
Of course, you'll also have to think about the overall weight. As you've had the chance to see, models can vary significantly in weight based on the materials used in the construction. Because of this, some models weigh less than 10 pounds while others can have a base weight of over 25 pounds.
Storage Capacity
To ensure a successful fishing session, you'll have to bring a lot of different equipment. Unlike boats, standard fishing float tubes can come with very limited storage space. Luckily, the models designed for fishing come with many pockets in the armrests that allow you to easily organize your gear. In addition, some fishing float tubes have an extra pocket in the backrest, as well as a large fishnet behind the seat.
If you require additional storage, it's always a good idea to bring a fishing backpack. It's going to provide a great place to store your tackle box as well as other key items such as fishing lines or fishing pliers. Furthermore, a well-made fishing vest can also be very convenient on a float tube.
Storing the Tube
Storing your fishing float tube properly can significantly prolong its lifespan. Since fishing float tubes consist of inflatable air chambers, even a small puncture can render them useless. While they are fairly easy to repair, this can be a big inconvenience. Because of this, we recommend paying attention to where and how you store them.
All of the products we've featured come in carrying bags that will protect the tubes from any damage. Even when it's in the bag, we recommend keeping it in a cool and dry place, away from direct sunlight that could deteriorate the material.
Advantages Of Using A Float Tube For Fishing
Why would you even want to use a float fishing tube? Well, the main reason is certainly the flexibility it gives you. The best fishing float tubes offer perhaps the most convenient way of fishing on your favorite spot. They are also much more affordable than boats, not to mention easier to carry. Furthermore, they can be used in some areas that prohibit the use of standard vessels.
In addition, they move easily on the water. While they aren't fast as boats or kayaks, fishing float tubes have the upper hand when it comes to navigating shallow waters. With a pair of good fishing shoes, you can wade your way through the shallows and reach the ideal spot without problems.
Related Post: Float Tube Fishing Tips
Single Kayak's For Fishing Reviews:
FAQs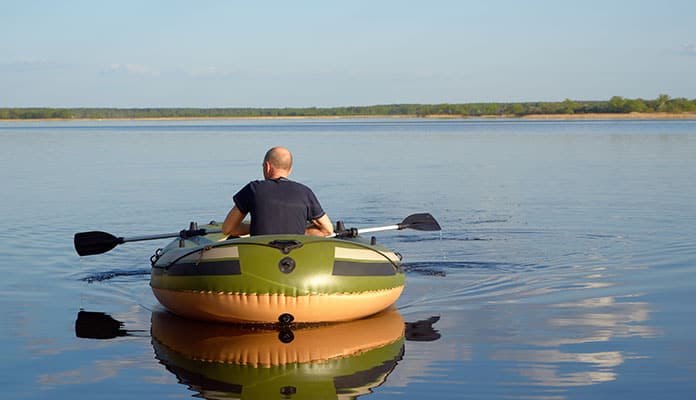 Q: Can I Use A Float Tube Anywhere?
A:
Even though they are very versatile, fishing float tubes can't be used anywhere. They are ideal for calm waters like lakes, canals, and very slow rivers. However, you should avoid fishing in a float tube in ocean waves or strong river currents. They are not as easy to control as a kayak, which can result in getting dragged very far from the shore or down the river.
Q: What Is Float Tube Fishing?
A:
As its name suggests, float tube fishing is a type of fishing where you use a floating tube as your vessel or fishing platform. The inflated tubes keep you on the water surface so you can even fish in the middle of the lake. Compared to boats, the advantage of floating tubes for fishing is that they can easily reach even more secluded spots on the water.
Q: How Do I Use A Fishing Float Tube?
A:
Float tubes are very easy to use – you just inflate them, get them on the water, and sit in them. When it comes to moving around, you can either use paddles or put a pair of fins on your legs. While even the best float tube won't be as fast as kayaks, you'll still be able to move around efficiently.
Q: How Do I Blow Up A Fishing Float Tube?
A:
You have a few options here – a hand pump, a foot pump, or an electric pump. You should probably avoid blowing it up with your mouth unless you have a few hours to spare. If you're going to inflate and deflate it often, an electric pump is probably the best option because it's the fastest. Of course, don't forget to inflate all the chambers equally so the tube will remain stable on the water.
Globo Surf Overview
If you're tired from fishing from the shore and want to get closer to the action, fishing with a float tube is the thing you need. Unlike boats and kayaks, it allows you to reach more secluded spots on the water easily.
On top of this, the best fishing float tubes come with a lot of useful storage so you can pack your rod and reel, freshwater lures, and everything else you might need. We hope that our reviews and guide helped you pick the best fishing float tubes that will improve your fishing adventures.
More Fishing Kayak Reviews:
Kayak's Fishing Guides: