There are many ways to be a fisherman. You can fish from the bank of a river, from the beach or out at sea. One way we would like to recommend is using a sit-on-top fishing kayak. These type of kayaks, in fact, are more stable than their sit-in counterparts and are the perfect vehicle to cruise down a river looking for fish. There are a large number of different kayaks available with a range of functionality. Whether you're looking for storage space to carry supplies for a multiday trip or extra space to bring a second paddler along with you, there is sure to be a sit-on-top fishing kayak that suits you.
SOT kayaks are a way that anyone can get out onto the water easily and without any training or knowledge. Being such a stable easy to use platform, they have developed into vital tools for fisherman and other adventurers!
How To Choose A Sit-On-Top Fishing Kayak – Buying Guide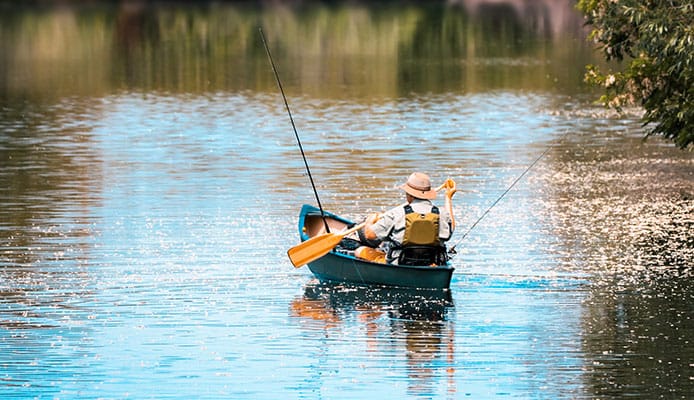 Material
The best material for a sit-on-top fishing kayak is high density polyethene. Most sit-on-top kayaks are made from this tough and strong material so you don't need to worry about the durability of your kayak, and it will stay sturdy for a long time to come.
Size
Storage and transport are two things that you have to consider when buying your kayak. Do you have somewhere to put it, and do you have something to get it to the water with? You may have to consider buying a roof rack or figuring out the best ways to transport your kayak. It's best to check and consider what your capable of transporting before you go and buy yourself a hulking 13-foot kayak that you can't take anywhere.
Seat
Any seat that you're going to spend hours if not days sitting in, you want to be comfortable. Depending on how you plan to use your kayak, this is not an option that you want to skimp out on. There's no fun in going on a beautiful tranquil fishing trip and having to change how you're sitting every few minutes. All reviews of the top-rated fishing kayaks stress the importance of a good seat and many of the kayaks we've reviewed here come with the feature. It's worth reading about how other users have found different sizes of kayak and comparing that to your height.
Storage
When out on the water or on a long multi-day adventure, you want to make sure that you haven't left anything at home. Sit on top kayaks normally have two styles of storage area, watertight sealed storage areas and recesses lined with a bungee cord.
The bungee cord cargo areas of a kayak often make a perfect place to store items stored in waterproof duffel bags. This means that you can store items on the deck of the kayak and still not have it get wet. The bungee cords ensure that there is no risk of anything falling overboard.
The waterproof storage containers are a better location for those items that are a little more valuable and that are going to be a real pain if you lose. Think keys, wallet, mobile phone. Even when storing items in the secure watertight compartment it can be worth using some form of bag to stop the rolling around and make them easier to find.
Stability
Stability is important, especially whilst fishing. Is your prized catch really worth you going over the side for? Hopefully, you've stored all of your valuables safely within the boat but realistically it's not something you want to be doing.
In order to find out how stable a boat is going to be, check how wide and how flat it is. These will be the determining features that will let you know how much the boat is going to rock when your hauling something in over the side.
FAQs
Q: What Is A Sit-On-Top Kayak?
A:
Kayak's come in many shapes and sizes. Sit on top kayaks have an open-top, more room for storage and are generally more stable. Sit on top kayaks make great fishing kayaks due to the stability and a large amount of storage space (perfect for multi-day adventures) and rod holders, which are often placed along the back and side of the kayak.
Top-rated fishing kayaks also make room for more comfortable seats, very important when you're going to spend all day sitting in them.
Q: How To Care For Your Sit-On-Top Kayak?
A:
Taking care of your kayak is relatively easy and does not require much work. Firstly, if you use your kayak in saltwater, it makes sense to rinse it off once you get back to dry land. This becomes even more important if storing it for the winter or extended periods of time.
Secondly, have a place to store your kayak indoors. Garages or sheds are perfect for this kind of thing, the most important thing is to get it out of the elements.
Q: What Kind Of Accessories Do I Need To Buy For My Kayak?
A:
First off check what accessories your kayak comes with. Top-rated fishing kayaks come with built-in adjustable seats or basic rod holders.
You may need to buy a paddle if not included. Other things to consider are waterproof bags to store anything that you need to keep dry, buoyancy aids if you plan on paddling further afield, or a racking system for your car if you're going to be transporting your kayak over large distances.
As with many of these things, the first thing to consider is what you plan on using your kayak for and where you are going to be taking it. Whatever you decide, however, there are almost certainly accessories available due to the growth in kayak fishing in recent years.
Globo surf overview
Kayaks are fun. Fishing is fun. The two make a great combination. For those who are looking for a longer trip or multi-day adventure, the perfect fishing kayak is the vehicle you want to use. With ample room for storage of tents, food or fishing gear, the kayak becomes a mobile platform to enjoy the outdoors. There really are few things better than drifting down a river, with a YETI cooler full of snacks and fishing lines out the back, we couldn't recommend it enough.
More Kayak Reviews: