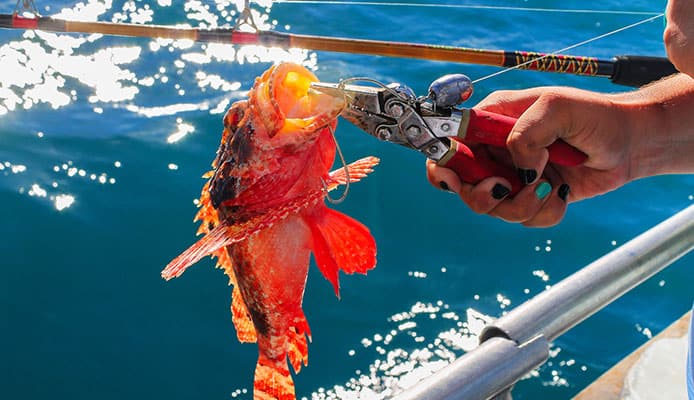 OUR TOP PICK

---

EDITORS CHOICE

---
The best fishing pliers are indispensable tools for fishermen. They come in handy when you need to remove hooks, bend wires, change split rings, cut fishing line, crimp weights, tighten knots, adjust lures, etc. A good pair of pliers for fishermen should be corrosion resistant and easy to use with one wet hand.
In this article, we have reviewed the top 10 best fishing pliers for saltwater and freshwater use and complied with a buying guide to help you identify the perfect fishing pilers to improve your fishing efficiency.
How To Choose The Best Fishing Plier – Buying Guide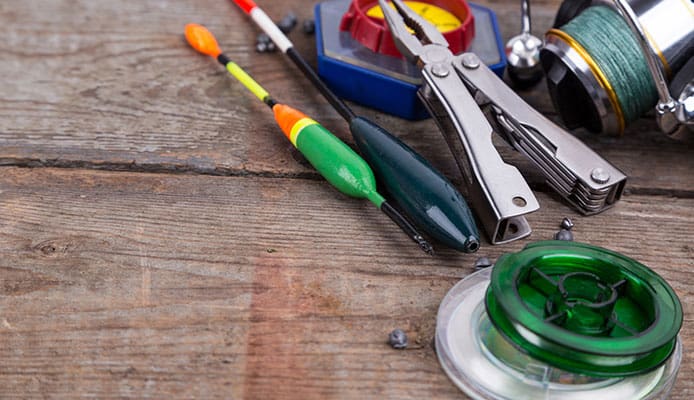 Material
Pliers for fishermen are used in salt or freshwater environments, and this makes them highly susceptible to rust and corrosion. This is why it's important to choose fisherman pliers made of a high-quality and corrosion resistant material. High-grade stainless steel fishing pliers, titanium fishing pliers, and aircraft grade aluminum fishing pliers have excellent corrosion resistant properties.
Nose Length
The ideal nose and handle length will depend on where you'll be fishing and what kind of fish you're after. A shorter nose length will be sufficient for freshwater fishing and handling small fish such as trout and bass. A longer nose length such as the one on needle nose pliers for fishing can reach deep into a fish's mouth and is essential for saltwater fishing and for handling large and toothy fish such as snappers and groupers.
Cutting Options
Fishing pliers offer two cutting options: line cutters and side cutters. The line cutter is a standard feature and is designed for cutting monofilament and fluorocarbon lines. For it to be able to cut braided lines efficiently, it should be extra sharp and hard. A very strong side cutter is needed for cutting hooks and wires. Tungsten carbide is the best material for side cutters.
Ergonomics
Having lightweight pliers that are comfortable to hold is very important, as you will only have one hand free to operate your set of pliers. Angling pliers should have spring loaded handles, so you don't have to repeatedly adjust your grip or struggle to pry the plier open.
Good Grip
The handles on the best pliers for fishing should offer a comfortable, non-slip grip. When you're out fishing, your hands are bound to become wet and slippery. Pliers with a textured or rubberized grip offer a secure hold allowing you to complete your task easily and safely. Additionally, the handle shouldn't be too small or too big to grip.
Split Ring Tool
A split ring is a tool you use to set up split rings. It makes changing and replacing a hook on a lure easy, safe, and fast. Choosing fishing pliers with a split ring capability saves you from having to use your fingernails to open up and install split rings. If this is the most important feature for you, you can opt for split ring specialty pliers.
Crimper
A crimping tool is another important attribute to have in your pair of pliers for fishermen. It comes handy for crimping leads and sleeves. To ensure the set you choose has this function, look for crimping notch or notches in the jaws.
Lanyard
Finally, a good set of fishermen pliers come complete with a sheath and coiled lanyard. These accessories keep your pair of pliers securely attached and within easy reach. They will ensure you don't lose your valuable pair if the waves pitch the boat or kayak.
FAQs
Q: What Are Fishing Pliers Used For?
A:
Fishing pliers are used for cutting fishing line, removing hooks, setting up split rings, crimpling weights, and bending wires. You can also use your set of pliers for fishermen to flatten hook barbs, tighten hooks, grab lines, and even remove hooks from your own body in case of an accident.
Q: What Is The Pointy Tip For On Fishing Pliers?
A:
The pointy tip on fisherman pliers is a split ring opener designed for opening split rings. It makes changing and replacing a hook on a lure easy and fast. Without it, you would have to use your fingernails to open up and install split rings, which is frustrating and can cause injuries.
Q: Why Do I Need Fishing Pliers?
A:
Fishing pliers make quick work of cutting fishing line and removing hooks. They also come handy for crimping weights, opening split rings, tightening knots, and even in emergencies.
If you've ever gone fishing without a pair, you've probably experienced the frustration of not having a crucial piece of gear. Trust us, your fishing trips will be more enjoyable and productive when you have a good set of fishing pliers with you.
Globosurf Overview
Whether you're a professional, a sportsman, or a hobbyist angler, investing in a high-quality pair of fishing pliers is important. When looking for fishing pliers, evaluating your unique needs will guide you towards the best fisherman pliers for you. Any of the options on our fishing pliers reviews are highly rated by anglers and will enhance your favorite activity.
More Fishing Reviews:
What is your favorite pair of fisherman pliers? Got a question we haven't answered? Let us know by leaving us a comment below.